I received this email advisory from BPI today, announcing that they changed the look of their ATM cards. I hope I got it correct that the-now 'BPI Debit Card' is the same ATM card they issue to all savings account holders of their bank? It seems that way!
Here's the announcement letter sent to my email in its entirety: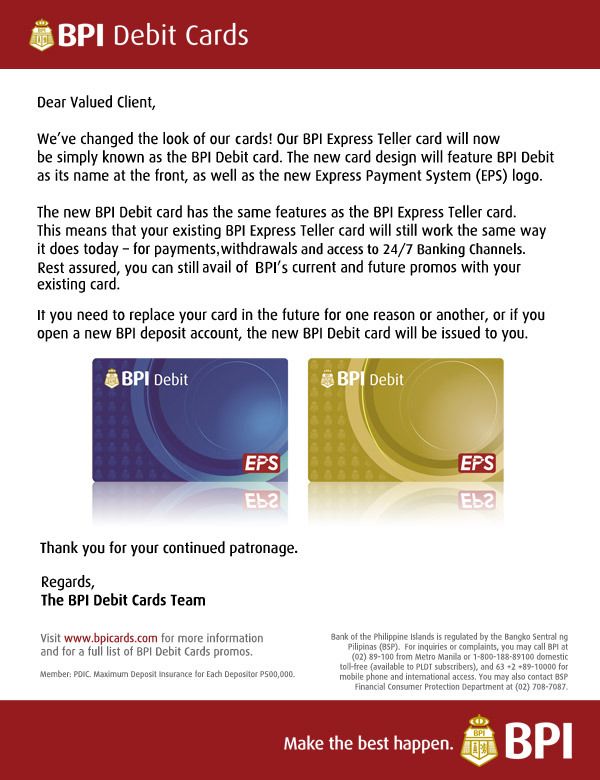 Hmm, I don't think I like how that EPS logo with red outline around it sticks like a sore thumb. It looks rather out of place hahaha. I think I prefer the one I already have, the one that says 'BPI Express Teller'. Just my two cents. 🙂 On the other hand, what is that gold version of debit card and how can one sign up for that? Probably has requirement of a a huge sum of savings amount, no?
Oh, by the way, if you are looking into opening a BPI savings account, check out their Easy Saver savings account.
Prior to opening a BPI account a few years ago I was hesitant because from what I know they have a PHP 3,000.00 maintaining balance for their regular ATM/savings/non-checkbook type of account. Well, I simply can't manage that. I tried with BPI Direct, and miserably failed trying to keep up with their P500 maintaining balance before.
Then I found out BPI has this Easy Saver type of account. It's not that much advertised when you go to their bank, but I've seen the pamphlet laying around one time! I only heard and read about it online. So when I finally signed up and got my card, I was surprised to find that it works just like a regular savings account minus the maintaining balance requirement. The minor downside (for me) is that there are small fees whenever you need to withdraw and do OTC transactions with it. I think it's P5.00 for every transaction, P10 for money withdrawals through ATM. Shouldn't be a problem if you're use is going to use it online most of the time though.
Disclosure: This is not a sponsored post and I was not paid to write about the topic. I just wanted to write about the announcement since it's fairly new. All thoughts and opinions expressed are my own.