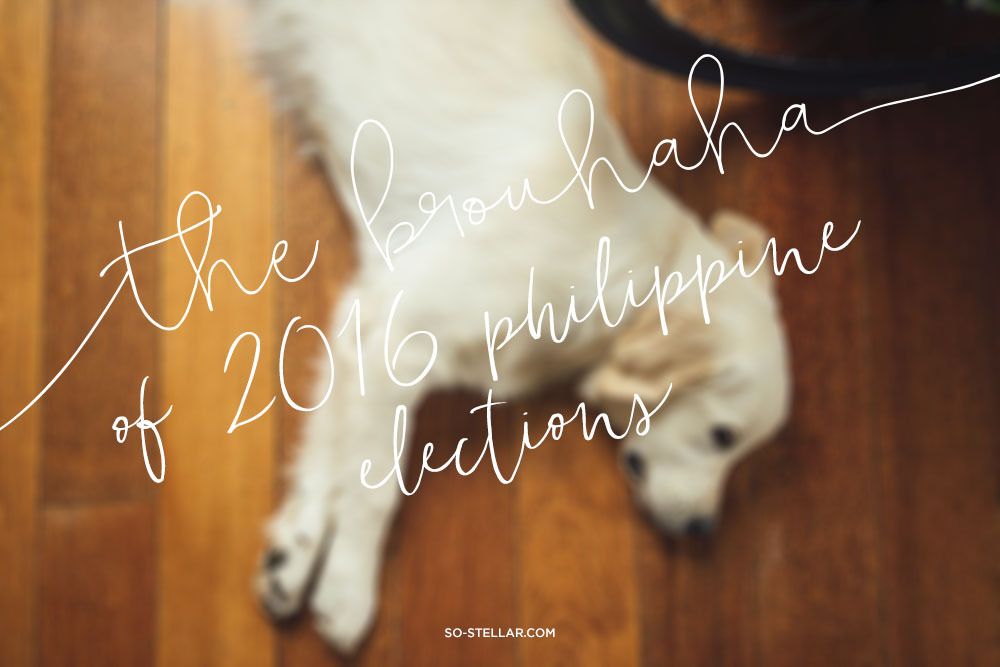 I used a dog as this post's featured image on purpose because dogs always elicit a happy mood. You're welcome.
What has become of social media nowadays?
Here's mine: People putting someone who barely cares about them on a pedestal and at the same time, arguing and lambasting anyone who thinks differently and has a different opinion of their person on social media. Right from the moment you decide to stand by someone who doesn't know you at all at a personal level, then it gets worse when you start cutting off people you have years worth of relationship with, just because you do not agree on this one thing?
Sigh, social media. I love and hate you at the same time. I thought you are suppose to connect people together? You're only conveniently breaking us apart.
On the other hand, these people they believe to be doing the good fight for.. aren't all that perfect, in my opinion. All of them have their own SWOT qualities. Haha!
Some people would say that, yes, we have shitty selections, but you just have to go past that and choose the lesser evil of them all. To some, that simply will just not do. Same with choosing a person because of the things they have done vs. choosing one because their achievements and family background look damn good on paper.
One candidate feels he's deserving to be the next president because he feels he's done so much good towards mostly the senior citizens of the country. Still that doesn't excuse him from the other things he did that didn't sit well with majority of the people in this country.
The next one feels she deserves to be the next president because she is her father's daughter and that she would like to continue what he started. For me I very much doubt her seriousness to serve because of her citizenship and personally, I feel she does not have enough credible experience.
This one had no interest to run for presidency, until people who believe he can replicate what he did with the city he was a mayor for more than 20 years, pushed and nudged him causing to him to eventually give in. Now he is in deep trouble for his offensive opinions and actions seen in public and thisclose from a predicted destruction of good faith between ally countries and a good percentage of people if and when he wins.
What worries people with this next candidate is if he becomes president, it wouldn't do much change to the country and we would still be living under the same governance as the current one — from what I am observing. Does it mean it's okay? I thought we wanted an ultimatum of a change in our country?
I have nothing much to say about our final presidential candidate but I did noticed one thing: She was gone in the last couple of months, but hopefully the reason was to get successful treatments for her illness. Only then she showed up again just a few weeks short of election day. I believe she is one of those who genuinely wants change and wouldn't step on anyone or inconvenience us to get this done.
Going back: Is it just me or have we all gone backwards? It feels as if we, as a society, went back to acting like children in pre-school. Remember when whenever someone called you ugly, you would say something immature and shallow back at them, and if they still persisted, you would call for the teacher's attention, so they would stop? Except as children, we would've stopped when our teachers reprimanded us. Now, we'll continue to fight back anyway because an exchange of words in non-verbal way, not done face-to-face is less damaging. And one more thing is why should we care, really? That post which may be one of the following: offensive, untrue and without reliable sources to cite in the end, came from an unreliable *cough*most likely satire and/or SEO traffic magnet*cough* 'news' website has received plenty of likes, shares, and comments.. it must be true because of the public validation!
My social media feed is trashed and full of unsolicited political arguments and shoving-down-my-mouth posts because of these know-it-alls. Sudden political-know-it-alls who, just a few months back, were minding their own business that has nothing to do with politics. I am sure they weren't interested in politics at all then and just bandwagoning now.
I wonder why in the offline/real world, there's barely any argument coming from us commoners? If anything, the only reaction I see are clapping, cheering, laughing and booing. Whenever there's a political debate on TV, it is as if we are watching a noontime show for entertainment. This is serious, people! This is not for your entertainment. Are you less defensive when you are arguing face to face – whether with a stranger or friend? Because it's easier to do it behind a computer and you can just ignore how they feel after they read it?
It's fine if you have your own opinion and stand on the issue, but to go about flooding us with it and even going as far as damning and shaming the other person who has a different view, I think that is just pathetic (among other shallow things people make a big deal of thru the Internet). Other posts I've seen implied some people to be barbaric, too. I also find it shady when people publicly announced their choice, why they're made such a choice, the pros and cons, and overall made the impression they would stick to that. Then sometime later, they would change sides and start to talk shit about the other person. I don't know man, you just lost credibility points over there. Especially when it's someone whose opinion you value highly.
How is this act any different from people who are condemning people who have a different belief and reigion from you?
I wish more people would go out of this social media frenzy circle and do their own research of their choice of president, vice president, and other people. YOUR choice, not a choice someone has enforced on you because of the viral posts of this person, or against them. Why don't people check the source of these viral info anymore, anyway?
Just because a news outlet published it doesn't mean it's always true
Just because media published it it's not always 100% true
Just because a western news outlet published it, doesn't mean it's always true
In all honesty, media shouldn't be trusted to be 100% credible all of the time, too, when it comes to something as aggressive as politics. Yes I highlighted the word always in my list. While they should be credible in all things by default, it can't be helped that in other things, news becomes rather biased and forced to report things differently. With the way they're able to twist and manipulate stories just by the words they use, they're able to fabricate a new story altogether without most of us realizing it. Think!
I definitely would think twice to let the media ensure me anything about politics, coming from them, is 1000% true. For other things, I would, just not politics.. especially around this time.
We are what, 2 weeks away from elections? All of a sudden people have become twice as aggressive in promoting their choice, but losing class to acting crass in the process. Going as far as unfriending and denouncing friendships to people. It also doesn't help that this certain leak happened and we are now all doomed and the government is not doing enough action against it. Sadly whatever's uploaded online can never ever really be deleted anymore. Part of me thinks that the online fights I witness every day from my feed is to distract us from far more serious threats that are about to happen as election day comes closer. 🙁
The ironic thing is these two things are suppose to unite people together, right? Religion and politics. A government is suppose to be responsible for its countrymen and the country's progress in all aspects. This is suppose to care for our well-being and put that first, instead of their personal gain and interest. Religion, in comparison, more or less, has the same goal too – unite people and instill belief in people as well as moral and spiritual values. Both are there to keep us all proper citizens. 😕
But what are we doing? We're all slowly killing each other.
Well, instead of participating in this digital war of who should one vote, I decided I will just take everything I read with a grain of salt. Hence the brouhaha. I value my relationship with you, my friends, even if you are opinionated (so am I but on different things). Just gonna throw this out there: #Respect. 😐 Argue with someone else when it comes to our differences of religion and politics for peace of mind, okay?
I felt hopeful about how all of these things will turn out in the end. I really did. Now, I just want May 9 to come ASAP just so we can all get this bullshit over with. Once a new president is declared, there is no going back (is there?) and whatever they have planned for the country, I just hope we won't be brought back to the dark ages because of it. ¯\_(ツ)_/¯
Lastly, for fuck's sake, whoever wins, please be responsible in all your actions. Your future PR team won't always be able to save you especially when, upon social media investigation, there'll always be multiple sides of that story – and the public isn't always discerning if it's true or not. How are you gonna prove yourself otherwise to all of that?
My choice of who to vote within the government remains with me. It's my choice and you are free to have yours as well. Although when it comes to the local sector, within my city, I am unsure-clueless who to vote. What I am sure of, whoever's in charge now, is doing a shitty job and it wasn't like this before. Whoever's in charge now must not be a recurring winner this year.
I thought this song is appropriate to the situation. Who cares who's the next president is gonna be, we're all gonna die anyway, yes? :))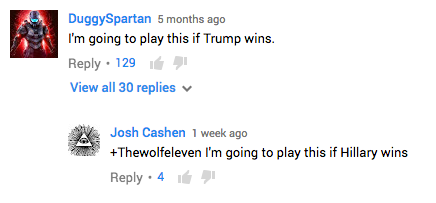 Which presidential candidate would you play this song for, in case they win? =))
Disclaimer: I do not welcome nor am I looking for negative, aggressive, or any arguments at all in this post. I don't have the energy and will to participate in such. I believe that once a person has a perceived opinion about someone, it is hard to change it otherwise. The reason of my entire post is that I just want to let out my frustrations about the current events related to Philippine politics.