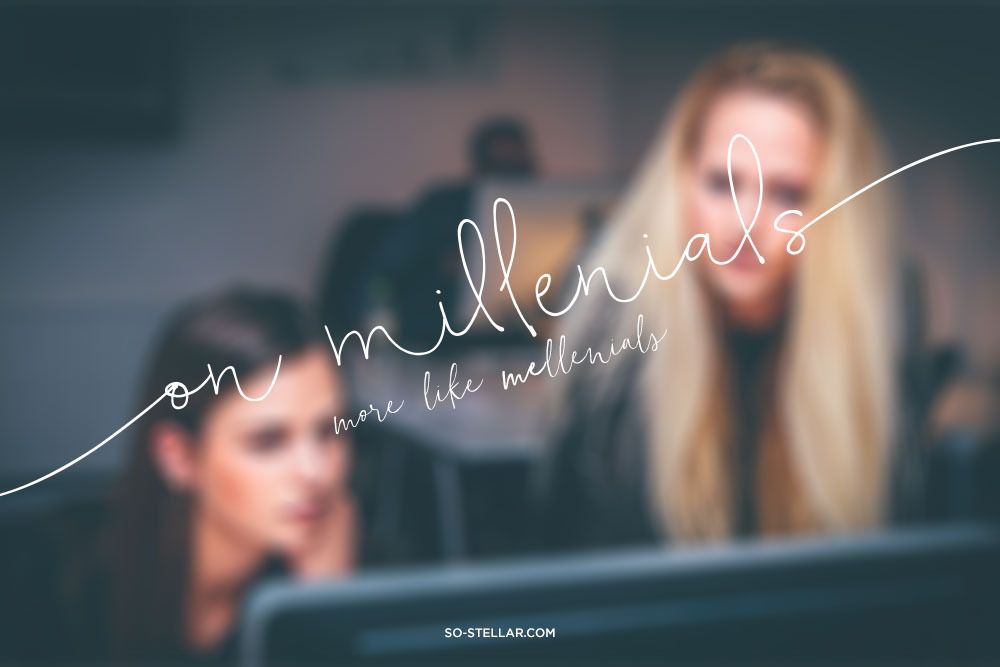 Once upon a time, I used to wave the Millenial flag high and proud. I used the word loosely, thinking that it only means a word to describe myself who's in her twenties. Basically, a one-word term to further shorten the term "twenty-something". This word is so overused around the internet that it eventually began to annoy me. Over and over again. Every one is a millenial. Well okay it's stupid to dwell on how redundant that is; we all age and step in to our twenties eventually, and leave eventually, too.
PS: This may not be a pretty post, or one you'll agree with. 🙂
Pretty soon more phrases, words were added in to the mix. For millenials, by millenials. Eventually, this quickly caught up with everyone and became the norm to use in daily conversation. Typical me, it got annoying fast, and as I've expected.. overused, no thanks to social media. Perhaps it's just me who sees majority of what they do to be annoying. I'm probably too old and cannot relate anymore. ¯\_(ツ)_/¯
Unfortunately I am still in the age bracket where I (gasp!) also count as one. Que horror! What a hypocrite! But here's the thing, I wanna detach myself away from the whole millenial culture. Disassociate myself from it.
Why would you do such a horrible thing? One curious millenial might ask.. well,
11 Things that make Millenials more like Mellenials:
That feeling of thirst to always feel entitled to everything and anything you get your hands on. Most of the time it's out of place and inappropriate. Stop running things over without thinking and rationalizing everything that is happening. Sit down and try to have a bigger perspective of what's really going on.
You are not a special snowflake. No one is.
A narcissist and/or hypocrite in one way or another.
When things don't go your way, you always complain and cry wolf to people, wait for a solution to drop on your lap..
Your #firstworldproblems are petty problems, magnified by social media.
'Hard work' is misinterpreted when it comes to you.
Your need to interfere and rub your opinions with people, regardless if they share the same opinion or not. You will gang up on them if they don't, and suck up to them and get on their good side if they do.
And yet when things go south, you do not want to take responsibility for it. How quick you are to wash your hands and put the blame on someone else. I always hear the line 'I don't control and am not responsible for what everybody else does' blah blah blah when it's time to get down to the dirty details of things.
Just because the world is your oyster doesn't mean you are entitled to automatically deserve and get everything.
Thirsty for credit and acknowledgments and validation from the public. Another me me me syndrome.
Your obnoxiousness is not cute or funny. The world doesn't revolve around you. Not everything you see/hear/feel/think must be publicized on the internet.
By the way, I am only talking about the culture of millenials of internet and social media-savvy kinds. I observed that this does not apply to people who have busier lives offline and barely have any time to spend online; and that it only applies to people who may have spent too many hours of their lives online, almost living in it, and have been exposed to so much things~ of internet culture.
Sigh. I used to be one of those people who were very active online. Maybe my retirement is coming in the next couple of years. 😆
As I've observed from friends irl, they don't pay much attention and concern to things and interests people online make a big fuss about. They just shrug it off, or have a couple of words to say, then they move on. Busy careers make busy lives.
Indeed, there are other things worth thinking about than those GIFs of cheesy pasta dishes you might've seen in Buzzfeed a couple of hours ago, or what your celebrity god did this morning.
I use to use the term Millenial loosely and proudly at some point in my life, was proud to be under the age of thirty and being a 'twenty-something'. Now I can't wait to get older and away from the Millenial age bracket, away from the shenanigans that I see online that cannot be avoided or 'unseen'… or maybe I just need to stay further away from social media and reevaluate the way I see life(?).
My post ends here. If you liked it and somehow my trashy, incoherent piece resonated with you, thanks, I guess? If it didn't, and more or less it pissed you off, hello offended millenial. I expect squads posses ganging up on me in a few days because you can't swallow an opinion from someone who doesn't agree with how you see things.
Anyway, this post (I realized) is messy to begin with. I just wanted to dump my thoughts because wow aren't they annoying? :)) Kids these days. Okay, I'm going back to my cave – bye!
How apropos is this post's cover photo? LOL