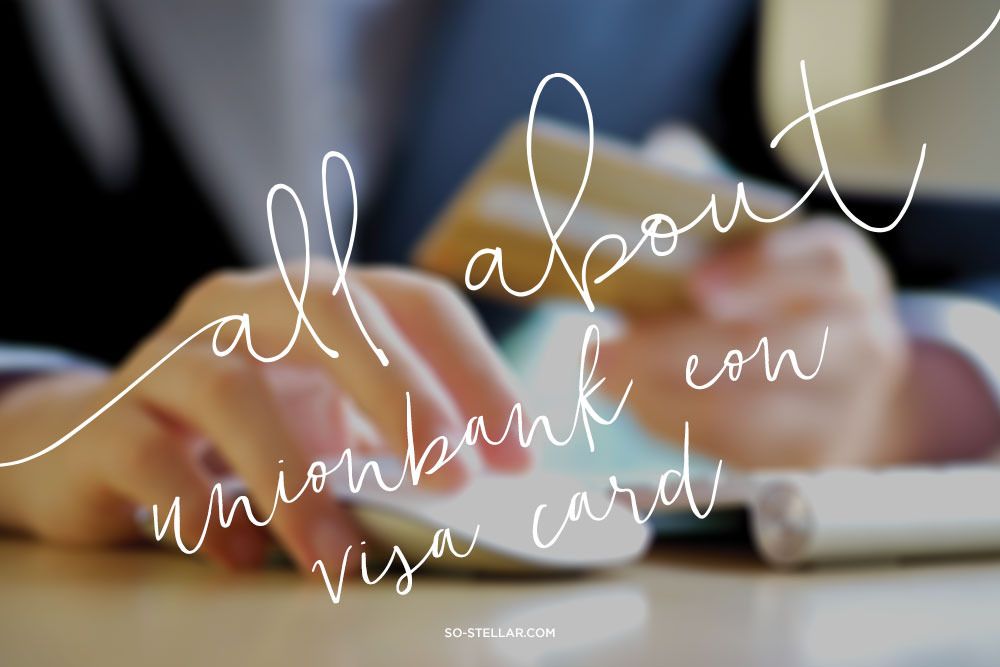 ETA as of August 2017: This post is not accurate anymore since Unionbank changed the way their online banking works. The system works differently from how I see it in this post, especially the password part in logging in.
As frequent online shoppers, sooner or later you'll have to look into getting your own credit card for hassle-free payments. I personally like the option of paying cash on delivery when it's available. Still, it cannot be helped that there are majority of online shops out there that prefer they take your payment as soon as you check out your shopping cart's items.
In this post, I am not going to introduce you into getting your own credit card. Nothing against it, but I would rather have a debit card that automatically deducts the amount of your purchase upon secure checkout than doing the whole "buy now, pay later" process which just leaves me paranoid and inconvenienced because then I have to think.. where the heck do I get the monies to pay for my impulse purchase?!
Out of the handful (I say this because there aren't many options out there) I have found, what I find to be very useful with online shopping is Unionbank's EON Visa Debit Card. It is also a savings account, so you don't have to worry with managing multiple accounts. Basically your account is a Visa Debit and Savings Account in one. Whatever purchase amount you make online or offline, it will automatically deduct in your savings account. It can also be linked to your Philippine PayPal account hassle-free.
I've had an account with them since 2010, and I don't have plans of switching elsewhere anytime soon. So why am I writing about it now, you ask? I wanted to make sure that the service is decent before I proudly write about it and recommend it to everyone! 😀
I will try to pack this post with as much information as I can from my experience over the years. Some specific and common information like the fees for opening an account and renewal may be found in their website already, in which case I invite you to check it out here.
Take note, this is a loooong post and may be updated in the future. This post will cover the advantages, disadvantages, some FAQs, how to open an account and how to renew an expired EON Visa card.
Advantages of a Unionbank EON Visa account
Big points that this type of account has no maintaining balance requirement (I've had funds as low as Px.xx there, for real!) to keep your account active. Of course if the account is unused for more than a year, there might be corresponding fees to that. I'm not totally sure because I haven't tried not using it for that long. I frequently make deposit transactions, so that counts as an activity. No bills to worry after your make your purchase. The amount is automatically deducted. Phew! Nothing to think about later on.
The primary reason why most people get one of these is so they can use it for PayPal. Yes, you can link this to your account and withdraw your funds there to your Visa with no additional bank fees. This is the advantage of UB EON Visa over the other banks because they charge additional fees of receiving your PayPal funds before it is reflected to your account, while this one does it for free. In PayPal's side, you must withdraw an amount that's greater than or their minimum so you won't have to be subjected to extra PayPal fees.
The Internet Banking Facility. As soon as you get your card, and your account becomes active, make it a point to enroll that to online banking because that is where most of your transactions will happen. You can view transactions which reflect in real-time, view the remaining balance, receive and transfer funds to another Unionbank account or to other banks (haven't tried this yet). The only time I ever go to the bank is when I need to deposit funds in my savings account, or when I need to renew my card.
The mobile app is heaven sent! Looks a bit outdated but it does the job. The last 10 transactions is pretty detailed too.
In case of dispute regarding purchases with online and offline merchants, you can easily track back your purchases and show proof of that particular transaction, thanks to the Internet Banking Facility. In other banks, transactions in your debit card are only viewable for a limited time in online banking (usually last 5 transactions, then it's gone forever when it's overwritten with new data) and it's just a list with no other detail available to view. With UB's EON Visa, transactions from at least 6 months are kept in the Internet Banking Facility. You need to be fast with writing your dispute letter and present screenshots and photo proofs as soon as you find out there's a discrepancy with your purchase and transaction. The email support is not that great, but they do reply in a timely manner. Thankfully, all the disputes I opened were settled successfully in the past, and I hold on to these little moments as proof that the service is good enough. It does the job. 🙂
Disadvantages of a Unionbank EON Visa account
The newly renovated and 'updated' Internet Banking Facility of Unionbank sucks. It's terrible. If one doesn't have enough patience with it, they might just mess things up and break their entire UB online account altogether. I don't understand why they needed to make a drastic UI change when it was doing alright in the beginning (admittedly, the design was still old-looking then). They should have just upgraded the security measures of the website! Other than login problems, there are reports that users encounter problems when it comes to re-enrolling their renewed Unionbank EON Visa cards. In the beginning I was furious with the new 'modern' UI, because along with it came the awful UX. But as the months gone by, I got used to it and just overlook the eyesores around the website. Doesn't mean I like it now, but I found a workaround to it I guess. As long as I can view the transactions in detail and see the flow of funds, I'm all good.
I suppose this also happens with other cash cards but when a transaction doesn't go through successfully, that's also a disadvantage for me. Fortunately, there's the transaction reflected right away in online banking and I can make a dispute letter about it.
The fact that I have to change the transaction password every 100+ days. I get it's for added account security, but it's inconvenient! I seem to always forget what my transaction password is, so whenever it's time to change.. this always becomes a problem because before you can nominate a new password, you have to enter the current password. I end up locking myself out of my account, having to call the hotline to have it reset, wait for a few days before I get a new password. 👿
Not a lot of options of merchants and companies to pay in the Bills Payment area. Not a lot of Unionbank users in the metro, so when it comes to online shopping with payment deposit as an option, I cannot use funds from this account.
The yearly fees? I know I'm being a fickle but P350 a year automatically deducted to my account for the Visa Electron fee seems outrageous. 😆 Then again, the benefits outweigh this teeny fee and on a good day, I can probably overlook this.
Your card is good for three years from the time you receive it. To renew your Visa card, they would charge you P150 for it. BUT I found a post from their official FB page from 2011 a few weeks ago that they are now(?) waiving off this fee. Upon calling my branch of convenience, the banking officer said over the phone that it is free if I renew WITHIN the same month my card expires, BUT when I got there to have that processed, they charged me P150 and when I told them about what was told to me over the phone.. they said the fee is waived if I renew the following month AFTER my card expires. They waived it anyway, maybe because my account is active? So much for these conflicting information. 😐
Frequent concerns about the Unionbank EON Visa card
Can the card be used in offline transactions, such as swiping it to pay for goods at a supermarket, or a local department store? Yes! They'll swipe the card (since they'll consider that as a Visa card) and ask for your signature. Haven't tried to pay for goods using this card as an ATM card, in which they would require me to input a pin code instead.
What about swiping the card to pay for purchases abroad? Yes, it shouldn't be a problem. I have successfully used this card in my past trips abroad with no hitch. I think the salespeople only look in a card if it has a Visa or Mastercard logo before they proceed to swipe it.
Can the card be used to withdraw funds? Yes. I use the card to withdraw funds from time to time. Doesn't have to be a Unionbank ATM (too bad they aren't as widespread a BPI and BDO ATMs in the country!) but there's a fee if you use a third party ATM to withdraw funds. Anyway, there's a fee when you withdraw from a Unionbank ATM too.
Can I use this card to purchase apps from Google Play or App Store? Yes, for Philippine App Store accounts you can use this card, not 100% sure but I guess same with Google Play. Just make sure the billing information is the same as the card holder. This is important.
Help! I purchased something from a store, they swiped my card but it displayed an error instead of a success message.. but the amount was deducted as soon as I checked it when I got home (or through the UB App). What do I do? Call their hotline immediately to report the incident, but it is most likely they would just tell you to open a dispute case with them by sending an email to [email protected] and start the ball rolling from there.
How to get a Unionbank EON Visa card
NOTE: The information I have regarding my experience when I opened an account in 2010 may be different from how it is now because I was a student then. At the time I was only starting to familiarize myself with government IDs, so I only had a few at the time. 
I brought the following with me to Unionbank branch of convenience in Parañaque: TIN ID (which I got when I applied for a Student Driver's Learning Permit), Philippine Passport, Voters ID, College ID, 2 utility bills to show proof that I reside in the address I put in the forms. I already had my IDs photocopied prior to the visit to not waste time, since photocopies of your government IDs are required whenever you open an account 90% of the time.
They asked me to fill out the application forms, asked me to write my signature multiple times at the end of the form, asked for my thumbprints. No big deal, just the usual requirements for your proof of identity. Haha.
I paid the P350 first annual fee for the card. Had to wait about a week maximum before going back to the bank to pick my shiny new card.
Some blogs say you can get your card within the day if you apply online. I wasn't aware of this before though, so that's too bad! Start here if you're interested. They'll give you a reference number through text that you present to the branch where you will pickup the card. By the time you visit, do bring the requirements (present at least 2-3 government/valid IDs and provide photocopies, pay the P350 processing fee, bring proof of residence and proof of income just in case, lastly don't forget the reference number). (source)
I enrolled the account in Unionbank's online banking as soon as I got home. Click the 'Register Now' button and start from there. At the time this was not how their website look so I can't guide you accurately where to go from there. More or less maybe the steps were the same. There were some hiccups during enrollment, but it was resolved within a week because I called their hotline immediately when I encountered the problem and could not resolve it on my own.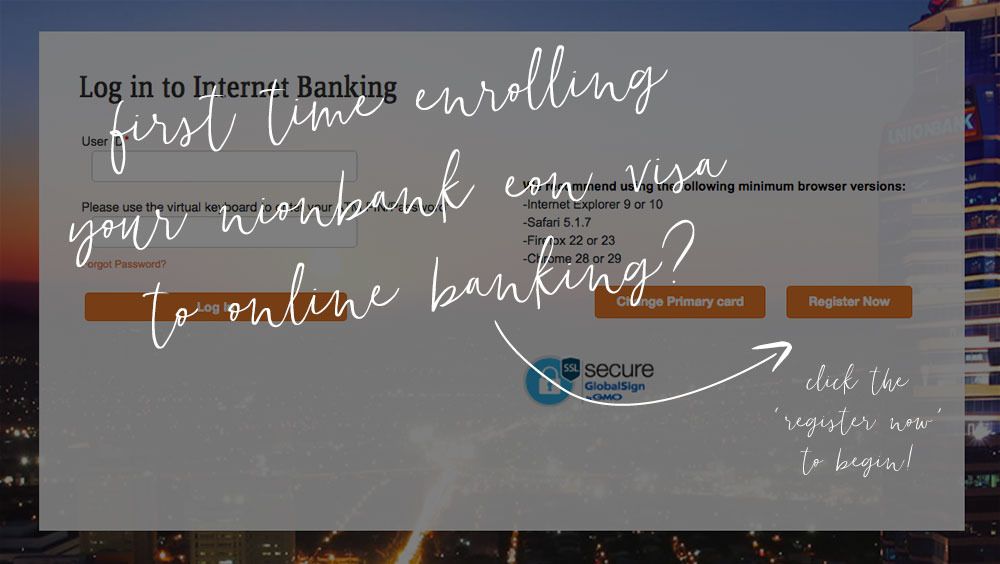 …and the rest, as they say is history. 😉
How to renew your expired Unionbank EON Visa card
Alrighty, three years have passed and now your card has come to its expiration. I hope you were able to use the card lots of times to maximize it!
Should you decide to renew (I did!) here's what I did if you are curious:
As mentioned before, there are conflicting information from three Unionbank representatives: Renewal is FREE if, a) processed within the same month as the expiry date; b) processed a month AFTER the expiry date on the card; c) just because that's what it says in their Facebook page from 2011.
I went to my Unionbank branch of convenience. Some blogs say you can have it renewed anywhere, but why would I go farther than my branch of convenience when it's the nearest to me? 😆
I went to the area in the bank where they do card-related transactions, not the one where you queue for hours to deposit. The queue in this area is shorter.
I waited for my turn and when it was my turn, I told the bank officer I need to renew my card so I can use it for online transactions and to link my PayPal account for fund transfer. I renewed in the same month as the date indicated in my card, February 2016, so the fee should have been waived, no? The bank officer said the fee is only waived if I renew a month after, yada yada.. eventually he waived it anyway for some reason. Filled up some forms again after that. He asked me if the contact information in their data is still correct. It is.
This time I was not required to present any IDs, proof of income, identification, etc. They don't give you any slip when you're finished complying with requirements and filling up the forms. Usually they just tell you to come back a week later to pick up your card. You can try calling 3-4 days later, maybe it'll be available by then.
Upon pickup, you will be given a piece of paper with your new ATM pincode, and that the card is automatically activated after 24 hours. Not sure if this pin works the same with online banking, like if the old one will be deactivated automatically. I haven't tried the card in ATM since I got it, only in online debit transactions. But my old login details still work in online banking.
Do I have to register my new EON Visa card again in online banking after? (As of March 2016, while Unionbank is still using the same design/layout as the screenshot) No. Your savings account number should still be the same as the old one in your new card by the time you get your new card. In Unionbank's Online Banking Facility, it only 'sees' your savings account, not your Visa account information (I'd like to think so!).. so it shouldn't matter. Visa card information, I believe is only relevant when it comes to purchases. The funds will still reflect in your online banking facility, and debit transactions will show up too. Unless you lose your savings account, or was issued a new one, or the previous one was closed.. you don't have to.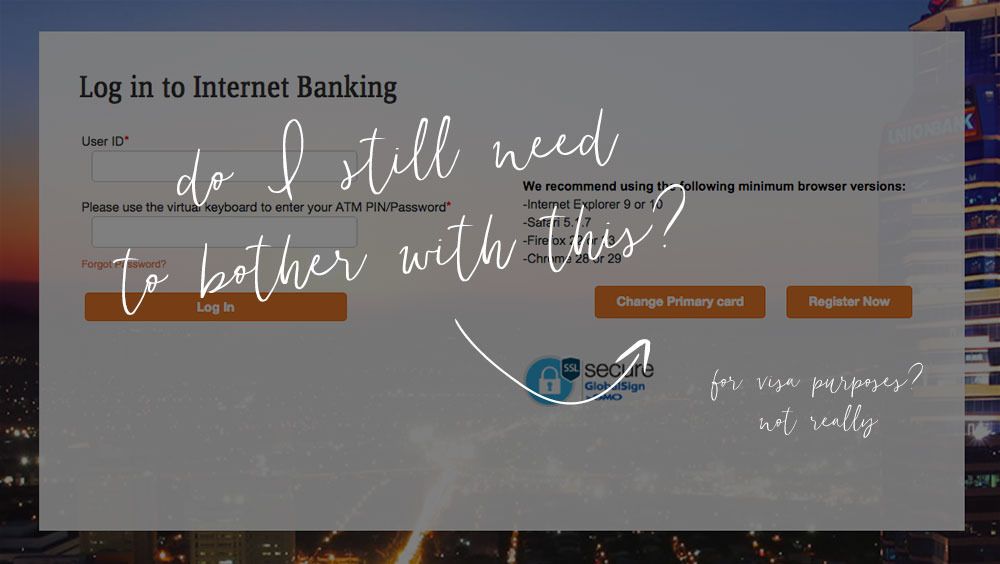 You may feel you still need to do so, after seeing the 'Change Primary Card' button in the EON Login Page of the Unionbank website.. but no matter how many times I try to process form in that page, it never goes through! I brought this up with their customer service hotline and they gave me such an honest answer: It is broken and will not work no matter how many times you resubmit the form.
Right. So why is this button still in the live website??? I don't understand. This is definitely going to the disadvantages bin. Previously, when you get your Visa card renewed you can easily change the online banking enrollment stuff through the website as evidenced in this post.
Different people come across various problems in this bank's online banking system, other than the enrollment problem issues. In which case, I suggest for a much quicker response to problems you encounter related to this – hit up their hotline.
Where the new Visa card information can be used
In Unionbank's online banking facility, the Visa card information isn't of much use or relevance. Where can you use the card information by then? Other than making purchases online.. you may now use your new Unionbank EON Visa card to link your card to your Philippine PayPal account so you'll be able to receive and send funds.
Simply log in to your PayPal account and input your new Visa card information there.
Make sure you have at least P50-100 amount of funds in your Unionbank EON Savings Account so that PayPal can proceed deducting a test amount successfully to see if your card is genuine.
The amount they will deduct in the test transaction should not be more than P48-50 pesos (depending on the day's foreign exchange rate).
PayPal will give back the amount they deduct momentarily, and it should show up in Unionbank online banking after.
I lost my card, what do I do?
There is a suspicious transaction that I did not authorize/am not aware of, what can I do?
In the unfortunate event that you lose your card, it is best to have that incident reported to your Unionbank branch of convenience so they can reject all transactions that may come up after it's lost or stolen and you can request for a replacement.
I know the tedious part is enrolling again but it's best to get that done as soon as you get your card. I find that calling the hotline is faster and speeds up things better than doing everything on email support. Disputes are one thing that can be processed better through email.
For suspicious transactions in your Visa card, calling the hotline ASAP is the recommended way to deal with this. So far, they have called me in once regarding a suspicious transaction (according to their judgment, hehe). I politely told them I authorized that transaction and I personally made that purchase so it's all good. It was a strange moment, because thats the first time they've ever called me for that, but nice anyway because you know they monitor your activities(?).
—–
That's all of what I can get and remember from my experience being a Unionbank EON Visa cardholder and user for the past couple of years. I hope you were able to find the information in this post helpful.
If you have questions, feel free to write a comment below and I'll try my best to answer!
Disclaimer: I am not affiliated with the bank. I am, like you, a shopper and consumer, in the search of a low-maintenance debit card that I can use for my purchases. I wrote this post to help you guys decide if ever you came across this post, looking for related information and experiences about this debit card.