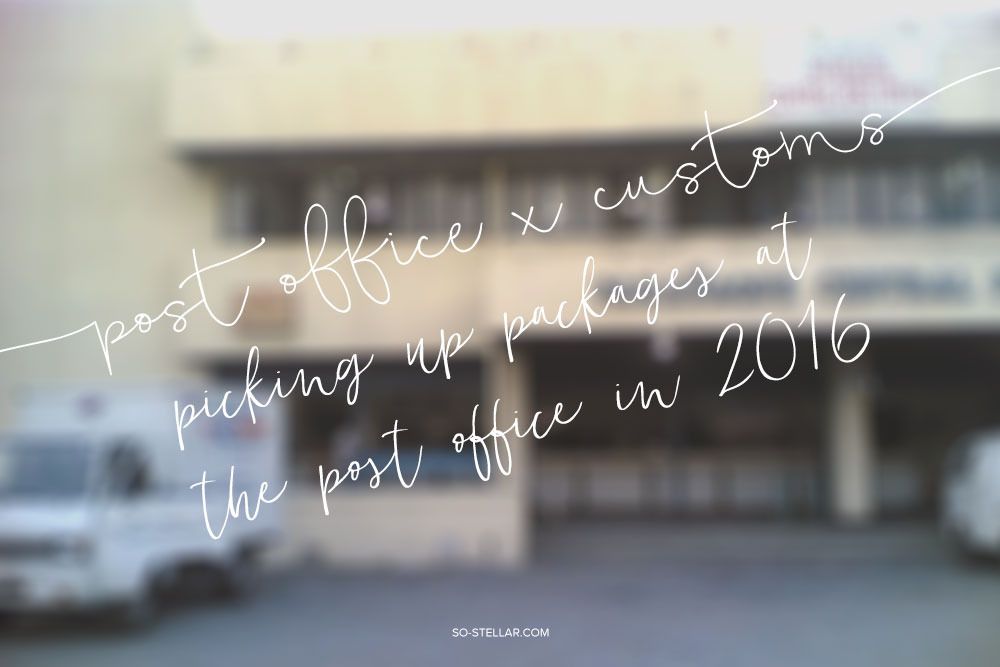 Post offices in the Philippines are either a hit or miss. You either love them or you hate them. Not all post office here are the same, especially when it comes to the customs policy for incoming packages from around the world.
Local parcels aren't a problem. You'll receive with no inconveniences. Letter type of mails are delivered properly to the addressee. On the other hand, when it's letter mail or a parcel (regardless of its size) that came from anywhere outside the country, it will be held for customs inspection and you have to personally go there to (as I like to call it) bail out your package.
It's a problem to me because it's inconsistent. This does not happen to all post offices in the Philippines or just in Metro Manila post offices alone. I wouldn't be complaining if it's like this in all post offices, because we're all getting fair treatment. We're all getting 'fairly', 'equally' taxed. But since it's not.. this experience makes me conclude that it's just some sick power tripping by the officials around this city for extra money for their pockets.
For one, books shouldn't be taxed if it's not in commercial quantities. Apparently, the Parañaque CPO does not adhere to that department order.
---
The previous experience I had with our local post office in regards to picking up some packages held up at customs happened in 2012. It was horrifying in a way that I paid much more than I actually paid for the items + shipping fees. >:( It made me traumatized and promised I wouldn't do that again.
Or so I thought..
Then came last year when I made a stupid mistake of impulse buying planner materials around eBay around December. I thought that by ordering little items, it wouldn't be caught in customs at our local post office and that I would get them delivered straight to my doorstep. I thought everything was okay because the BOC was under the media, maybe they'd straighten up or something. Social media was making a lot of ruckus about this matter. Maybe, just maybe, things have changed. Ha ha ha, as usual, I thought wrong.
After three weeks, I began receiving notices from the Parañaque Post Office sporadically. By the time I get the notice, the postman is gone. Seems like they leave ASAP to avoid being asked about these things? 😐 Of course I felt annoyed soon as I got the first notice. Not again! It was best that I just let it go and not pick these over there, because I will most likely be taxed sky high fees just for one little item.. like the last time.
A paper puncher that's about half the size of a mini stapler is taxable? Stickers are taxable? What the fuck? You might be asking why did I buy crafting supplies when I could do that here? I would if they aren't overpriced and widely available.
In the first place I never understood why we have to pay for fees like:
Storage fees: It wouldn't be stored there if you had just delivered it in the first place??
Tax fees: Why? None of these items are their property to sell?
Import fees: But they did not import it in the first place? They just acted as the middleman/receiver in the whole situation?
It just doesn't make sense to me. If I bought these things from them then I would gladly pay it, I guess? To me, situations like this one just looks like they're holding my items hostage and I have to pay them  to bail my stuff out.
Also, I definitely would be complaining less if the money from the taxes we pay *actually* goes to improving Metro Manila or major parts of the country. It doesn't look anywhere close to getting a cinch of improvement. Show me because I don't see it. Commuting is still a bitch, first of all. You had one job, government, one job!
Fast forward to 2016, they kept sending me notices but this time they had different numbers on it meaning it was different packages under my name now. Great, more items are arriving.
I waited for a couple more until I have around 6 notice cards, then I went to the Parañaque CPO one Friday afternoon. Six because it was six different items from six different sellers.
The BOC has been under the fire since late last year for overcharging similar fees for Balikbayan Boxes. They've been doing this for YEARS and to smaller packages at post offices; even for items that are just ridiculous to be taxed. It only got the attention of the media now because OFWs from around the world are aggressively complaining about it. It has been months since that issue, unfortunately they have not changed. Some customs commissioner is even defending themselves why they are like that.
It's the BOC who's responsible for these extra unnecessary fees, actually, not the post office. I think if they had it their way, they would just deliver it and be done with it. BOC just c0ckblocks them from doing so, all for money. They see an opportunity to make money out of our stuff, they do whatever it takes to accomplish that. Only in the Philippines.
Picking up my eBay packages at the Parañaque CPO
Upon arriving at the PO, there was already a small queue over in the BOC corner. I was surprised because I didn't think many people would still want to get their packages at this rate. By now, there are plenty of other options how to get your US packages delivered to you directly. Yet, many still opt to have them delivered through the post.
Maybe it's because it's… cheaper? Hah, that's the last thing I'd have in mind if I were to ever consider sending a package to the Philippines through postal means. For the record, I had these sent through post bec free shipping and they're from just around Asia (had it been from the US, I'd choose a consolidated box from a US forwarder).
As I was anxiously waiting for my turn, I observed other people who were also there to claim their parcels. There was a couple before me, and the gist of their transaction was (not that I listened on purpose but, it was a small corner and you can hear everyone talking) they were charged around P600 for olloclip lens for their mobile phone. It came in a small bubble envelope. Imagine how small that is. Anyone would have been very surprised of course. Then the one of them said that in Davao there are no customs fees, why are there fees here? The customs lady just shrugged and said "but that's in Davao, imports(?) are tax-free over there" or somewhere along those lines. I don't know how reliable that information is. She could've just said that to abruptly end the conversation with no further explanations?
The couple just followed what they heard and paid the fees. They were gone shortly after that. I feel they traveled far just for such a small item to pick up. See? Things like this shouldn't have to go through customs. The primary reason why people buy elsewhere, online most of the time, is because it's cheaper. It's counterproductive to buy something  online bec it's cheaper, but end up paying some fees that when it adds up from the item cost+shipping, it's almost the same price as buying it from a store here.. if it were available in the first place.
Next was a person who claimed a huge box which contained 80% stuffing to 'pad' the item inside and a used iPad carefully packaged. No idea how much he paid but the customs lady really made it a point to look up the price of said item online (IDK their method of searching for prices.. do they just randomly Google and intentionally pick a website displaying an item in the highest price possible and start their computations from there?) before coming up an amount that's past P1000. Lastl, another guy picked up two video games, presumably an online order. They were gone pretty quickly too after that.
Finally it was my turn. All eyes on me because I seem to be the one who brought a lot of notices for them to inspect. Six small packages returned and I swear I saw the BOC lady's eye lit up suspiciously, and smirking on the side. The PO guy started opening the packages, all the while holding a 'tsk' look on his face. For every time the BOC lady made side comments about my items (partially judging me for buying 'scrapbook stuff'), I reiterated that it was for my blog. For my blog. FOR. MY. BLOG.
I read somewhere that mentioning that this is for your blog works daw. Because they'll assume your item is really a ~gift~ from a ~sponsor~, resulting in your fees to possibly be waived. Apparently, this trick is ineffective with this post office – don't bother!
So I knew from the start that there's gonna be some fees before I get these babies to go. The odd thing, though, is they were much less than I was expecting. Of course no one wants to be overcharged, and I was happy this was not the case for me. Still, would be better if I wasn't charged anything y'know? Tables were turned because I ended up paying MUCH MORE for the post office storage fees than the actual fees for taxes and customs. I'm not entirely sure but it helped enormously that I brought the PayPal receipt for all my orders.
In the PayPal receipt I brought, the total amount was Php 700 for all items I ordered on eBay, converted from USD which was around $15. The tax and customs fees after their computations was a shocking Php 222. Wow. Who would've thought! Again, not sure if this was because I brought a PayPal receipt and shown them the actual cost of items. Had I not brought a receipt, who knows, maybe they just made up prices out from thin air from whatever search result came up that day.
Suspiciously, postal fees amounted to Php 672. Postal storage fee now have gone up, sadly. >:( Last time it was only Php 50, now it's Php 112 per package.
No wonder their eyes lit up because they were about to get Php 672 from me effortlessly. It was a hot afternoon, so how can I be sure a portion of it did not go to money used for their snacks instead?
Grand total of Php 892, and they let me go with my six packages on hand after that. Fine.. at least it was still below Php 1000, my maximum allowable amount that I was willing to pay for if there would be any. Realized that one of the packages was missing an item when I re-checked everything when I got home. Dunno if I left it at the PO when they started opening the packages earlier and missed it, or the seller really did not mail it to me. OR she mailed it separately but it never arrived. Nevertheless, I asked for a refund for that because it's been three months and nothing.
A few things I learned about parcels at the Parañaque CPO
The Florence Agreement does not apply to this post office. They do not follow this department order. When I asked about books, that it shouldn't be taxed per this agreement, especially if it's not in commercial quantities. Their answer was it would depend on the TYPE of book/s. It would still be taxed. Yeah I know, just.. look away and never come back.

I ordered online a copy of a design school's catalog in the States a few years ago. If the fees really depended on the type of book, why was I charged fees for that parcel? It's not a novel type of book. A friend who lives in the same city where this post office caters mail deliveries to, mailed her catalog directly to her doorstep at no extra fee.

For unclaimed packages: It will be sent back according to them. (Big YEAH RIGHT to that. Sinong niloko niyo?)
You are better off having your packages delivered to a provincial or remote address. Some POs don't tax their packages for some reason. Definitely not in a post office based anywhere in the city. (This one I just concluded from observation)
If the addressee is in an office, condo, or building establishment there's a good chance that it'll be delivered directly free from extra charges. (Fact from friends, not myself)
The whole experience was calm. There wasn't a need to raise voices in order to make a point or argue like what I read from other blog posts. I disagree with the charges, yes, but this was the best option I had at the time. I had a feeling I'd have to resort to arguing incase things turn out differently. I was mentally prepared for that, a bit. 😛 Their only advice was to "vote wisely" this upcoming elections so this 'problem' would be put to an end. Such an insightful advice, no?
Weeks ago, I had decided that I won't pick up the packages anymore but they were persistent on sending those notices so I went there to get it over with. I will just sell these items in case I don't want to keep them anymore or have no use for it. They're all in very good, brand new condition too (as with everything else I'm selling).
All in all, this experience made me think worse of our never-progressing local post office, and feeling an itty bitty ounce of pity. Other than a new paint job of the building (yes, I noticed your building is an effin' shade of presidential yellow), service-wise there is no progress. If anything, the quality of service went from 10-0 (from year 2002-2008 aka my most active years in international buy/sell/trade through postal mail). Just.. look away at this mess that is the Philippine Postal Corporation.
Now, I am more determined to avoid them at all costs and will keep patronizing consolidated US shipping services like this <3 or, ask favors from friends in other countries to have mail sent to their address and will claim from them when they visit (or if I visit their place, hehe). Kind of an embarrassing thing to do when the favors pile up, but hey, you gotta do what you gotta do and hope they understand the situation.