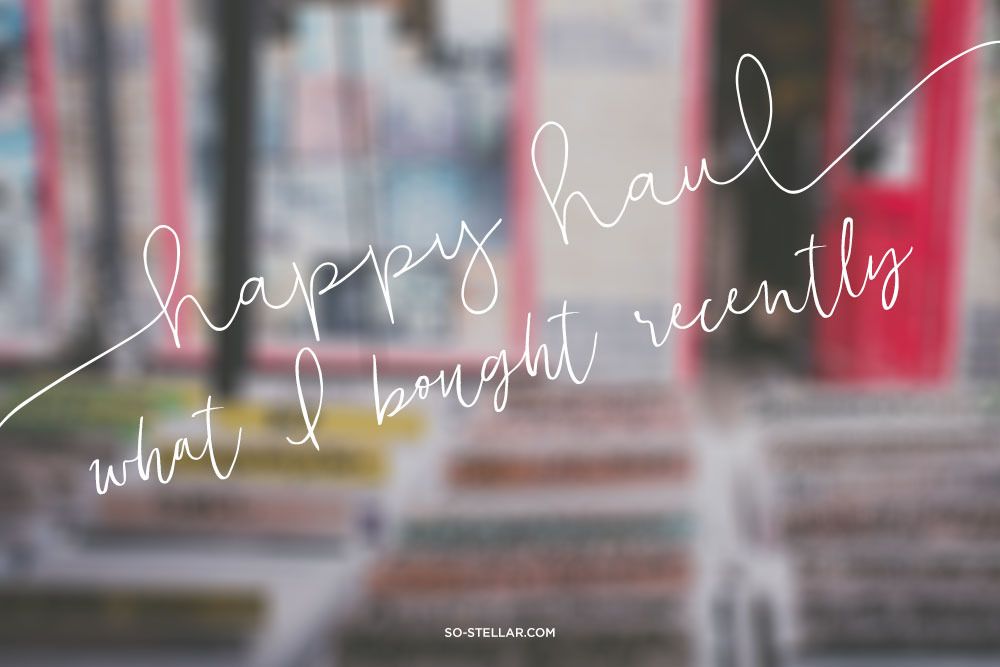 I think malls should avoid placing book stores as the first shop right after the mall entrance. Weird opening statement, huh? It's because lately, whenever I go to the mall (just to get fresh air, and see something new other than going to Dialysis centers) I always make a stop at the book store and there's not a time that I don't exit without any paperbags in hand. It's like reflex; soon as I see a bookstore, I have to go inside and check everything out!
In case you're wondering: Happy Haul is gonna be a "series" part of my blog where I.. show a glimpse of (what else?) recent purchases. Obviously, similar to Happy Mail, but since our post office here is shit.. let's just forget about that! Anyway, I never know how long I can keep up with any series type of thing in my blog, but most posts related to stuff I recently bought, or not so recent, or simply just things I bought will be under this category/series/tag now.
Back to the story: If it's not books I've bought, it's some random office supply.. which I *will* have a use for, eventually. Slowly, my room is becoming its own National Book Store from the supplies I have here. Lol.
Anyhoo, this month's haul consists of pretty books. Is it just me or a lot of poetry books are around now than before? Suddenly it's popular and a cool thing (again?). I wish I had seen or had become aware of some of these books elsewhere before seeing them in store. Only because, had that happened, that would give me more time to think if I really, really do want it, instead of impulsively buying it because it's pretty.
Sometime last week, I sold my DSLR. Good years with that one, but it's time to upgrade. Quickly, make a guess where I first spent the money from it? (Figured it out now?) Now you understand where I am coming from when I say that malls should not place book stores right infront of the mall, after the entrance. 😛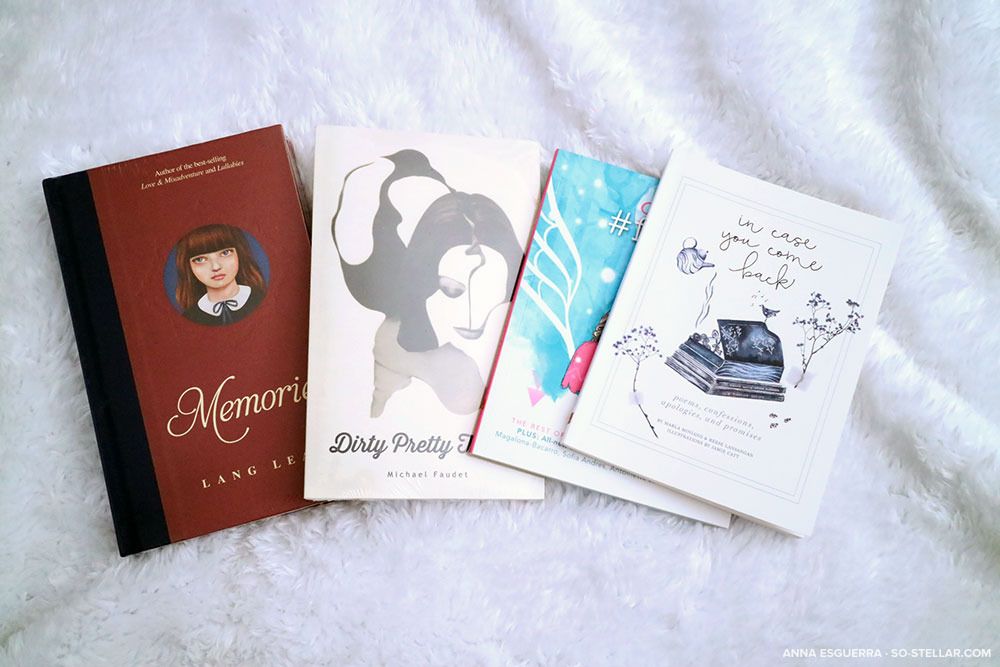 Poetry books!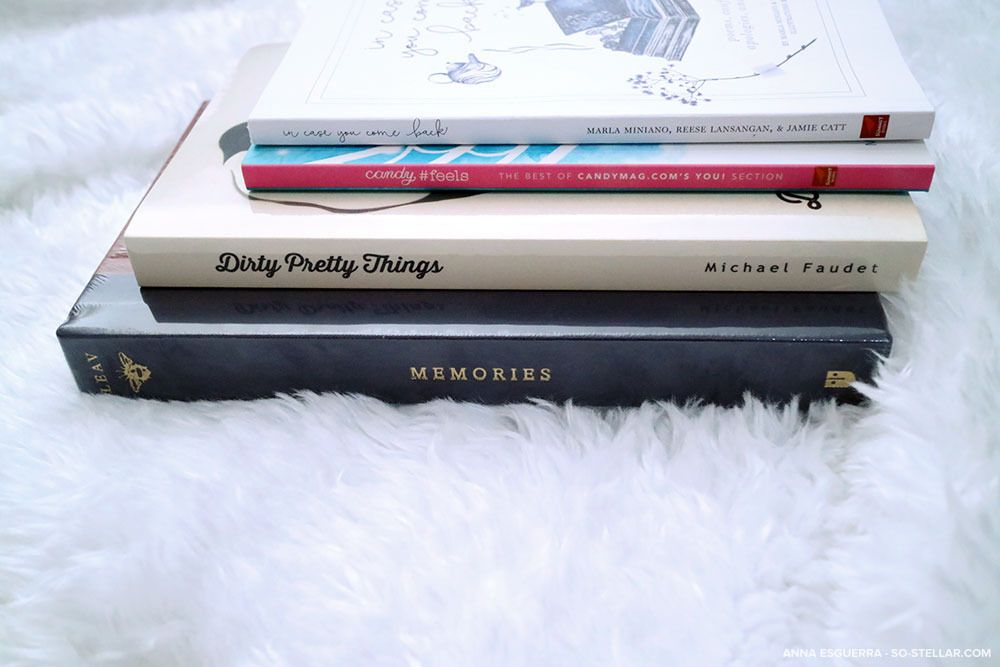 I get that the poetry style of Lang Leav is rather questionable to some, or just not the type real poets (from the criticisms I've seen around, anyway) really consider to be poetry? Idk. But I like it. Some of it. Michael Faudet's style is more sultry, unapologetic, explicit, sexy. Part of me is more interested to read that in Dirty Pretty Things. I feel that Lang Leav's style is targeted for a younger audience.
I wasn't planning on purchasing Memories in the beginning, by the way. It changed one day while I was browsing the NBS website and saw they had an online special for the book. They're selling copies with a free signed nameplate from the author, so I thought that's a good reason to get it. It'll be a nice collection to my other Lang Leav signed books. The last one.
I was hesitant to buy this book at first because I heard that it's just a compilation of her best pieces from the first two books with a couple of new ones. The signed nameplate was a good motivator to buy one, lol. Most likely this will be my last book from Lang Leav.
Memories and Dirty Pretty Things were purchases from NBS Online. Ordered them a long time ago but only took now to be delivered here. Thinking if I should write about that experience too. 😐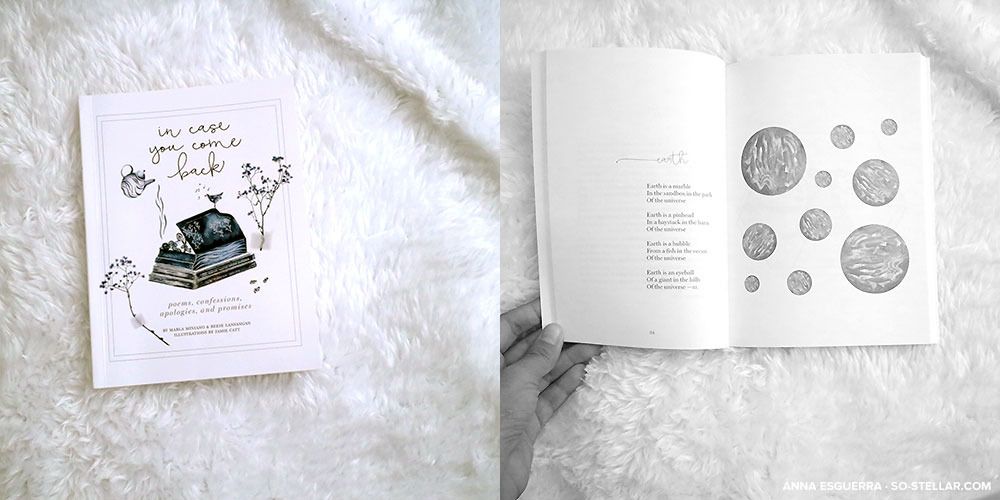 In Case You Come Back is a book that I was surprised to see in a bookstore. Words by Reese Lansangan and Marla Miniano w/ illustrations by Jaime Catt. I love love love the illustrations, words, and overall look of the book! Such nice visual aesthetics, too. Surprised that it was a locally-published book and it was so reasonably-priced. I think that's what sold me.. lovely short read to pass by time and possibly #feels, and that it would also make a nice prop to flatlay photos in the future (if that's still a thing by then). Bit of a bummer for the book cover's paper quality though, it's such a dirt magnet. 🙁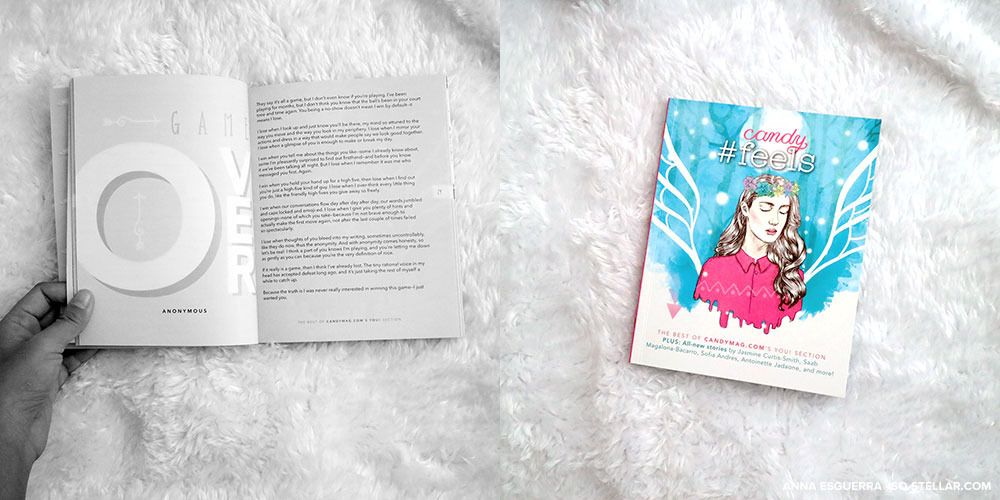 On my way to the cashier to pay for books (plus a couple of magazines, hahaha) I saw the Candy #feels book in its eye-catchy, pop of color design from afar. Quickly picked up a copy soon as I got closer to it. The book is a compilation of the best stories from the magazine's You section. I was a follower and reader of the magazine in my early teenage years until I grew out of it. I am hoping there are more stories from the earlier years though, than the present. I like the throwback feeling too much, I know.
That's all for now. Short book haul, lol. So much for wanting to go completely digital with my reading. Print still wins in some cases. There are just some books that are better to have print copies of than just digital. 🙂
Speaking of print books, I am selling most of my books to clear some space in my bookshelf. Check out Tinyberry PH on Facebook or IG for photos and how to buy. Link on my blog's sidebar.
Gotta go! Time to put on a pensive face, legitly reflect and face Cheesus. Have a good Friday, everyone!