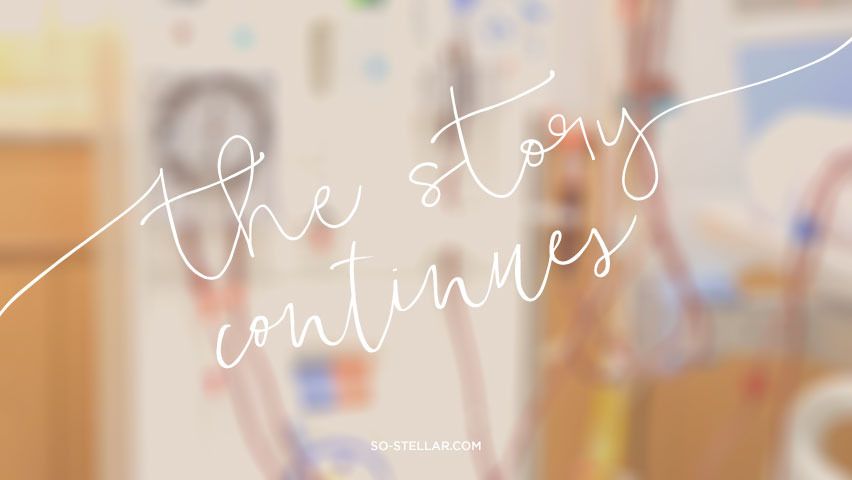 (Read part one here: The Answer Everyone's Been Waiting For)
Better late than never, am I right? I knew that from the moment I wrote Part 1 of my Dialysis series (should I start calling it that?), it would take me a long time to continue it. The days went by and I didn't get to it right away, almost forgot about it and thought of not continuing it.. but since I have invested too much in it already, the obvious step is to probably continue it whenever I can, in my most convenient time. It's a good thing that I don't have strict deadlines, huh? So much of being a blogger! Hahaha!
My mentality with hospitals usually is to stay away and avoid getting hospitalized as much as possible. Once you end up in the hospital, they'll do endless tests, and that is when you know you really fucked up your health this time and you can't treat it on your own anymore. The other part of me thinks the tests they do to you at hospitals is sometimes irrelevant and unnecessary and only there so they can charge it to you and add up to the expenses. That's another thing I avoid with hospitals – the expenses that you have to pay later!
Being admitted in December was not the first time last year. In fact that was the second time I was hospitalized. Prior to that, I was admitted sometime in October but in a different hospital. That was when the doctor assigned to me concluded that I needed Dialysis, but being the stubborn person that I am.. rejected his opinion and as soon as I was feeling well, I insisted to be discharged immediately. Yeah, little did I know that it would only get worse from there..
..but I have no regrets not listening to that particular doctor. Sorry, but if I were to decide on something like getting an operation for a Dialysis catheter, I would rather hear and discuss about it from a doctor who has been seeing me as I grew up, not from a doctor who was only randomly assigned to me. Granted, it was my fault for letting myself be admitted in that hospital but at the time it was the nearest and I needed immediate medical attention.
Throughout the years, I hear a lot of stories about those times I was hospitalized for a longer time (talking about months of stay here!) as a kid. They say my condition was worse than now. Doctors would do all sorts of tests on me that would leave me exhausted and a body bruised and beat up from them endlessly poking me with needles just to get all sorts of samples from my body to know what's really going on in there. Must have been traumatic for 3-year-old-me. I probably spent a good chunk of years there and what would have been my childhood and formative years. No wonder I am anti-social and shy?
Coming back to the same hospital now, 23 years later, it all feels weird. I don't have memories of those years (I bet I buried it deep in my consciousness or something, lol) so I did not have expectations other than expecting everything to go smoothly. I thought everything was taken care of and we would just swoop in and check if a room was available. I was wrong.
I find it annoying that it took us approximately 5 hours before we could get our room to settle in. To think my operation was immediately the following day! My fault for not researching beforehand. We arrived around 3pm in the afternoon, presented the documents the doctor told us to present in the Admitting Office. There was a misunderstanding with the front desk that resulted in queueing for hours until a room became available. The room was filled with a snakeline group of people, so yeah at the time it felt hopeless I just wanted to lie down but I couldn't. Can't focus my attention on eating, either, because this was the time that I had no sense of taste anymore AND my stomach is rejecting having too much food and there's also motion sickness to muster.
Note to self: Next time, make sure to book a room a week in advance even though that seems impossible to do because a week from now how is one suppose to know that they need to be admitted in a hospital if they are not showing any symptoms or need to be there? Most likely you just got used to the system the hospital you got admitted to in October: They require a downpayment and you are secured a room, no waiting needed.
Fast forward to nighttime, we finally go our room. At this point I wasn't making a big deal of anything. I was laughing, acting as if I don't have a major operation the following day. I made sure to take photos of my upper body though.. haha, so I'd have something to remember because I'm sure after the next day, there's going to be a catheter there and that's not pretty.
Since my dad has already been in this situation previously, I asked him for tips and stories if he had any to share. Oddly enough he said that the anesthesia made him see things (probably hallucinating). This had a weird effect on me, because instead of feeling scared because of this, I was expecting this to happen to me and I want it. If this is same as the hallucination from illegal drugs, then so be it. JUST KIDDING. 😆
Does hospital food suck in general? Because I remember it vividly, the food was awful and bland and it gets cold quickly (due to the centralized air-con, I guess? Doesn't matter if we turn off the AC in our room, it's still cold af), which adds up to the awfulness of the food in general. This was probably my least favorite in the whole time I was there.
Surgery day
The day has finally come for that dreaded catheter surgery. Did I get enough sleep? Was I prepared enough physically, mentally, emotionally for what's about to happen? Have I accepted that once this is done, complete change starts then? No, no, and no. But this is what I have to do in order to live so.. the hell with it, let's just do it. The moment I got into that room, there was no turning back, anyway.
Morning started alright. Nothing worth noting about regarding my breakfast, as I've said previously the food sucked in general and throughout my stay for this operation. I realized by now that it's because of the diet prescribed to me during my stay. "Low salt, low fat." But still, JFC, it tasted like paper!! I believe you can cook healthy food without salt and less fat that tastes decent.
The hours leading to my surgery in the afternoon felt agonizing. Various doctors and nurses kept coming in and out of our room to check my stats as preparation for the operation. I just want to get this over with so I can sleep, and maybe go home already? When it was finally time, they pulled me out of the room and wheeled me to the building where the operation rooms are located.
So, this is it.
My family (by that I mean my parents and my brother) were pretty supportive with it; they were there after the operation but my mom was the one who was present and supportive 24/7. But it can't be helped that as I was taken closer to the operating area, all these thoughts start to rush in my mind and I was feeling anxious and scared.
But what if it's not successful?
But what if I die?
But what if I don't wake up?
But what if this just leads to more complications?
But what if I don't get my sense of taste back?
Will I be a disabled person, unable to live life normally after this?
So much ifs and buts. I overthink to great lengths, people. Now you know! As expected, my eyes became watery til tears ran down my face. Mom held my hand tightly for the last time before we parted ways.
Operating room anxieties
Time seemed to have gone by quickly inside the operating room. Anxiety started to creep in, too… I was minutes away from being opened up! Thank god for anesthesias though.
I remember when I was in the operating room, the anesthesiologist was the first one to come in and did a skin test on me (always painful, and I never get used to the pain, grr!) to see if I have allergies (I do not) before she could give me the anesthesia. The following events that happened, I am not sure anymore if.. they were part of the hallucinations or it actually happened. 😆
All I could remember after that was.. one by one nurses started to come in the operating room, and I think I saw the surgeon herself. Next, what I would consider the weirdest thing was that conversation I overheard. People inside the operating room were arguing who they were going to vote, and a heated discussion about Davao's popular bet for presidency this year (I don't wanna name drop his name here).. and I was knocked out of my consciousness.
The moment I woke up, the nurse told me it's over and the operation was done. A success. My only reply was:
Are you real or am I still hallucinating?
Her: Ma'am, I'm real. 🙂
Me: Oh.. okay. 🙁
I was slightly disappointed, LOL. I was looking forward to the crazy effects of hallucination. What would I see that's out of this world, etc. Oh well, maybe I'm still sane. Hahaha. Then again, if one is hallucinating, they wouldn't be aware of it in the first place. I'd like to think I had a tight grip on reality the whole time I was conscious and mentally alert – except the events that lead me to being unconscious. I still think of that now if that was real or my mind playing tricks on me, slowly making me fall asleep. You can't really fight an anesthetic drug, no?
When I was brought back to my room, I saw my dad and brother and I asked them if they were real.. and maybe I asked who they are, hahahaha.
Anyway, I am relieved that everything went smoothly! I didn't feel any major pain at this point and I was so sure that I could easily wing it in the next following days. I was wrong to assume this early on.
Post surgery
I thought I would be back to normal as soon as it was over. I didn't even have episodes of randomly saying stuff to people. Give it a few hours for my body to be stable get used to the new object put in to it. At this point I assumed the effects of anesthesia would be gone by then. Wrong, wrong, wrong!
The following days after that surgery, I've experienced random outbursts of laughter like a maniac. Every little thing made me laugh hysterically. Doesn't matter if it's a happy or sad experience, it made me laugh like a hyena. Watching the news and various movies or TV shows the next following days, at that time, it all showed tragic events and horrible accidents happening around the Metro.. and, my only reaction was to laugh at the whole thing. My mouth was out of control, yo.
Even the strange sounds people made, it would make me laugh for hours. Mom and I fought over it because she was coughing so hard and I was laughing at her (but I didn't mean it, I swear!). That felt like a sadistic moment: Laughing at literally anything, especially on depressing, sad, tragic, awful things. And speaking in English. Lmao. I normally wouldn't speak in English in real life unless the one I am talking to only speaks in that language.
And yes, everytime I laugh, it hurt on the sites where I had stitches for the catheter now. If I didn't get that hallucination effect from anesthesia, this may be was my side effect to that drug. This lasted on for days until I was discharged from the hospital.
First few sessions of Dialysis
First of all, what is Dialysis? It is a process for removing waste and excess water from the blood and is used primarily as an artificial replacement for lost kidney function in people with kidney failure. (source)
Basically, you get hooked up to a machine that acts as the artificial Kidney (since yours doesn't function well and cannot do its job anymore) which will filter and remove waste and excess fluid from your blood. Otherwise, you will balloon up with all that excess fluid and waste from your blood in your body that your Kidney cannot remove on its own. Each session is 4 hours long.
But first, a look on my nifty new chest bling!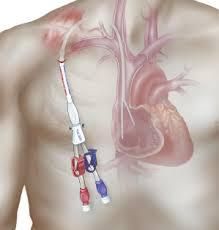 That's what you call a Permcath. Umm.. this is what you hook to the Dialysis machine for blood to get in and out of your body. I'll find time to talk more about it extensively in the future.. or Google helps too! Dialysis patients have an option to get a Permcath (located in the chest area, as shown above), or an IJ Catheter (located in the neck) for temporary Dialysis access points. Another access point is called a Fistula, said to be less prone to infections and safer according to many.. but it's permanent, that it will still be there even after you get a Kidney transplant in the future.
I'd like to think that I adjusted to it quite terribly than most people, but then again maybe that's normal. Other people have had worse experiences like painful cramps, vomiting, getting headaches, getting dizzy, fainting, having to suffer the cold in the room (idk why it needs to be ice cold in Dialysis rooms?), etc. But that's not to say I didn't experience those.
I probably have buried the rest of the worse pains I've experienced in my first round of Dialysis which started later in the day, after the catheter surgery. I do remember getting dizzy when I stood up that I couldn't walk because of shaky knees, weak legs, so they had to bring me back to my room in a wheelchair; feeling nauseated and dizzy and a headache all at the same time which led me to vomit nothing, felt painful; seeing the room spinning (lol); suffering in the cold ac of the Dialysis room, and no amount of warm blankets helped.
Well, to summarize it: Your first 5 Dialysis sessions feels like your whole life is getting sucked out of you, and then put back, in those four hours, and you have to deal with stuff like blood sugar dropping, dehydration, headaches, cramps, shivering, vomiting. Time will pass by slowly, and as your blood drops eventually (because the machine sucks it from your body so it can filter out whatever the Kidney was suppose to filter out but can't), you'll start hearing things (or maybe that's just me, and also it was past midnight.. or there were really ghosts in the room?? IDK lol. Oh and you also have to be full before you start. Do not have Dialysis with an empty stomach, you will regret it!
Oh and I cannot stand the sound of those machines when the alarm goes off. It drove me NUTS that I started crying all over the place and freaking out in my seat. Thx for your poppy music, Ariana Grande. It saved me from my sanity in that moment. Another pet peeve I just gotta share is the itching of my catheter site that I can't do anything about except like start patting it to relieve the itch.. or patiently wait til the next treatment so when the nurse changes the dressing, I would tell her to thoroughly clean the site so to get rid of the itchiness as well. Damn this medical tape!!!!
My least favorite (err, for lack of a better term) and traumatic moment was when they dragged me out of my room at 6AM because ~all of a sudden~ there was a vacant machine for me that I can use. It was 6AM, I hadn't had breakfast yet! The nurses were like "lol it's ayt, you can have breakfast in your seat." BIGGEST MISTAKE EVER. I was seated there, trying to eat.. then I start shaking and shivering involuntarily out of nowhere. Ugh. The end of it, the nurse had to terminate my session much before the 4 hours ended, and I was left with fat feet (edema or the fluids that didn't get filtered out during Dialysis) and ankles. Ew.
So.. what I've learned from that last sessions of Dialysis treatment in the hospital before they let me go are the following: Do not drink anything during Dialysis; make sure you're full and had a full meal before starting; never EVER pick an early morning schedule; choose the warmest spot in your assigned center and stay away from being next to the AC; prepare for the sanity-shattering alarm of those machines.
Discharged and getting assigned to a Dialysis center close to home
After my least favorite and traumatic, thankfully last session in the hospital, the doctor told me I can finally go home and continue in a center that's closer to home. Keeping in mind those things I learned from the hospital dialysis center, I readied myself..
The good thing is, the place where I am having Dialysis now twice a week, is the complete opposite of the hospital's Dialysis center. I am more relaxed, happy, and life is closer to being normal again. 🙂 The nurses are friendly and cool, too! They're OK with my requests to deal with the itchiness problem every time, hahaha.
Also, my what ifs and buts I had pre-surgery? All a product of overthinking. Life isn't THAT bad while I'm on Dialysis. A bit behind and feels paused (career-wise, personal growth, blah blah blah), but not bad that it's the end of the world for me. Sure, I probably just adjusted to the situation and little by little getting used to the lifestyle by now, but I'm here and blogging about it.
I've always wanted a break.. In a way, I guess, this is the break I have been waiting for. A break to focus on something more important that I've been ignoring for years.
———–
I understand this is probably the longest backstory of my Dialysis saga (as I'd like to call it, might change in the future). There hasn't been much going on in my life other than this. Maybe in the next few months my blog will become less lifestyle-y (guess it never was in the first place, I can never keep up socializing with everyone or joining in the bandwagon of what most bloggers are also doing with their blogs) and will just become a thought dumpsite of Dialysis-related things.
Once in a while, maybe there'll be posts relating to the old stuff I write about. Definitely less about events because with my current situation now I can't attend events and concerts. I don't have much time to socialize online and offline, either. 
If you made it to this part, thank you for taking the time to read my current situation's backstory!