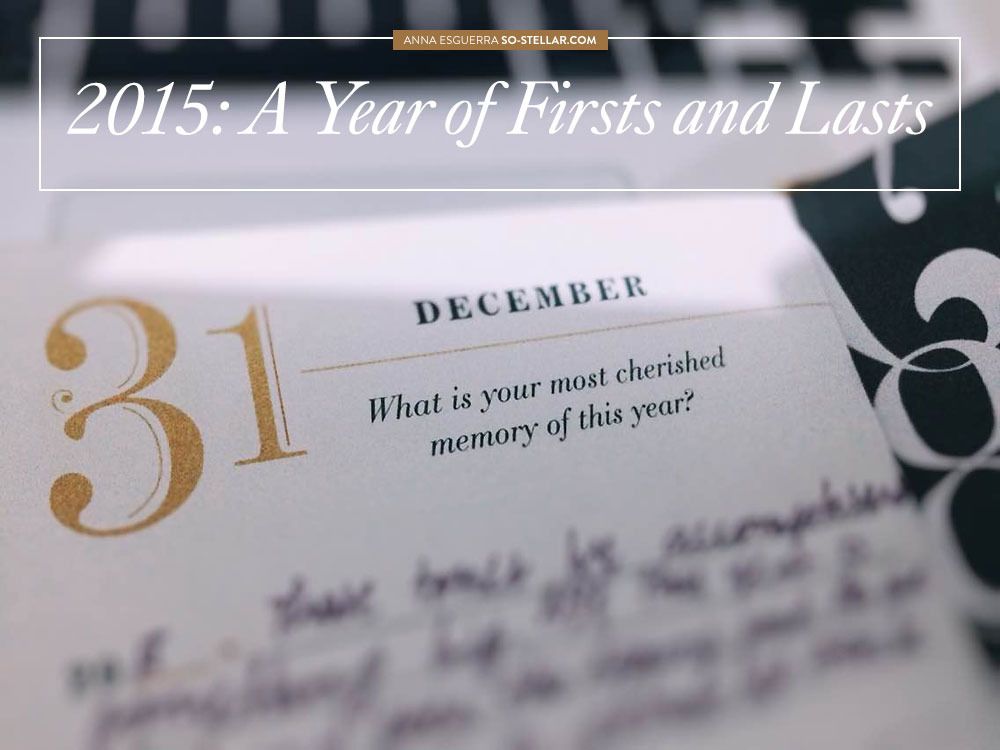 While I was browsing blogs today, I chanced upon Rej's year-ender post and I liked how it was straight to the point. I checked my previous year-ender posts, albeit they're not as consistent. Sometimes I'd write really long posts (the usual), or make lists (quite unusual, but it's faster). I think I may have skipped a year's entry of a year-ender post. Too late to go back now.
I wish I am as diligent when it comes to updating my blog. No wonder I'm not going anywhere with blogging even if I've been doing this for 8 years now. Haha! That's the dream, to be active and revolve my life to share everything in my blog. Going to be a looong struggle w/ the last one.
Let's proceed with the year-ender post of 2015, it's below the cut. The contents of the lists are not in particular order. 😛 
Things I Did
Simple things I have accomplished which made the year fruitful
Finally working on backlogs on this blog. From the product reviews and event coverage posts (which no one cared about, honestly hahaha, because the event has passed and everyone has moved on). For a while it was enough to nourish the blog's contents, until I stopped around October. To compensate with that, I went with a back to basics theme again for this month and for next year. Can't really keep up with the branding and seeking sponsorship from bigger brands (hahaha what with this blog that barely receives and interaction) so I ditched those and went with ones I actually use and proudly promote, and the one that actually earns money.
Went to more local gigs than international concerts this year. Haha, it was a bit of a struggle because I find it difficult to go to many night events this year. I believe I went to see one of Urbandub's 'last shows', when it was just Gab and John and Janjan playing minus Lalay. There was a time I went to the same bar because Pupil was playing and since it's been forever since I saw them, thought I'd pop up to say hi. One of them still remember me, it was an instant kilig moment. Got their respective albums signed, too! Last local gig was Enchong Dee's first solo concert, titled #DEETour, I got to see as well. His concert, which, for my taste and what I was use to when it came to 'watching concerts', was like a live version his Sunday Entertainment TV show ASAP so it was a bit lacking for me? I was used to seeing guys holding instruments and singing for 2-3 hours max not a prod after prod. But there were some hot and steamy dance production that got us thirsty for more. 😆
Helped with paying debts and bills around the house. I felt it was a proud #adulting moment (Is this what you kids call it these days? Am I using the term properly? No? Oops). No really, it was. I felt like a legit responsible adult for the meantime when I was able to contribute to helping shelling out cash for the utility bills.
I went almost past my local and international travel quota for this year, and couldn't be more satisfied about it. It was good I abused the traveling, especially now that I am definitely benched from doing any traveling (and my passport expires next year too, how timely! :P). Such a shame the HK visit, which would have been my last, didn't push through. Still can't travel to visa-restricted countries though. Perks of being in a third world country, yeah.
I got hired! It was for a short time but I feel my life had purpose and I felt really happy and satisfied in the time being while I was working with a team. I am also grateful for the tips, tricks, lessons I learned from my bosses. Everything I learned from them were all helpful things to our respective businesses in the WWW.
I started using more makeup than the usual.. by this I meant lipsticks which are redder and stays longer than the usual lipgloss. Next year maybe I'll find my way to wearing dresses in public.. or not. I love lipsticks more than the things you use for your eyes, brows, cheeks. Other than lipsticks, I've been looking into some skincare and bath products earlier this year and have come to love Soap and Glory so much. Too bad they're expensive and note locally sold here. Someday again!
I finally got to experience how it's like to be a guest panelist in my Alma Mater's portfolio class. The whole thing was intimidated to me at first, when I was still a student. Whenever we had external panelists (whoever the professor could get that had design knowledge) I would shy away and wish the one that would get assigned to me is the least catty one. Thank god when it was my turn, the professor who checked it was pleased with my work. Most of my co-guest panelists were my batchmates, so it was a reunion and paneling day rolled in one. I find the lunch time we had to be the memorable part!
Had the courage to give Airbnb a shot!! From endless reviews and recommendations from friends about how good they are, I finally locked down an opportunity where I could give the services of this most talked about travel accommodation a shot. I'd check other places next time instead of this property though. Maybe if I'm with someone again, I'll be more courageous to try out a hostel hahaha. I don't know why I'm such a wuss when it comes to hostels.
Became less active in social media and went as far as deactivating the main culprit of unnecessary envy in the most unnecessary things in life — Facebook. There was a time that the whole social media felt like it was becoming ugly and all #mememe and everything was about the perfect selfie, the perfect instagram photo, a thousand faves and likes on tweets. Basically, everything in the name of likes. I probably felt bitter and envious because of my weak standing in this department, but when you think about it a digital like doesn't really satisfy you at the end of the day. It's only momentary happiness, if anything. I still want to deactivate FB but last time I did, I lost some important friends as well (or maybe some already blocked and unfriended me ¯\_(ツ)_/¯), other than that it's the only convenient place I get to talk with this guy (visit his blog for all your space and deserted places aesthetic needs!).
Probably the highlight of my December was succumbing to my illness since childhood and finally go under the Dialysis treatment to aid my kidney in filtering out toxins from my blood. I'm sorry for all the times I punished you with whatever I ate that was harmful to you, or my abusive lifestyle but I regret n o t h i n g. Maybe I will start to regret the future super expensive expenses about to hit my way come next year.

Shit has hit the fan, folks. Shit has hit the fan.

I've had the greatest pleasure meeting most of my musical idols, some celebs, and being recognized in my field (still small time compared to the greats who are mostly my peers).. and I do not think I would have achieved the same things had I started dialysis much earlier.
Things I Didn't
This year's should-have-beens
Should have kept up with my momentum with the blog updates. Just one day of losing focus, you'll entirely lose the mood to consistently blog every week.
This was the year when I was beginning to lie low in the live concert/local gig scene. I have my reasons but one of them is I feel that I am too old for it. And I noticed most of the bands who are coming over here are not really the ones I listen to or would pay that much to watch them live. I don't feel that I also fit in with the crowd and scene anymore. I find myself looking at the photos I've shot (some of them which gotten recognition from the online community and if I'm lucky, the bands and artists themselves see it) and feel a small pang in my heart because I can't do this for the meantime. If not for my current condition (like if I were normal again) I would not turn down a request if I could cover a concert, especially if it was something like a Pearl Jam concert or Young The Giant. Haha, a girl can dream.
SAVE UP MORE. I wish I had an inkling of an idea I would be facing with this much expenses for next year, then I shouldn't have purchased this much stuff (with no assurance that they can be resold later because you are not sure if it's in demand)! BUT GUYS, RETAIL IS SO, SO GODDAMN THERAPEUTIC ESPECIALLY WHEN YOU ARE ALONE AND DEPRESSED ABOUT LIFE. Other than retail, I shouldn't have purchased these many paid apps for my phone. 70% of them are now deleted from my phone and I don't use them. Another waste of money. 😐 It's easier to pay in USD than in PHP it seems especially when you see the price tag is $0.99 or $2.00 compared to PHP 100.
Should have been more vocal with my feelings in.. social media? I don't know, is that the norm amongst couples? We never do that. I wouldn't. I'm so uptight I can't even. All the sweetness happens behind closed doors and curtains. You might even shudder because it is so not me. 😛
Shouldn't have avoided the doctor, or shouldn't have went beyond my limits. Either one of those.. and the outcome would be I wouldn't be in this situation.
Pushed for more work opportunities online. Why haven't I utilized the power of the internet and social media in landing more jobs?
Thought not twice, but thrice, if I really wanted to purchase something in multiple amounts. Would I actually use it or would I just hoard them and stash it somewhere? So I've wondered why am I like this but I still have no answers.
Purchased my Q&A: 5-Year Journal at the end of 2014, or start of 2015, not in the middle of the year. Since I didn't get to accurately fill out the first months of the year, my 2015 looks patchy compared to the next upcoming years and when I'm finished w/ the book there'll be a lot entries with unwritten fields.
Purchased less CDs from the Great CD Sale c/o Universal Tower Records in QC. I have a lot of CDs, bought for half the price.. but in the era of mp3s and digital music, what am I gonna do with them now? Do they stop working after 5-10 years, maybe? Will I be able to listen to these CDs without loss of quality in the next 50-100 years? My initial plan was to wait for artists of the CDs I bought to visit the country for their concerts and I'll try my best to have them signed. Automatically my half priced, discounted CD becomes a priceless personalized possession, no?
Productively used the money I earned from work in possibly renovating the house (another #adulting move right there), or start small with my room. Passed by Crate and Barrel the other day and I want their rustic wood furnitures! Damn they're so pricy though.
Lessons learned
Realizations which I hopefully carry with me to 2016
If you don't open up to anyone, you'll always be alone in your battles that eventually drag you down. Loosen up a bit and share what's in your mind sometimes, it's okay.
Don't push away people for the sake of testing them if they will stay with you. There are people who are genuinely concerned about you and when they ask what's up  don't give them a half assed response.
Write whenever you can for the sake of memory keeping. It doesn't need to be pretty as long as you are doing it for yourself. Take it from me, I tried (to make 'pretty' things) and realized that while it was draining me of my interest and energy, I was never contented with the outcome. Yet, simple notewriting was always satisfying to me. Mad respect for people who can do it effortlessly though.
Some people will always be favored more than you, regardless if you work hard. It sucks but that's life. Look the other way and keep doing what you do best, someone will appreciate it one day and possibly might land you in better situations than the one you are forcing yourself into. The universe (or whatever godly being) really has a way of conspiring to not make things happen for you, or conspire to make things work for you.
It's not bad to live offline or away from social media sometimes. It actually gives you a peace of mind and overall well-being when you're used to the silence and having to read good or bad (both out of your control) posts from people in social media. Read a book, spend time with family, go see a new place for the first time (it's practical than traveling~) and appreciate nature or what your local area has to offer. Life can't be that bad, right?
The internet world doesn't care when you disappear (for whatever reason) unless you're a very known personality. At most, only your closest acquaintances and friends will notice.
#relationshipgoals and #squad is tacky for my taste. Just, no. Same with every millenial-related hashtag term out there. I guess I'm just a grinch at everything. 😛
Justin Bieber actually did good with Purpose, and same for the following artists who started with a run off the mill track and we thought they're were all going to be one hit wonders: Carly Rae Jepsen, Ariana Grande, Taylor Swift. Why I say this? Because I actually saved their albums in Spotify (except TSwift of course) and made them for offline listening. Who knew! Also, these pop songs are rather relaxing to listen during Dialysis days.. and when I'm almost done, I'd listen to my go-to loud rock albums. (Offtopic: I am now dependent to Spotify!! Oh nooooo)
You move on from people who you have idolized and imagined a future (speaking as a fangirl LOL) with them in your teen years. It is sad when you've come to realize it but I guess that is life. You outgrow people and find someone new in time.
In regards to #8: Artists who come up with annoying, catchy, 'shitty' tracks as their debut single will come to their maturity in time. Just be patient. 😛 😛 😛 Sometimes it's best to leave them alone until they come up with a decent album. There are plenty of other artists out there to satisfy your musical tastes!
Woah that was super long (as per usual, nothing new!) but fun nevertheless. Always a sucker for things that make me backtrack and go to memory lane.
There's a new year-ender meme thing going around now called #2015bestnine. I tried it the other day in 2015bestnine.com but it wasn't working, in a sense that it doesn't generate a photo for me to post on IG. Well now it worked the second time around. Here's mine. Hahahaha!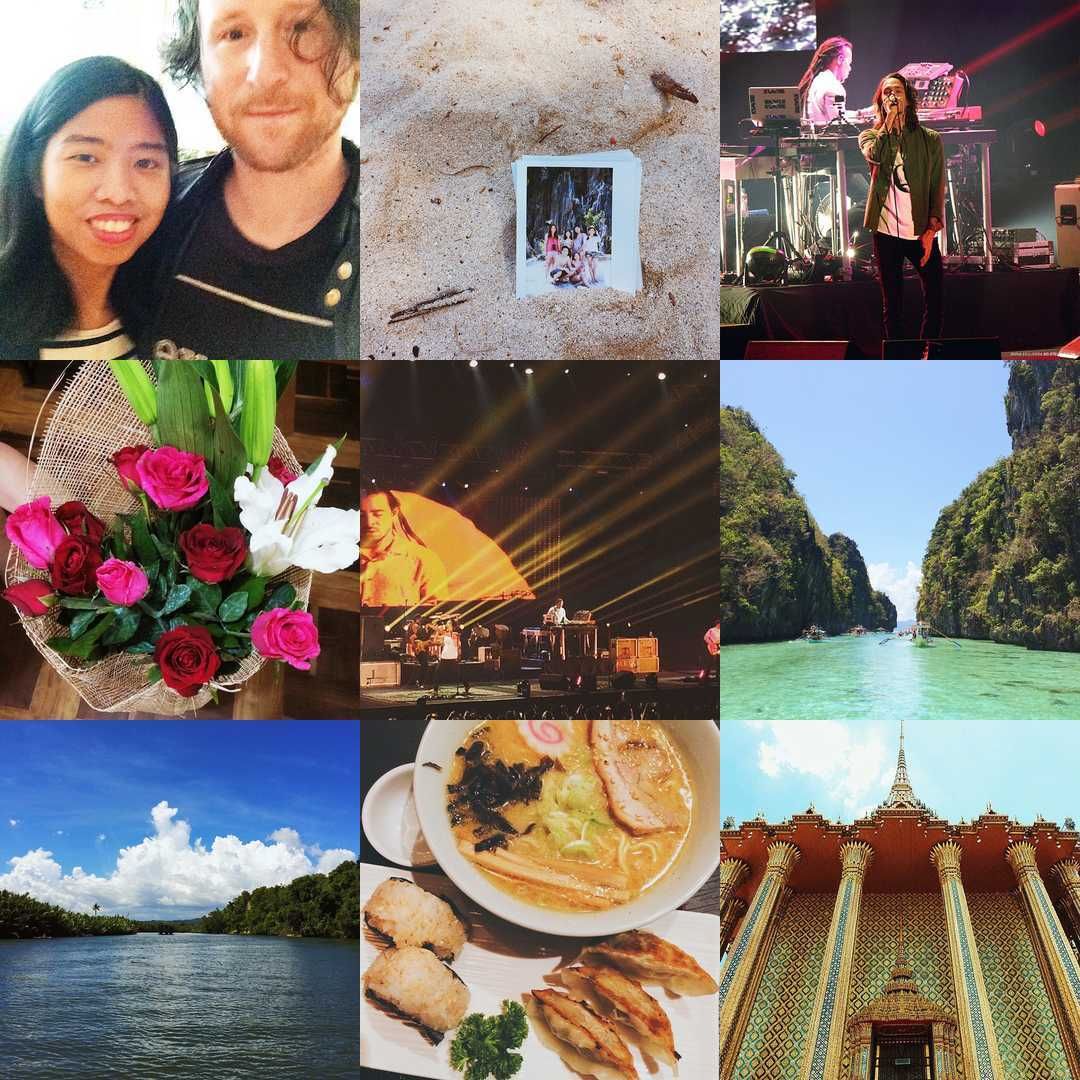 Met Mike Einziger from Incubus during their stay here in Manila for their 4th concert, and our first photo together.
Instax photos of my friends and I from our island hopping in Palawan.
The only decent shot I got from my DSLR during Incubus' 2015 concert. I dislike MOA Arena so much, man.
Flowers from Alex from Valentines day (and the first I got a legit #vdaybouquet).
 When I tried my best to fit all the members of Incubus in one squared photo.
Another majestic sight of the islands in Palawan – such a beauty!!
This was in Loboc, Bohol, during the River Lunch Cruise. Glad the weather cooperated that day, although the nature is more or less man made and not that natural anymore.
Ramen at Hokkaido Ramen Santouka, during the first few times we dined there and the ramen was still super, duper good. Now I think it's so-so.
Throwback photo of Thailand. I hoped to be back next year, but that plan might need to be pushed to a later date indefinitely.
Happy new year, everybody!
See you in 2016!