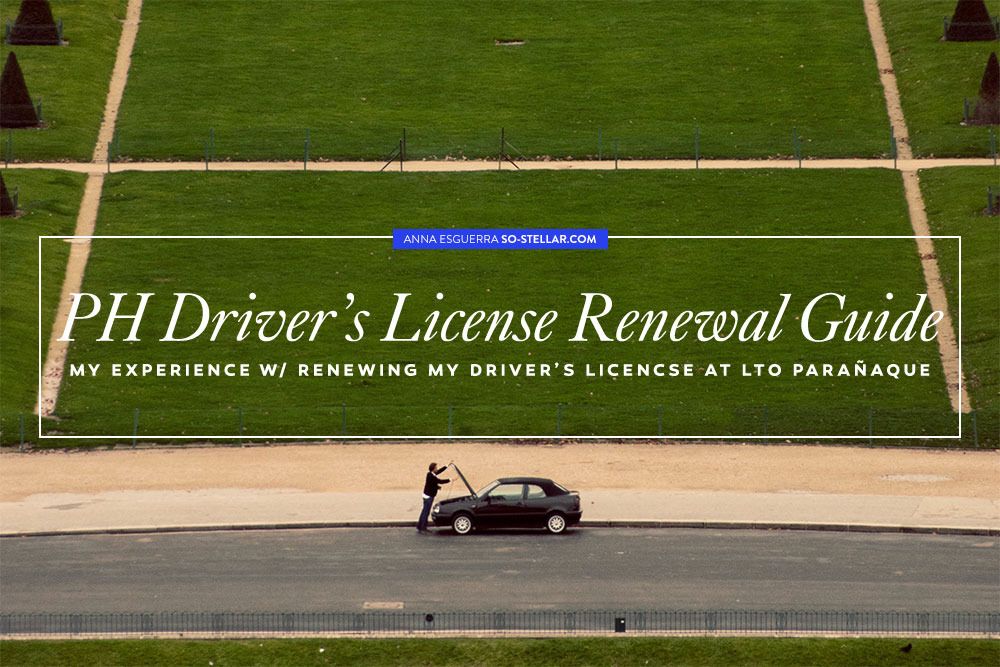 In the Philippines, getting a government-issued ID is such a hassle that you always, always want to get it done in the soonest possible time so you won't have to drag it along and deal with it later.
A Driver's License is just one of the primary government-issued proof of identification that you can get. It is also a popular choice of ID card, as far as I know, because it's small and handy. It can fit in your wallet given its standard credit card size and you can take it out anytime you're asked to present a proof of identification.
Other forms of proof of identification in the Philippines such as the NBI and Police Clearance or a TIN ID is bulky compared to a Driver's License; the former is as big as a sheet of A5 paper, and the latter is a little bigger than the standard credit card size. Recently, the Postal ID was revamped and it now comes in a standard credit card size and plastic card type. You may also consider getting that instead of a Driver's License if you like.
---
The process of renewing your Driver's License is surprisingly a lot easier compared to when you have to get one for the first time. But don't feel confident just yet.. this will still take a lot of your time and eat up your patience.
Also, my ~guide~ will focus on LTO Parañaque Extension Office branch. Be aware that some tips or parts of this guide may or may not apply to the branch you'll be visiting to do your Driver's License renewal processing.
Things to remember and/or prepare the night before:
The expiration date of a Driver's License is usually on the same day as your birthday. So if you have plans on that day, better schedule your renewal day sooner!
I don't know about you but I would rather renew in advance than later. If you miss a day-month-year of not renewing your Driver's License, you'll be subjected to the following penalty fees:

1 day to 1 year: PhP 75.00
1 year and 1 day to 2 years: PhP 150.00
More than 2 years: PhP 225.00

Your old Driver's License and the receipt that came with it.
Around PhP 800 budget for the renewal fees (PhP 417.63 for the card + PhP 200.00 for the Medical Exam, and the extra money can be spent for snacks and/or your lunch while you wait for your ID to be released)
Wake up as early as 6AM (Better if 5AM!) next morning so you can be there really early. Before 8AM is ideal, because you'll be one of the first people they accommodate. They say that there are people in queue as early as 7AM and they'll be done with it around lunchtime, or before that.
Expect that you'll do a lot of waiting and that you won't get your license immediately, even if you opt to have someone assist you. If you have other things to do on that day, schedule them for later. Either do that or come really early so you'll finish early, too.
Time and patience. You need to allot half your day for this. Better do it on a free day. If you're one of the lucky few who manages to get this done in less than an hour… well, lucky you. But I'd rather be prepared, really.
Research if the branch you're going to already has plastic cards available. It would suck if you waited all damn day only to get a temporary license in form of a paper receipt! Don't let that happen to you.
Majority of the LTO office branches nationwide earlier this year (some friends have shared that they've been waiting since late last year!) have ran out of plastic cards, causing major delay, disappointment, anger to people who needed to get licenses. The good news is that, the government is slowly fixing~ this problem now. The branch I went to and one that's conveniently near me have replenished their stocks recently. Refer to this post to see which sites have available cards already.
I planned to renew my license months before its expiration date so that if ever I'd go there during a time that they would issue me a paper instead of a plastic card which would be my temporary license.. there would be enough waiting time for it. Well that was my Plan B. I'm glad things did not turn out like that and I was able to walk out with a brand new plastic card driver's license on my first renewal.
I said to myself, I would rather wait for hours but ensure that I'd walk out with a real license on hand, not a temporary paper license than do everything quickly but end up having to return again and again to follow up if they have plastic cards. The second option sounds so inconvenient in the long run!
Going to LTO Parañaque Extension Office:
The directions going there depends where you are coming from. 😳 Basically your landmark would be Hyundai Parañaque West along Sucat road. I'm not really helpful when it comes to directions, sorry! When you find that, LTO office is right across, located at the opposite side of the road. There's also Shakey's and Pizza Hut restaurants a few blocks away from LTO, and they are on the same side of the road.
The LTO Parañaque Extension Office is open from 8AM-5PM. Okay not really sure if they're open until 5PM.. but that is the standard operating hours of government offices, right? 😛 You can go there as early as 7AM though.
As far as I know this is the only LTO office in Parañaque. The previous one that I know, located at the back of the wet market in SAV 1 was transferred to this very location I went to. I wish they posted things like this online! They don't even have an active Facebook Page. If I didn't ask around, I wouldn't have known.
On the day of renewal:
We arrived at LTO Parañaque Extention Office in Sucat around 10AM. The main room where you would do most of the time waiting for your license was already packed with people (they looked like sardines from afar, imagine that!) when we arrived.
First step is the Medical Exam. Ask someone within the vicinity where to get the Medical Exam done. Do not say yes if ever they offer assistance, just ask for directions. 😛 You'll be led to a room located at the opposite side of the vicinity. Prepare PhP 200 and present your Driver's License for renewal and pay the cashier. After that, you'll be given receipts and your queue number for the next step. (Waiting time before it was my turn to pay: 10 minutes)
They'll tell you to go across the room, and queue again. You'll be given a form by the staff with a portion for you to accomplish. This is the renewal form. Write legibly as much as possible to avoid errors in data encoding. Just the usual stuff: Name/age/address/weight/height, etc. And then an exam on the lower part which the doctor will fill up as they talk to you. (Waiting time before it was my turn to be assessed by the first doctor: 10 minutes)

I get that it is a renewal process and they're just copying over existing data in their database to your new card, but better be safe than sorry. If your card has a typo, it's going to cost you to have another one reprinted UNLESS you can complain your way out of it. On top of that, more waiting time! Ain't nobody got the time for that!

When your number is called, you'll go to the first doctor who will assess the requirements you presented (the renewal form, receipts and your license). S/he might ask you some casual questions too. After you're cleared with this doctor, you'll queue again for the next one.
Next, a second in-house doctor will test your vision and hearing. He didn't take my blood pressure but for some reason that part was already filled out. For now you're done.. with the medical exam! (Waiting time before it was my turn to be assessed by the second doctor: 5 minutes)
Go back to the main office across LTO Parañaque (the first one you saw when you arrive at the place; the one packed with people :P) and present the papers and license you have on-hand to the guy in the front desk. He'll just look at it and tell you to head to Window 1 to submit that for yet another assessment. (Waiting time before it was my turn to present requirements at the front desk: 1 minute)

Inform him if you have discrepancies in your card's data that needs to be changed, if ever. Weight and height can't be changed anymore, according to him. As far as I know only the following can be changed: Name, Date of Birth, Address (not sure, he didn't explicitly mention or bring this up but ask this when you can)

Submit your papers and old Driver's License for renewal in Window 1 and wait for your name to be called for the picture taking. This would be an ideal time to go out and take a lunch break because it could take 1-2 hours before your name is called. (Waiting time before I was called for picture taking: 2 hours)

In case you are called while you were gone, you can ask someone at the window if you've been called previously. Just say you went out have lunch. But not sure if you'll get bumped at the end of the queue or something. It would be unfair to everyone else who stayed and waited.

When your name is finally called, go to the assigned window to have your photo taken for the new driver's license. The staff will tell you to wait again for your name to be called.
This time you'll be asked to go to Window 9 to pay the renewal fee. When your name is called, prepare PhP 417.63 and pay the cashier. Your submitted requirements will be given back to you and instruct you to submit it next to Window 4. (Waiting time before I was called to pay: 1 hour)
Go back across the room, to Window 4, and give the requirements from the previous Window (renewal form + receipts) minus the old driver's license (you can keep it!) and wait for your name to be called again.
Finally, when your name is called, for the last time, you will be instructed to go to either Window 3 or 4 to pick up your shiny, new driver's license. (Waiting time before my card was printed and cleared for release: 2 hours) Hurrah! You survived the 6 stages of waiting!
After this, go back to your preferred LTO License Renewal Center after 3 years and do steps 1-10 again. 😀 The first few steps might be a little different depending on the location of the offices of your preferred branch, but more or less the same. And you'll still do a lot of waiting, again.
---
That's all there is to renewing your Driver's License! Just.. a lot of waiting. Oh yeah, if you are a first timer to get a Driver's License, coming in from a Student Driving Permit.. I have an unpopular opinion regarding asking for 'assistance': Go get 'em, tiger.
I would.. honestly.. recommend it. But only if you're getting one for the first time. As far as Driver's License renewals go, you can easily do this on your own with no help from anyone other than asking them for directions, which office or building to go to next. Even after getting 'assistance' from them, you'll still end up waiting for hours. Knowing how much these assistance processing costs, it's counterproductive and a waste of money – for renewals, I mean.
I hope you find my first how-to post helpful! 🙂 Questions and/or comments, my comments section down below this post is open for that. I have no affiliations or connections or know anyone from LTO, by the way. Just writing this post, sharing my experience because the branch I went to recently, there's hardly any updated information about it.
ETA: Here is a newer post (as of December 2016) that was shown to me about the new way of renewing your Driver's License. Click the link. 🙂
I believe the new fact posted there are the fees to what you pay for, and that there's no more long queues when you go there to get your License renewed.