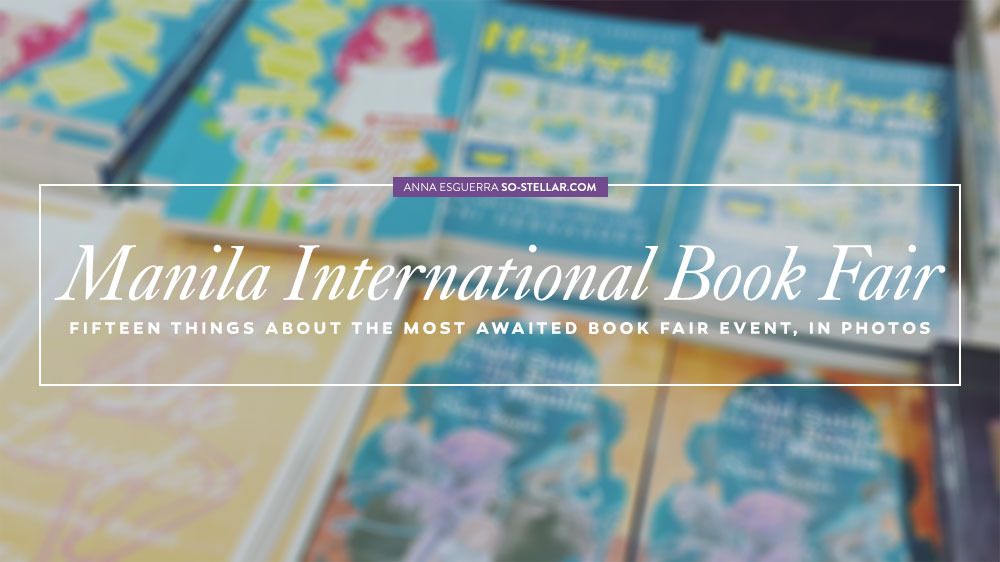 In all of the Manila International Book Fair events I've been to in the past couple of years, this year is the one where I've been active from the first day to the last. Also, this is my fourth time to attend, the last one was in 2012 (33rd Manila Intl. Book Fair: Haul & More).
I was not expecting that I would be this active in this year at all! The funny thing is I promised myself to these two conditions in the course of this year's book fair:
I would only go there one time, during weekday to avoid the crowd and
Go to one book signing event
Apparently, the opposite happened. Not only did I went there more than once, but I also went to several book signings within the book fair venue throughout that week. What a busy and expensive week that was!
It's been four days since the 36th Manila International Book Fair. I wanted to write about the experience sooner, but hmm.. had to let everything sink in first. Lots of events happened! 
Let's backtrack to what just happened in that busy week! Also, I'm going to let you know along the way what I've learned about this yearly book event bookworms go crazy for, other than the much anticipated 20% discount in ALL books from two of the country's major book stores.
1. Try to wear comfortable clothes
Maybe comfortable is subjective because what is comfortable to you may not be comfortable to me, but you get the point, right? You might be wondering what's this have to do with the book fair. Well, because you'll be doing a lot of moving around as you search for those books, or you may need to sift through the crowd during the weekend. The place also tends to get cold. Either I'm that skinny, or the place didn't have a lot of people at the time so it felt cold at the time.
My point is, this kind of event is not a place for your OOTDs so no need to dress fancy or fashion forward. Haha. Just trust me about this, wear comfortable, clothes that won't restrict your movement and you will thank me for it when you're in that situation.
2. It's okay to go there on your own
One thing I noticed from social media at the time of the event was that they're too shy to go there on their own and they wanted to have friends their squad (I cringe at this term) with them when they go there. Meanwhile, I braved the crowd and went in there by myself on the first day of the book fair.
I see more advantages than disadvantages in going to shopping-related events alone, from what I found after doing this. The only disadvantages I can see from here is this: There's no one to take a photo of me fake-reading browsing a book somewhere in the bookstore shelves, hence I won't have my "look at me I'm at the book fair photo" photo to post in social media after. And, of course, simply having no person to converse with discussing about books. Lastly, no one to help you carry all those books once you're done paying for it. #independentwoman
The second part sounds a bit sad, BUT THAT'S OKAY. I'm the type of person who isn't that talkative in real life, and I'm an awkward person to have a conversation with about books (as much as I love to read). I'm just not as vocal with my feelings as the next bookworm.
Another advantage I see with going to book fairs alone is there's no one to influence you to hoard books with you. I'm sure you can relate that there are times you feel pressured to buy or do something because the whole group bought into it, too.
Friends, I love you but understand that there are just some things we don't always have same preferences in. That's what sets us apart and makes our relationship unique~ to one another. 😀
3. But sometimes having company is always more than welcome
I'm not entirely a person who prefers to be alone 100% of the time. I welcome a good company, too, so I hope I haven't given you that impression yet that I am a snob (lol).
The good thing about these yearly book fairs is that it becomes that most-awaited event among bookish friends, book bloggers and reviewers, to meet up and network at the same time, too. It's such a centralized event that majority of people go to it no matter how far it may be from them, also the discounted deals is very tempting.
This year I felt that this book fair introduced me and opened my eyes to our burgeoning roster of Philippine literary writers, mostly of the Young and New Adult genres. I only knew a couple of people before, mostly familiar names of writers in a teen magazine because of their respective publishing houses gave them the opportunity to write a book.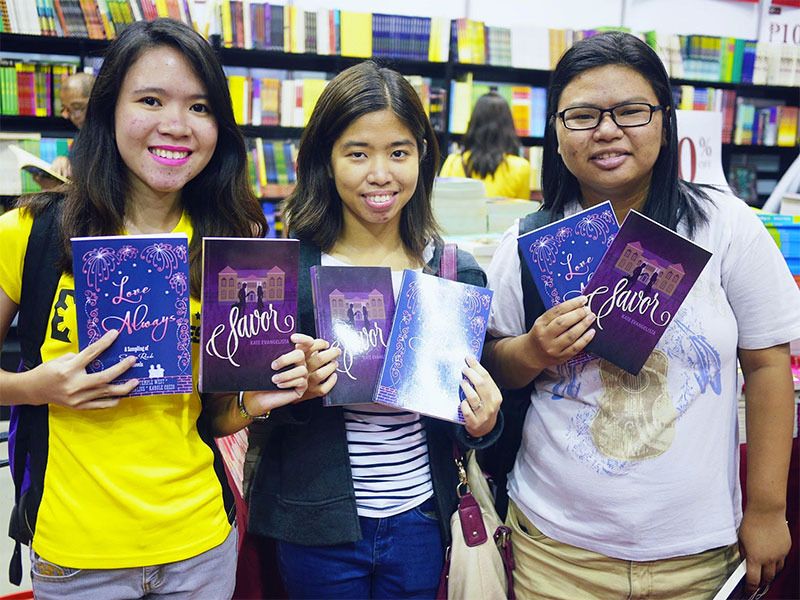 With April (@iambinibini) and Ally (@formerlys) and myself at the book fair
I would also contribute this awareness of our promising authors to a friend who is active in the book blogging scene and also go to hang out with in the next few days of the event, and hello to the new people I met along that week, too!
PS: April has a couple of book giveaways over at her blog, do check them out at Binibini.net.
4. Do check out the special events schedule of the book fair ahead of time
Every year, these book fairs have plenty of gimmicky events to spice and liven things up in the form of book signings, meet and greets, and fun activities. Some personalities who rarely do book signings, often do them in MIBF events because of how rare it is and it's only going to take a day off their busy schedule.
Sometimes the authors just happen to go to the event unannounced and if you spot them and you have the book with you, you can freely approach them to get it signed and catch up.
Check the upcoming events in the book fairs in advance so you can prepare for it.. especially if it's an international author's book signing event you wanna go to, in which case you really have to prepare and anticipate a huge crowd turnout for that.
5. Anticipate you'll be spending a lot, hence bring extra money
Like number 1, this is a tip you should trust to follow. Or maybe not, because I'm irresponsible as heck with my money and if the book fair lasted for a week, I'd be very financially broke by now.
You can bring money just enough to cover the books you have on your list to buy and sure you will be able to find in there, OR bring enough for the number of books you wanna buy and maybe a couple extra for that extra book find you just can't let go.
I actually overheard a couple of kids say that they wish they brought Pxx,xxx because of the amount of books they bought is too much for the money they had with them at the time. I completely understand their sentiments.
6. Come early
I know this one can't be helped especially on instances if the only free time you have is over the weekend. Hate to break it to you but I'm positive that by then, all the must-have titles are already sold out by then. The chances that they restock by the time the weekend hits is very, very slim.  My guess is the book deliveries are only until Friday and whatever's left, or on display, that's all that is left for anyone to buy.
I thought going there during weekdays was only beneficial to me because I'd avoid the crowd, but I realize now it's also a wise decision because not only did I get to avoid the hoarding crowd, but I also get to browse and shop, pick out books in peace and won't have to feel anxious deciding on the spot if I really should get this particular title before it's sold out.
Coming early has its perks too, you get to buy one of the best-sellers and best deals of the entire fair. As far as I know, books by the following authors were gone by the time the weekend hit:
Lang Leav's poetry books sold like hotcakes just on the first three days.
Michael Faudet's book sold out within the first three days, with the last copy found by my friend sitting there (had I been more of a diligent onlooker, that book could've been mine haha!) by the shelves.. it's bizarre no one else found it. 😛
David Levithan's Every and Another Day books sold out quickly and was gone by the weekend. Still regretting I didn't buy a copy!!
7. Make a list 
So this goes hand in hand with #5, bring lots of money. You are free to make your to-buy book list but ultimately, as I've experienced, you can't exactly follow that to the the T. Some books won't be available in the book fair and that is a fact. However if you were able to find everything, lucky you.
8. Learn to compare prices
I am not sure if FB is more expensive than NBS or if it's the other way around or it varies upon the book.. but it helps to compare prices first before you decide to buy a book. Even with the 20% off this shouldn't make you feel confident that you are getting the best lowest price of an item. I'd say allot a whole day to your book fair visit so you can check out both bookstores thoroughly and check which one sells it lower for the book.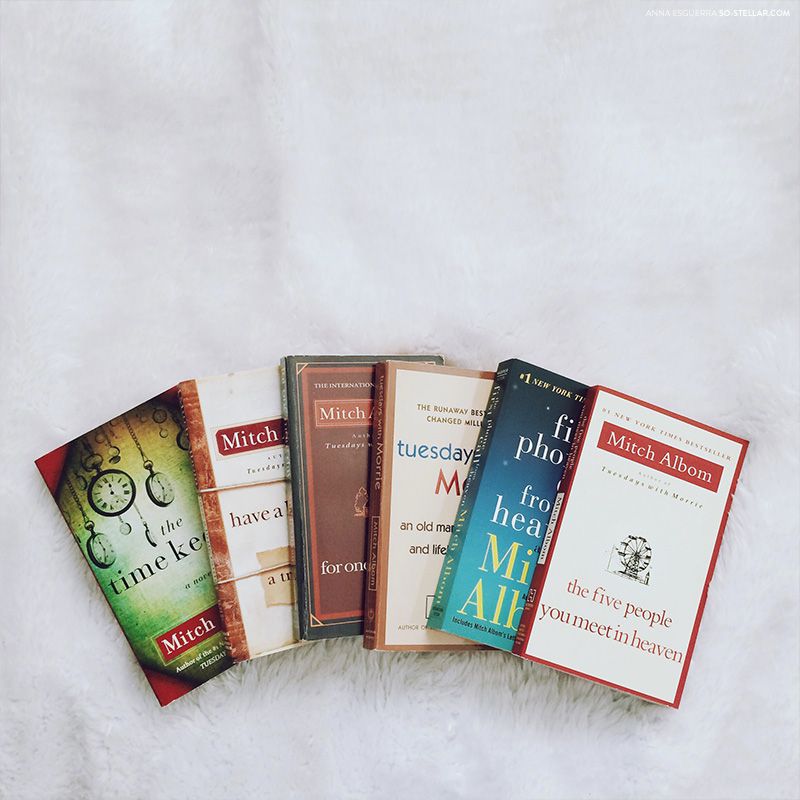 Completed my Mitch Albom collection!
An instance of this scenario was when I found a book by Mitch Albom in NBS while I was browsing, then I went to check FB and noticed it costs a bit lower there than the first. Both copies I checked were mass market paperback editions. The same book.
9. Choose wisely
Proud to say that most of the books I picked up were from Filipino authors, as I've always done in the previous MIBF events I went to. The reason for choosing to buy books by Filipino authors over international authors for print is that these are much harder to find copies of later, compared to the books by international authors where you can easily get a digital copy of that you can put in your preferred e-reader devices any time.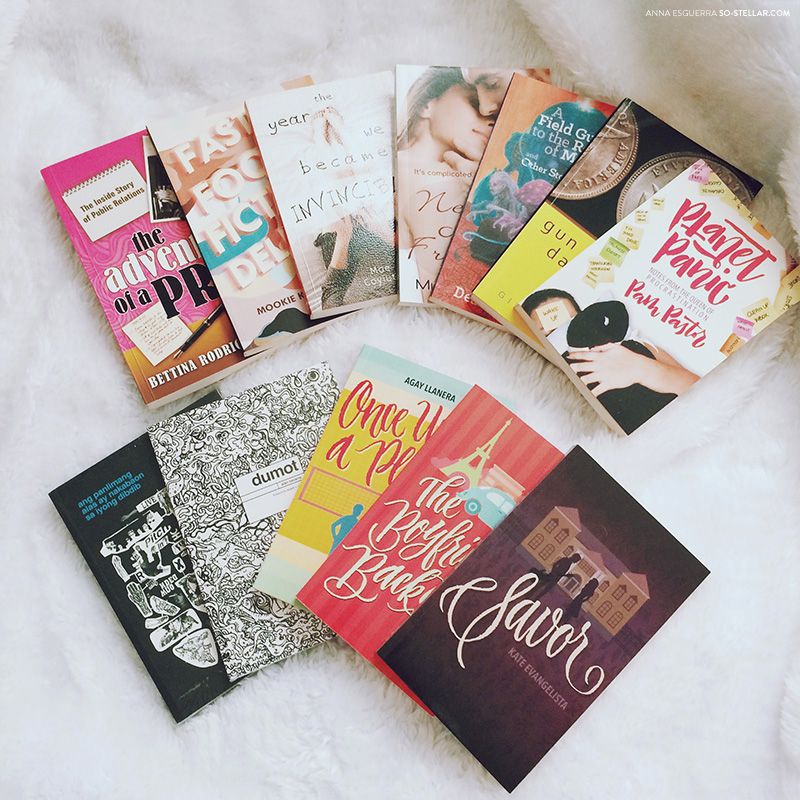 Books by local authors I picked up from the MIBF this year
Here's an assortment of short story type of books, novels and biography-type of books from various Filipino authors. I make it a point to pick up a book by Alan Navarra every now and then (ok during book fairs only) because I like his style; The Adventures of PR Girl was a random find while I was browsing the Anvil shelves and I bought it because I'm curious about the inside chikas in the PR world; The Year We Become Invincible by Mae Coyuito received a lot of rave reviews around several book blogs (but personally, it reminds me of The Perks of Being a Wallflower, another coming-of-age type of YA book).
10. Writers and authors rule the MIBF; meeting your favorite authors is almost as good as meeting a celebrity
Originally my purpose to attend the MIBF this year was to get some of my books signed because their respective authors will be holding a book signing event. Shopping was the least of my concerns and the last thing on my mind at the time.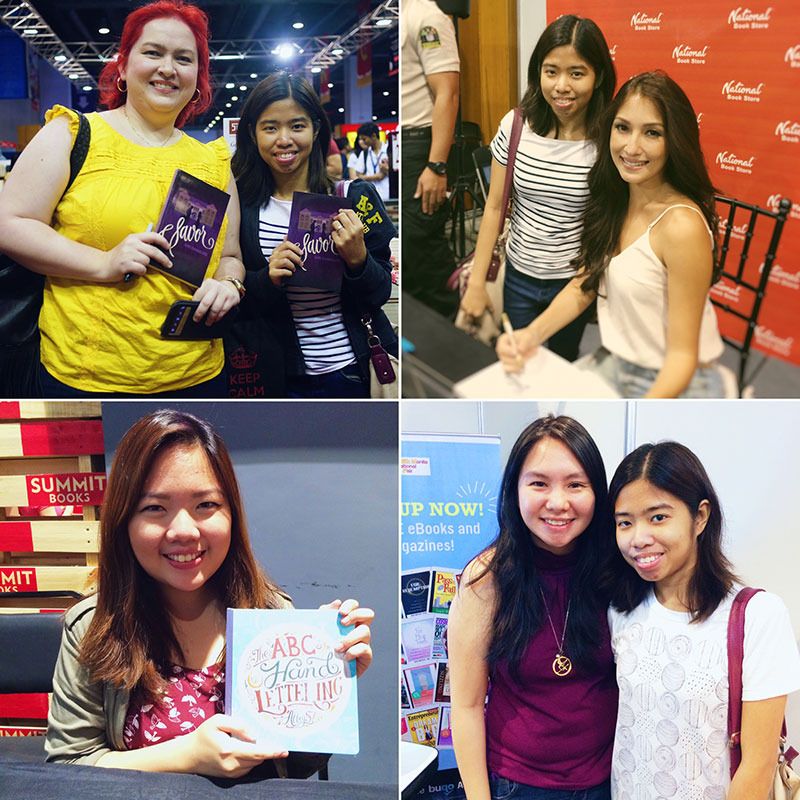 Clockwise from left to right: Photo with Kate Evangelista; with Solenn Heussaff; Abbey Sy, the author of The ABCs of Hand Lettering; photo with Mina V. Esguerra
I unexpectedly had the opportunity to meet Kate Evangelista last Friday, while April, Ally and I were browsing by the Anvil section of NBS' booth. While they scramble within themselves mustering the courage to approach this lovely red-haired woman who walked in and headed to our direction, in my mind I was figuring out where have I heard her name before.
OH RIGHT. I wrote a review for her book 'Taste', before! Aaah, how could I have forgotten that!! It was one of the most random times I was tapped to do a book review by an author, despite not being a legit book blog. It was also a long time ago, too, I doubt she remembers me.
That moment felt surreal. Imagine, an author whom I've only exchanged a few emails with, I get the opportunity to meet so randomly 3 years later! We were also given a book for our 'efforts' of finding her around the MIBF venue on that day. I think it was a prize for a contest she did. Thank you very much for this book, Ms. Kate! 🙂 Another book for me to read, yay!
A few moments later, April spotted Dawn Lanuza.. browsing just close by the Spark books area. At the time I did not ask for my copy of her book to be signed but later on I was able to find a pre-signed copy hidden in the table where her books are displayed for selling.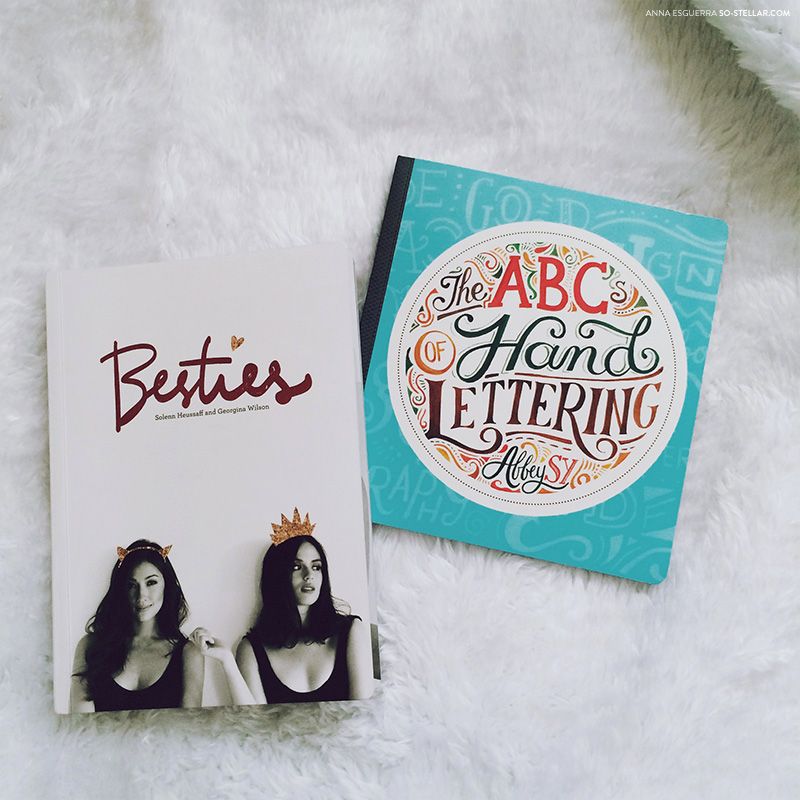 I woke up and queued early to get these two babies signed for less than 1 minute
Next was the Solenn Heussaff #Besties book signing slash meet and greet event I went to later that afternoon. This was the first out of two book signings I went to. She was nice and the conversation and 'moment' only lasted less than 30 seconds for me. Same goes for the book signing event of Abbey Sy for her book ABCs of Hand Lettering which happened the day after.
Ironically, the events I lined up and prepared ahead of time for, felt very impersonal when it came to meeting and trying to spark a conversation with them. 🙁 I don't know if I was preceded with shyness or I really had nothing to say other than 'thanks'. Meeting the Spark books authors felt personal, as it was a coincidental moment that we got to see and meet them.
I thought Solenn was very cheery and approachable though, and if not for the guards around us rushing the queues maybe I'd get to talk with her better. She asked if I had finished reading it, and when I said not yet, she said which part am I reading now.. and when I answered it, she went 'yay'. Haha.
Saving the best for last was my short meetup with THE Mina V. Esguerra. Been an on/off reader of her books throughout the years, but I definitely need to go back to checking her stuff again especially now that she is all over the local writer's scene. I believe I randomly spotted at least 5 books with her name on it. If she's not hosting a literary event, she's doing PR work on social media for her co-writer friends and bloggers, or her name will be in another book because she wrote the foreword of it.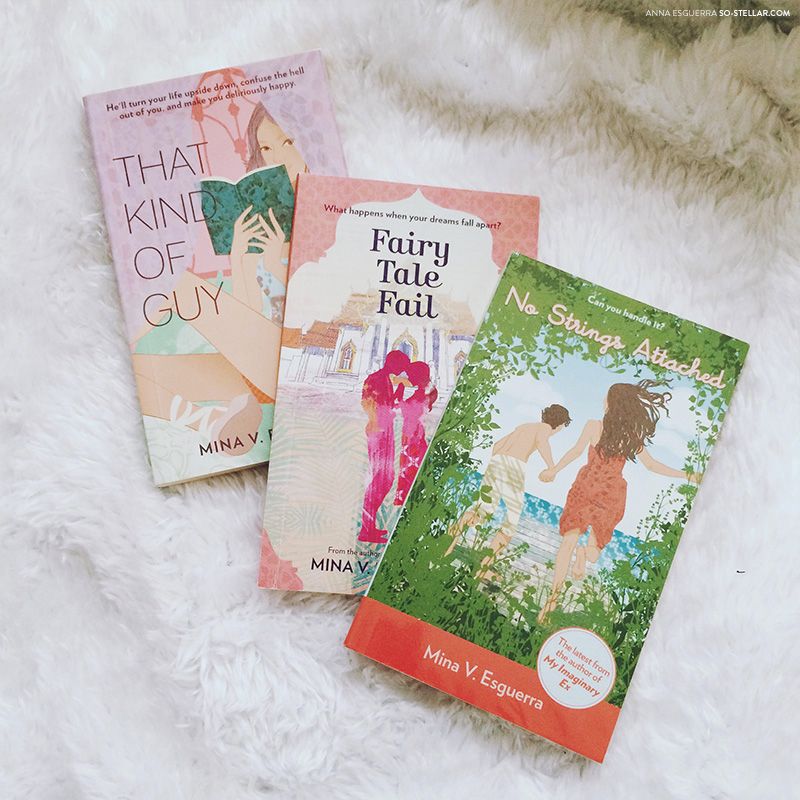 Now signed books! (Not in photo: Never Just Friends, her new book)
She's pretty hard to get ahold of, from what I heard so I think I was lucky when I finally found her last Sunday at the Buqo booth.
Read more about Buqo's #ABookForAnEbook campaign here and how you can participate in the future
11. In the long hours you spend lurking around the MIBF, you discover new books
This is why it's also still important to have a list and try to at least stick to it. Don't be like me who spent too many hours browsing and reading from one book to another, and ended up with a lot of splurges on books. Or you can, but don't blame me after. 😆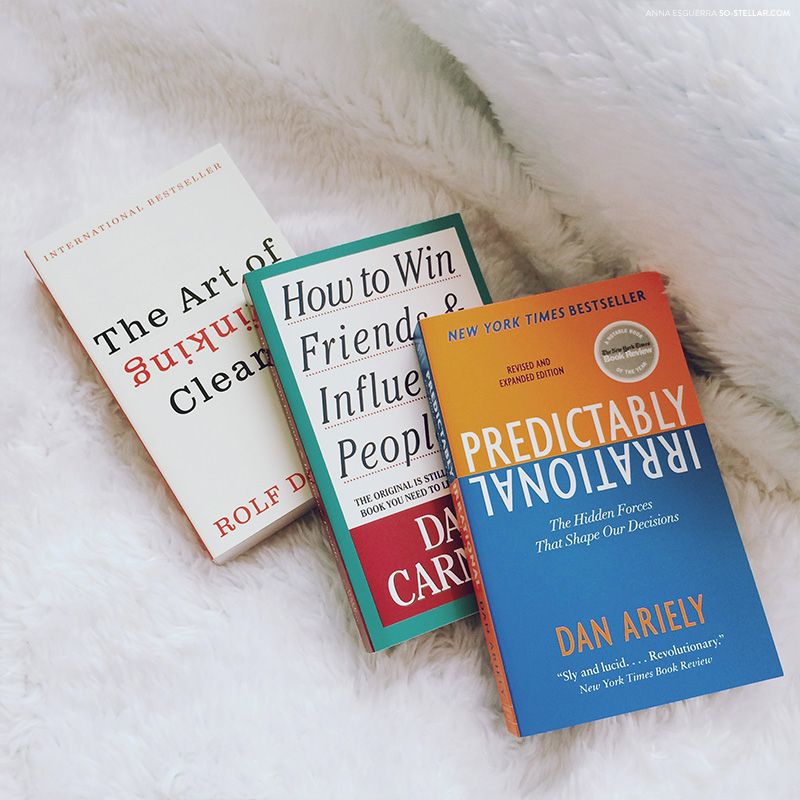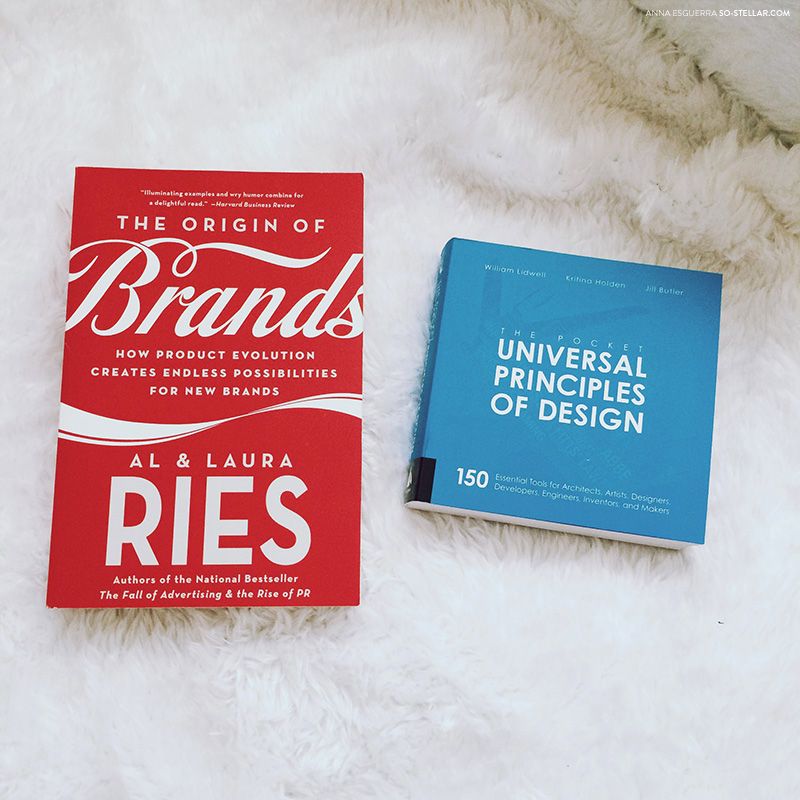 But.. actually.. I *think* some of these are actually helpful books and smart choices that I picked them. Don't judge me! Haha. I like what I read when I skimmed The Art of Thinking Clearly because it answers a lot of uncommon 'why' type questions we have but just never bothered to research about. The Pocket Universal Principles of Design is also a helpful book as it introduced me to some concepts I did not fully understand before. Although, it does resemble a powerpoint presentation, but in a printed matter format. But that's just me. Excited to read more about iconic brands in The Origin of Brands book.
12. You begin to realize that when it comes to humor books, they are better listened to, not read about
Okay so I noticed my friend picked up Mindy Kaling's new book, Why Not Me. I was wondering I should get a copy for myself, too. After a few hours going back and forth and deciding the pros and cons, getting another book instead of this one.. I decided I wouldn't be getting a paperback book of it, but an audiobook of it instead.
And it's the best decision I've made! I bought the audiobooks and it's wayyy better listening to her read her book to me than read about it in my voice. I purchased these two instead.. hehe.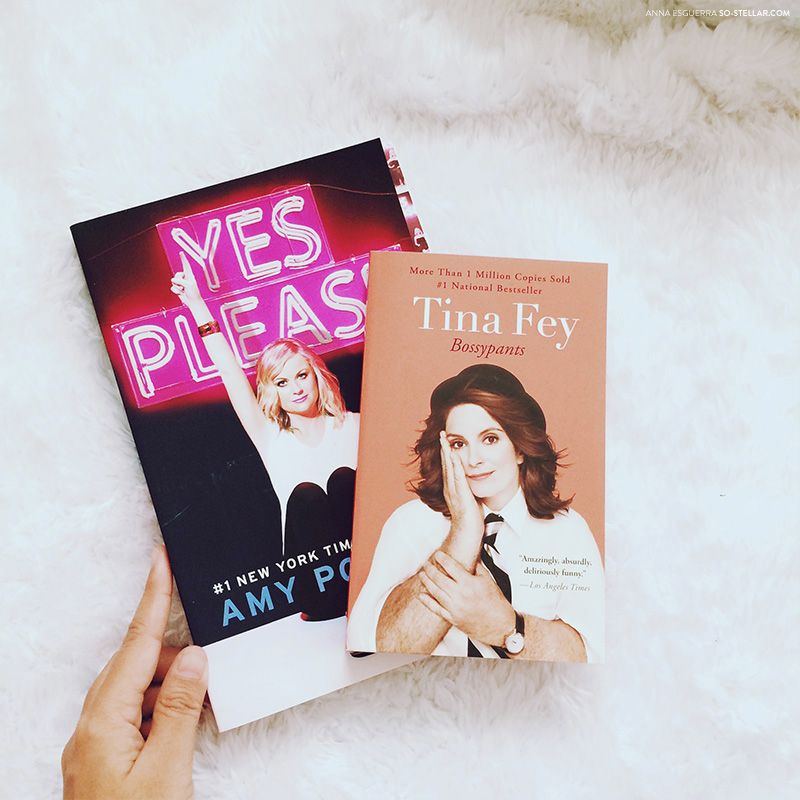 Yes Please by Amy Poehler, Bossypants by Tiny Fey
13. You unknowingly spend the whole day browsing bookstores
True story. My time in was 11AM and the next time I look at the clock it was 7PM already – one hour before closing time of the MIBF.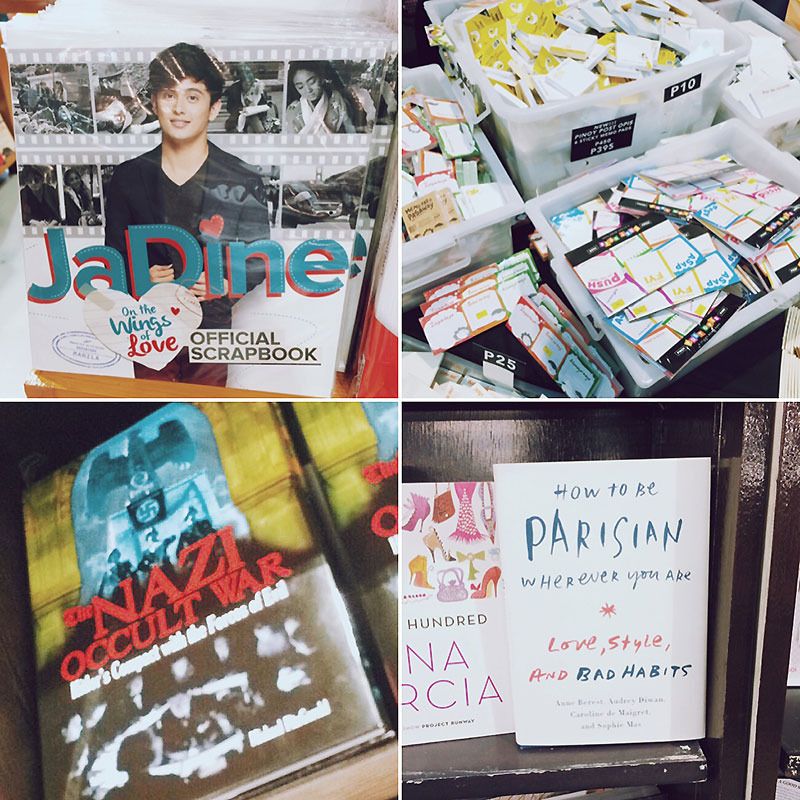 JaDine (James Reid – Nadine Lustre love team 😆 ) On the Wings of Love Official Scrapbook which I did not buy but hella made me laugh within myself when I saw it. Oh, James. LOL.
Assorted cheap and cute notepads and desk planners.. forgot from which booth this was from.
A book I found that was next to a Pope hardbound book in the Fully Booked shelf that made me laugh when I saw it.
A how-to book about the Paris life.. because we all dream of that fancy, Parisian European luxurious life.
Also, spending this many hours inside, you tend to find a lot of random, albeit funny finds.. or maybe they're only funny to me because I have a weird sense of humor.
14. Don't be confident that the books you want will always be there. Once you see it, decide NOW if you want it or not. 
I had plenty of time to go back and forth between two bookstores during the MIBF and I experienced this with the David Levithan books I was torn on buying. When I've made up my mind that I do want it, lo and behold, they weren't in any of the shelves anymore. Sold out everywhere (in the book fair)! 🙁
15. Use a bag spacious enough to put your new books later on ready for commute
Almost forgot this important tip. If you commute/go back and forth through public transport it's not ideal to have many shopping bags with you as it will inconvenience other people with you, too. What I did was bring a backpack and stuff it with the books after I've shopped and paid for them.
I feel like I bought the entire bookstore 🙁 (If there's a particular book you wanna ask about, lemme know below!)
Not only is it easier to carry around and manage while you're out because they're safely tucked inside your backpack/knapsack, but if in the event it also rains, getting them wet will be the least of your problems.
BONUS: 16. Now that you've hoarded bought a lot of books, make sure you have enough shelf space for your new babies back in your room
Self-explanatory. I was lucky to find out that Buqo has a booth in this year's MIBF and they were asking for book donations. Perfect timing to give away some books that I don't want anymore, and in return I will have space for the new books I bought.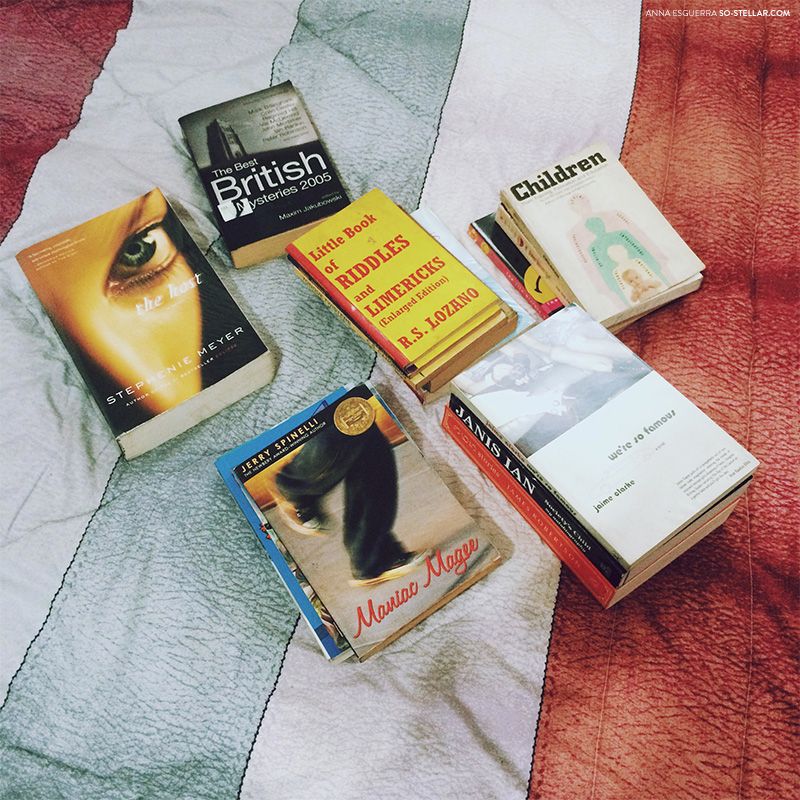 I gave the following books away.. all twenty books, in exchange for 100+ stories in ebook bundles. At the moment they aren't accepting donations. Hoping there's going to be another opening for donations in the future for anyone else interested.
In the meantime, read more about Buqo's #ABookForAnEbook campaign here and how you can participate in the future.
---
From the looks of it, I feel that I am covered for the rest of the year until the next.. I have so many books again and I am starting to worry how I will get to read them! Haha.
No, actually I started leafing through some of these a couple of days ago.. and I actually started reading one – the Adventures of PR Girl book. Think I'll get on The Year We Became Invincible by the end of the week if time permits.
Lastly, I am officially putting myself on a BOOK BAN from buying other books that are not on my list. I have around 3 more that I wasn't able to find in the book fair. They're books I don't need at the moment, but would want to purchase if I see them. We'll see!
What's the last thing you purchased recently? Do let me know just because. 😛