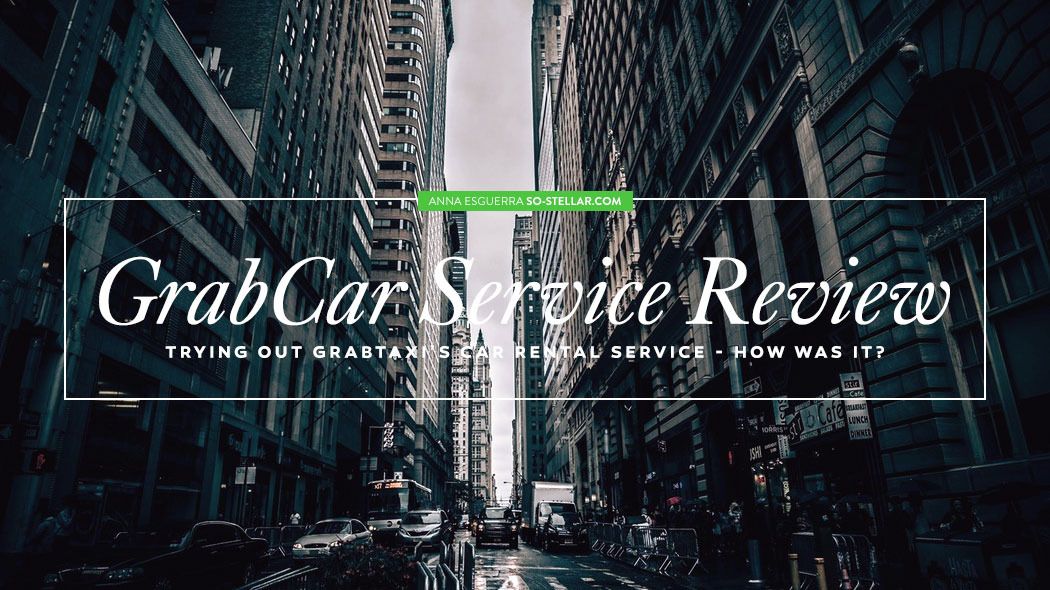 In the previous month, I've had the opportunity to use GrabCar twice. Thought I'd share the experience and feedback here in my blog just in case anyone is considering of trying it. 
GrabCar is GrabTaxi's answer to private car for hire service. Yes, it is very similar to the widely known Uber, another car rental booking app. The difference of GrabCar being, it accepts cash as primary method of payment, as opposed to the other which only accepts cashless payments (credit cards).
According to this posting, GrabCars will soon accommodate cashless payments, like Uber, too!
I would have tried Uber (believe me, I've been wanting to try them for so long!), but it's still unclear (at least to my knowledge) if they accept other forms of card payments. What if the cards I provide don't work? It's not like I can hand them cash. Maybe if they could make ATM/EPS card acceptable too, or is that reaching too far? Haha. Definitely no cash payments is what I am sure of.
Until I see in their website they accept debit and/or prepaid cards, I won't try it. I heard stories before that people owe money to Uber because their cards weren't accepted. There's a pending bill in their account that won't go away and that you have to get that sorted out with the Uber management directly through email or something. That sounds like a hassle lol.
For the meantime, I've no choice but to use Grabcar instead.
To avail of the GrabCar service instead of the default GrabTaxi, just select it in the lower portion of the app before proceeding in the booking page.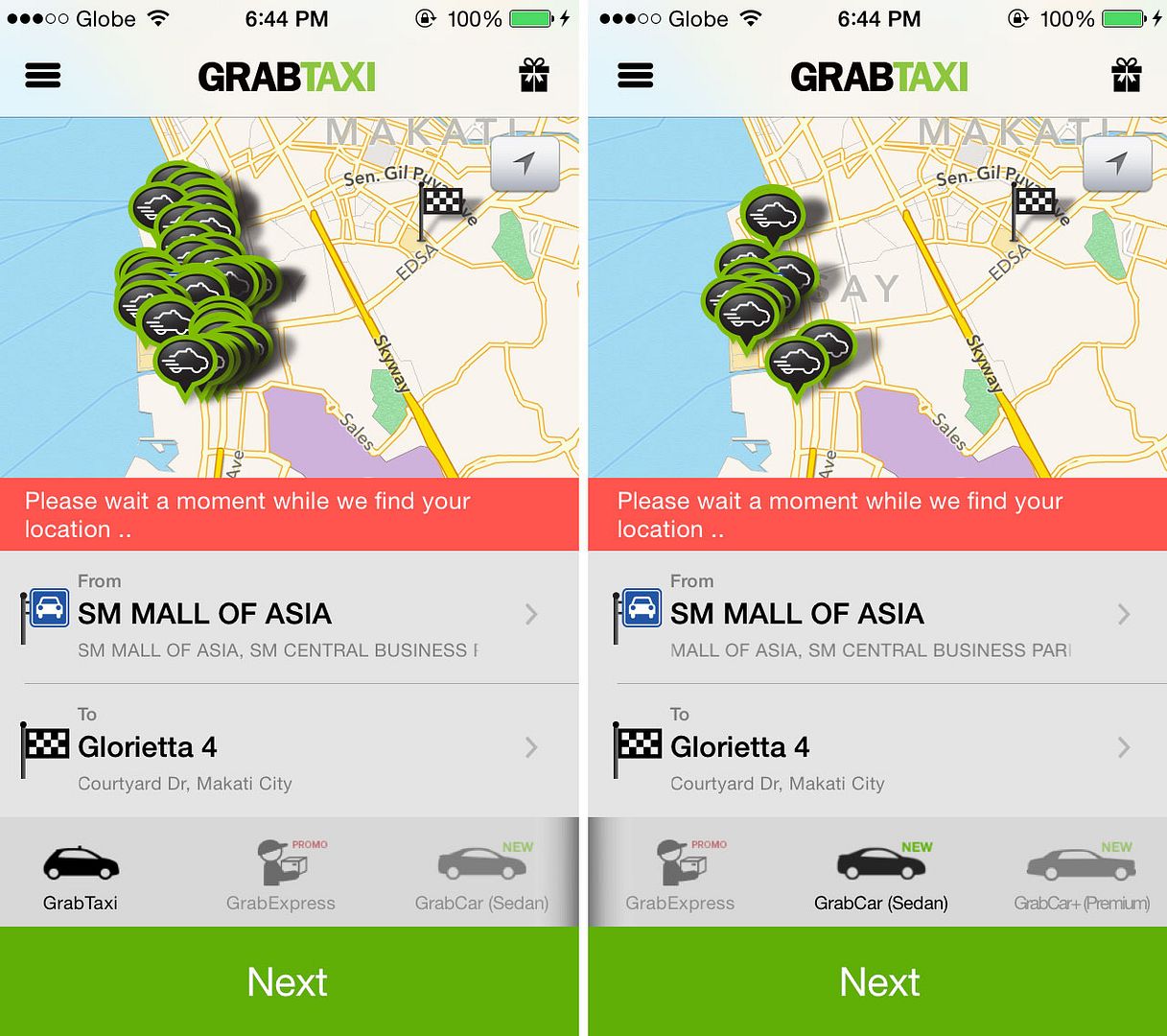 ---
First trip: DLSU – Glorietta 4 (Saturday afternoon)
Booked a GrabCar on a Saturday afternoon. My friend and I were too lazy and sluggish to commute (it would have been 1 jeep and 1 bus trip to get to the destination from school, I think) and we were tired from the events that happened earlier that day. There was also a promo that would slash off P100 off our fare, which was what convinced us more to book a trip. 😉
It was weird that the traffic along Taft Avenue was heavy because it was the weekend. There weren't many students around, what could be causing this hold up?! Ah, Taft, you never changed since we left. Perhaps you got even worse after I graduated. To think that's 4 years ago. 
Booking a trip also took long. Many drivers were around the area but no one was picking up our booking request until after trying for the 5th to 7th time, 20 minutes later. It felt so frustrating that no one was taking our request. What if we were in a hurry? It didn't seem far, so why are they being picky?
Finally, someone took our request and we waited for the car to arrive. Right after this was confirmed from the app, I received a call from the driver asking for our location. Because of the heavy traffic, we did not get in the car until 30 minutes later.
All in all it was almost an hour of waiting (from requesting a car to meeting the driver and getting in the car – start of the trip). This looks like something you can complain about (I know some people would have complained), but when you think about it.. this is out of their control. We were in a traffic-prone area.
The driver was nice, and the vehicle looked pretty new and it was very clean inside. Just like a brand new car! That trip felt safe and comfortable, at the end of it we had no problem paying and tipping him for the service.
Just think, had we jumped in a taxi, we would have paid around the same fare, most likely more, but then the car probably would not have been the same as this one (neither brand new nor clean on the inside). Haha. For me, we paid fairly for a premium and not to mention comfortable trip.
Second trip: Mall of Asia – Home (Sunday night)
Yet another location with no means to go home quickly. This happened just last Sunday, during day 2 (last day) of the Pet Expo at Mall of Asia SMX Convention Centre.
I was persistent in getting a booking because I really did not want to commute going home. It's late, I'm tired and I just don't have the energy to hustle and bustle around transferring to one jeep to another to get home.
Took me around 10 tries with the app this time before my booking was picked up by a driver. It was disheartening every time I got the 'sorry, we could not get you a GrabCar' alert. I was worried that it would be like last time that they would take half an hour to arrive again, but surprisingly it only took him 10 minutes to arrive at the meeting spot!
Right after we got in, he said that he'll be in charge with the route. I nodded and left him to it. I knew the area pretty well so I doubt we'd get lost or anything. We didn't get lost.
Gotta say, Kuya was pretty chatty in that whole trip. Not as annoying as the chatty and rude taxi drivers we usually come across with for those frequent cab passengers.
Our fare was, sad to say, twice the fare I paid compared to the first time. Even after the P100 discount voucher. Yes, it hurt my pockets badly BUT at least it was a safe, comfortable trip back home. Also, it was far (from the mall to our home). I guess it's a justifiable fare. Keep telling yourself that!
---
That's my experience with GrabCar so far. Both times I've availed of the service, they've been good to me. I would recommend their services… but let's be honest, I know you would rather Uber, hehe. Again, if you only have cash to burn for payment – GrabCar is your answer. If you have credit cards, go spoil yourself and use Uber all day, every day.
Tips? Hmm.. I would say, book a GrabCar instead of a GrabTaxi if possible. I feel you get more your money's worth if you get the car because you pay a fixed rate and you get to be in a private car that looks new, and clean on the inside, and with a nice, respectable driver at your service. I think the drivers of the cars are the owners themselves. Feel free to correct me if I'm wrong.
Whereas with a taxi, you're not sure if it's brand new, mint, or overused (not that it really matters, but since you're paying, might as well, no?). There's also no assuring that the driver will be nice. Yes, even if they're GrabTaxi-certified, there are still asshole taxi drivers out there. A sticker label on their taxi isn't going to make them nice.
It would also help to book an hour in advance, especially for people who are in a hurry to leave.. if that makes sense. Allot time for the search to work (whether you like it or not, there are picky drivers) because I'm sure you'll have to redo this multiple times. It gets frustrating but be patient for your sake, haha. It could have been worse.. you getting into a troublesome non-GrabTaxi accredited cab and who knows what else could happen.
By the way, they also a premium car rental service called GrabCar+. No I haven't tried that yet. Not ready to spend that much money over a premium car trip experience. Altho If I ever get to try it, I would expect that there would be someone opening the car doors for me. LOL.
Oh, lastly, if you are not a frequent rider like myself (more like once in a blue moon cab passenger), make sure to thoroughly check GrabTaxi PH's Facebook page for promos before booking a trip. As of this writing they have HAPPYP1SO for P1 booking fees from now until August 15 for GrabTaxi bookings only. UMBRELLA is the voucher code for GrabCar and GrabCar+ until August 10.
No more GrabTaxi/GrabCar or any cab trips at least after 2 months! Been spoiled enough this month. #helpmeimpoor 😆
Have you tried GrabCar/Car+/Taxi or other similar car booking apps? How was your experience from booking – to the overall trip?
Disclosure: This is not a sponsored post. I tried the service in my own discretion with no influence from the brand. Thoughts and opinions expressed in this post are my own and written with honesty and transparency in mind.