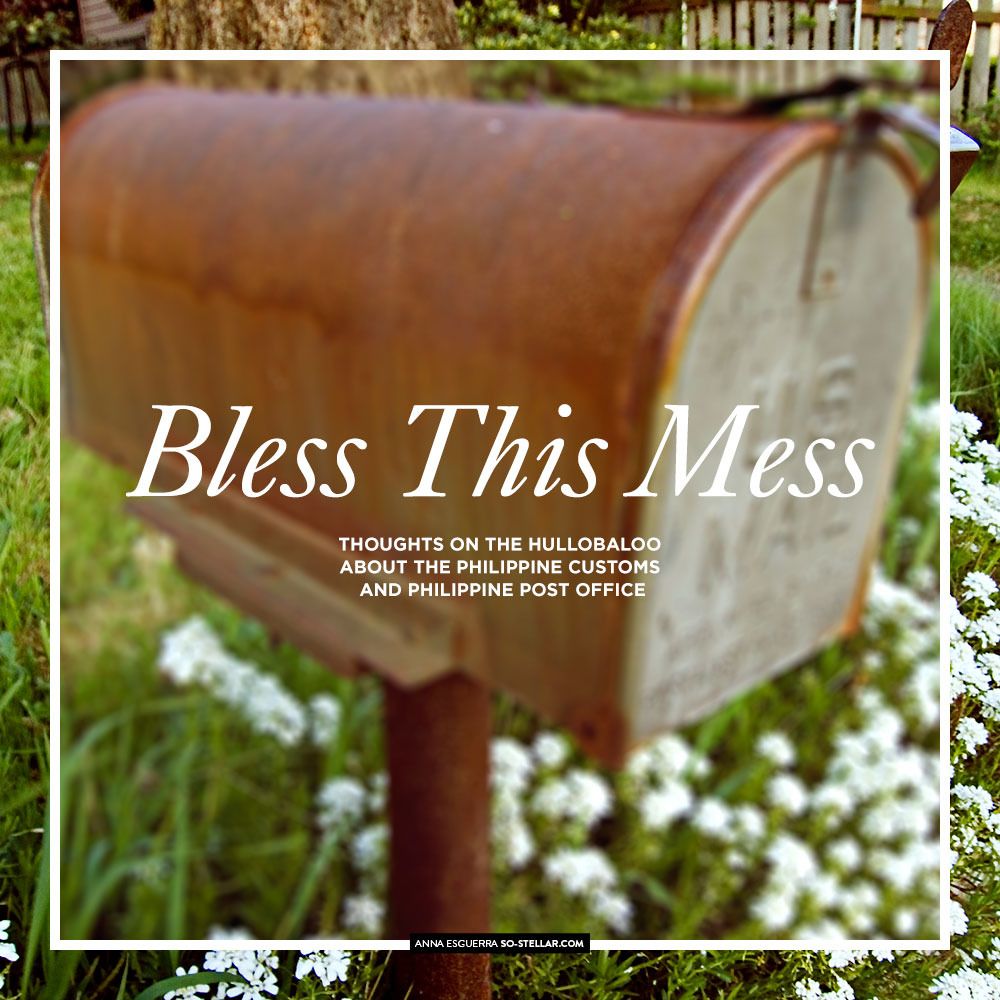 The state of Postal Mail system here in the Philippines is comparable to a game of luck and chance. A gamble. A hit and miss if you will. In my case it's always a miss, rarely a hit. If I'm understanding that phrase correctly, 'hit' would be a good thing, whereas 'miss' is the opposite, right?
Presently, the Bureau of Customs in the Philippines is receiving a lot of flak for their services stealing they've been doing to the people aka the shit has finally hit the fan for them and I couldn't be any more happier upon hearing this. I say this is karma for all the times (unfortunately this is still happening and practiced by these greedy baboons) they have taxed us unfair, unjust fees for the packages sent to us for free by people from outside the country. That, or for the things we have purchased from the Internet.
With the treatment I had received from them, this 'payback' is 6 years too late. This has been happening since 2009! The last successful time I was able to do a lot of heavy online shopping and had these orders from the U.S (from places like eBay, Amazon, to name a few) delivered directly to my doorstep was in 2010. These packages were also tax-free and free from any charges. Three years before that, I'd even do candy and chocolate exchanges with people from other countries. This was how I discovered the Aero chocolate bar, my favorite candy next to Cadbury Dream (yum!). Imagine that, receiving food from the mail halfway around the world. Seems impossible now, no? Not in 2005!
The years 2002-2008 were the glorious years of post offices and snail mail. The years that followed became chaotic. From 2010-onwards, the post office went downhill in all aspects. It's as if all their employees turned to money-sucking delinquents. Not one of them was doing their job properly. Should we blame the Internet that because it existed and became more popular, that meant lesser people sent mails through the post office now? If you did your job properly and with no corruption/stealing/whatever else has been going on, I'm sure a lot of your rich, generous patrons will have an envelope containing a big amount of tip ready for you at the end of the year. Big Christmas bonuses that we would willingly give you. But no. Y'all are corrupt af.
Sometime in 2011 I made the mistake of ordering a few books from Book Depository UK thinking they would be tax free (confirmed after reading Department Order 57-2011 right from DOF's website), and some shirts from Threadless after finding out that they'll be tax free too if it doesn't reach USD $50 in total. A month later, after coming back and forth to manually check their log book for the package if it was already there. They were finally here and only a door and the old customs granny were the unfortunate things getting in my way of bailing out my babies!
When it was time to pick them up, I was charged a fee that's 5x the price of what I had already paid for. I was so upset but I tried to be tough about it but they won't have any of it. After that, there was another time that I had to go back to pick up a couple of university catalogs from design schools abroad, which was sent to me for free. Once again, I was charged for before I could claim them.
READ: My Book Depository Orders Finally Arrived!
The last resort was when I was given a book.. and truly, honestly this one was a gift to me. They already paid shipping costs, etc. It was shipped through DHL, and to a friend's address. But even after that method, we were still charged when the book arrived here. Like always, it was more than what was already paid for beforehand. I was very infuriated at that time when it happened. I thought it was because, for the previous orders before, it was that my address and name was too familiar so the people over at the post office thought I was "capable" of always coughing up money for the items I buy. Guess I'm really just unlucky when it comes to these things now.
Lucky are those who only had to pay around P20-P50, now P100, before they could claim their packages that were held up at the post office. I believe majority of post offices outside Greater Metro Manila Areas still practice this, and kudos to them, until they get word that they can also charge more than that (boo!!). In my experience, however, I have never been subject to only paying either P50 or P100. It has always, always been more than that. This kind of rate should be in effect for the books at least. That kind of reasoning I would be able to accept. The lowest fee I paid in the past to claim the book orders were P250 for this school catalog.. that was supposed to be delivered directly to my doorstep! I've had friends who ordered this as well and they got theirs directly delivered. The most was around PHP 1000+ for the Threadless shirts. 🙁
In all those times I had to go to the post office to pick up a package, it honestly felt like they were in jail and I had to bail them out for unjustifiable prices. Regardless of the way the customs personnel computes the fees right in front of you, just to show you that there is no "corruption" happening, or unfair/unjust computation.. I don't buy any of their bullshit reasoning to make money the dirty way. I believe that unless the quantity/number of items that come obviously appear to be for merchandise purposes (e.g. ten pieces of one item), they should leave it alone and just hand it to the owner free from charges.
Since then I have been using consolidated shipment services such as this one. I thought about this recently, too. Since the BOC is taxing shipment companies and companies providing consolidating shipments and increasing rates.. will this also affect them? What is their statement about this, I wonder? I hope they won't entirely change, or this doesn't make the business bad for them because I really, really liked them. They're pretty slow, but at least my items will get to me safe and sound and away from the grubby hands of the customs officers.
When you think of it.. the reason why these employees from the post office and customs steal and think of ways to make money under the table, is probably/maybe/could be because they need the money since they might not be making much now given the huge decline of people using the post office services. But really, is this the only way? Are all people working in government offices eventually turn out like this in time? You look at other government service-type of work around here and there is a 90% chance that there is some kind of corruption happening over there. First, LTO driver's license and plate number cards taking AGES to process, unless you can pay someone a hefty fee to 'expedite' your application. Next is our passports.
Should we blame this on the Internet? On the contrary, the Internet greatly utilizes the post office system because of E-Commerce. Look at the US, their post offices are well-loved and supported by everyone. Where will beauty, teach, lifestyle bloggers and vloggers be if not for their own manong karteros/USPS/UPS/DHL/FedEx postman delivering their goods for reviews and features? Also, in Singapore I was able to try their post services and it was hassle-free. A huge, huge difference and step up from our caveman-like level of post mail service. Thank god we have Xend here and the other privately owned couriers which do a far more better job.
And you people wonder why a lot of people are in a hurry to get out of here while they still can. The Millenials of today, from the looks of it, are quite determined to start anew elsewhere in the world; prioritizing traveling high pay and experiencing a good life outside of where they were born. Pretty much have given up on hoping for a better future here in the Philippines and want to look the other way instead.
PS: I understand my post doesn't really make much sense. I just wanted somewhere to rant my frustrations about the Philippine Post Office and Bureau of Customs and I thought now is the right time, given that they are a very hot topic around social media. 
I wish this would be talked about more often. More exposure would mean more people would care to look into it and hopefully, someone in the right power and authority would stand up and actually do something about it. But for now, we can only hope.
Feel free to pour your frustrations if you feel you relate to this. I know I can't be the only one here who's from the Philippines, or elsewhere, and has bought something online or was sent a package from overseas and was taxed for it before I could get my hands on it.
Strength in numbers, everyone! 😛