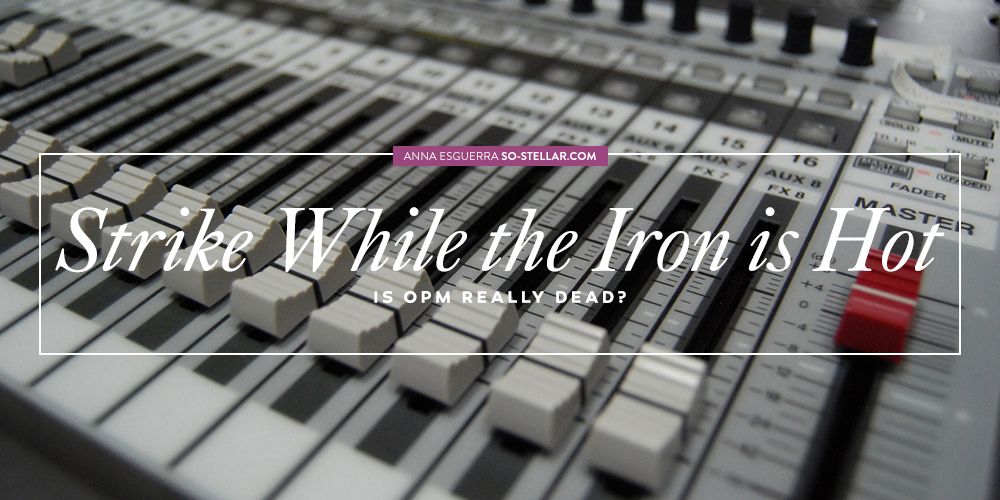 Look everywhere from your local TV channel to social media, and everyone has something to say about the fact that "OPM is dead". I am quoting it like that, as if I'm saying it sarcastically because it's SO overused, it feels like some annoying catchphrase already. Personally, the term irks me now. Like goddamnit, F I N E it's dead as a rotting pig, whatever.
But honestly, to hate the whole thing is very very exhausting. Y'all can do whatever you want, release more shitty albums for all I care. In the end pera pera nalang yan. I'm not here to defend it, by the way.
Majority of the people who feel know they have superior music taste will quickly come to judge soon as they see these pseudo-'recording artists' getting more exposure, more time under the limelight, more money. See, they (actual artists who are marketed to be recording artists too, besides being an actor/showbiz personality/etc) use the term recording artist, NOT 'singers'. Although to the public, the terms 'singer' and 'recording artist' probably mean the same. Also, it is not these recording artists who regard themselves as real, legit singers, but their label/The People in Suits/the money makers/the marketing team.
I think the bigger percentage of the Filipino people are just uninformed, or rather unaware, of the other much worthy local artists we have here. "OPM is dead!" FINE, say that with as much burning passion of anger if you must. I understand where your anger is coming from, too. Tune in to a local radio station and these novelty songs are the ones that are playing. To the average Filipino, they are not given a choice about it. They are only exposed to these kinds of music, so in the long run they think songs like this is okay. Say you're one of the fortunate people who are exposed to better music. That's great, and good for you. But what about the rest of them?
(I read a Facebook Post last week that's more or less sounded like what I said above, but I can't remember the source. If you remember or know of this post, please link it to me in the comments!)
Once upon a time there were a handful of good masa radio stations that did not play novelty songs. Unfortunately they were not able to withstand the stubborn trend and demand for these novelty songs that they had to close up shop.. dunno, 2-3 years ago? As far as I know, that radio station has turned to a new station playing pop novelty songs.
——-
Sure, OPM may be dead, but(!) not everyone has given up on it. Look around the internet.. YouTube, Soundcloud, Tumblr, Twitter.. there are a million more talents just lying there undiscovered. You are not forced to hand over your money to shitty artists. Neither are they asking for your money.
Simply put: YOU are not their target market.
Everything is about business nowadays compared to 10-20 years ago where it is much harder to get inside the industry (when actual talent mattered). Now, you just have to do something stupid (what is embarrassment?? throw that shit out of the window if you want to be famous!) and hope a stranger took a video of it. If you go viral on the Internet, then you can say you've made it to stardom. In this day and age, THAT is how you get your foot in the door.
I read the comments sometimes in these random FB newsfeed posts about talentless person getting a deal after being viral, that sort, and somebody mentions "supply and demand, *****!!" and.. when you think about it, they are actually right.
These business people who are the ones responsible for making this happen are just being smart with their money. They see there is a demand (regardless how dumb it may be) in something, then they'll find way to monetize it. Why invest in something that you aren't sure will get a quick return of investment, right? You can have a person with all the talent, but lacking the charisma and appeal to the bigger, general public, no one is still going to pay attention to them compared to another person who is the opposite but everyone just seems to find them somehow appealing.
Picture this: If you are a wealthy businessman, and there are two complete opposite talents asking for your money, say for starting capital for their careers. Person A has everything BUT talent, but willing to do anything for fame and already has a following, while Person B is the shy, timid, acoustic singer with ZERO appeal (from looks to just overall). Person A has released a lot of silly, meme-like content online and make a fool of itself and is able to laugh at their own jokes. Person B chooses their battles very carefully, and easily shys away from things easily once they're overcome with their insecurity and fears. As a businessman, it is more likely that they will grant the money to Person A, right?
——-
Another thing is why are we putting so much effort and negativity on pointing out how wrong this whole mess is? I think all our complaining is really going nowhere.
We can freely hate-tweet and post all day saying "blah blah is a horrible, horrible singer and they make our ears bleed" or things like "oh boo hoo, these flock of fake singers are ruining the music industry." At the end of the day, they are still the ones making money and laughing their way to the bank, while the rest of us who just spread negativity will get nothing and still be in the same place as we were before. No surprise there.
Once again, we have the choice to ignore and look the other way for things that does not look pleasing to us or we don't like and enjoy. These people are not begging for your time and money, they have their 5ever for life forever supporters for that. 😛
If the general public didn't pay attention to these artists, I'm sure the hype around them will die down and OPM might be ok again. I think there's a good chance for things to go back to what it used to be.
In the meantime, why not do the other productive way and celebrate the good in things instead?
Don't you ever find it weird that it's people who are talented in their respective fields who aren't getting the attention that people are misusing to use for hating instead. It's so easy to throw a compliment their way, the same level of easiness as hate-tweeting someone yet nobody does it. Is it so hard to be kind, to pay respects? To ignore? The last one literally doesn't require much to do to accomplish that.
It doesn't end there! Just look thoroughly, start with YouTube. You'll never know of the endless artists you'll discover.
Feeling generous and want to boost an unpopular yet deserving artist, brimming with musical talent? Go to their shows, help spread out the word about them, if they set up a crowdfunding for a good cause related to their career (like maybe pitch in for funds to do an independent release of their CD) – pledge a hefty amount.
I think it's also achievable to release your own CD that's of studio recording quality these days too. Of course don't produce too many copies, just a couple for close friends will do hahaha.
——-
Soooo…. to conclude this lengthy rant post: At the end of the day we are all just doing our best to make a living, trying to earn money at what we do. Walang personalan. 😛
Do you think the trend for these celebrities becoming recording artists/"singer" all of a sudden will die down if majority of the general public would stop paying attention to them and stop buying tickets to their shows/"concerts" and quit patronizing them in general?
Do you think that's the only way left to actually "save OPM"?