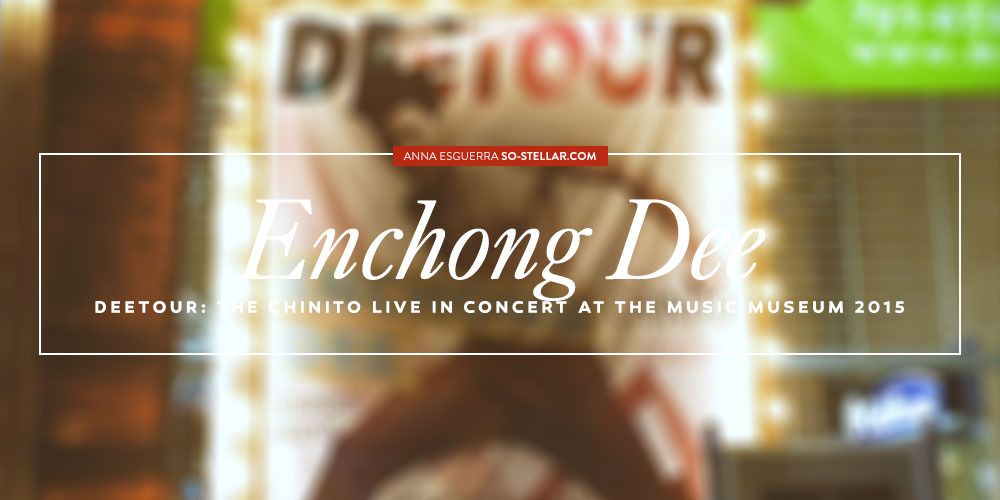 At last, Enchong Dee can finally tick 'Produce and perform in my own concert' off his bucket list because he finally accomplished it earlier this month! The event started off as an idea, and an event slated for one night only.. which got a second night the following week because of the demand (as far as I know?). Now, rumor has it that Deetour will have a couple more shows.. this time, around the Philippines. Congratulations, Enchong!
Photos and some of my sentiments about the show after the cut!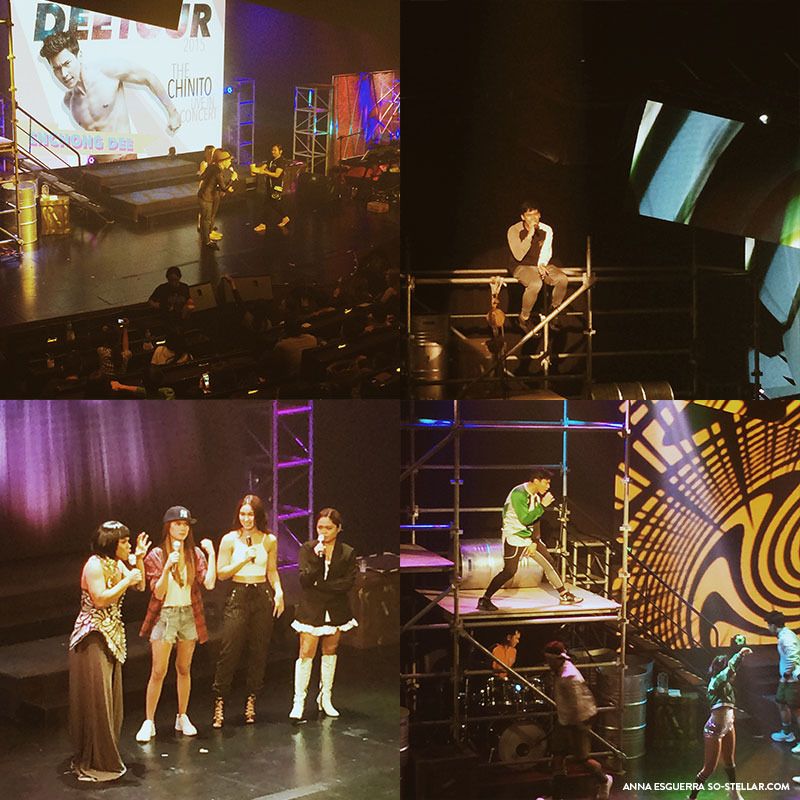 Being a very different kind of concert from the rock concerts I frequently go to, I had a hard time finding a sweet spot to appreciate this whole production from. It felt like I watched an episode of a Sunday noontime variety show popular in the Philippines called ASAP and as part of a live audience.
Except this production was all about Enchong Dee. So, ASAP: Enchong Dee edition, to sum it all up. NOT that I have a problem with that.. it's just that it was something new to me. Takes time to get used to it.
As a warm up to everyone before the show started, the host did some games with the audience (top left frame).. to me that felt like a casual party program? Weird. The prizes were goods from the sponsor (a coffee brand), and the 'grand prize' was a meet and greet with him backstage, before the show.
First part of Deetour was a dance medley of boyband hits from 90s-2000s. Bit meh for me..
Then he performed a Katy Perry song which I don't remember, but I remember feeling "eh?" about that..
The last frame in the photo above, it reminded me of his DLSU days and that outfit could have been inspired by a cheering uniform of the Green Archers (I'd like to know the inspiration for that outfit, seriously)
His special guests were comedian Pooh, Julia Barreto, Erich Gonzales, and Alora for the segment Lip Sync Battle. I guess this is a new trend (I am REALLY behind what's new in pop culture, guys).. could do without, but I guess in shows like this there will always be guests doing spiels and comedy
The view from our area was nice, too. I feel that I must mention that. Music Museum is pretty cozy and intimate that the performers can see the whole audience from their POV, and same with the audience towards the performer. So even with Balcony seats, we had a good and comfortable view of the show. It's one of those times that I won't hesitate to go get general admission tickets because I know the view will still be good.
Twenty minutes later, I was sure that this won't be any sort of musical journey for the audience, like what I'd anticipate in a rock show, but we'll be watching him dance to popular numbers all night. Alright.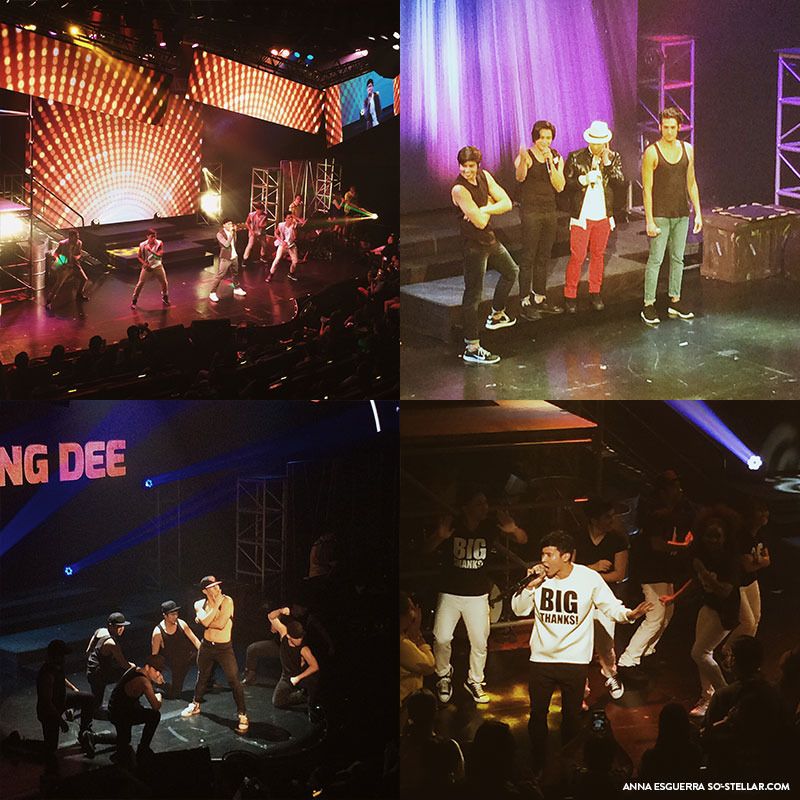 Despite the show being a bit different from what I was used to watching, there were parts that I loved and some that I'd commend him for pushing his boundaries and actually doing it.
Kpop production number: No idea (was it Super Junior? I remember my friend getting kilig because Suju daw, haha) which group he was pegging in this performance but I dig the songs, the attitude in his dancing (evidently, a lot of people went crazy watching him pull off ala-*insert KPop member here because nothing comes to mind at the moment*) and the overall swag~
Magic Mike-inspired production number: THAT WAS HOT. I cannot articulate well what I saw, and would be better if you saw photos or videos of that performance instead. Sadly, I don't have any photos or videos of that.
When his model buddies slash guests performed a number. First time I see LA Aguinaldo in the flesh. Worth mentioning that woooooah these guys are tall! Don't know the name of the guy with long hair though! Ack! What's his name?! Obviously they tower over Joseph Marco and Enchong (in his MJ-inspired outfit) in that photo. Aah.
Whatever this was called, I'm pretty sure this was EVERYONE'S favorite part. Yup, show us shirtless Enchong Dee any day and you'll never hear all your fans complain. Haha.  Even his GF said that's her new favorite prod number of him. 😀
This last photo marks the end of the program. I like this new saying of his, tbh! He can add this next to his Sobrang Awesome catchphrase, haha.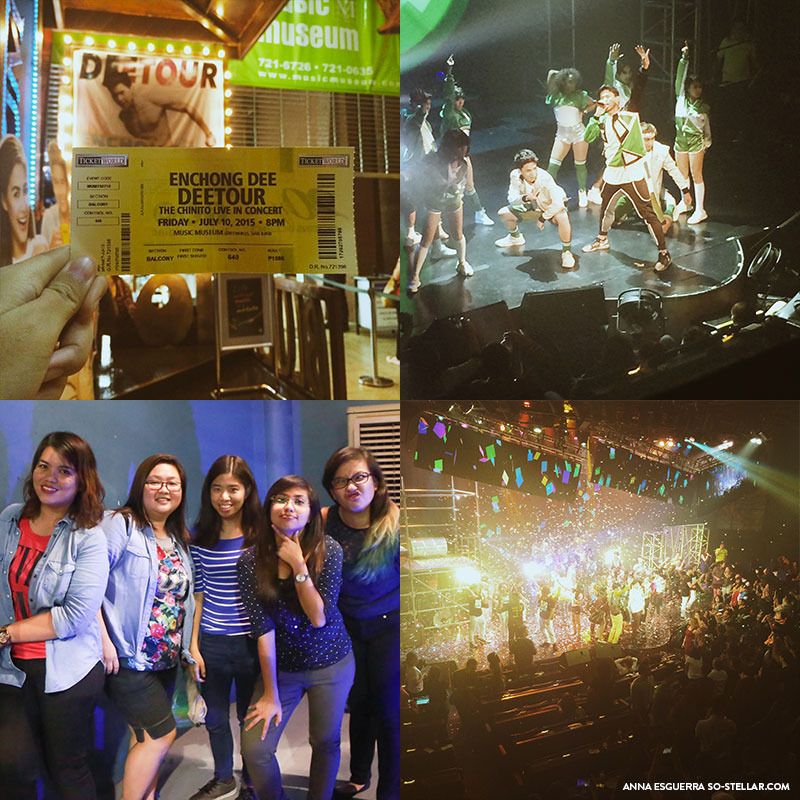 And it's a wrap! The second night of Deetour turned to be just as fun as the first. Though the audience weren't as many as the first night, he still put out the same level of energy in his performance which made both parties happy and that is what matters. Everyone had a grand time.
I guess my only regret was going later than sooner because I missed seeing most of my friends who went the first time. There were more of them last week compared to the five of us here. Good to see everyone though, both old and new friendly faces.
Have you ever seen your celebrity bias in real life? Were they as friendly as they are on TV and do you consider yourself a hardcore fangirl?
My answer: Yes, and yes, and no. Haha.