Earlier this month, we were invited by one of our professors in college to be his guest panelists for his Multimedia Portfolio class. I have heard about this, wherein you get invited to be a panelist for one of your college prof's classes, from friends who have had the opportunity to be a guest panelist in the past. Based from their stories, the whole thing sounds pretty intimidating. Wouldn't want my friends to judge my work, especially at this time that we're all working professionals. Haha. Kidding, a bit. I mean, you do you, right? Different strokes for different folks.
Setting aside my overthinking, I thought that this is also, a good way to give back to the school. Hahaha! Prior to this, I had no idea they actually get previous students as panelists. Had I known about this, I might have been less nervous than how I acted when I was in the same situation years ago. I remember not sleeping most nights just so I can finish and perfect my portfolio then.
Giving the name a formal title of 'MMA Consultant' because the other title, while it doesn't really have a proper name AFAIK, is too long for a post title and SEO purposes. 😛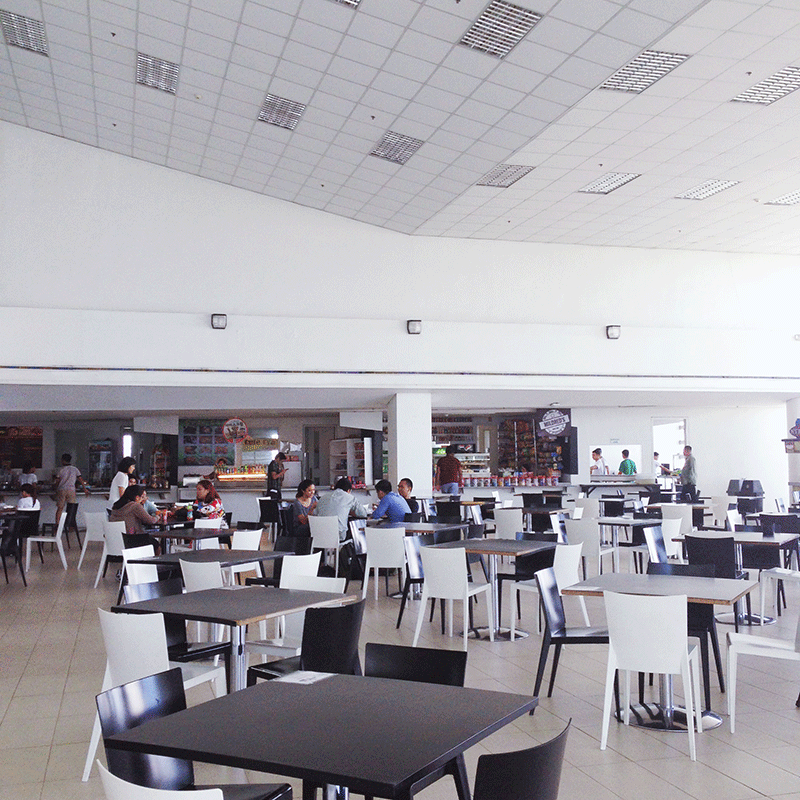 A portion of the SDA building's school cafeteria. The whole building is white and modern-looking. Perfect for the kids of today who's goal in life is a perfectly white curated Instagram feed. 😆
For someone who is terrible with socializing and making small talk, this was a daunting task to accomplish. Imagine I was stressing about this so bad as the weeks and days came closer to the big day. Meanwhile, my friends weren't worried about anything at all. If anything, they were looking forward to be challenged by these kids.
I worried about the following things: What if I'm not good enough in criticizing their work? Should I be a bitch towards them? How harsh must I be towards them? I don't feel like being harsh to anyone because I was in the same position they were in when I took the same class 4 years ago. If I'm too nice, would that give an impression that I am not credible enough for them to listen to my suggestions? Would I be criticized back in return for calling them out, pointing out their mistakes? Would they take my constructive criticisms seriously, or would they feel offended and then get personal with me?
But I am forgetting one thing, and that I am sort of underestimating what I have in doing this: I have the power to fail these students. I can delay their graduation just by ticking this certain option in their grading sheet ….which I will not do, unless they are really terrible. But even then, I don't think I have the heart to fail anyone. I told you, I am kind. Or maybe I lack a bitchier backbone.
Also, the real world is harsh. And as a guest panelist, we're suppose to represent the industry they'll encounter when they start job hunting (so we had to act like tough professional HRs, I guess, for the time being?). With that said, I should exude the same level of harshness I suppose.
No HR person has ever been nice to me in the past, as far as I remember. If they don't respond to you, they'll be too frank and tell you like how it is. Your work sucks, you have no future with them. The bigger company you apply to, the harder their rejection might be.
Let me tell you now, though, I didn't fail any of the students that were assigned to me. Well, compared to everyone else in the room, I only had to assess two students. I hope my memory serves me right. 😛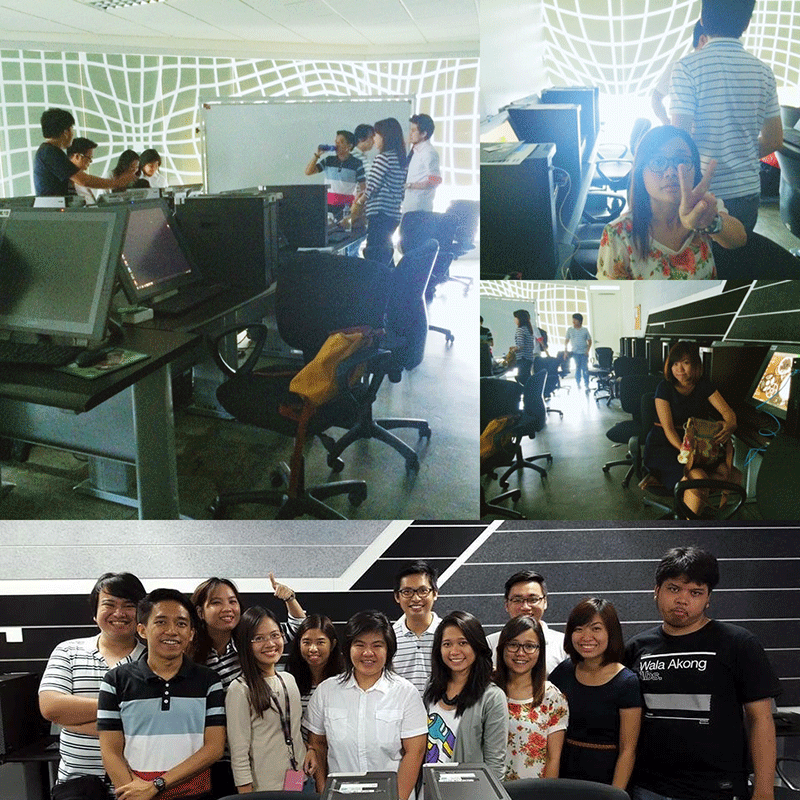 This is all os us who were panelists and one of the guys is our professor. Can you guess the ff.: 1) Which one is the professor, 2) Find me in the photo 😛
So anyway. Come Saturday last week… we all gathered up in the holding room, which used to be a classroom (we all remembered).. which was just next to the classroom where the students were. We exchanged talks about what we do now (career-wise), and fond memories of college, while waiting for the professor who invited us.
When he finally arrived, he gave us a briefing of what we should do and not do. Finally, we were brought inside the classroom, while the kids are outside, obviously stressed and scared for their life. Sounds like I am over exaggerating but it's true.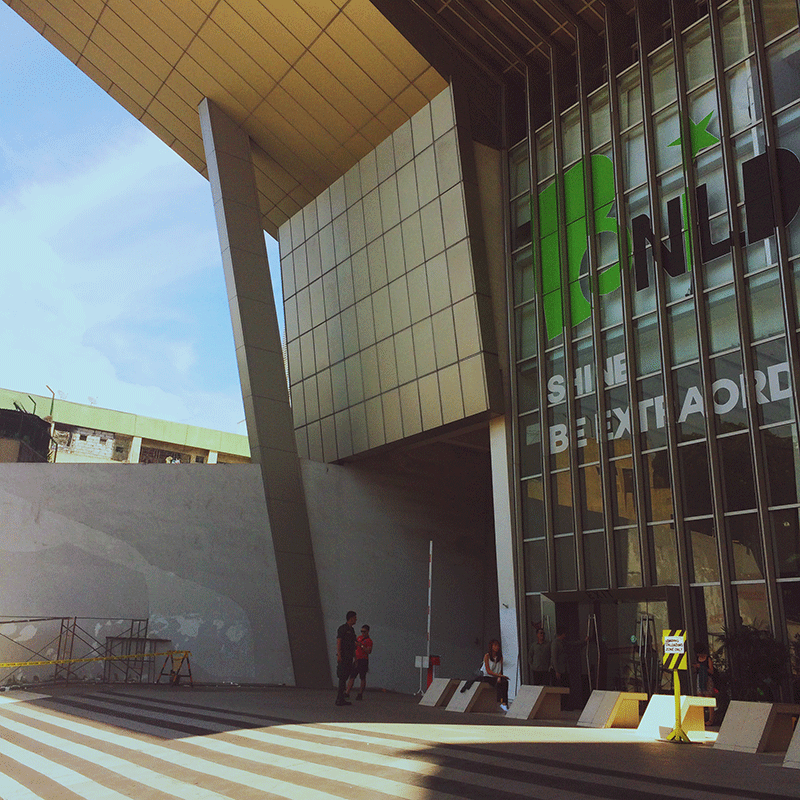 This is the School of Design and Arts building. When I was a student, I use to hear a lot of comments from people thinking it looks like a printer, or a Voltes V robot. 😛
Noticed the students all looked nervous even from afar. They're also in their formal businessman and women outfits. A bit confused because during our time, we all looked casual. Mostly like we just woke up, dressed up and went straight to school to finish our website portfolios before the deadline. Also, us guests panelist are the ones who looked more like students given our very casual outfits. Seriously. So weird!
For the next 2 hours that followed, the class was busy assessing one student after the next. I feel like I was the only one who took a long time to assess the students assigned to her. Found out the rest of my batchmates got to meet and assess 3-4 students at the end of the day. I only met two students.
Welp, I guess I did badly for my first assessment experience. Sorry for the awkwardness I caused to those two students. Promise I did not fail you (by rating) though. My suggestions were well meant and I hope you can enhance your works and skills more (especially in the field where YOU really feel you excel the most) to land the dream job you want after college. I have more sentiments about the paneling proper that day, but I will save those thoughts for later and in my other blog.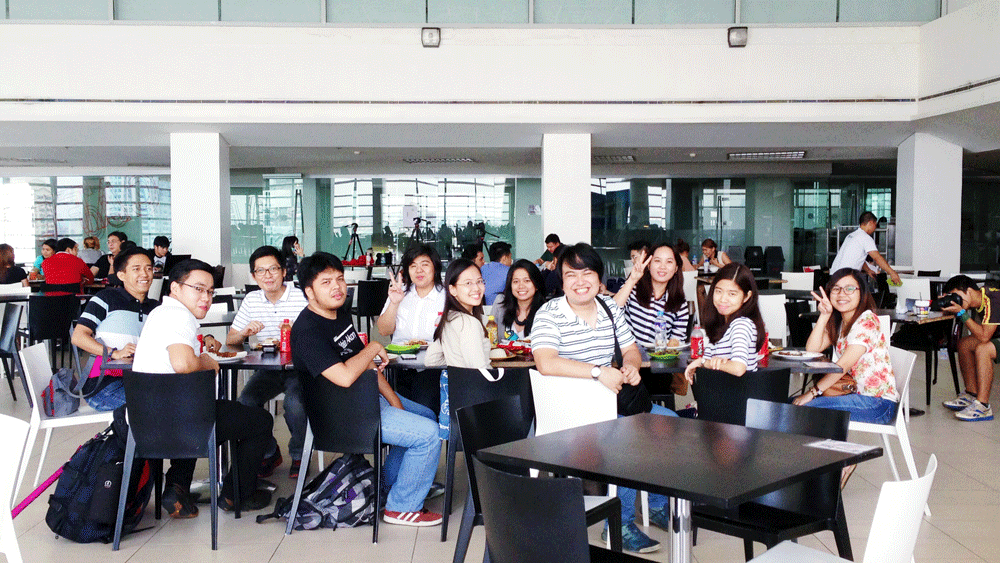 Off the record, I went through with this because I was looking forward to visit my alma mater and see most of my batchmates again after years and years. While my 'professional' cause of visiting the college wasn't very successful, the bonding over lunch that followed was pretty sweet and worth the time. 🙂 Most of us were looking forward to a hearty Sisig meal for lunch over at Mildred's (especially after finding out our free voucher is only for use in Mildred's stall).. Unfortunately, surprise, surprise, Sisig wasn't available that day. Bummer!
Still on the fence about doing this for the second time though. Maybe my critiquing skills will get better if I do this more often? IDK. I don't feel very credible to be judging someone else's work yet.. or maybe, I hope, I get assigned to a student who's in the same field of expertise or interest as I am. The ones from last Saturday, I kept getting students who are mostly focused on Video and Animation as their medium. Eh, well, I'm not a video and animation person. Those are actually my weaker points lol.
When was the last time you visited your Alma Mater, and how much has it changed since your last visit or graduation? How connected are you to your uni/college's community?