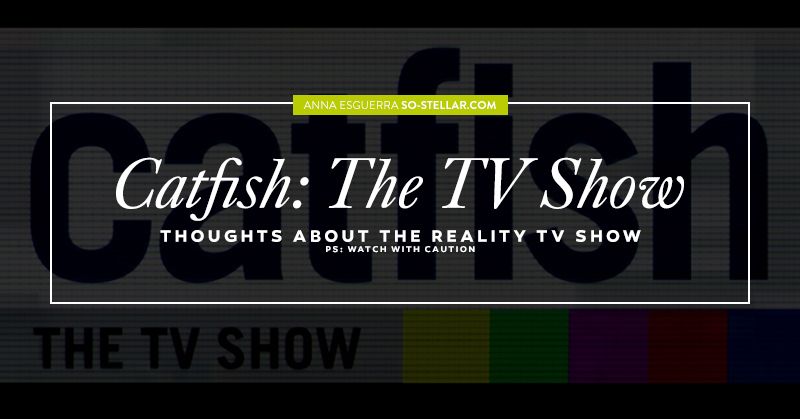 I usually wouldn't give shows like this the time of day, but what can I say? I had too much free time last week and unfortunately ran out of shows to watch. Either they are on hiatus, or the usual (for the shows that I really, really liked) it got canceled.
RIP to all the shows that ended too soon.
Right. So Catfish the TV show. The sick, annoying obsession (that I am trying to STOP) started one mundane Monday afternoon. I was browsing online, from one site to another, looking for TV shows to catch up. I tried Sxxxx.. it was okay but eh, I was looking for something else more.. interesting.
"Interesting? You find Catfish interesting?!" Yes I do. I'm a sucker for shows that make people meet for the first time. Buuut not something I would always watch esp if it's always too romantic and mushy. Meh. I want a show with variety, without it being overdone with drama. 
I was only suppose to watch one episode, delete the file after that and move on with my life. But it seems like the more I watched, the deeper hole I actually dug that led me to wanting moooore.
And so.. 5 days later, I have started from Season 1 and gotten myself to Season.. 2. Haha. It's not that I'm a slow watcher but it does get interesting after seeing a few episodes. Sometimes boring, yeah. So I need to take a break so it becomes interesting again.
Five days later. First three days I watched one episode after another, it has messed up with my head. Some things I have started to ponder about:
1. You will miss the point of the show at first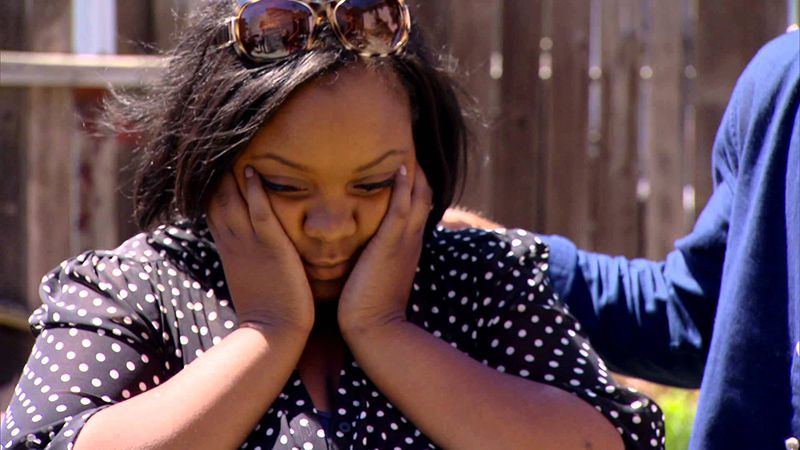 Photo: MTV
As you've guessed it: Most endings in Catfish episodes are not happy. Here's one woman who was disappointed, sad and angry to find out who was the person she's been talking to all this time.
At first, my impression of the show (prior to even seeing any episodes, but having seen the docufilm before) would be like a Jerry Springer or Maury episode. A lot of arguments, fighting (verbal and physical, but more on the latter) which would be comedic because.. that's reality TV. Wouldn't you think the same thing?
Imagine the scenario: You're talking to somebody online for years, fall for each other (whether romantically, or just have a good understanding of your friend-relationship/whatever is going on between the two of you), and when you meet in person they aren't who they say they are (most of the time "the feelings are real, just the name and appearance is different" is what they say). Who wouldn't go apeshit after that? Lol.
The show, would you believe, encourages to promote a non-judgmental, supportive environment in every episode. Well that's a dud, thought I'd see a lot of lol moments. 😛 I guess the hosts also have some effect into the situation.. regardless of the times they have lost their cool (in episodes I've yet to see). So far I've seen that they always, always try to be neutral and not favor one person over the other and they are mediators in every meet up.
Oddly enough, they keep in touch with the catfish and the people involved over time. If I were in such a situation, I'd feel embarrassed and would cut all ties with the person/catfish probably. Not with the hosts though, lol.
I tried to imagine what if we had this show here.. and I've a feeling it wouldn't be as successful. People here are too shy to be on camera. On second thought, why don't we have that much dating reality shows? Haha. Wait, there was one.. but it was pretty, no it really was, corny. It was about marriage. Like The Bachelor or something.
2. It made me question my relationships with people I've met online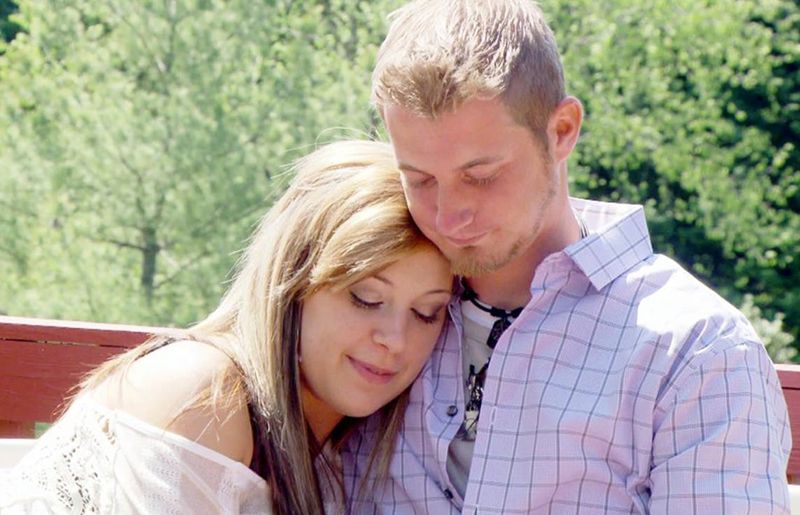 Photo: MTV
Not all endings end on a sour note: Witnessing a happy ending for a couple meeting for the first time is like finding a needle in a haystack, but it is always a heartwarming every time we witness one. This was a YAY YOU LOOK LIKE YOUR PHOTO moment of truth for these two. I think these two are still together and engaged now.
On the other hand, I am grateful you are all the same person as your photos. Even though once in a while y'all change it to some photo of a famous celebrity or personality. I personally do that whenever I find a lulzy photo from TV shows I watch. 😛 No harm done, I think. It's not like I blatantly said "guys this is me".
So far, I think everyone is who they say they are. Also, at least on my side of the floor, everyone is just too proud and happy with themselves that they don't feel the need to hide their appearance online. We, the Philippines, are in the social networking capital of the world after all. Hahaha!
And it's 2015. The standard, conventional look of beauty is starting to change, evolve and people in society are becoming more accepting with other looks. It's great time to be alive that more people are starting to look beyond physical looks and more for their attitude, way of thinking, kindness, and personality.
I don't know… I just haven't had a doubt about anything concerning the people I talk to online. Probably because I met them all through their blogs and tumblr and Twitter. They all have a solid identity background. Not that I've thoroughly check but people now are much more open about themselves than 10 years ago.
The show often features people who met their significant person of interest through Facebook. Facebook. I guess I'm safe from this then because my Facebook is hidden from public consumption, as far as I know. I also don't add people I haven't interacted to often, or no formal introduction has been done with.
I think you should work your way before getting to my (or anyone's) Facebook, because that space is mostly reserved for offline contacts. Just saying. There's Twitter, Instagram, my blog for all the online interaction and friendships to begin and go from there.
3. People would really do anything to be on TV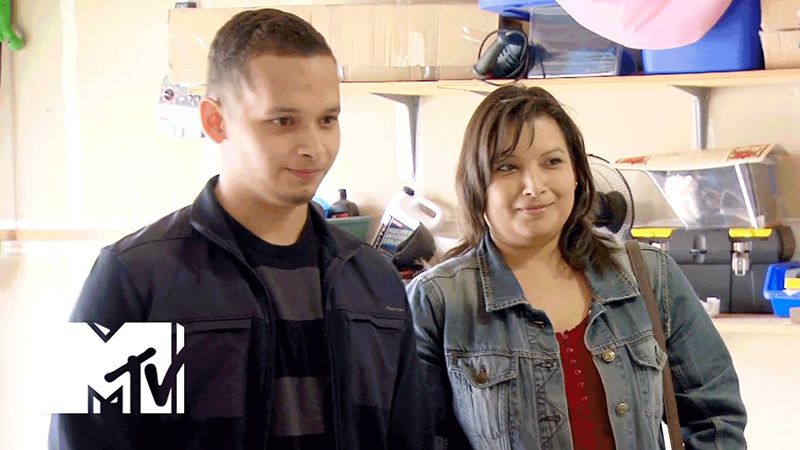 Photo: MTV
I legit feel bad for the kid (guy on the left side) because strike two and it was another Catfish that he caught. It was mentioned that he's been fooled before. Some people just never learn, smh.
Two episodes in (around the time I was watching for the first time), I quickly noticed that some people might have agreed to be on the show JUST to be on TV in the later seasons. According to the show's process, from what I've read around so far: People (Catfish and Catfishee, I guess?) go to the casting website first, and then when they get picked, that's when they email Nev and then the cameras start rolling. There are waivers involved before anything is done.
One was too dressed up (but they are not the ones in the photo above) and you just know they went the extra mile to look extra good on TV, even if this exposure will paint them in a bad light. The other person was too obvious and kept mentioning if he'll be in the Reunion episode at the end of the season. Lol thirsty for attention much?
4. Nev and Max are annoyingly adorable, and yet I can't stop watching, or looking at that chest hurr. It's driving me mad!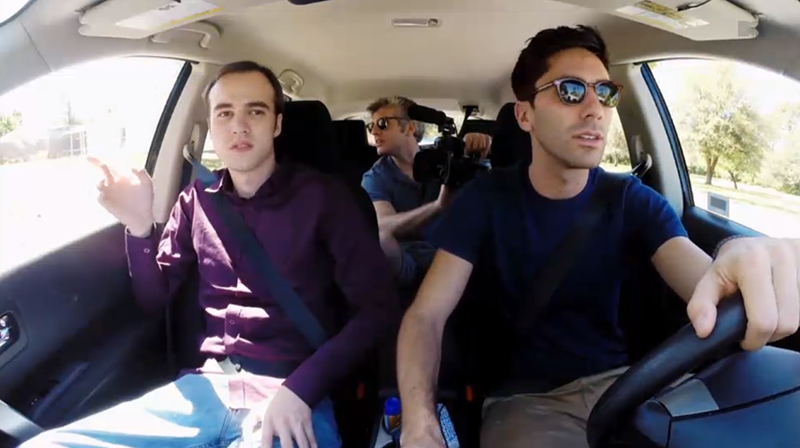 Photo: MTV
Imagine stuck in a car ride with these two fellas. Or not. Or.. suppose you get yourself stuck in a disappointing catfish meeting moment, this is probably the good consolation you'll get. A good few hours with this two.
So while I was doing my own ~research~ online about the show, the hosts, anything juicy involving this show.. there have been talks that it's scripted, they look for people instead of people coming to them, one of them punched a woman, etc etc. I'm not siding with anyone but it's TV. If it was 10000% real, it would probably be boring as heck and won't rate for anything in TV land and they might be all out of jobs by now.
Reality TV is not literally real. Some things are fabricated, be it in form of exaggerating some events or some things happening later but they made it appear to happen first. Drama needs to happen or it won't sell. Besides, it isn't a show to be taken seriously. The thought of that is just silly. Even they themselves admitted they are amateurs. 😛
Also, I find that they mockery of Nev's body hair to be hilarious. And other bantering that happens in that bromance of theirs. Sure, I think you are good looking and all, but good God man, put a tshirt on. (Might be NSFW but click here if you're THAT interested) 😆 His name is also two letters away from being the word 'nerve'. As in you are getting on my nerves, Nev. But I admit, the show is addicting and I hate it.
I mentioned earlier that they act as mediators in the show, and now annoying.. but you know the thing with annoying people is that you can't help but find some good in them too. Hahaha. They seem nice. From a very distant perspective. I'd be scared if I ever get a phone call from him though – that would mean I'm being catfished.
At the same time… he he he, Nev Schulman called me! That'd be a cool (for social media) moment. LOL
Lastly, this comment I found is GOLD. Mind you it's been days and it still cracks me up whenever I remember it:
5. Are copycats the same with catfish people?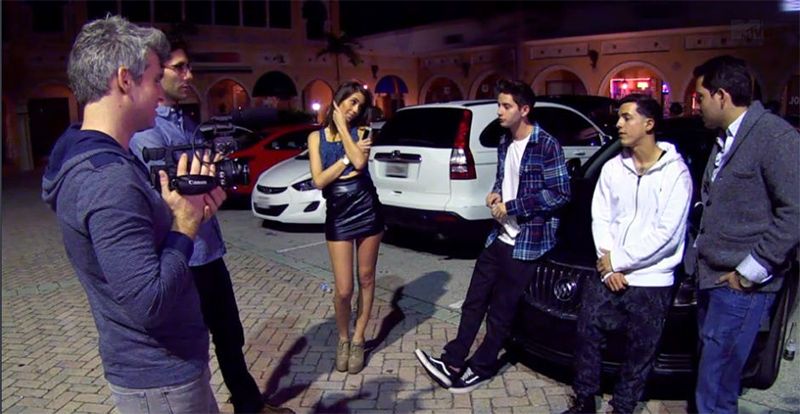 Photo: Screencap from a Catfish episode
Thoughts? 😛 It's just something I thought about in the moment while writing this post but there are similarities (similarity within a similarity – similariception! Kidding) wouldn't you say so? Both of them take someone else's identity and emulate their life and call it their own. Living the life of someone else…. although the reasons could differ.
Half the time these catfishes say they did it to escape, or they were bored. Some find fun and pleasure in lying and fooling people and hurting their feelings. I honestly don't see the fun in that and just thinking about it is already exhausting. Planning to fake a life online, all those times and years you have to keep tabs on the person you're stealing shit from and reposting on your fake account and then what? It is the most useless, wasteful thing I could think of to waste time. There are other ways to waste time without hurting people.
——————-
Final words:
So pretty much what happened to Nev Schulman, as shown in the Catfish film, sucks.. but he's obviously got over it now and happy with a real girlfriend this time (I dunno, lol, I just assume he's already in a legit relationship by now).
Click here to watch the trailer
What I find to be the best thing about all of this, for him, is how he turned an awful, traumatic situation around in a positive way (in the documentary film, he and the catfish became friends!) and made a career out of it.. and now we have this show. The show has been going on for four seasons now. They've mentioned that since the first season, the fishes have become smarter with getting caught. I find it a remarkable quality that he's a man that keeps his cool, most of the time, and tries his best to keep things amicable whether things are going good or bad.
Some (in my opinion, from what I have seen so far) have started taking the show as a stepping stone to be on TV, but there are still some authentic happy endings and the bad ones that can't be helped, much to the dismay of the person meeting their respective catfish. Of course we're all happy about the happy endings, and can't help but feel bad for those moments things don't turn out the way one of them expecting it to be.
This is why you shouldn't have any expectations of anyone until you've met them in person. Anything can be manipulated, but (IMO) body language couldn't. Subtle movements always have underlying meanings, and you always don't see it unless you're interacting in real life.
Anyway, I have to slow down and eventually stop watching this show. Hahaha. Good thing I'll have something to do for the rest of the month now. 😀
Do you have any catfish related stories to share? Go and tell me in the comments! 😛 Won't guarantee a hookup with the show though, I just want to hear about it.