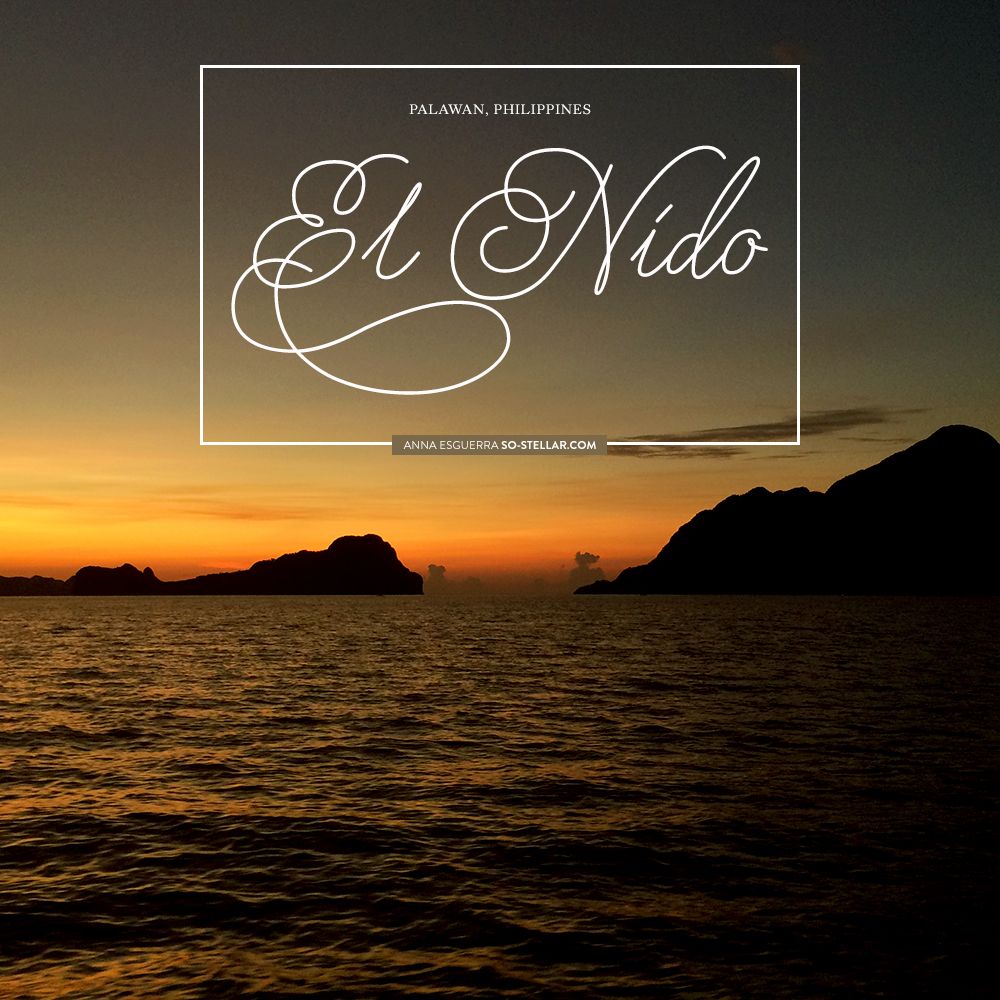 Just got back from our annual beach trip, out of town, with my college friends. This year our destination was El Nido, Palawan. That's after Cebu, Bohol, Boracay (unfortunately I didn't get to join them). We're slowly going around the Philippines, y'all! 😆
I only have seen Palawan, or its more popular destination, El Nido, in photos relating to Philippine tourism. I've always thought it's impossible to go there. Well, a few years later, here we are!
It is as good as it is portrayed in photos, or in some videos (be it for a movie, or TV show featuring the place) but one thing is for sure: It is MUCH better seen in real life than in photos.
Not my usual TLDR post, nor it's going to be as detailed.. but that's what other serious travel blogs are for. 😉
Before I spoil you with photos that will hopefully convince you to head to a local airline website to book your future trip to this huh-mazing destination…. here's some fun facts and whatnots from my experience, after the cut! 
Quick run-down and need-to-knows about the trip to El Nido, Palawan
We booked our trip 4 months in advance (January 2015). Friends in the group saw Cebu Pacific was doing their routine summer airfare promos, and they're pretty patient and thorough with those stuff so the rest of us left the coordinating to them. Props to these two. 😛
We didn't take an all-in kind of package tour. Several people have asked me about it and that's my answer. AFAIK, my friends made separate bookings for a) accommodations; b) tour packages; c) transportation packages (for Puerto Princesa Airport-El Nido and back); d) airfare. A small, summarized breakdown of fees for 6 pax is posted at the end of the entry.
El Nido is a small town. The name is Spanish that means "The Nest". Other than the locals, it's also full of tourists (both locals from other parts of the PH and foreigners) and probably expats. Full, but not as full as you'd consider the place getting crowded. I dunno if it's like that all year round or only during peak season but as far as eye candy is concerned = solved. 😛 After a few days though, you get used to the kind of people you see around the small community.
You will make friends if you're a solo traveler. Okay this one is a fact, nearly a travel 101 kind of fact. Just an observation I had. I noticed among other bloggers who've written about this place: They made friends with other travelers. Though I'm kinda inggit, because, traveling also means connecting and networking (hahaha just kidding, made that up). As for me, since I was with a group, I was only mingling with people I knew. I'd be shy to approach anyone, anyway. Hahaha! Besides, I think we've made an impression towards the people around us especially while we were touring. We were really noisy, which was probably a bad impression. 🙁 But we're kids, can you blame us?
Souvenirs are overpriced, if it's in a convenient area. Try looking around places that are a bit far from plain sight. I wasn't aware of the popular souvenirs or must-try or take-home delicacies at the time but I bought quite a lot of cashew nuts (both sweetened and salted). I picked the cheapest variants, though because #budgeting. Haha.
Electricity and water were my main concerns of this trip. While our accommodation was more than enough (and OK for our budget), I was still worried about the intermittent electricity throughout the city that I read while I was randomly Googling prior to the trip. Good news is that we never had problems with both. Electricity did go off for some time, but not to the point that it become too inconvenient and a hassle. We all slept at night comfortably, in a room with AC. Water for bathing was OK too. Drinking water, wasn't a problem.. lots of stores nearby to get bottled water.
Lots of choices for food.. if you have a LOT of money to spare. Almost all the bars and restaurants in the island that are booming at night have the same price range for their food (meaning: pricey). Both for the ones located beachfront, or hidden inside the town. A lot of nightlife (but still the chill kind) and lazy lounging for people who wants to drink the night away awaits you lol.  If you're on a very tight budget, you might end up eating in the cheapest fastfood there during your stay. Yeah, you're right to guess that where we ended up. However(!) the buffet lunch during the tours were A+! I recommend you to take advantage of that and eat a LOT during that time.
Here are some photos from El Nido! Wooo! *throws confetti* Enjoy the photos. 🙂

Panorama view of the beachfront around 5PM (after settling in, we took a walk to see the whole town)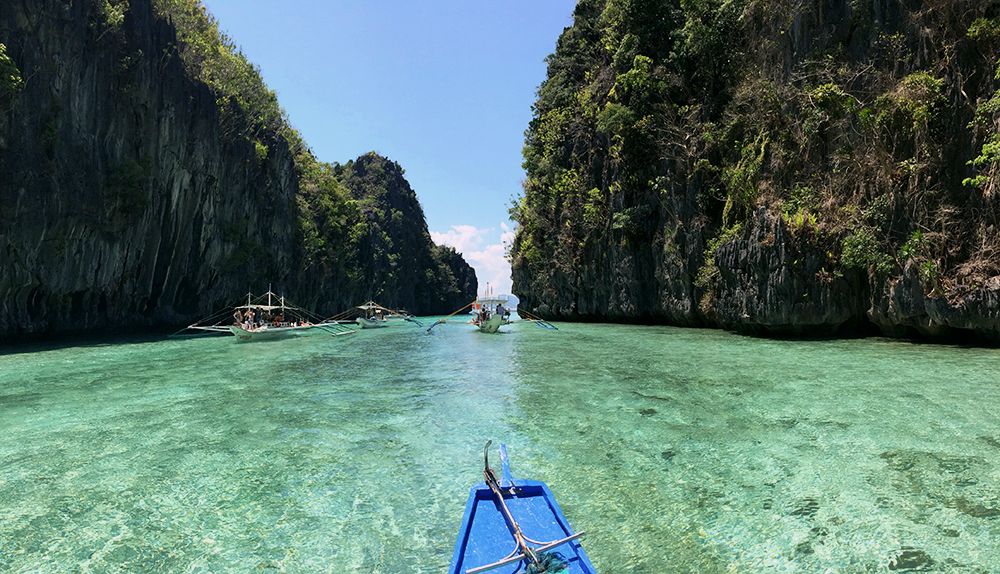 Big Lagoon, which looks AMAZING and my favorite out of this package trip (Part of Tour A package)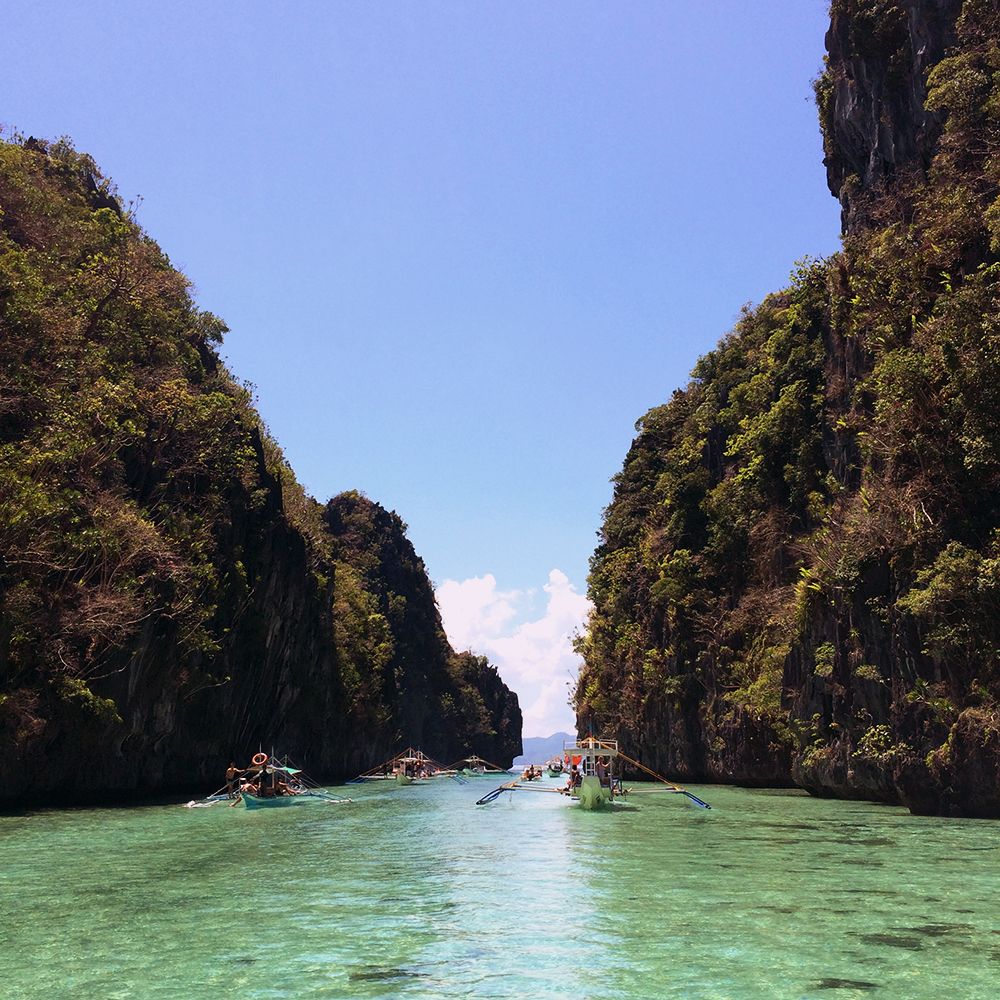 More boats coming in to the Big Lagoon. Ack, I wish I had a wider lens to capture this moment! (Part of Tour A package)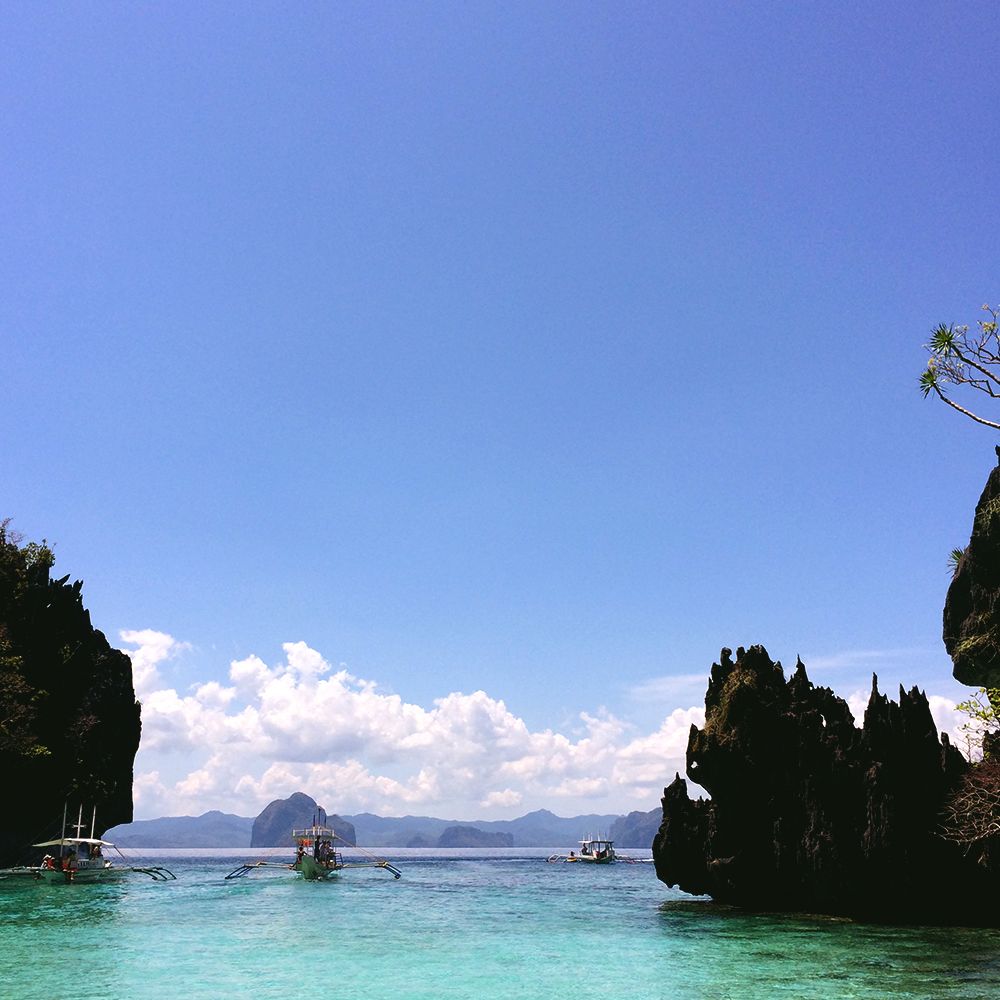 Leaving the Big Lagoon (Part of Tour A package)

Inside the Secret Lagoon in Miniloc Island (Part of Tour A package)

Miniloc Island where we had our lunch (somewhere on the right side is the Secret Lagoon)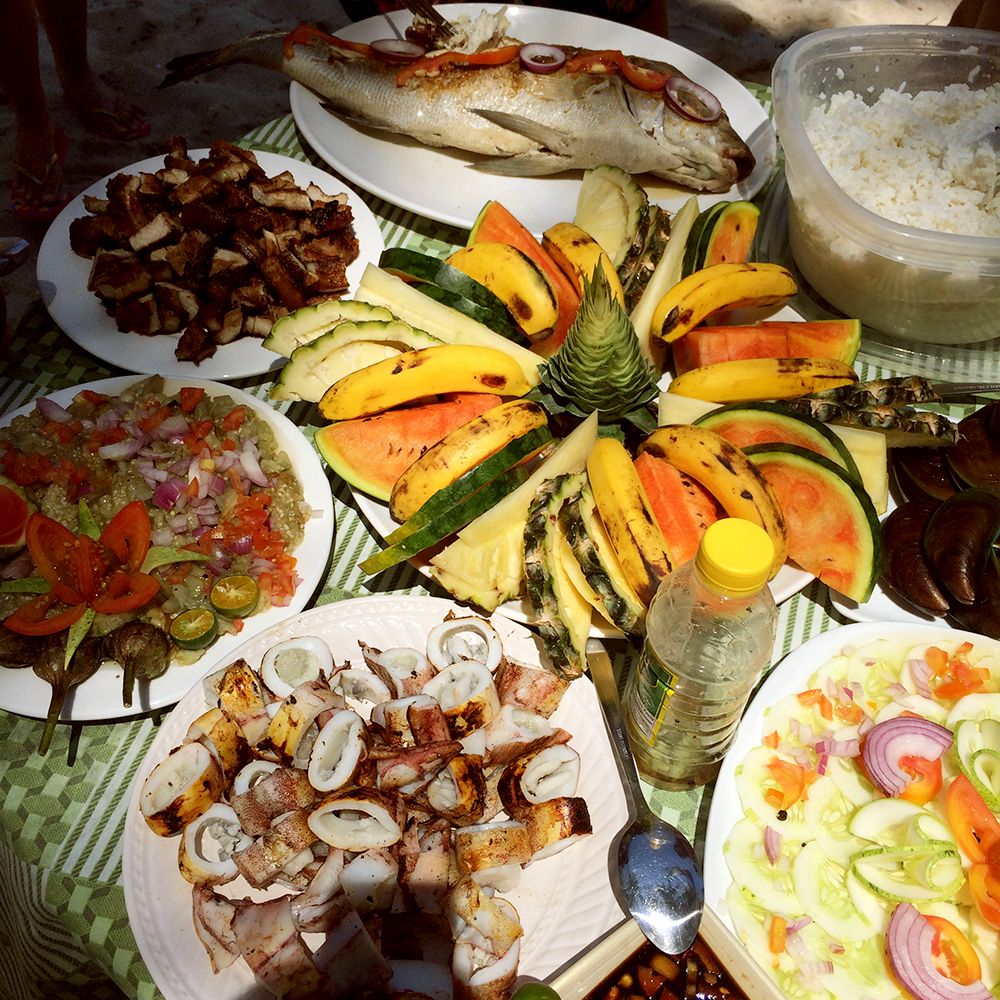 Scrumptious buffet lunch (the kuyas did A+ on food presentation, in my opinion)
Small Lagoon (Part of Tour A package)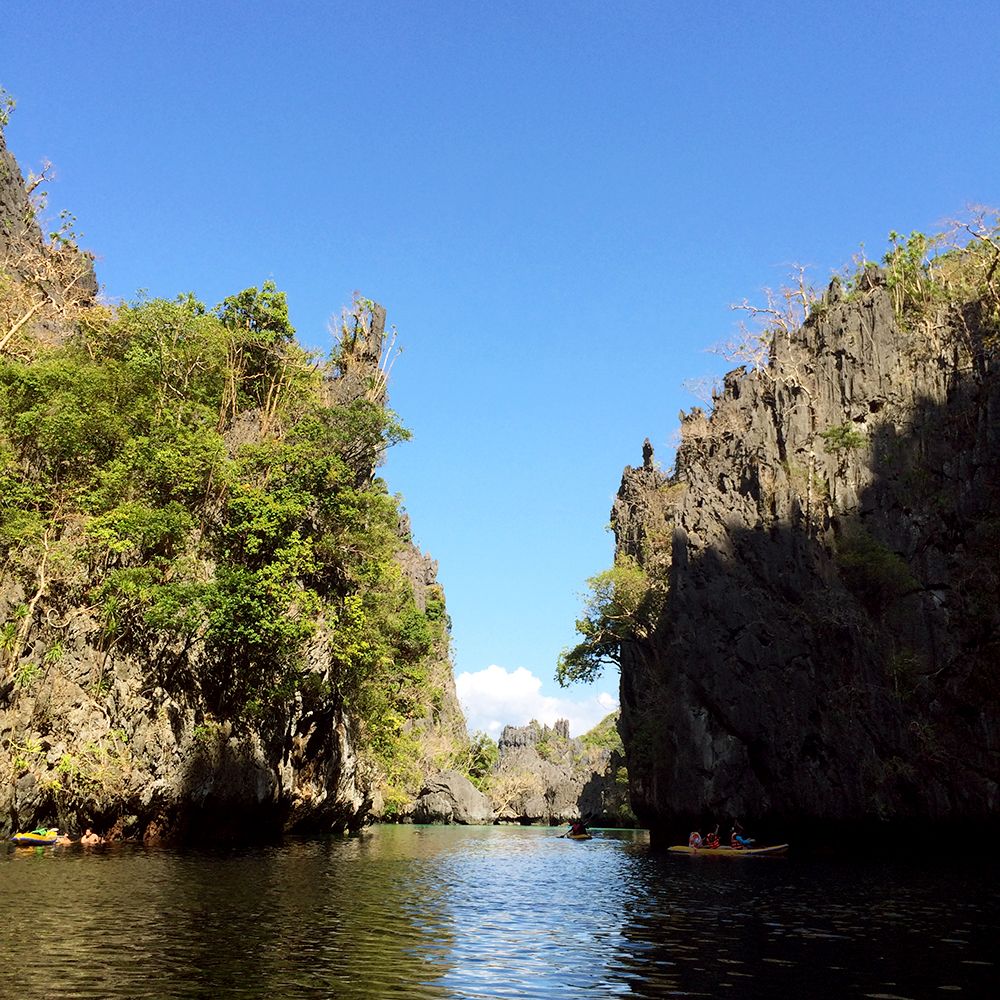 A part of Small Lagoon, which is accessible by Kayaks. P300 per Kayak which can fit 3 people. (Part of Tour A package)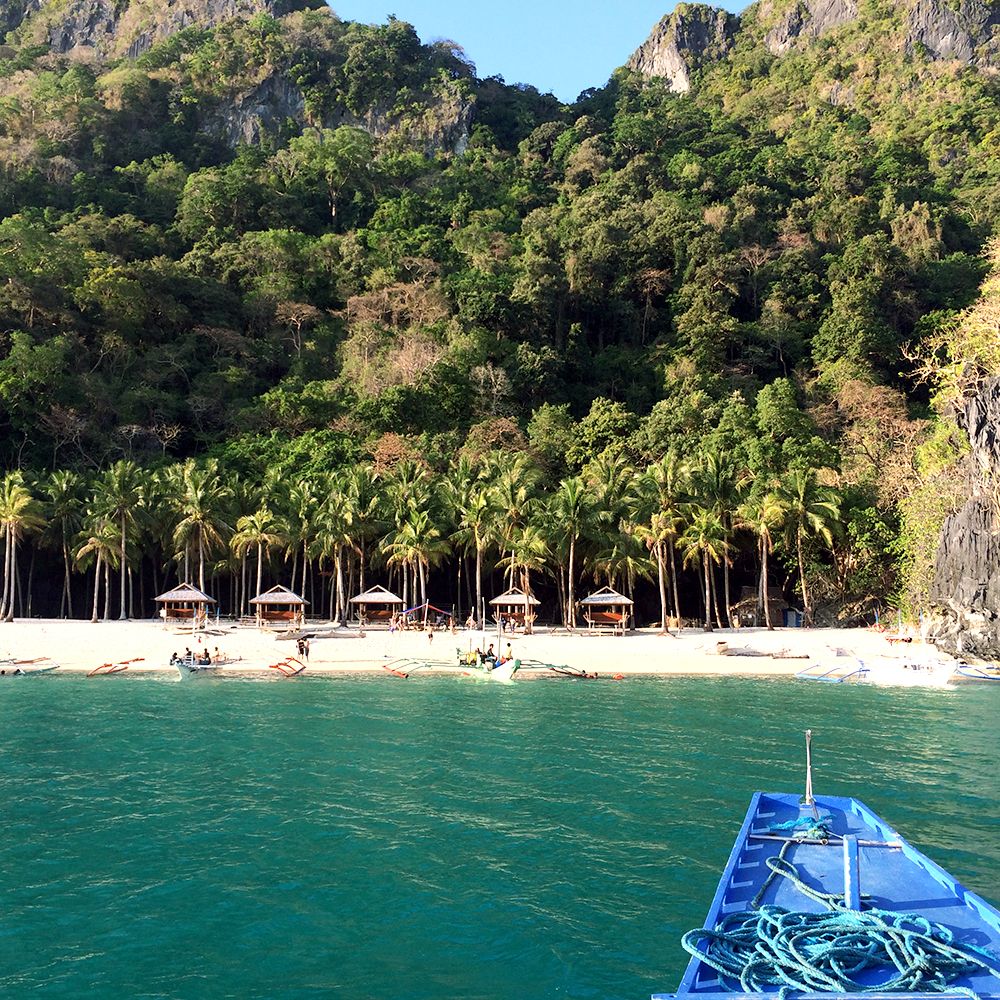 Approaching Seven Commandos Beach (Part of Tour A package)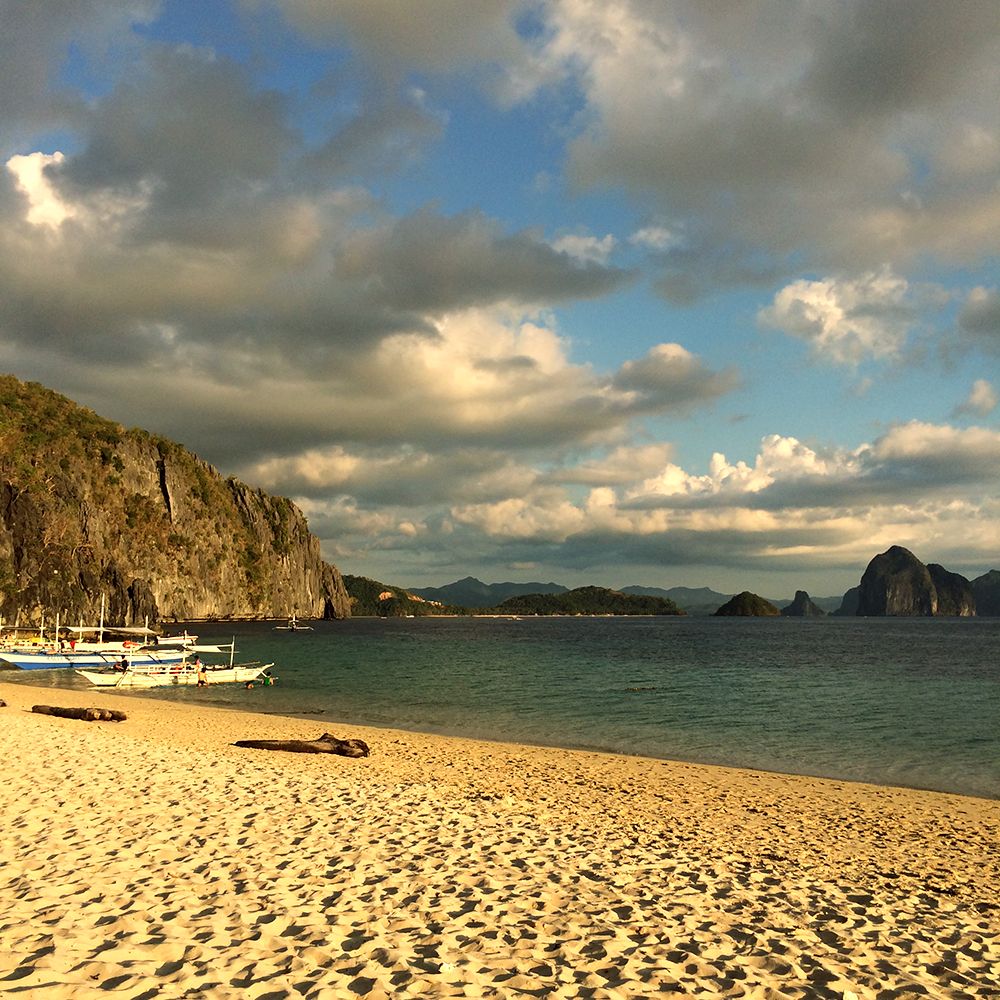 Seven Commandos Beach around late afternoon (Part of Tour A package)
It is DEFINITELY worth going to at least once in your life
Most people would want to stay longer here, maybe a week? My friends have the same sentiments. As for me, our stay (4D3N) was enough and I think I got a good grasp of what to do, see and experience around El Nido, sans the exotic food (but I'm a picky eater, so I can do without this part).
You have 4 tour packages to choose from
Everybody recommends to go with Tour A and Tour C. I haven't looked at the other package tours but I noticed Tour B was composed of mostly caves. It looked interesting to me, and if I go back, maybe something I'd consider signing up to. I've a feeling Tour D is the least popular package that gets any bookings. :-/
Tour A: Big Lagoon (fave!), Small Lagoon (fave!), Miniloc Beach, Secret Lagoon (fave!), Seven Commandos Beach.
Tour C: Hidden Beach (fave!), Matinloc Shrine (there's an abandoned shrine, as well as a small and hidden museum according to this post (but we didn't see this!) and an amazing view of the Matinloc channel (fave!) once you reach the viewing deck, but be careful as the rocks are sharp and the sides are steep), Talisay Island, Secret Beach (fave!), Helicopter Island.
By the way, and consider this as a PSA kind of advice: Try to remember to request your tour guide/kuya of the day to reverse the order of locations you'll be going to (regardless of what tour you picked) so that there won't be many people in the area when you get there. Thus, making the visit more enjoyable and more isolated for a little longer for your group.
Found out about that tip too late. Actually, when we were heading back home to the island, that's only when I remembered about it.
Living in the moment
My phone somehow stopped working on day 3, during the time of the day we did Tour C. Maybe it was ~fate's way~ of telling me I shouldn't take photos and live in the moment. And that exactly was what happened. So yeah, I haven't got any photos from where we went that day, except the ones of myself taken from my friends' phones (that no one really needs to see, lol).
Tour A was all about sightseeing and looking at all these rock formations, and picturesque sceneries from the lagoons and hidden beaches that look so, so breathtaking in person. Tour C was all about physical water activities. Nevermind that the view was equally visually appealing, too. What we did there was enough to leave a good impression in my memory. Lots of swimming! 😛
My point is.. YOU HAVE TO BE THERE TO SEE AND APPRECIATE IT. Photos don't do justice. Yes, even those ones taken with a professional camera, post processed or not.
Really, really wonderful place. Y'all really should visit it. 🙂
Expenses and budgeting talk
Regarding the fees and expenses, here's a breakdown for 6 pax for 4D3N stay. I think this was too much if you're a person traveling on a very, very tight budget. Also, let me remind you that everything was booked separately: airfare, accommodation, tours, vans to and from the airport to El Nido.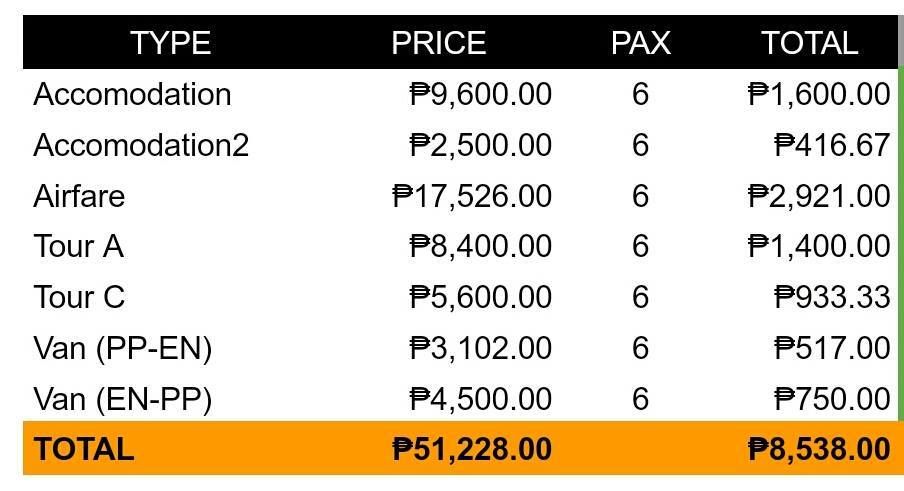 We splurged a bit on private boat for one tour and vans (instead of taking a commuter bus PP-EN and back) and extended our hotel stay for half a day, too, that's why it's that much. Some issues with coordinating with our Tour packages too, that's why the price of the second one is lower than the first.
If it helps, I only had PHP 4k of pocket money with me, and I did not purchase much souvenirs on our last day. Most of it was spent on food. I still had some leftover cash when I got back to Manila.
If you're feeling really that adventurous and don't mind booking on the spot, there are a lot of agencies in town and you can canvas for prices when you get there although that might be a waste of time especially if you're not staying for a very long time.
Tours and accommodation information
Airport-El Nido-Airport Van Transfers and Hotel Accommodation: Bulul Garden Hotel
Note on Airport-Hotel Transfer: Paid P100 one-time fee to take us directly to the hotel from the airport/van terminal, and it was P500/head for each trip. Van (PP-EN) was not entirely private, shared with other people.
Note on EDTF: One time EDTF that you will pay (P200) during your stay there has a validity of ten days. Somehow, ours is valid for two months (have to check again).
Tour/s: Ricsons Aquatic Tours (Private boat and public boat tours available. Buffet lunch is included.)
Others: I saw that you can also rent a motorbike to go around town. In our experience, walking was enough to take us to places around town.
Food: (No particular recommendation because we ate most of the time at the cheap Tapsilog house near our hotel hehe)