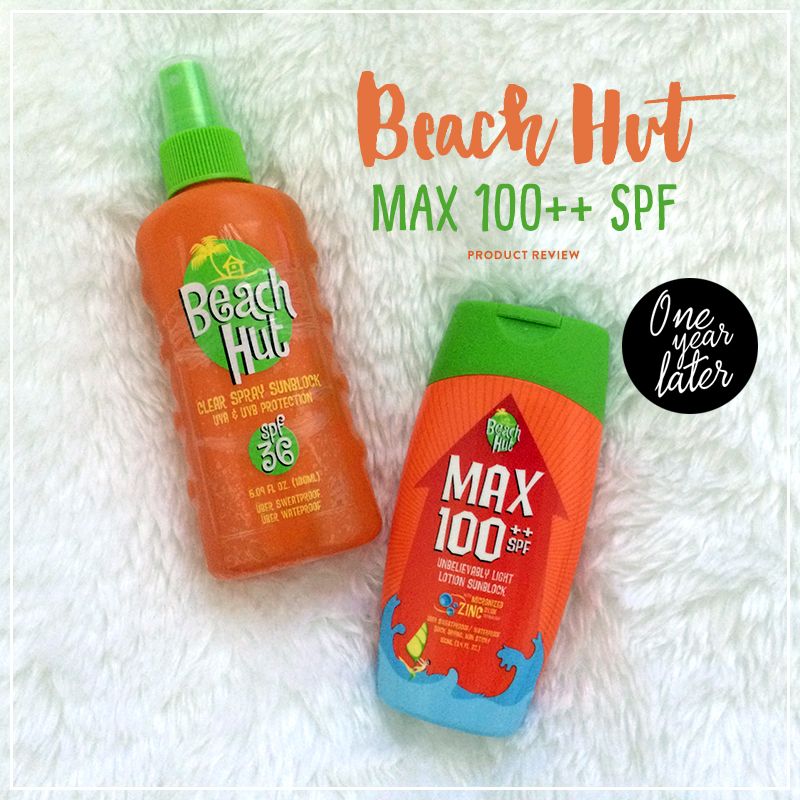 Every year I always have to do that painstaking task of looking for the perfect sunblock lotion that actually works. It was only recently that I thought of making reviews (though I'm no beauty blogger), since I've gone through quite a number of different brands over time. Might as well make something out of the money I've wasted on trying these products, no?
I mentioned it's painstaking because there's just too damn many of them out in the market, you don't know where to begin. I also find it annoying that they don't come in more affordable prices. Take this scenario for example: The smaller sized bottles are priced the same value as a regular full-sized bottle. WTH?
Right. Let's get started on it, shall we?
Turns out, I wasn't sure how sunblock lotions all this time.. hahaha. What I, and maybe a lot of you (or not, and I'm just really figuring this out just now LOL) know is that you need to apply it before you go out under the sun during your summer travels so you won't get dark and sunburnt.
While I was bloghopping, I read that the higher the SPF, the slower time it takes your skin darkens while exposed under the sun. #themoreyouknow. Thanks for that quick info, blogger-I-dont-remember-what-your-site-was. Anyway, for a more scientific approach, here's one from One Medical:
SPF stands for Sun Protection Factor and refers to the theoretical amount of time you can stay in the sun without getting sunburned. For example, an SPF of 15 would allow you to stay in the sun 15 times longer than you could without protection. So, if your skin starts to redden in 20 minutes without sun block, applying a product with SPF 15 increases that time by a factor of 15, meaning you could stay in the sun for 300 minutes. In addition, a higher SPF blocks out more rays—a product with an SPF of 15 will filter out approximately 93 percent of UVB rays; SPF 30 filters out about 97 percent. (source)
Last year, while I was shopping for my beach essentials for our summer trip.. I passed by that aisle in Watsons where all sorts of available lotions were displayed. Yeah, I didn't know what to choose. But, I noticed this product w/ that headline in the packaging that caught my attention: 100+ SPF.
Beach Hut Max 100++ SPF 'Unbelievably Light Lotion Sunblock'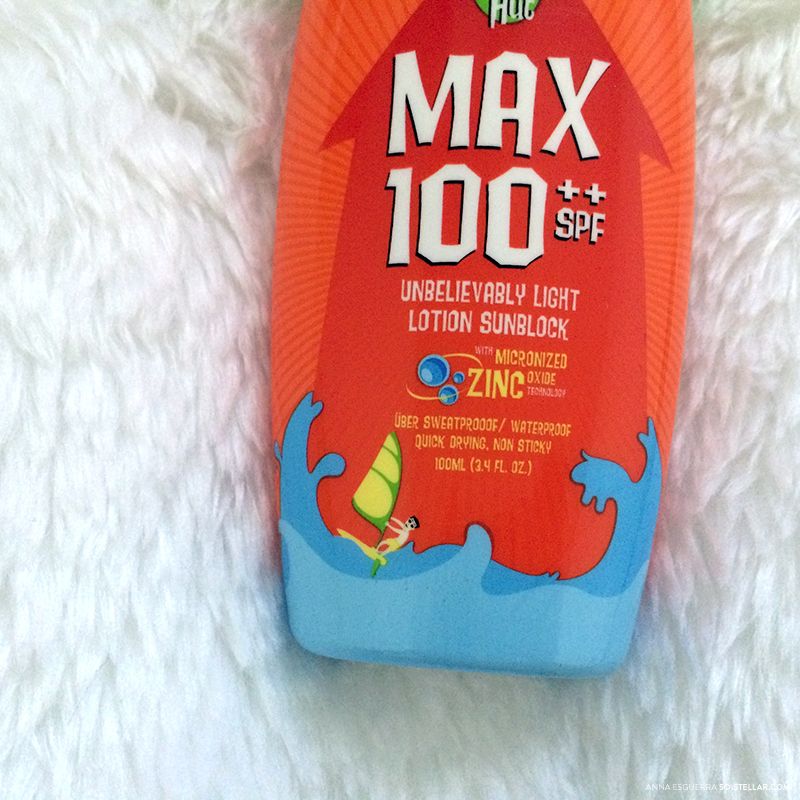 Designed in California, Assembled in the Philippines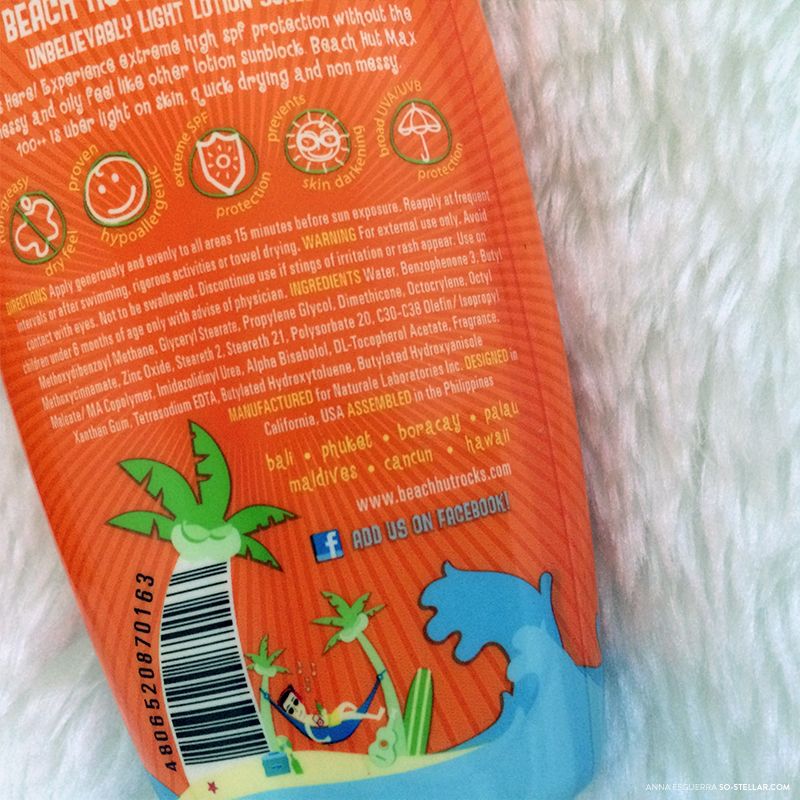 Surprised that this was PH-made. I thought it's priced as such because it's an imported product. Anyway.. I thought to myself, oh okay, that seems high enough. It should be strong enough to keep me from getting burnt or dark while at the beach.
Mind you, this was prior to knowing that 'higher SPF = slows down skin darkening' fact.
Texture, Consistency, Scent
I won't post photos of it because a lot of blogs have already done this and I am not very picky or sensitive when it comes to these aspects when it comes to lotion. It promises that it is quick drying, non-sticky, unbelievably light.
How quick is quick? It dried, surely enough, but definitely not lightning fast.. as it should have? I applied maybe 2-3 times, so that's probably why.
Not runny, doesn't feel heavy when applied: Creamy enough, not runny. As for lightness, it is light. I wonder if.. when it goes bad/expires, will the texture eventually become runny or like goop by then?
Not as sticky as I was expecting: Okay, the thing with lotions, for the ones I've tried at least, is they'll always be greasy and sticky. Especially when you use it in an area with humid temperature. With the Beach Hut 100++ SPF Sunblock, it's less sticky and greasy in my case.
Mild fragrance: Its fragrance isn't overwhelming or stingy. I was expecting it would smell something like how Off! smells, haha.
But does it actually work?
I used the product on most of my beach and sunny destinations last year. That may sound like a lot but it wasn't.. because I haven't finished my bottle of this sunblock yet.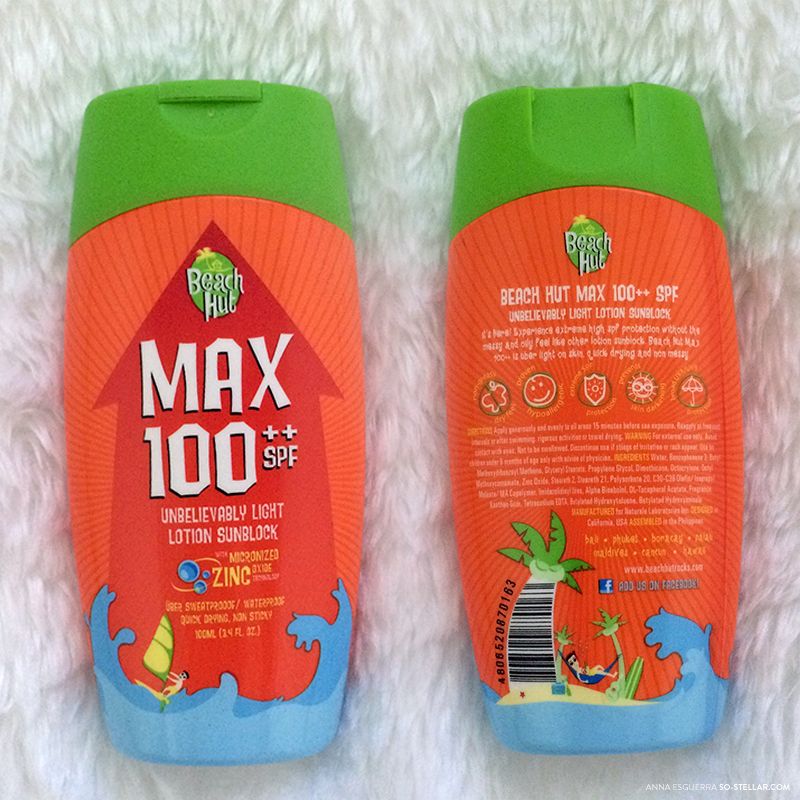 During our island-hopping adventure in Bohol, I remember being very observant on how long it holds up without reapplying for hours, but applying 2-3 layers of it beforehand. Far as I can remember, it had been HOURS (3 hours tops) before it lost its effectiveness and before I saw any visible difference in my skin tone. I did not get sunburned though! And.. I might have become darker by just one shade, if anything. In the end, I was still lighter-skinned than my friends, haha. This was after island hopping to several islands from morning til noontime.
Maybe it also helped that I was wearing long-sleeved rashguard and long shorts? 😛
People advise to reapply this lotion after getting yourself wet from swimming, or from doing sweaty, rigorous activities. Basically when you've sweat out all the lotion out of your body. 😆 I haven't done that tbh, I usually forget about that so I put a lot of it beforehand in hopes it will stick there. Luckily, it works on me.
In Caramoan, I didn't put as much layers of it. Maybe just one layer and went out. It wasn't that sunny when we were there, either, so I think that's fine.
Beach Hut Sunblock Spray
This came in too late but I received their SPF 36 Sunblock Spray from a BDJ box last year that I did not get to use and forgot about it until I was cleaning my stuff yesterday. I wouldn't know if this is as effective, but since it's just SPF 36.. I assume this is perfect to use when you're going out in general during a really hot day. Like around this time, where the ~normal~ temperature these days is 31°-37°.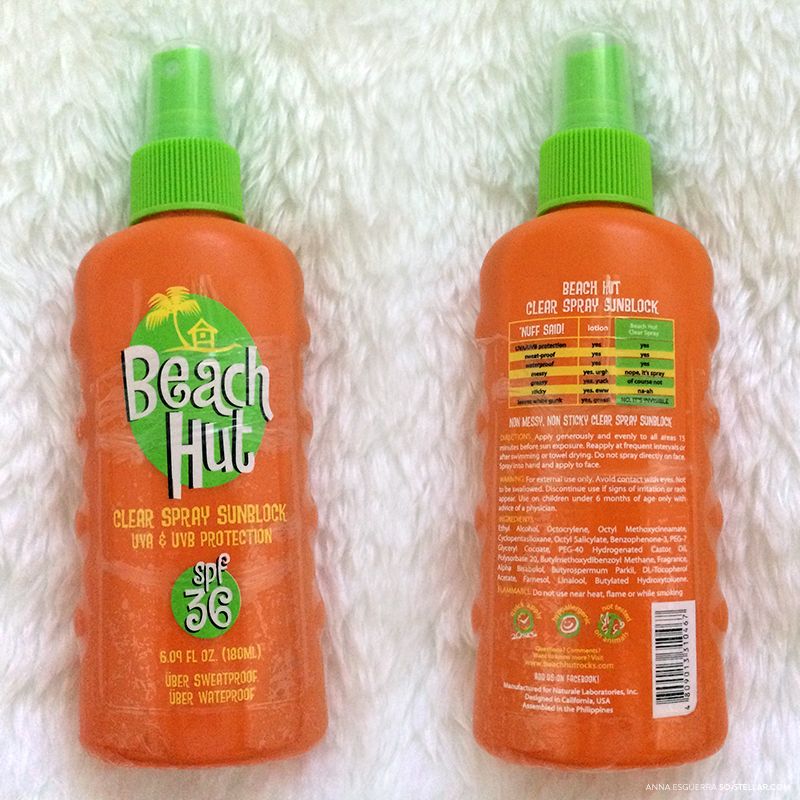 I should have used this for every time I've gone out since March, but no. Eh, I don't use sunblock when I'm in the city. Only when I'm in the beach. Is that weird? (It probably is.) 😛
Would I repurchase?
I actually liked this product.. and I think it's actually more effective than another brand I tried before this. I would repurchase, too, BUT at the moment I am looking to explore other brands.
A friend recommended looking into Neutrogena's sun skin care line. I noticed that some of the best ones, according to online research, aren't available though. I'll make do with whatever I find then. (And post the review a year later, haha)
However, this earns a spot as a go-to product simply because it's the first one I've seen with 100++ SPF. I haven't seen anything like it.. and it was also the product that gets sold out fast here, for some reason.
Price: PHP 499 for the 100ML bottle (same price since 2013)
---
If you have any suggestions for similar sunblock lotions, or ones worth switching to, especially with higher SPF if it's helpful, chime in the comments!
Disclosure: This is not a sponsored post. The featured products were purchased with my own money. All thoughts and opinions expressed are my own, based on my experience upon using it.