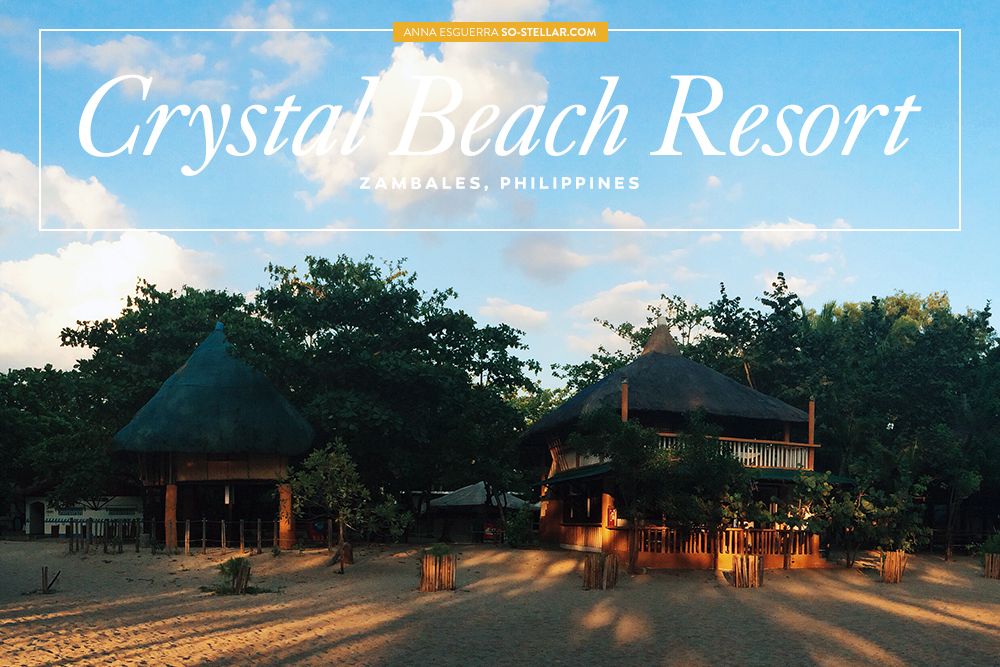 Few days after the El Nido trip with my buddies from college, I was out on the road again. This would be my last out of town for this month, and for the entire summer season of this year. I know it's just two trips, but I feel that it really exhausted me physically. Seems like I'm not a wanderlust at all, huh? I never said I was, though. I just enjoy going out on trips occasionally, that's all.
I'm back to being a homebody and looking for freelance work would be my priority again, lol. Gotta start saving up for future traveling next year! (Local travels, maybe, since my passport would be expired by then. Or just saving money in general, that's not bad idea at all.)
Crystal Beach Resort beachfront around 4PM
For this quick getaway, our last hurrah before summer ends.. April and I decided (after switching places numerous times, starting with Cagbalete Island) to go to Zambales. 
Three Reasons why we chose Crystal Beach Resort in Zambales
1. It was easier to go to

Compared to Cagbalete, it only takes one bus ride from Victory Liner Pasay terminal to Iba, Zambales. The trip would be 4-5 hours tops. Once in the city of San Narciso, ask to be dropped along San Sebastian Church (this is also your landmark), then take a tricycle across the church that'll take you straight to the resort.
Fees: P384/person fare at Victory Liner Pasay – Iba via SCTEX, P15/person tricycle to Crystal Beach Resort.
But on the other hand, going home was a bit tricky: You have two options: Option A) Wait at the bus stop infront of the church where the bus originally drops you off at the beginning for a returning bus bound straight back to the city (Pasay city, Manila). This was not an option for us at the time because all the Pasay-bound buses were full and it was standing room only. Option B) Ride a bus that'll go to Olongapo first, then go to a Victory Liner terminal, to bus bound for Manila when you get there.
Fees: P45/head bus fare from Iba-Olongapo (non-aircon bus), P218/head from Olongapo-Pasay, Manila terminal via Victory Liner.
2. Everything we need is readily available

As far as I know Cagbalete is still developing their area and making progress with the respective resorts' amenities, services, etc. I read in other blogs that either you cook the food or have someone do it for you there, for a small fee. We felt it was too much work (bringing our own food to cook, etc.) so we didn't go with this.
King Solomon's Hall is the main restaurant in the resort. Usually packed during mornings/breakfast time.
(L-R) Sizzling Chicken Mushroom, Tortang Talong and IDK the name of the third dish 😳
In Zambales, the resort we stayed at has their own restaurant that serves breakfast (which is free for guests during their entire stay, I think), lunch, dinner, and snacks. Plenty of sari sari stores around the area, too. Here's the page with the restaurant information as well as their menu. I noticed they haven't updated the name of the restaurant yet. King Solomon's Hall must be the same as Domingo's Grill and Restaurant since the menu is the same.
Every morning, guests would gather round this restaurant for the buffet breakfast. While it was always a delicious, hearty meal that I've had in those days of my stay, I must mention that there's nothing worse than having to stomach this certain morning show every 7-8 AM in this popular TV network that was showing in their TV. Hahaha. I really can't stand that show/her/it. But anyway!
Other than food, they also have activities.. so yes, they have you covered in all aspects for a fun, relaxing, meaningful stay. You'll never be bored there, unless you choose to be.
3. Affordable accommodation

Okay I'll stop comparing because I did not take note of the prices (and there were like 3 options for accommodation in Cagbalete then, yet none were realistically feasible for two pax given our budget). But the moment we saw there was a private cottage (but shared bathroom) for less than $30 a night, we're sold.
The cottage we booked, House of Micah, is the small one at the right side
I feared the shared bathroom would be like any other common bathroom that I have encountered (icky, unkempt, disgusting lol), but I was pleasantly surprised it was well-kept and managed and cleaned every night when everyone's asleep. No lie, I woke up at 2AM one night to pee and someone was there cleaning. No, it was not a ghost, but a real person. Hahaha!
The shared/common bathroom is the hut on the right side
We stayed at their House of Micah cottage (P1550/night). Small cottage with a veranda, double deck beds that can fit 2-4 people and a fan. Very simple amenities, nothing fancy. The common bathroom is just outside and not that far, almost next to the cottage! Sleeping experience was comfortable, if you must ask.
Fees: P1550/night for House of Micah (their cheapest room w/ fan, double deck bed, shared toilet and bathroom, free breakfast for every overnight stay)
————————
Trips are meant to be busy and full of activities, usually. Our trip, however, had a different agenda. We planned this trip to relax and basically do nothing for 2 days and a half. Getting exhausted was the last thing in our minds. It was a bit successful on my end.
Well, I planned to stay away from social media and the internet but I failed with that, seeing now how much I've posted while I was there. April, on the other hand, got to accomplish finishing more than a few books off her reading list – and I'm a wee bit envious of her productivity level at the time. I read some of the books she brought, that I asked for, and read half the book before falling asleep.
That's still productivity, right? 😛
Afternoons were spent at the beachfront, lounging at the seashore, people watching, lying down on the sand to watch the clouds. When the weather got a little warmer, not too hot, we'd go for a short dip. It was only on our last day that I noticed there was a bar at the beach. I never got to hang out there, btw.
During mornings, where the hours are unusually long (IDK, it always feels like time is slow in the province) we would be outside our cottage. Either reading a book to pass by time, or be locked up inside the room until they fell asleep. I was the latter. 😛
There's not much to tell except we had a comfortable stay, were fed well, and had a relaxing time.. BUT, the place has a lot of activities for their guests – if recreation is your purpose for going here. The resort is actually popular for its surfing school. You would think we tried that, but no, haha. There weren't much waves at the time, too.
The resort is actually HUGE. I may have posted a lot of photos here already, but I feel we didn't even tour half of the resort. We even missed the second spot wherein there was a bonfire for everyone. And I only saw the recreational area from afar, for team buildings and seminar purposes, because yes it was that far I didn't bother. 
It was just so exhausting to walk on sand, under the heat of the sun hahaha. Seriously though, it was a struggle going through, past this field, and to the restaurant every time we have to eat.
They weren't lying when they said that 40 buses could fit in the parking lot (different from the locations below). And this lot alone, their Kampsite, can fit hundreds of campers maybe, not including the beachfront lot yet. Well, Summer Siren was held here. Looking at the place now, from photos, it might be hard to imagine how they fit all of that in there.. but when you see the place in person, you'll see that it was possible.
On our last day, just as we were sorting out the check out process, the guy at the reception asked April if we socialized with the other guests the previous night. We weren't aware there was even such a thing (so that's what that bonfire was for!).. but we did notice a bonfire happening from afar that night. We just assumed it was for a private group of guests, not for everyone who was staying there.
And this is why I don't have many friends, lol. But hey, it actually did not feel like there were many people staying that time, too. There were times it felt like we're the only guests in the whole resort. Which is not a bad thing, and one I was sorta happy about? We specifically went there during the weekday (Wednesday-Friday) for this reason. Anyway, that morning I noticed that some foreigners started arriving then.. probably they're available because it was the weekend. Darn, I left too early! Loljk.
Should you be interested to check out Crystal Beach Resort in Zambales, head over to their website crystalbeach.com.ph. The website is sort of up to date as of this writing, minus the few unchanged info like the restaurant restaurant and the house we reserved wasn't in their online portal. Everything else seems current.
You can also book and pay online. As far as I know, we only paid partial online, and settled the remaining balance upon arrival! Check 'em out and I hope you enjoy your stay if you go with them, too.
READ: CLICK HERE for Crystal Beach Resort's room rates price list as of May 2015.
Question: Have you ever spontaneously packed your bags to go somewhere away from work, responsibilities, and adult life for 2-3 days and had a grand time?
Where was it, and would you recommend it for a hesitant traveler like myself?