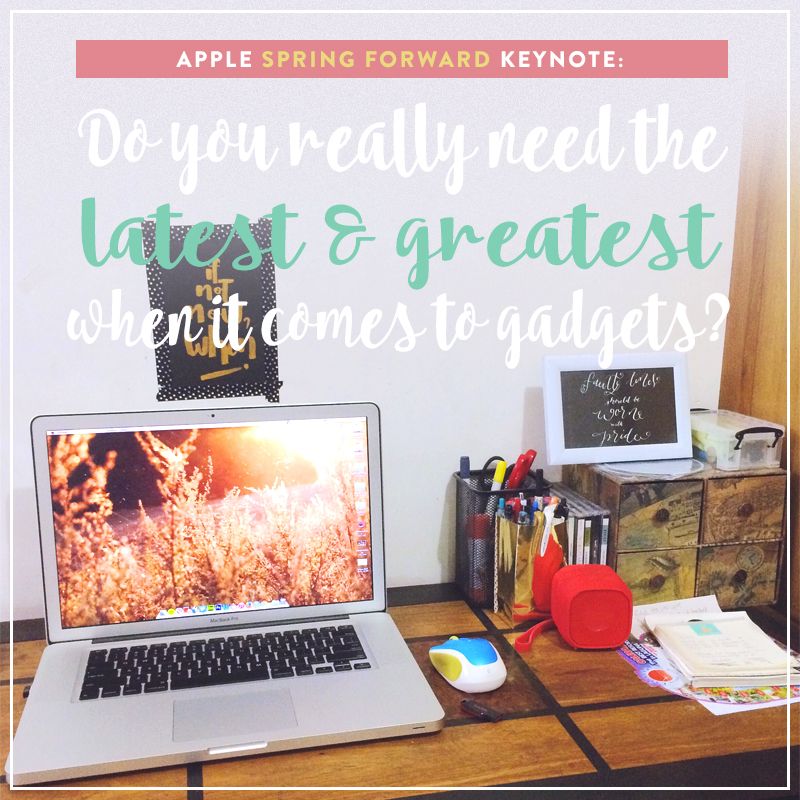 Yes this is my very "basic"-looking desk
I just became aware of the new iterations Apple announced last night at their 'Spring Forward' keynote event this morning. Talks of new Macbooks and a newer version of the Apple Watch with features that are supposed to be its selling point. I could care less about the latter, it never appealed to me in the beginning. Never have, never will.
Since my Twitter is locked and I didn't want to flood everyone's timelines with my already-too-late reactions, I'll just leave them here.
The new Macbooks, a much thinner model than last time. Plus! It comes in three colors now, too! It sounds like the next must-have accessory for everyone who just wants to get a laptop for the sake of being "in", like the iPhone crowd. Before you rally around my fence, let me tell you that I am an iPhone user.. does that make me a hypocrite? Oops. How about this: I also have a Google Nexus phone. Now what? Move on. 😛
Anyway, I only know a handful of things about it. Sadly, they are things that are enough to turn me off and look the other way about it than gush and look forward to having my own "Space Grey Macbook" in the future.
One USB port, of a new type that they unveiled last night: USB-C type
Much lighter than the previous generation (don't ask me about numbers, please)
Available in three colors – sounds familiar
"Fully equipped for a wireless world"
Wait, I noticed the "Pro" is nowhere in the name. Did they drop the "Pro" line or this is just a Macbook like the entry-level kind of computer?
I know Apple is All. About. Change. but I think it's stupid to disregard ALL ports in favor of one that's not even a standard yet. What the hell is this USB-C type? I think I'm bothered that it had to be named as such, instead of a completely different name. Perhaps it has to comply by certain naming standards but I still see it as silly. In the next couple of months probably, no matter how much we resist to change and prefer to stick by old, tested standards (here's me wishing more companies would stick to USB 2.0-3.0 and make it also backwards-compatible).. eventually the world will follow suit and before we know it, we'd be using USB-C compatible cables. Damn.
Then again, there might be hope because I remember they released Thunderbolt and put that in the older Macbook Pro models and we didn't hear much about it. Some companies were still able to find ways to work around a USB port to it. Funny thing is the Thunderbolt port is nowhere to be seen in this new Macbook. Does that mean.. nah can't be.
Why must it be available in more than one color, too? Isn't the universally accepted silver color, enough? My train of thought about this is that 1) The color gold version is susceptible to getting stolen because gold! Gold is hot to the eyes. Gold + MBP value = Open season for snatchers; 2) Colors are so clique-y; 3) It doesn't feel the same way as getting a computer – it feels like I'm buying a portable iPhone for some reason just because of these colors?; 4) I simply don't see the point.
I may be the only one who isn't 100% happy that this new Macbook is "fully equipped for a wireless world" because I'm the sort of person who still heavily relies on traditional media for backup storage. I still need and find purposes for Superdrives, USB ports, DVDs, etc. It's not that I am anti-cloud storage but it's just not what I prefer, maybe of security reasons too. That and because Internet here in the Philippines sucks. 😛 I did not buy plenty of external USB ports for nothing. I thought that if I have many of it, I wouldn't have problems w/ the lack of it from my laptop. It has been very helpful to me in the long run, tbh, this external USB port.
Their statement 'Fully Equipped For a Wireless World' explains the following and made things more clearer to me now: Why there's only one port, and why everything on the inside has been turned into nano-size and the battery literally took over the computer. It can last to an entire day now, Apple claims.
I very much doubt that, to the point that I don't even buy that sales talk anymore. Sure, it will last a day in the first few months but eventually its performance quality will deteriorate.
From the looks of how thin this is, I think this Macbook is not friendly to people who want to teardown laptops such as myself. 😆 Well then, if I can't open you, then I see no purpose in having one of these.
Some people are concerned about two things w/ this laptop: 1) With the introduction of USB-C, will everyone else follow and what is the future of USB 2.0, 3.0? 2) Is this even worth buying?
Personally I don't like the new USB. Companies will follow if there's a demand for it, but I hope the option for the older versions will always be made available too. I won't bite in to temptation and get this laptop.. doesn't interest me. I am, however, looking forward to the price slash of the current line of Macbook Pros/Airs.
Latest does not always mean greatest: I find that the older and current versions of their computers are more reasonable to buy and not a fashion statement piece, hence it's more useful to what I do. The newer Macbook looks like a fashion accessory to my eyes. It's too.. flash-y.
I was discussing this whole hullabaloo with a friend this morning. She then showed me a post from an article, and there's this part that I think would summarize all my ramble into a few words:
This new MacBook doesn't exist to be a powerhouse or an all-day workhorse for the geeks. Not at all; it exists to be the go-to device for people that lug around their laptops all day and don't care about specs as long as their computer does what they want it to do. (via)
It's true. I'm definitely not part of its target market that's why I am very iffy and uninterested about it, that I saw more reasons not to like it than love it. So uninterested, I just let Keynote night pass me by. I feel that I'm more of a heavy duty laptop user and would always need a machine with specs for an intermediate user, but not necessarily a better screen (so that's why I don't really care for retina screens either).
On the other hand, thanks for calling me a geek, thus confirming that I am one, Owen Williams.
Also, Yosemite does not work with Viber. That and other things I found during my spontaneous upgrade to Yosemite last month convinced me to go back a few steps to OS X Mountain Lion. It's going back, settling down, being.. basic(?). Totally different from how I was with things a few years ago. I was all about upgrade, upgrade, upgrade! Nowadays, I try to just do with what I really need. Half of the features of Yosemite I don't use anyway, and the one thing I'd want to use isn't compatible with my Macbook model. So, there's that.
While everyone will go gaga over this new Macbook, probably enthusiasts and people who are on-the-go and need a lighter laptop, as the article says, I would be busy future-proofing my 4 year old Macbook Pro and going to take care of it so it reaches many more years. Hopefully 10 years? 😛 I've also done a couple of DIY fixes to it over the years, so I'm pretty proud of my small accomplishments with it, too. Haha!
My black Macbook is still working, btw. It's slow, only operates on AC power now (forgot where I put the bloated battery that I can't use anyway) but it can still read/write/burn data to its respective media and I can browse the internet and pretty much do light task on it. Perhaps if I reformatted it, it could work as a new computer – but I'd like to keep my data of yesteryears. 😉 Physically, it looks aged (lol), in a way that the plastic has chipped off the top case but easily replaceable w/ a new one if one is willing to spend that much for a very old computer, and the LCD screen is yellowish from it being old.
Sorry, Apple. Sorry, everyone. I have been loyal to you since 2005, hehe, but you're heading too soon into the future for me, I am simply not ready. Or maybe I just really don't see the need for this. Maybe Steve Jobs would have thought the same thing too.
It's a no for me.