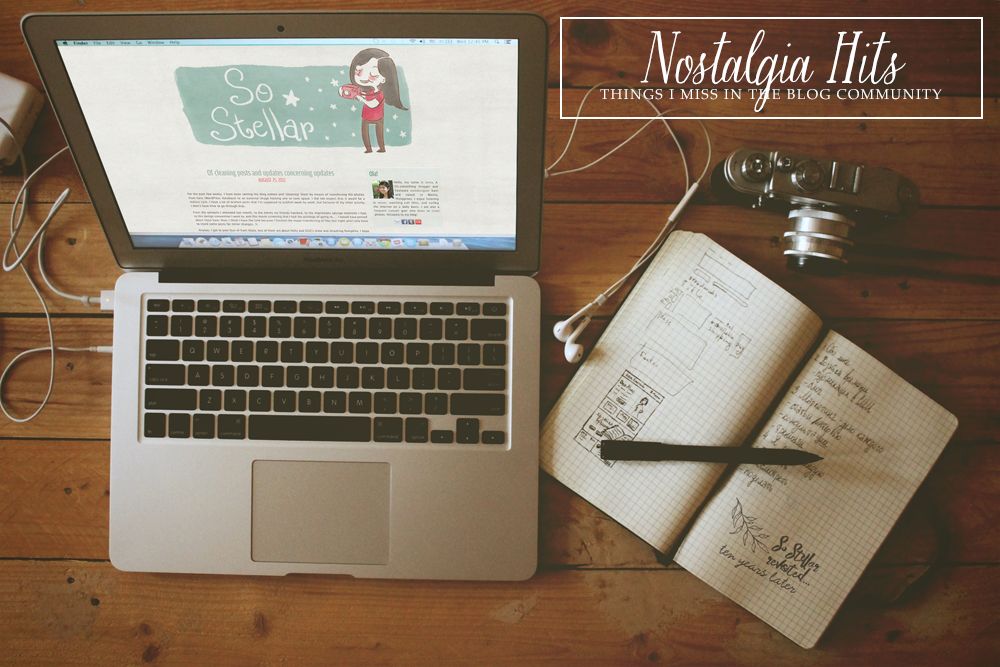 Lately, I noticed a lot of blogs around my network have written their own how-to, guide, tips and tricks for blogging newbies and enthusiasts alike. Not only that, suddenly there's a sudden "boom" for the blogging community overall, mostly about how to rake in cash and eventually turn your blog into a stable source of income.
Personally, I am on the fence about all of this, but (really) slowly my blog has evolved from being a nonsense blog when it started out, to one that occasionally picks up good opportunities now and then that, I guess you can say, does help me financially (but only sometimes!). Although, at the end of the day, I still feel it doesn't belong to just one category. If anything, it's still just a blog. Take that, marketers! Oh wait, that's hardly interesting enough for them to pick up my blog. Haha! A blog where anything goes, aka just a blog.
With that said, I am the last person you should even ask about tips or how to start. Because…….
I've always just had one "advice" about blogging: Self-taught your way through it. Discover and learn things on your own. Make mistakes, it's okay! You can always start again. Perhaps I'm just too independent when it comes to these things, but I've always found better pleasure in accomplishing things on your very own rather than putting that bulk of responsibility to someone else. The internet is overflowing with resources online, all you need is to persevere with… searching.
Note: This is neither a guide nor a how-to, not even a tips on blogging post. The closest this post can identify would be a post revisiting the earlier blogging trends from years ago.
When it comes to resources, yes you may turn to the large selections of bloggers we have right now who are offering multitudes of options from the place where you can start your FREE blog, to the plugins you can use to better your blog, to the most affordable choice for your very first webhost of your "serious blog" – if you decide to take things further. Once again, Google is your best friend when it comes to this.
I gave it some thought, about the purpose of these other bloggers who are going all-out on being generous with helping anyone regarding starting out.. and arrived at this:
I figure, it's summer vacation for most people here right now, so they probably have a lot of spare time and will end up spending time infront of the computer (just like how most of us started out – admit it! Hehe) ..maybe these other bloggers are thinking, "hmm why not take this opportunity to lure them into this wonderful world of blogging? *insert evil laugh here*" lol.
Other reasons include: Hits, and site exposure around the ever-growing oh-so-lovely social media. Lastly: Preference of voice when it comes to choosing who to follow. What does this mean? Blog A might have the most extensive resource ready for anyone to consume, yet it lack the appeal to the general public – whereas Blog B might provide the same things but still lack in some aspects. Yet overall, Blog B has a pleasant person behind it and they are easy to get along with (among other things) so.. somehow the crowd will end up following Person Behind Blog B and see them as someone reliable when it comes to mostly.. anything Person Behind Blog B can share about to their audience.
I don't fit in either of personalities mentioned. Hence why I don't have a sizeable amount of following in general and why I'm probably still unknown to most even though I have been blogging for 10 years. BUT THAT IS NOT THE POINT OF THIS POST.
Yes I blabbed my way to counts more than 3 paragraphs but that's not what I'm here to talk about. What this post is about is to remind myself of the way things were… years ago. When the whole "blogging" thing was just starting.
The blogging world is evolving every day: New things keep getting introduced to the readers, new "blog series" every week are posted, regular 9-to-5 folks are leaving their careers 'in-real-life' to pursue blogging seriously, blogging as a career altogether that can keep you financially stable (who knew?!), the label blogger entails privileges and perks, etc.
While everyone is busy with solidifying their blog's brand, to networking 5x as much as they even did in real life, or or trying to make an impression to the general public.. I decided to take a step back and look at how things were and see how far this whole ordeal has reached since then.
1. Nova boards (and the era of Messageboards/Forums/MBs in general)
Among all the forums I remember joining in my teenage years, this one was the climactic of them all. To sum it up, it was THE hub for all teenagers back then. It was a home and a community for anyone who was online. I literally spent the whole day posting wherever I could.
Twitter did not exist back then, so everyone was connecting and talking through messageboards. My earliest memories of being influenced to create a website (then a blog) can also be attributed to Nova.
I made friends, but sadly none of them lasted to the generation of online friends I have now. At the back of my mind, I still remember a handful of people.. too bad we didn't keep in touch, nor we became that close to know our personal details such as email addresses or last names. I believe most people used screenames. See, people were careful back then.
Sadly, this is the only accurate thing I found to let you know what that site was about.
If the name Nova boards (or Jetrockit, and/or Avon boards) even rings a familiar bell to you, do get in touch with me!! Hahaha y'all are my long lost would-be-friends. I'd love to connect again.
The best part of Nova was that for a really really huge community, there was hardly any politics, issues, or toxicity like what the online world is mostly about nowadays. Maybe there was, a little, but it certainly did not drain everyone of their spirit from being participative, I think.
POST-NOVA: After "Jacko" (probably inspired by Michael Jackson back then lol) bought the whole place and did turn it as a R18 website, everyone went their separate ways, smaller forums were created and it kept everyone together again for a while until we got older and went to do more serious things. (Except for me of course, I'm still here).
2. Jenny of Jennyspage.net / Emily of Emilyspage.com / Linda of Fakin-it.com 
None of these websites are active today but back then they were probably the top three that gets the most site traffic. Not only it was was blog, but the first two websites have a lot of substantial content from their About Mes to their Visitor content, and one thing to not forget (and the reason why everyone went to them) is the tutorials section. Such dedication and effort putting up detailed instructions on how to achieve a certain effect or style for a graphic! Back then, these websites were like our bibles and major go-to for how-tos.
I believe Fakin-it was more of a design company website with some visitor content and resources because I never really knew much about Linda except that she was THAT good at creating 3D graphics (not the same 3D graphics we know now though) and that she's from Australia.
Oh and earlier blog forms have a dedicated area for their "Cam"/"Webcam" shot for the week. Hahaha… yeah that was cool, back then. I even did that. 😆
POST-JENNYSPAGE/EMILYPAGE/FAKIN-IT: No good or related result even comes up for Google searches on Fakin-It and Emilyspage. However, someone submitted an ask inquiry on one website asking about Jenny and they answered that she must've gotten bored of it and just left it to die*.
*I gasped when I read that because how could anyone just leave their website to die? Not in this day and age! Everyone takes care of their website as if it's their own child.. with the mentality of "must nurture and caress this for future branding purposes!" – just kidding.
3. Tagboard / Link Exchanges / Hostees / Past Layouts Archive
These are all cheesy parts of all the earlier websites before, although I'm sure some people still do link exchanges. I think I might just go back to adding that part to my sidebar soon. We'll see! cue mockery of 'L/E po?' talks
Tagboards, I imagine if this carried on 'til today, it would just be an unnecessary element in a website, furthermore it'll be only full of spam messages… oh and definitely hate messages too. :-/
Past layouts: I still love checking out this particular page if a blog has one.. because I'm a sentimental at heart and I like seeing history and progress of a website through their past layout designs.
You rarely see pages catering to domain owners looking for hostees nowadays because it's much easier to acquire and own a domain and webhosting now compared to years ago when it felt more like something you should deserve to own (because with our student budget back then, $10 was a lot!) instead of something you can readily purchase on a whim.
4. Camaraderie and no discrimination between bloggers
It's very rare to find yourself in a community that literally welcomes anyone new. For one, there's probably some favoritism involved. But, if you are one of the lucky few who have found an online circle that welcomed you, and you fit right in like a glove and is welcoming towards everyone else ..you should be very grateful of it.
Somehow I blame the part where the blogging community transitioned from a platform where you can literally express and say anything you want to being a marketplace. When money is involved, people are divided, and discrimination shortly follows after that. No matter how you try to look at things in an equal way, clearly there is a divide – starting with marketable and non-marketable bloggers; bloggers who are doing this for a living, bloggers who just want someplace to put their thoughts; bloggers who aim to share, bloggers who aim to be famous/recognized.
You can never be too sure of what you read even in "personal blogs" anymore (where words are held with much regard before because it's 'personal', 'unbiased'), unless you have a watchful eye and you know how to discern a sponsored post from something genuinely written from their heart.
No wonder in other places the blogger label has a bad connotation. "Freeloaders" is one of the worse ones I know.
I started in a warm, welcoming community ten years ago, then got mixed with a bunch of people since then.. now I feel I have lost touch with everyone and is pretty much a lone wolf in search of a bigger circle? Does that sound dramatic? Haha. I do have my share of online friends, but it's different from how things were before.
Now it feels that you either HAVE to with these people, or those people.. You can never be in between. Or maybe I should go farther and connect with other people way outside my network.
Don't get me wrong though, I did meet a lot of people who are worth keeping in touch with and thankfully, have became friends with them.. real life long term friends. 😉 You know who you are! (I hope you do, lol)
5. A free-spirited community and zero-to-none toxicity from everyone – even from people you barely know
Before the terms free-spirited and toxic were even words that we used in our day to day online lingo, it held an important meaning (for the first word) and it didn't even exist in everyone's vocabulary (for the second word) years ago. Everyone got along merrily and nobody started any negativity. Subtweeting? Wasn't even a thing!
People were much honest before with their feelings and no political events ever occurred that a huge chunk of people needed to be involved in it. If something needed to be settled, i.e. you have a problem with someone, it's almost always settled privately and nobody else gets dragged into it.
If it wasn't a big deal, it would just die down eventually and before you know it people would be in good terms again as if nothing happened.
How do people deal with their frustrations and problems with people NOW: Subtweet it. Rant about it. Publicly. Let a small issue drag along and involve as much people as they can, gang up — just picture how people in high school do it. It's exactly like that.
Admittedly, I am not an exception to that phenomena. I have participated and added fuel to the fire at some point, but of course time goes on and such activities becomes childish.. and we aren't getting any younger – so this kind of behaviour needs to end.
Lately I realize I am tweeting less though.. or maybe it's because I am slowly seeing the lack of point of sharing things now. I could always write here instead and dump my chunk o' feelings instead of in 140 characters every 30 minutes on Twitter.
——————————-
More than two thousand words later, I feel I've said too much. No matter how much fun it was to revel in these memories.. I think they're best to stay at where they are now: The past. 😛 We can only move forward, not backwards – doing so is.. just weird.
I just wanted to put up a very short list but I think it turned out to be more than I was expecting. Oh well, sorry. Some of it is also pent-up frustrations about things, one thing led to another.. and the rest is history, or some of it are here in this very post. ¯_(ツ)_/¯
Have a peaceful Holy week ahead! Spend the time away from the computer and internet if you can. Disconnect! 😉 You'll be doing yourself a huge favor from being away on Facebook and social media lazily scrolling away and feeling envious over everyone who's having a grand time outside on their respective out of the city vacations.
I know I will… thank myself if I do stay away online for the next 5 days. Gotta get back to my book!