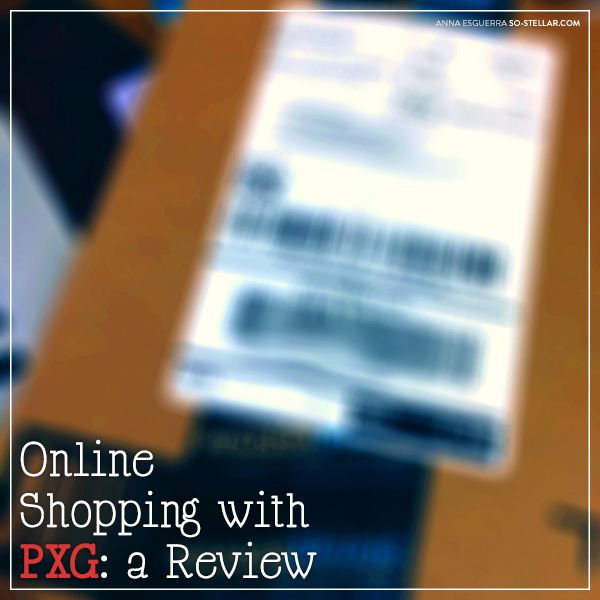 Remember my post last year, that one where I mentioned that I am expecting a big package and would make a review of it if things went smoothly? Two things happened last week related to it:
The said package finally arrived after a month and 4 days
It wasn't exactly a smooth sailing (no pun intended) of waiting
The summary of this experience was that if ever I will try this kind of service again, I must be very patient for it and remember to allot 40 days to expect the package to reach my doorstep after it leaves the US. Emphasize on the NEED to be VERY patient.
Anyway! If you follow me on Twitter, you might have noticed that I won't shut up with my box-related tweets and the agonizing wait over it in the last couple of weeks.
What is this box you kept yapping about?
To give you a background story about it: I availed the service of PXG, an online shipping service which caters consolidation of items and shipping from Los Angeles to the customer's PH doorstep (taken from the Facebook page). There are many other similar businesses offering the same service, such as JAC and MSB, but we decided to go with PXG because of their more affordable rates and the consolidation of packages for a month (and for free!).
It was also well recommended by a friend, and she likes it so far that she has been using them ever since. What else would make me not want to try them out?
The only cons I can think for PXG is the poor communication and the loooooong wait, since their shipments are by sea, not by air. That also explains why it's much cheaper.
Given the pros and cons, the affordable shipping rates to the Philippines winning me over, I bit into temptation and went online shopping like crazy during December. Go big or go home, am I right? So there goes all my savings from last year, to Uncle Sam. Also if I bought and had any of these items shipped to my Philippine address, most likely I would never receive it, or if I do, will be taxed thrice the price upon pickup at the post office.
The PhilPost sucks, and the USPS is the king of postal service
Knowing how shitty our local post service is in the Philippines, it was so nice to experience the efficiency of the postal service in the US – even though I was just monitoring the status of my packages as it went to one facility to the other until it reached my temporary US address (PXG's LA office). I have nothing bad to say about it, they win hands down. USPS is the BEST. As I've mentioned elsewhere online, it's no wonder why many people end up splurging to online shopping so easily. Who can resist not to give in to those insane discounted rates AND free shipping. You may think shipping is something worthless, a miscellaneous fee you have to pay, but free shipping is all sorts of amazing lol.
Chasing PXG
I won't give you a very detailed and thorough timetable of our transaction, but a list of dates.. estimates. Also, don't be mislead by my title. They didn't run from us. The very poor communication frustrated me. I wasn't used to waiting more than 24 hours, or days, up to a week to hear back from an establishment through email correspondence. I mean, personally I try to respond ASAP with everyone that I talk to online.
Date we began communication w/ PXG: November 11, 2014
Date we began shopping around US stores and had them shipped to PXG's LA address: November 24, 2014 (around this time we paid for the box, confirming our business with them for the next months)
Starting date of the packages delivered to their office: December 4, 2014 – first week of January
Date our box was packed, shipped and loaded to a ship bound for Asia and forwarded to the Philippines: January 14, 2015
Box arrival in the Philippines: February 6, 2015 (got held up in PH customs nearly a week after this date)
Box delivered to my house: February 18, 2015
Note: We availed of the RED box (23" x 16" x 17") – $55 Manila, $60 Luzon Areas, $70 Visayas/Mindanao. Payment for it was hassle-free. They accept local bank deposits (BDO, BPI) and PayPal.
To get an idea of how big this box is, it was enough to fit a skateboard in it and a LOT of bulky packages. Some of them were out of their packaging (by that I mean the packaging/bubble envelope it originally came in to their office) but not out of the product packaging. We thought our stuff wouldn't fit in this box, the cheapest out of what they provide, but there's more room when I opened it.
It was hard to always get a prompt reply from them, either from the person who maintains the [email protected] email address, or Kris. But they do reply, only it's late. You have to always follow up and send an email to them. I was uncomfortable doing that (I didn't want to be annoying), but I learned that if I didn't follow up consistently, nothing will happen. Also the consolidation date was only for a month — we might get charged if we go past that.
Luckily all the packages we were waiting for came within a month, that explains the Dec-Jan gap in the timeline. Some of the items were from Amazon's marketplace, located in the UK so that took a bit longer to arrive hence we waited til January before our box was packed and loaded. My friend and I had some last minute splurges, too, though they were delivered fast because of Amazon Prime. Yes, finally got to try the infamous Prime. It's awesome, and very helpful with my first US online shopping experience via a forwarder.
Pictures, pictures, pictures!
I know all too well that a review is meaningless without pictures to serve as proof. So, here are photos for your enjoyment and for your approval of how satisfying it was when the box finally arrived. 😆
How it felt? Like meeting someone you've been waiting for, all of your life, in the flesh. HAHA! Too bad I was not around when they delivered it. I missed them by 20 minutes because I left to go to the vet when they got to my house.
I got too excited and started opening/unpacking/unboxing every package I could get my hands on. My friend on the other hand, when I told her it's finally here over Viber, was shaking and crying. 😆 So I'm very sorry there won't be unboxing videos, or photos.
No damaged items when I went through the packages one by one. Some envelopes have been torn open though, but the item was left unopened and not torn off their seals if there was any.
Post-PXG thoughts, and will I try it again? Would I recommend it to you?
Looking back at the timeline, Nov-Feb is an awful long time. As I've said earlier you will need lots and LOTS of patience for this. But as always, there are other options such as air shipping but that would mean it's more expensive.
I would only suggest opting for online shopping and shipping of these goods through ocean cargo if you have the longest patience in the world (lol) and you don't need the items in a hurry, OR you don't want to spend so much on shipping fares and would rather spend it on the stuff you'll buy and can take the minimum of 1 month of waiting after it leaves the US.
The absolute advantage of this whole thing (ocean cargo shipping) is you will receive your items/packages tax free. 😛 I'll choose to wait if it means I won't have any more dues to pay when my box reaches the Philippines. The long wait is always worth it, right? 😛 And I think I have the ugliest record w/ our local Post Office, so it's best to just avoid them altogether.
Once again, weigh in your options before trying out PXG or Forex (they're partners, AFAIK, because PXG uses Forex to get the boxes to the Philippines):
1) Expedite (air) shipping, that costs more, THEN pay for addtl fees upon pickup of your package OR
2) Suck it up and get busy, distract yourself from the waiting, although allot at least 8 weeks for your packages to get to your door and face no additional charges other than the shipping fee you will pay one time to have your items sent and delivered straight to your door.
I would definitely use their services again and I hope this review convinces you to give them a try, too. Let me just insist one more time that the wait will be long, but it will be worth it.
Only this time I know better than to monitor it closely like a hawk. It will drive you mad having to check it every other day to see the same status over and over again. Lesson learned: Do not monitor the shipment. Haha! It will arrive, and you shouldn't worry about it. The time you should worry is when the package does not arrive in the LA office to begin with.
Note: As of this post, their website pxgoods.ph is still down (since November 2014) and if you want to reach them, best to do it through email or their Facebook page. But my suggestion is to email them directly.
Not a sponsored post. I thought to help out anyone who may be looking for reviews about their service by writing about it since nothing much shows up when I Googled about them before.