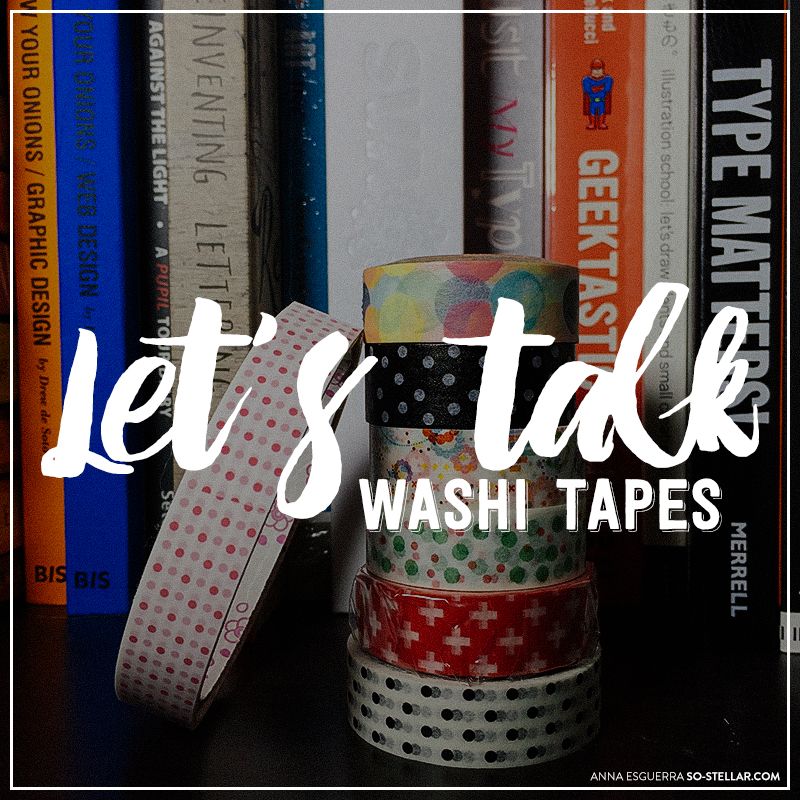 A couple of weeks ago, while I was doing the usual rounds of reading posts online, I came across a video about Washi tapes. I know they've been around for a long time, probably way before the internet made a big deal of it. At first I couldn't understand why is there a hype about it? It's just masking tape with designs, why are people going gaga collecting these?
I scoffed at the thought and moved on. Until one night I got bored and decided to browse a related hashtag to it pertaining to online stores selling it on Instagram.. before I know it, I was on my way to paying for my first batch of tapes.
I said to myself that it won't be so much of a waste in case I don't like them because they were cheap. Yeah, tell yourself that now, 7 Washi tapes later including 9 more coming next month.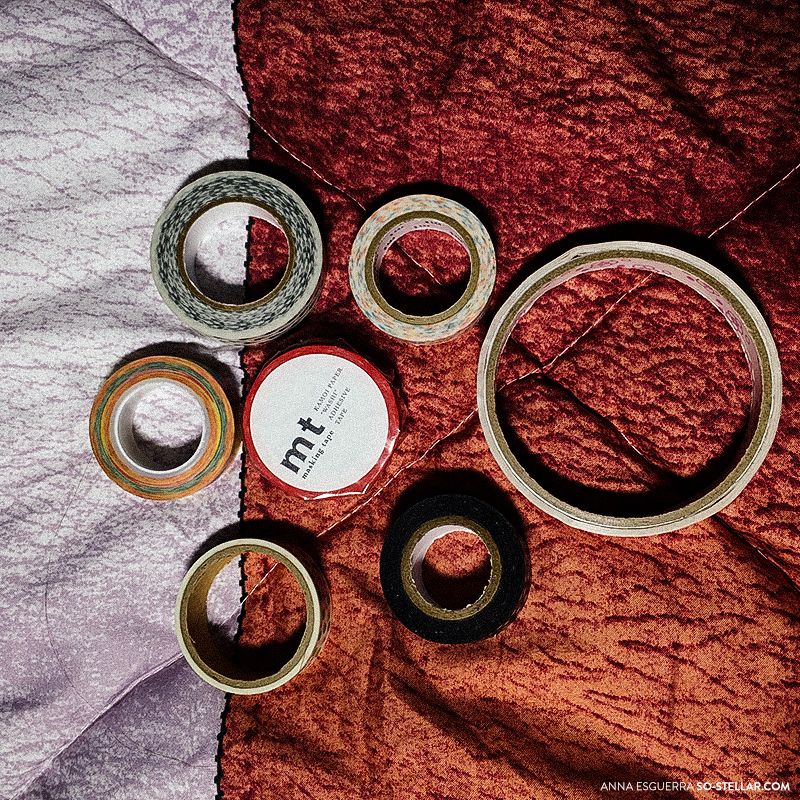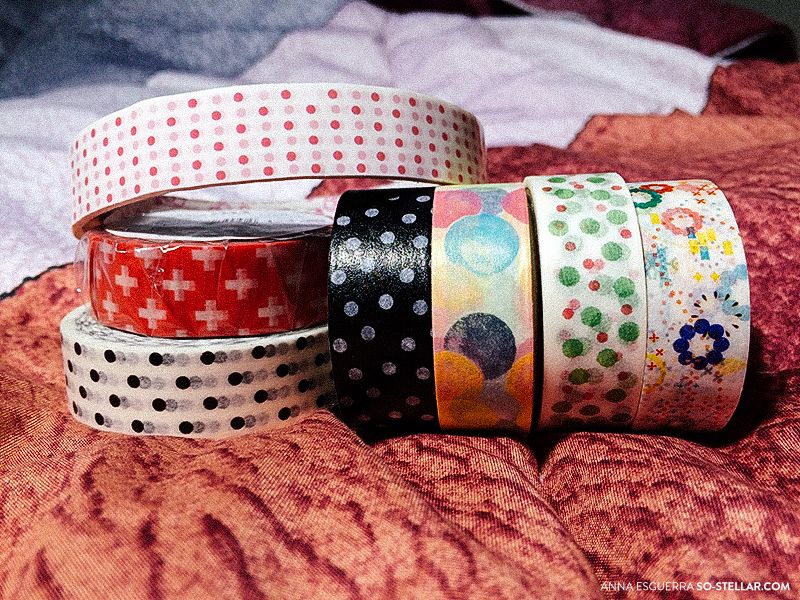 This is the part where I will try to be helpful to anyone who might make the same mistakes (lol) as I have and spontaneously splurge on these. Here are a couple of observations and things I learned in my days of being a Washi tape newbie:
1. Washi tapes that cost cheap won't always mean that you're getting a better deal
So you've seen some Washi tapes online that go for as low as $0.50 (probably on eBay, through wholesale). Just because the are cheap doesn't mean they're as the same quality as the premium (branded) tapes. One thing I noticed with the cheaper (priced at PHP 15-25, I would give a dollar conversion but it hardly reached $0.50 lol) tapes is that the adhesive doesn't stick for too long.
You can consider this as sampling the tapes, but I tore a strip from each roll of tape and sticked them to my desk (for no reason at the time lol), and in two days the two cheaper strips tapes flew off and it had no more stickyness/adhesive into it.
Sad because they were the ones with prettier designs.
2. There are different types of tapes out there, not just "Washi tape"
This I learned while browsing eBay and etsy weeks ago. If I remember it correctly, here are the other terms they use: 1) Decorative ("Deco") tape; 2) Paper/Washi tape; 3) Plastic tape. Other than that, the tape may be made from a) Paper; b) Plastic; c) Cloth/Fabric.
Seems to be that Deco/Paper are the same, while Plastic is what it is. Also, the cheaper Plastic tape I have, despite being cheap, sticks longer than the cheaper Paper-type Washis I bought.
Next time you see a Washi tape, check for the price and reviews. There are locally produced tapes that are as good as the mt brand (which, I would assume is the premium – highest of them all), and some internationally produced, in wholesale, but unfortunately lacks in quality.
I have all types except for fabric. It doesn't appeal to me for some reason.
3. Not a practical hobby and affordable to keep up with
When I got the Washi tapes, I felt excited over them and thought I could use them for a lot of things. After knowing that some of the tapes I bought had weak adhesive, it discouraged me. I felt inspired to try again when I found a couple of MT brand Washi tapes the other day and used them to decorate my laptop's palm rest.
The MT brand of Washi tapes cost 3x the price of the local premium tapes here though, which is a downside. But what the heck, I bought them anyway.
4. You're mostly paying for the adhesive in a premium Washi tape
I think that makes more sense why the more expensive Washis cost more because it sticks longer than cheaper ones, dont' you think? I know better now to get sucked in to 2 for the price of 1 Washi tapes, haha!
5. They are fun to use.. if you find enough ways to use Washi tapes for.
There are probably 374234902 ways to take advantage of Washi tapes, that's why people hoard them. As for me, I've only found a couple of ways so far. Since the tapes won't leave residues on surfaces you stick them on, 1) I reuse the strips to stick notes on my wall. Plastic tape would leave a nasty sticky mess otherwise. And recently, 2) I've Washi-fied the palmrest of my laptop.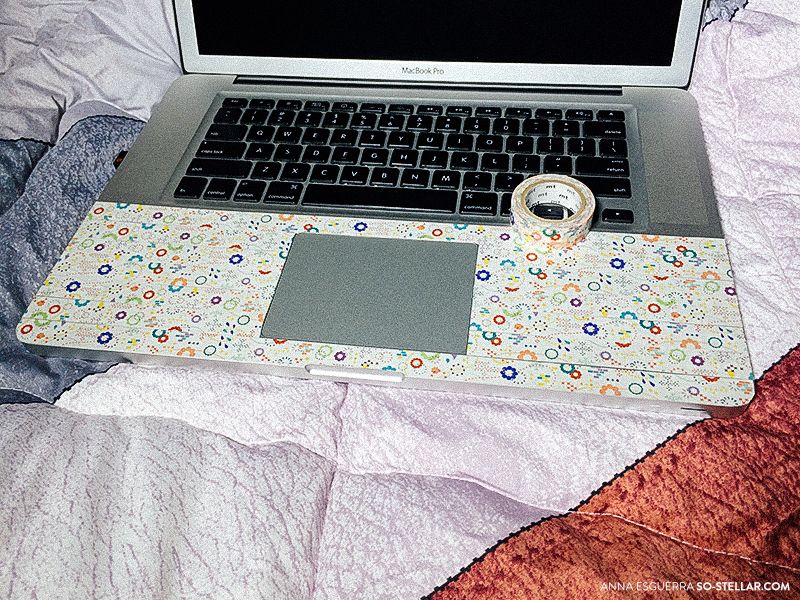 My brother doesn't like it. There are days when I find it ugly-looking too but whatever. 😛 I do like the texture of it and run my hands on it from time to time, hahaha. Ok it doesn't look nice at all, I just realized lol. Professional things don't go well with craft, I guess? I would Washi-fy my laptop's screen too but I'm afraid of using an x-acto knife around the edges of it. It felt nerve-wrecking to use it on the sides of the palm rest, so I don't think I'm ready to do the same thing to the laptop's screen.
Lastly, when I'm in the mood, 3) I put in some effort to wrap the items I've sold online for shipping by prettifying them with Washi tape. Makes me feel like a legit DIY crafter. 😆 I have tons of kraft paper from shopping bags anyway. That's another way to reuse them too!
I'm in the Philippines, where can I buy Washi tapes?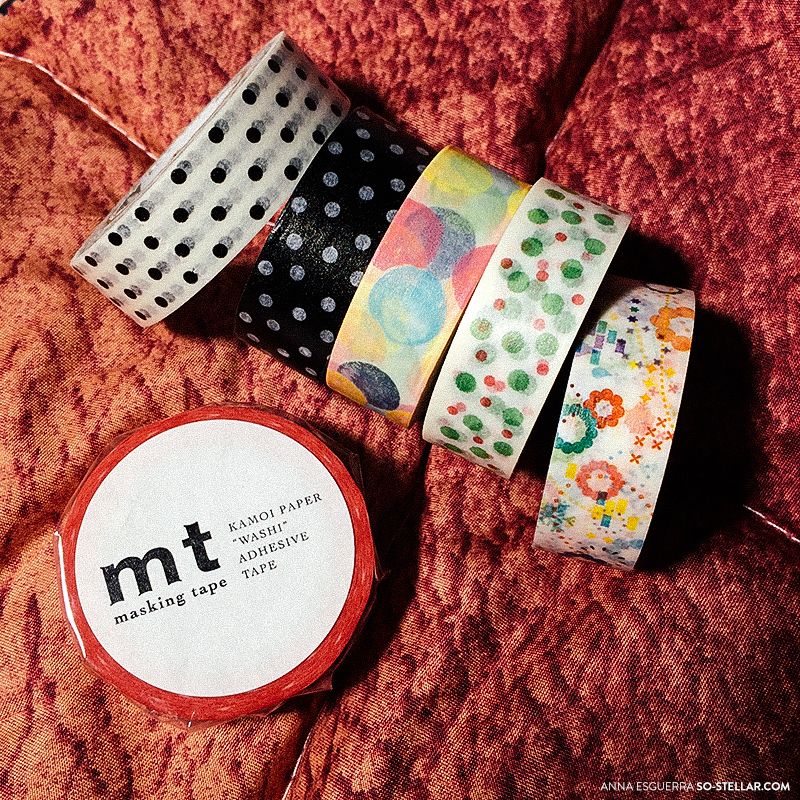 I found a few lemon Washi tapes from IG sellers which I won't be naming. However, here are the shops that sell quality Washi tapes in my opinion:
1. Scribe Writing Essentials
I've always wanted to check this store but couldn't because it's far. Recently I found out that they have a branch in Glorietta 5. I didn't even look for it, I just passed by the store without realizing it's Scribe at first. Pretty small branch compared to the others I've seen before.
They sell MT brand Washi tapes and they have a wider selection of roll size and designs than this second store below.
Prices range from P150 per tape for MT brand, which is OK for me since you're paying for quality.
2. National Book Store
They only have a small cardboard rack with limited selection and designs of Washi tapes, and it's the MT brand. They only carry this brand, as far as I've seen. I also found the tapes to be more expensive here than Scribe.
Prices range from P290+ for a pair of Washi tapes. I didn't agree with the prices, or maybe because I didn't like the designs that were available when I checked.
3. Hey Kessy 
This is an online shop specializing in providing scrapbook and DIY materials for crafters and art enthusiasts out there. I wasn't able to find other similar online shops selling Washi tapes so this will be my only suggestion for the online shopper's route.
I find that they have the largest selection of locally-produced (AFAIK they make the tapes from scratch? Correct me if I'm wrong) Washi tapes and there are tons of cute designs that'll make you want to hoard! The only problem is the better designs get sold out quickly.
I almost bought a lot of Washi tapes but upon finding out that half of them were out of stock, I canceled my order. The owner had no problem with my request. Hopefully next time I get to buy from them because I am intrigued at how Philippine-made Washi tapes perform(?). 😛
Prices range from P75-P600 (Single Washi tape, Set of 8 Washi tapes).
---
Feel free to share other ways to use Washi tapes down below! Also if you know other places around the Philippines that sell them for a good price, plus points if they're cheap but of good quality.