Time sure flies fast! In 3 days, it'll be Christmas day here. But in the Philippines, we all know that Christmas starts as soon as we hit the month of September! 😛 Also, maybe it's just me but it's more exciting to celebrate during Christmas eve than Christmas day (the morning after). Don't know, it feels like a normal day after that. Same goes for New Year's Eve/Day. Thoughts?
I believe this might be my 2nd to the last OR the last post for this year. In that case, happy holidays/Merry Christmas to you!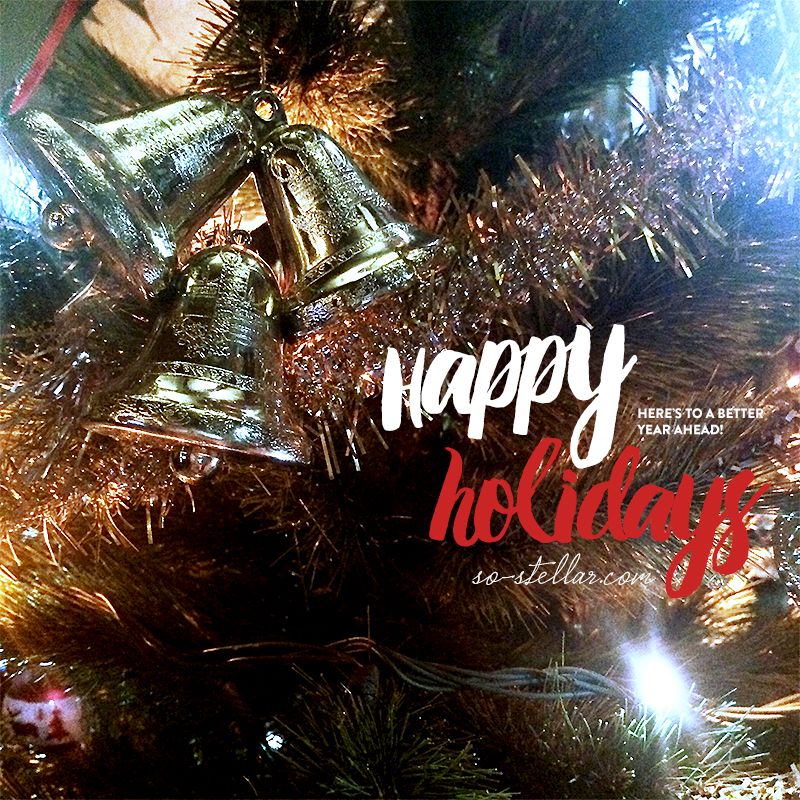 Have you prepared for the most joyous event of the year? Let me guess: You've exhausted your yearly savings from all the gift shopping for your family and friends. Me? I have been selfish naughty this latter part this year (#treatyoself) and bought all of the things I want for myself that I can afford for now. BUT BEFORE YOU THINK I AM AN AWFUL PERSON — know that I did my share of selflessness and gave my friends and relevant people their gifts earlier this year. I quite like to spoil people when I give them gifts.
Do gifts always need to be wrapped in fancy packaging? Does gift-giving always need to be done on certain days of the year? It doesn't have to be like that, right? Why would you wait, when you can do it now? When there are other days you can do it, you have 364 other days to choose from! Yeah — I've done the act of selfless giving, reached my quota.
How obvious is obvious?!
The most obvious sign that the holiday spirit is in the air is when there are children (okay, grown-ups too) going from one house to another at night, singing Christmas songs for money. You can either look at that as a cheerful sight, or dismiss it as annoying. I personally find it annoying, especially from obnoxious and rude children. Kids will even say rude remarks if you gave them food instead of money. Sigh, people these days. Another sign would be the general cheerfulness of everyone during this time of year. Problems will always be there but people keep their chin up and continue to be optimistic.
The most awaited season by shoppers (IMO)
As for the shopaholic like myself, it's the Christmas sales and discounts I look forward to. From the massive discounts given all over your favorite online shops, to the mallwide sales.. when you have enough money saved from the beginning of the year, everything is just too tempting to get! Sometimes, you end up getting a lot of useless things just because it costs less. Argh!
Glad I am finished with all that shopping though, but I won't be getting most of them until next year. Most of my gifts to myself this year were purchased in various shops outside the PH and were mailed off to a temporary US address. I will tell you more about it, possibly in a review, if things go smoothly next year. I am very excited about it, actually, and can't wait to share it with you if it works out smoothly.
The only downside I could think of during this time is the massive crowd in malls AND the observance of holiday, putting couriers and shippers to a 2-3 day holiday break. Hahaha. I know, I know.. they need their break. But we all want our packages NOW.
Christmas in the Philippines: What's it like?
As much as the US-only deals sound exciting and tempting (to me, because I am materialistic, hahahaha).. when it comes to the non-material things you get around this time of year, nothing beats Christmas in the Philippines. Families gather together over food and all the festivity that goes with it. But most importantly we're all happy and content at that. I'd say we have a unique way of expressing gratefulness towards one another. Nothing beats genuine family bonding over food. Works everytime, and it's way cost-effective too, wink.
My 5 film and TV shows I like watching around this time of the year
Now that you're done with your week-long or last minute Christmas gift shopping and wrapping and preparing.. it's time to cozy up on your bed or sofa and unwind.
Here are 5 films and TV series episodes I particularly find fitting to watch around this time of the year. Some of them might not be too Christmas-y like The Grinch Who Stole Christmas (did I even get the title right?) or Love Actually, but I hope you like even just one of these. 🙂
Sundays at Tiffany's
It's one of those movies I found in those years of being addicted to tumblr. It started with a GIF set and before I know it, I was watching the entire movie on YouTube. It's a light-hearted fun film, starring Alyssa Milano and Eric Winter. The movie makes Christmas an important season in the movie that's why it belongs to this list. Super cute movie too.
Vicious Christmas special
I forgot how I discovered this Brit sitcom, but I found it to be extremely funny right from the start. If you watch a lot of Brit TV shows and movies, you will see familiar faces here. Hope you dig the comedy! PS: You don't need to watch from the very beginning to understand the story.
3. A Boyfriend for Christmas

This one I'm not so sure where I discovered it first: from tumblr or from someone in my Twitter who talked about it. Either way.. it's like the #1 movie in my list. But it's mostly a funny, family comedy film that happened around Christmas. I'm noticing that there are lots of good made for TV movies with Christmas on the Hallmark channel, I need to watch more random movies there. Haha.
4. Smallville "Lexmas" episode (season 5, episode 9)
Another episode from a TV series I followed before. You can watch this without watching the earlier episodes. We all know that Lex Luthor is the arch nemesis of Clark Kent/Superman, that's given knowledge to most people who watch TV on the daily. 😆 Anyway, this episode shows an alternate universe from Lex Luthor's perspective, and a very good one. I think it's sweet. I mean, if you knew the story, you know he's destined to go on the dark side eventually.
You've Got Mail
I love this movie. You really need to see it to appreciate it. I may have other reasons why I like it, such as the prominent use of earlier technology (check out the fat, early Apple laptop Meg Ryan uses in the movie lol) and the fact that their love~ blossomed from exchange of emails and with no specifics as to who they were, yet they were liking each other just by the exchange of words. I thought it was ahead of its time. 😛
—
Out of the five, I find myself watching Sundays at Tiffany's more often, and not just during December. I probably watched it a couple more times earlier this year. I dunno, I never get tired of watching it even if it's predictable.
While I was browsing more titles to check out for this list, I came across two movies that seemed interesting. The Holiday and The Christmas Card. Typical romance movies w/ a Christmas theme, probably predictable storylines.. but who cares! They aren't meant to be watched and critiqued, but just something to pass by time and nothing serious. 😛 Who knows maybe these two will become another addition to my list of must-watch films during Christmas.
Do you have a particular list of movies or things that you watch during Christmas breaks/holiday? Comment below and share it with me, I'd love to watch more films during this break. 😀