Lang Leav was in the country last week for a couple of book signing tours around the Metro. There was also one book signing tour outside Metro Manila but it got canceled, since everyone was preparing for the upcoming typhoon. Sad for her Cebuano fans who weren't able to see her this time, but Lang happily told some fans on her FB page that she will be back.. and it was said like it was certain to happen in the future. (Yay!)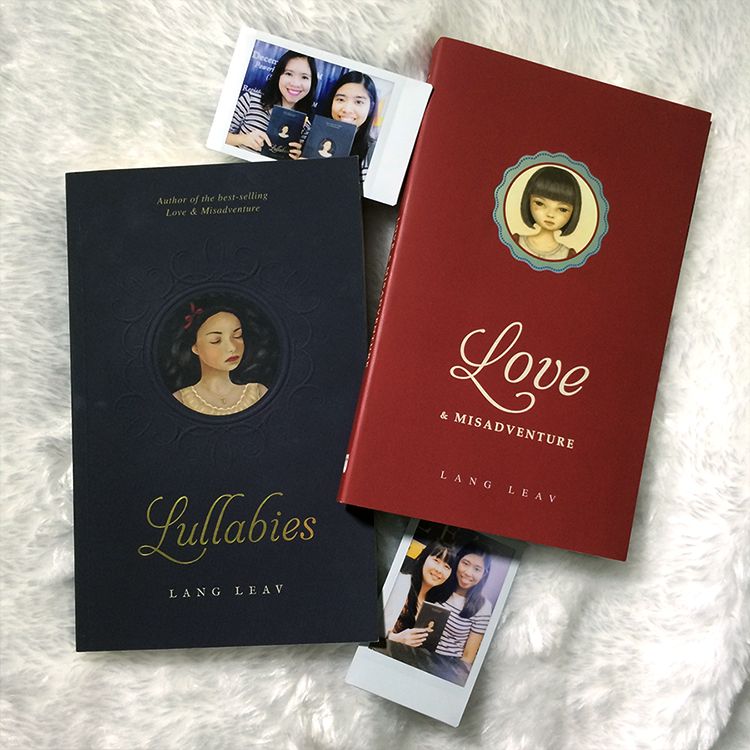 Weeks leading up to the weekend of the Manila book signing tour, I was becoming antsy and uncertain if I REALLY wanted to attend. For one, I do not want to wake up early. I hate waking up early. Who does that?! JK. I was ranting about it to my friend and here's what he said:
"I'd never ever do that for anyone who I'm not married to!"
Well, I wouldn't be marrying Lang that's for sure. She's already happy in the company of Michael Faudet (who recently just released his book, btw!). Anyway.. waking up early between the hours of 6-9AM is fine, except I have to be up much earlier than that if I wanted to be in the first 100 of the 500 available slots. There's only one reason why I pushed the boundaries and actually went last Sunday: It's to follow the streak of my signed Lang Leav books.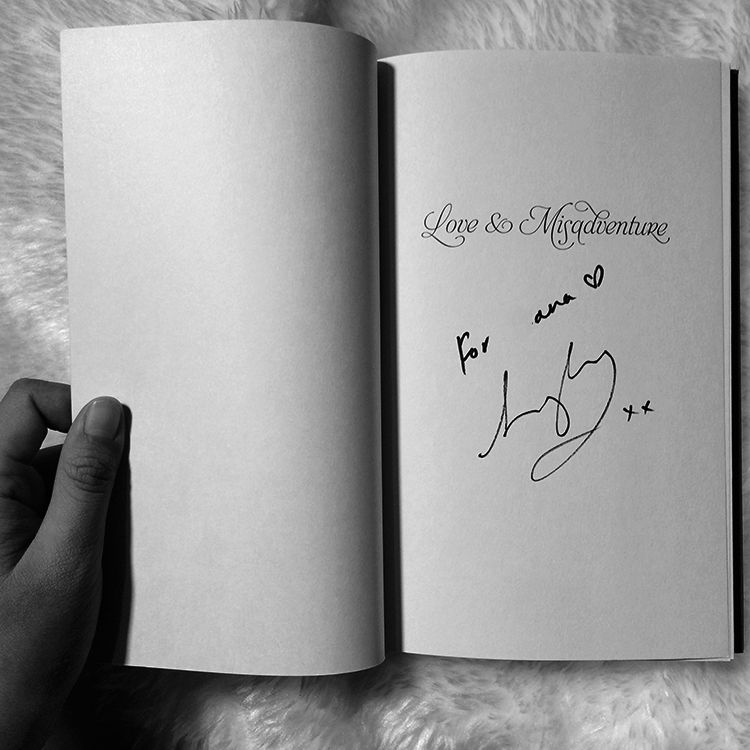 You see, my copy of Love and Misadventure is a signed copy. I have to thank Kisty for that. Lol. And, well, it's just.. maybe it's just me, but the author is already here.. and it would suck to buy a copy JUST to have it signed and complete the collection and then bail out last minute. It's like it would be a complete waste if things turned out that way.
The poetry, her style of writing isn't that bad too. Between the first and second book, I think I like the second book more because it had more content. I feel that L&M were fillers compared to Lullabies. Some relatable poems here and there in L&M, but I appreciated the words in Lullabies more. I don't know, maybe I don't feel much "feels". Maybe I needed something more intense than just a few words that poke an emotion. What the hell is wrong with me, right? Lol.
Sunday midnight, I set up my alarm, and tried my best to sleep early. I woke up pretty early.. or perhaps I never got any sleep that night. I was kinda anxious. Let's just do this and be over with it, I told myself.
I'm happy that on that day the weather wasn't terrible (yet). It wasn't raining, and the wind was pretty cool. Had no problems during the commute, too. It was quicker than the usual. Probably because it was a Sunday. Things are going in my favor, that's cool.
I was expecting the number of people to be around 400+ when I get there, but luckily.. I was only the 157th person in line. I quickly skimmed the people in line. Most of them brought their parents.. or their parents were there persistently waiting for them. I was by my lonesome and I looked much younger than them. I think I looked like one who needed to have a parent with me. Lol. If it wasn't a solo fan minding their own business in the queue, it's a group of adolescent friends, or a couple (I secretly think the girls dragged their boyfriends there so early in the morning, and if he refused she'll pull a world war 3 on him). Lastly, some boy fans were spotted, too. Either they're really a fan of her work (she hit some nerve of their feels??) or this guy woke up early to have a Lang Leav book signed as a present to their girlfriends. Hahahaha.. oh the things I came up in my head while I was waiting along with them to pass by the time.
Fifteen minutes to 10AM, we were let inside Powerbooks Greenbelt bookstore branch, up to the second floor, and led into the registration area. I met up with April by this time. We were more or less 20 numbers apart (she was #170+)… if only I let her cut in line, we could've been next to each other. I thought cutting in line was strictly not allowed.. apparently some youths have no regard for rules these days. Some kids cut the line before me in the registration area. Okay, whatever.
So when we met we started catching up. Amongst the topics of our talk were about her recent out of town trip, to asking about the experience the first time she went to a Lang Leav book signing, and some juicy tidbits about fun facts in this book signing. Things like who was the first person to queue here, or what's time did the very first person arrive here. Turns out the first person for this (Sunday) book signing was in line since 4AM. 4AM!! That's insane! And as for the book signing the day before… 11PM the night before! That's even more insane. Although, I could be confusing that 11PM with the book signing of Mitch Albom which was also twice or probably thrice as crazy. FFS. People really wake up early for these things, huh?!
I told April that this might be the first and last that I do this. It simply is just not for me. I cannot wake up this early anymore, and it also stresses me out. 😆 But having done it once is good.. for experience. 😛
Lang Leav came in 15 minutes earlier than the announced time the program will start (12noon). It was pretty quick of a program. I don't have much to say because for one, our view (or lack of it) was severely blocked by everyone else who were taller than us. I literally had to watch Lang Leav getting interviewed from someone's iPad or small display in a worm's eye view perspective. And then all I could see were people's backs. I think I didn't miss much. It wasn't a priority of mine to see her up close during that part since we'll get at least 20 seconds with her later during the book signing part of the program.
She read poems, which titles I do not recall, but they were fan favorites hence why she picked those to be read. I personally like "For You" but no one cares about that. 😆 She also answered a lot of questions, mostly ones that aren't new anymore.. any new book coming in the next few months, advice for aspiring writers, favorite writer, etc.
1) She is coming up w/ a follow up to Lullabies and a novel; 2) Her favorite writer is Michael Faudet, her partner (also make sense to me now why their styles are similar), 3) I think her advice was to keep writing? I couldn't hear properly this part because people around me were rude and talking loudly.
The book signing part of the program went by in a breeze, which was FAR from what I was anticipating. Still, it helps that I kinda had grander and worse expectations and that I was still prepared no matter what. Worse expectations like 1) We would still be outside, queued around 12noon; 2) My turn wouldn't come up until 4PM. None of my expectations came true which is great.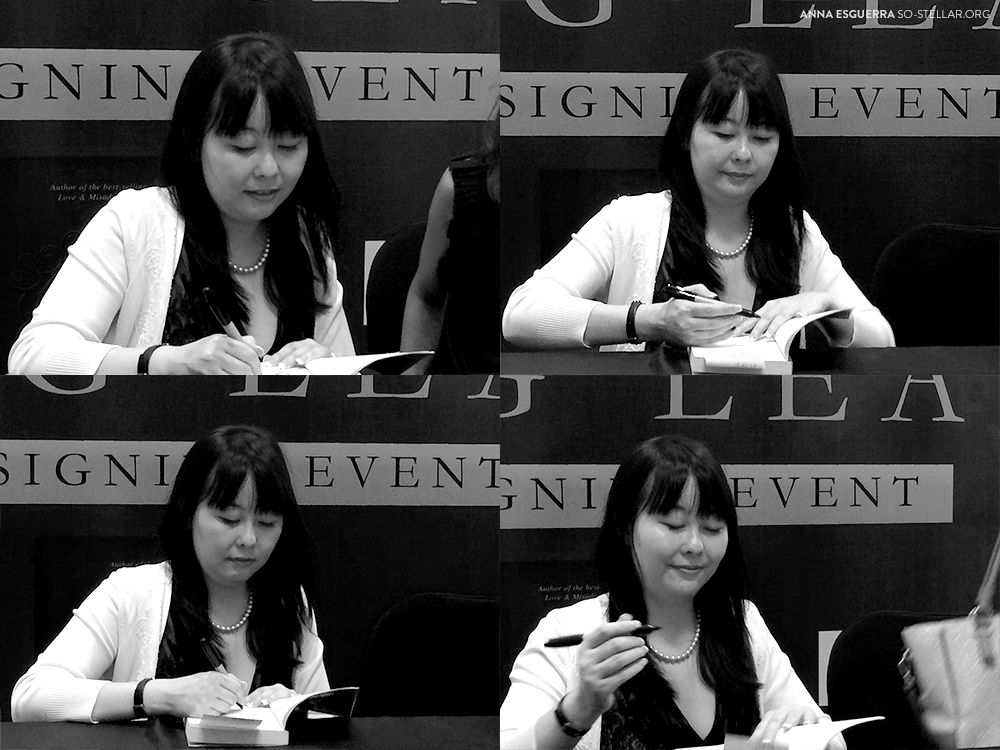 People were called in groups of 20. I assume each person got 25 seconds with Lang at least, including the photo op. I think it was well organized. There was a person assigned to get your book to hand over to her and another person who can take your photo — and boy is he furious with the shutter button! It's impossible not to have other choices for a photo-op to post around after that guy took your photo. 😛 The whole thing went by so fast, my friend and I were called and we were done by 1PM!
Lang was in a hurry to do everything. I'm amused she got 95% correct especially the names. Including mine. 😆 I read some people's names weren't spelled properly but you gotta understand the situation she was in. She was in a hurry to finish all the books to catch her flight. Needed to fly out before the typhoon makes its touchdown in the city, probably.
How I know this? I asked her… if we could take a selfie. Only to be rejected (politely though, lol) because she's in a hurry to catch a flight. Imagine that, rejected by THE Lang Leav. Hahahaha! On the other hand, I should've asked a better question like.. how I do pronounce your name, Miss Leav?
Well, no selfie, but here's a photo with her at least. And the autograph that I woke up at 5AM for. Mission accomplished!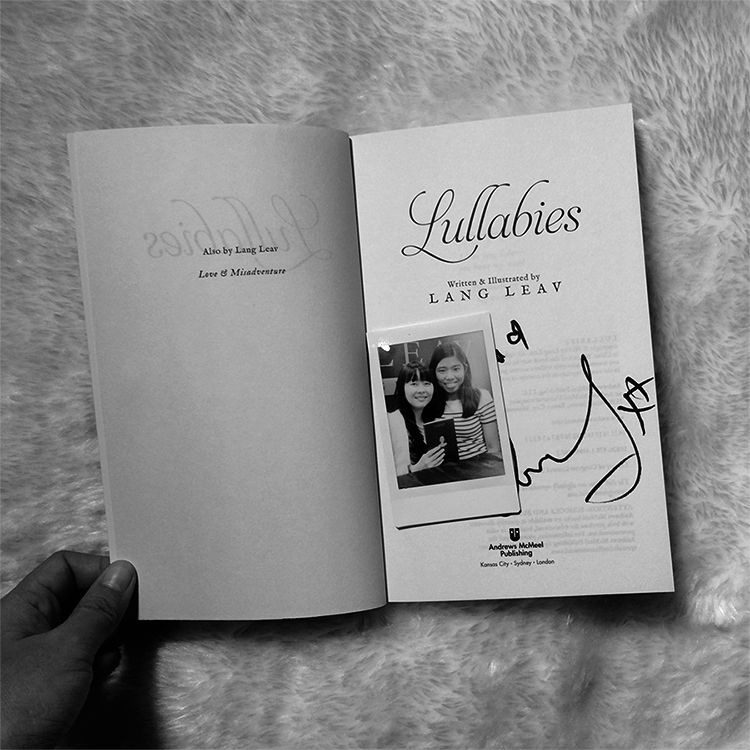 Between the two of us, I think it was April who had the most fun time. This photo just shows it all! Haha. I love capturing candid moments on photo. The staff was able to capture my moment hugging Lang Leav.. but I think that's only for my eyes to see. 😛

Once more, now with the obligatory photo of the signed book with the book and April. Thank you for meeting me on that day, and hanging out with me after the book signing! Thanks for taking me to Local Edition, too!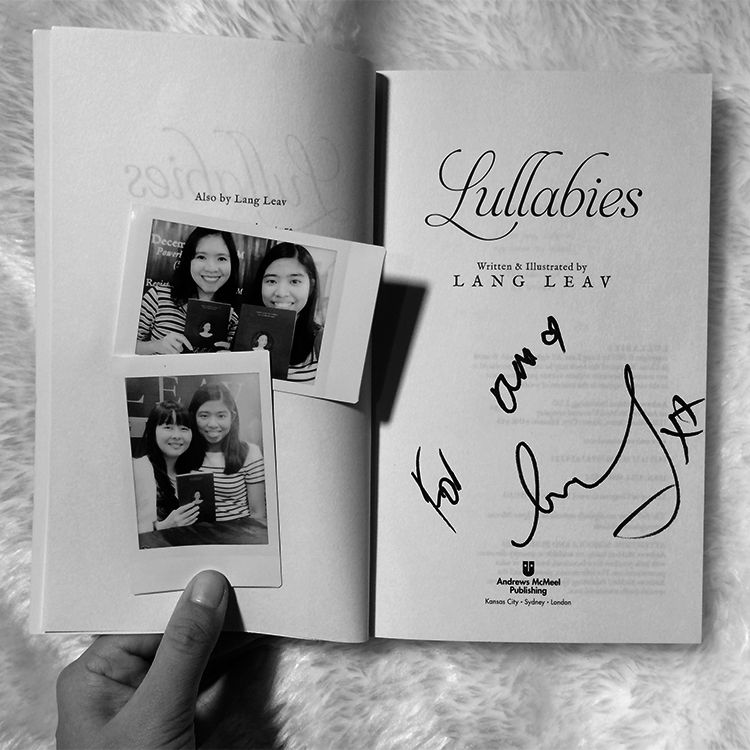 Lastly, thank you Lang Leav for putting our incomprehensible emotions of love and feels into words we can show to the world and proudly say this is how I feel. PLZ, FEEL EET. I thought about putting a philosophical line here to appear as if I'm a witty writer, but I have nothing at the moment. My simple THANK YOU should be enough. Oh and I hope you do return soon. Possibly, a later time of book signing next time please? Or more days of stay in Manila for more book signing venues, and have those 500 people split into 100 per day! 😛
PS: May I suggest to listen to this song of the same title, Lullabies, by this awesome Malaysian artist Yuna. It is such a lovely song, very fitting for the book!