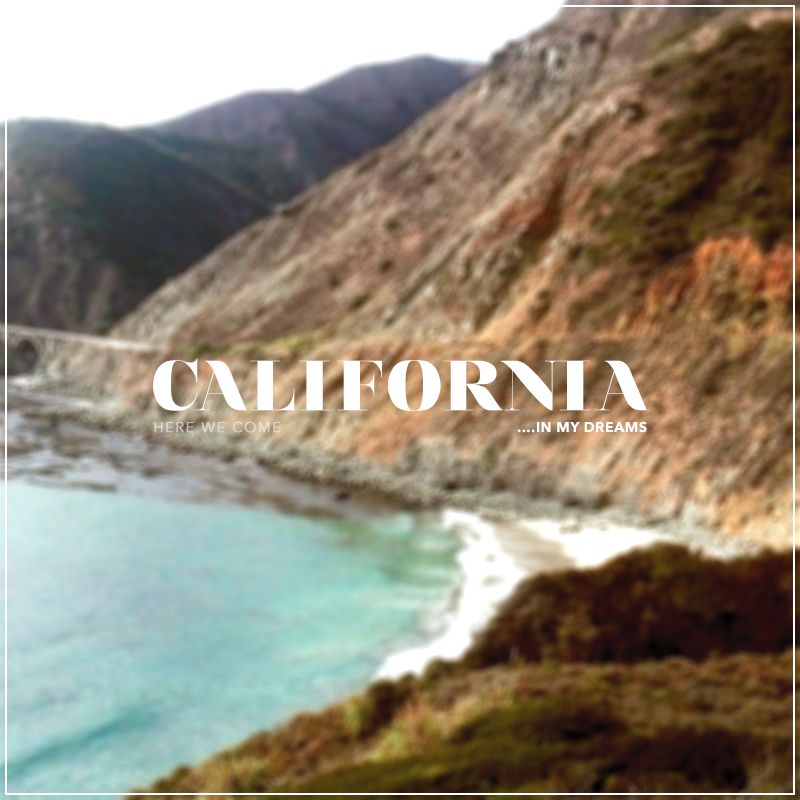 Here in the Philippines, a good percentage of people, if one were to ask them of their dream vacation destination, would answer one of the states in the North America, or one of the popular countries in the European part of the globe. It's almost always somewhere in the Americas though, in my observation.
Some countries around Asia are worth visiting, too, but it's accessible to most people here AFAIK since we're part of the continent. There are a handful of interesting countries in South East Asia as it is. So not many people make a big deal out of it.. This goes to the ones with less stricter to no visa requirements prior to entering the country, anyway.
As for me, at the moment I cannot go as far as beyond visa-free countries around Asia.. boohoo. But, it's free to dream and make-believe for a moment that anything is possible, so for the entirety of this post.. allow me to lay out my plans here if I were to go to the land of milk and honey. *eyes begin to glisten as I begin typing this entire post*
PS: I may possibly go over the board and write unrealistic stuff. My apologies in advance, this is a fantasy vacation trip after all. Haha.
I
Suppose that visa and other requirements aside from the plane ticket and money and commitments back home aren't a requirement going there. Suppose that in an alternate reality, the Philippines were a "first world country" and we could actually go to America with no hassles as if we're just going to a neighbouring country like Hong Kong.
Speaking of "first world" countries, is this term still used around these days? I don't know.. wouldn't know. I've always used it, whether in casual or lengthy serious discussions. Whatever, lol.
I would bring a couple of my close friends and my immediate family to this trip. Since this is a ~dream vacation~ let's set and assume that we'd have more than enough funds to cover the entire trip which is a 10-day trip.
II
United States of America is a huge, huge country. A continent on its own, with a lot of states to choose from. There are different laws and it varies per state. The default choice is almost always New York, but I prefer to go to… L.A., California.
III
Since this would be my first time traveling overseas, to the other side of the globe, I'm not sure how much time I would allot for travel. Going to give it a day and a half, then. Prior to the day of departure, remind me to book a rental in one of the cars from Turo (Formerly RelayRides). I am eyeing the '06 Porsche Cayenne they have for rent! I could have chosen something more extravagant but this called to my attention immediately in the airport rental cars section of their website.
Also, I would have to place some online shopping orders in advance so when I am there the packages would have arrived by then. No time left to waste once we're there. (Shopping online in the US is one of my must-dos when I'm there, because as far as shipping + customs in the PH goes, it is the most horrible thing).
IV
A day and some hours later (lol), the plane lands in USA's soil. Moments later, we're finally in good ol' USA. Cannot wait to get to our rented car and drive around in a new place where everyone is a responsible driver (as opposed to majority of the PUV drivers back in the homeland).
V
Settled in our temporary residence for this week, I google up places we would be going to. Half the group wants to go to the usual tourist spots, a small number in the group (myself included) wants to do mundane boring stuff in between just so we could get the feel of living normally in this new place.
Ok from this point on I decide I want to go to malls and retail establishments mostly, and parks. I haven't thought about it yet.
VI
We would probably be a group of grown ups and some old people, but we're definitely going to a Disneyland theme park at some point in this trip. Fond memories of the end clip of old Nick reality TV shows back in late 90s-early 2000 play in my head. I am talking about this one. I wonder if they do studio tours? A glimpse of the studios would suffice, I guess, if tours aren't possible.
Theme parks require the whole day to enjoy, given that most of the time you will be in queue for the rides.
VII
Day 3 consists of cross-country trips to various states. We'll definitely need a car again, so off to Turo again to rent another car for a 2-day trip.
At the top of my head, we'll be off to the following places, regardless of how far they are from each other.. hahaha.
Day 1 out of 2
SFO Golden Gate Bridge
Malibu
Chicago
Day 2 out of 2
New Orleans
Iowa
Wyoming
VIII
Back "home" at LA for the next 2 days and will do random mall hopping. Visiting shops that the Philippines doesn't have. Will do a bit of shopping. Imagine me choosing this day as the best out of this whole trip, for now.
I might have binged shopped on this day. Or my orders from online shopping probably arrived on this day.
IX
Four days left to our US vacation and suddenly, every minute of our stay in this land is starting to count and it's coming close to its deadline.
We finally get in the bandwagon of US tourism and go to New York.
New York is busy at the time of our arrival. Shows are happening everywhere you turn your head: Concert here, theatre play over there, some big awarding ceremony public event on the next day, etc. So many events to choose from, all of them equally big hits and popular.
We decide to go our separate ways for our New York phase of the trip and attend to our personal interests. I went on to watch some live music shows, and do some shopping during the day. It's New York, shopping is synonymous to the state itself — of course I will do some shopping when I am there! 😛 Going to ride and drive around in style in this baby, the Infiniti JX 2013. 😆
24 hours later and I'm pooped. Dead tired from getting lost around the city and shopping. 😆
At this time I can't name any specific stores I would go to since this is a rough draft~ of my dream vacation~. At this rate, I/we have, more or less, have consumed a lot of money. Wow, good thing this is just a dream and far from reality. 
The next day, we are still in New York, at the place we have rented for the 2 days. I finally decide to hit up the parks. I don't know why I suddenly have this need to check out a park over there. Maybe I am curious and seeing other friends post about it inspired me in a way.
Twas a peaceful morning in the park, that day. I had the time, thoughts, peace of mind all to myself for the meantime. I had my journal with me, and I started writing in it, with no regard for spelling, punctuation, and most especially, the grammar. I probably drew random things on the pages too.. maybe.
That night, we (the traveling group) met up and decided to do something as a group as a goodbye thing since it's our last day in this state. Being Filipinos, once you're away from home in only a few days… you start to miss it. We miss eating Filipino food. I love the US, but I miss home. And for us, food takes us back home faster.. so to a Filipino restaurant it is!
Jeepney is one of the recent booming Filipino restaurants in New York these days. They're popular for their "Kamayan Night" where in you eat in an all Filipino buffet using just your hands as silverware (meaning, no utensils.. forks, spoons, etc.).
I normally don't eat with my hands back home, but if I were to do it here.. I would find the experience funny. We'll see. 😆 I would look forward to tasting Filipino food in such a situation though.
X
Last two days in US to do our last minute errands and rest for the flight back home. The past 8 days have been amazing and a would-be-an-unforgettable-trip that we ever took part in. Packing is sure going to be a bitch, but saying good bye would hurt much more. What more if we actually knew a lot of people, made a lot of friends, created networks.. connected to a lot of people than we anticipated? Pretty sure good byes would have hurt so so so much more than I am anticipating.
In our last day, I thought of checking out famous food and fast food chains in whichever state we find ourselves in. Specifically food restaurants that the Philippines doesn't have again. Hahaha.
————————————
And that's the end of my dream US vacation. Back to the real world now. Thinking realistically, I am sure half of the things here are unattainable and possibly far-fetched.. and just alone the expenses, probably a LOT. Oh well, this was just a rough draft. It all sounds perfect written down, now if only it could come true in some point. 🙂
Photo credit: California Coast Line by kellyeld @ freeimages