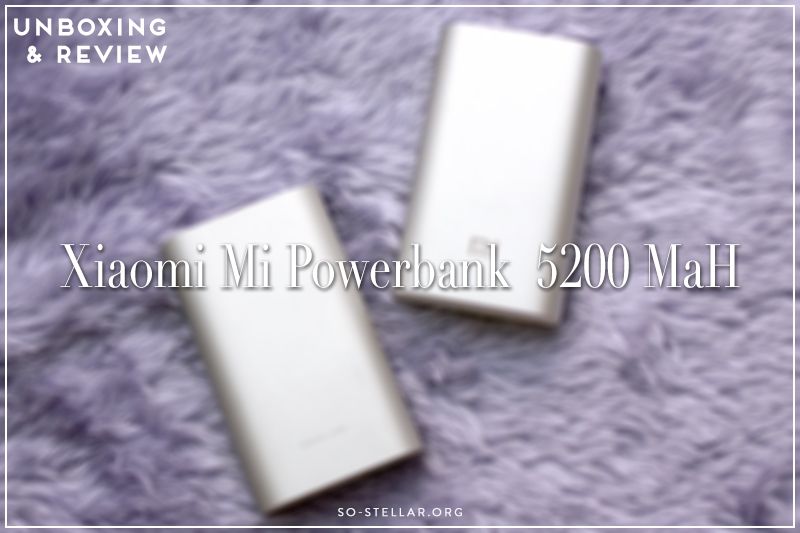 Xiaomi, referred to as "China's Apple" by some people, and apparently some blogs, made headlines a just a few months ago this year. AFAIK, it started from the time they released the Mi 3 smartphone. Much of the buzz about this new brand is mostly about that phone. In a nutshell, the Mi 3, as I'd like to describe it, is an affordable Android smartphone with features and specs as good as a premium-branded smartphone out in the market right now. Affordable because it only costs less than PHP 11,000. (As far as my backstory about the Mi 3 goes, this is only the extent of my knowledge about that phone.. moving on!)
That's nice and all but I wasn't looking for a new smartphone at the moment because I am very much contented w/ my iPhone 5S. However, I am looking for a more handy and easy to carry around powerbank. Something I could bring with me when I'm outside for a shorter time. I use my phone a lot when I'm out and about, especially 3G (mobile data).. thus the need for extra battery power. This is where the Mi powerbank comes in. 
In case you are wondering, my Romoss powerbank is still working and I still use it. From long time use, however, I have noticed it is too heavy for day-to-day usage and it is also bulky. So I decided to only use that one for long trips, say during an out of town vacation. 
I could care less about the Mi smartphone, but as soon as I found out they sold these powerbanks for unbelievably lower prices, and they also look and sound (from what the other reviews say, I mean) like they're of really good quality, I made sure I would purchase a couple of it for myself.
The Xiaomi Mi powerbanks come in two variants: the 5200 mAh and the 10400 mAh. The latter sold out quickly at the website that sells it officially, so I was only able to buy two of the 5200 mAh. Up to this day I am still trying my luck to snag a 10400 mAh Mi powerbank!
Moving on.. here are some photos of my "unboxing" of the product. Actually, these photos are taken later on because I was only able to shoot recently, so you might notice the powerbank itself is a little used from the scratches on its body in the following photos.
——————–
Xiaomi's packaging design is pretty simple. I'd say they're trying to emulate Apple's minimalist packaging style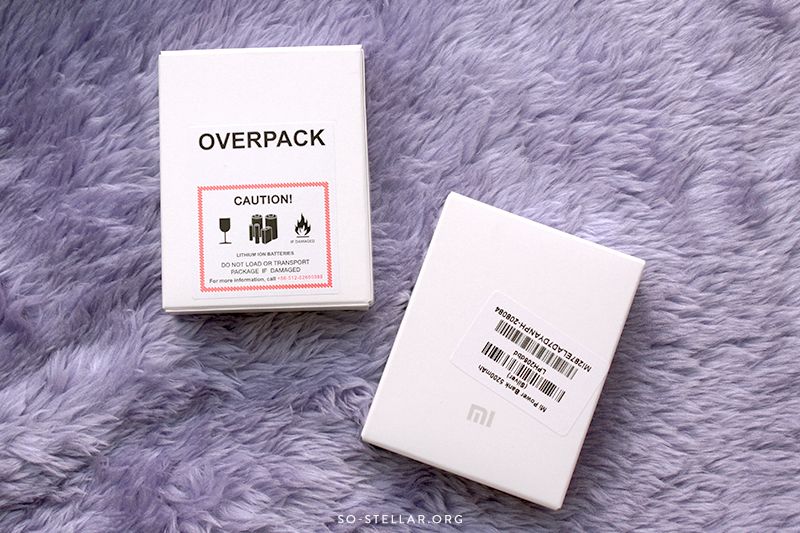 Back and front views of the Mi powerbank (website engraved on the back, logo engraved on the front)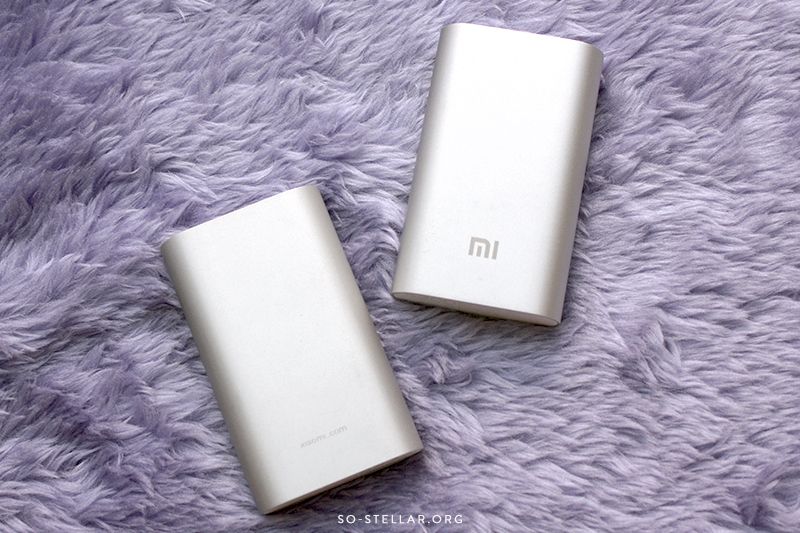 Bottom and top views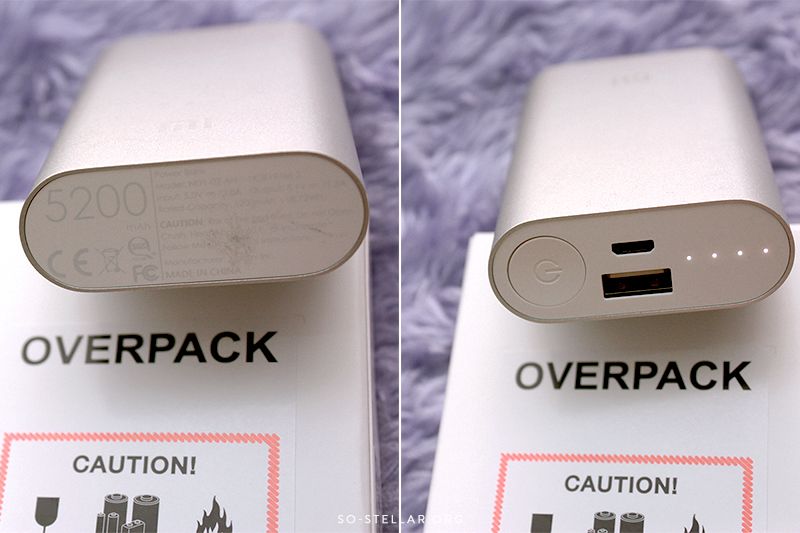 (bottom will show the capacity of the powerbank, on top are the input and output & battery indicator)
Lots of good first impressions when I took out the Mi powerbank out of the box. I love that it feels solid to hold, it also does not feel cheap, not heavy at all (!), and it looks like it's made from premium materials, and that it was made it with precision. What made me say that? Well, it looks like it could give me a papercut when I held it for the first time and I was cautious with it because I might cut my fingers with it (lol).. from unpolished edges, probably? But so far it has yet to do any damage. Lastly, I am in love with its brushed aluminum finish! It doesn't even have a lot of stuff written on it, yet it looks very nice. It looks nice side to side with my MBP, too. Lol.
By the way, there are fakes of this going around. I'm pretty confident mine is authentic though because in one of the videos I saw differentiating the fake Mi powerbank from a real one, it said that real ones have the mAh printed on the bottom in a color that's hardly readable. And I think the one here is hardly readable. It was even a struggle to take a photo of it and make sure everything shows up clear on the photo. Below are powerbank side-to-side with a smartphone and a card for comparison of size.
The powerbank side-to-side with a card (this is the regular size card that fits in your wallet, not a special size)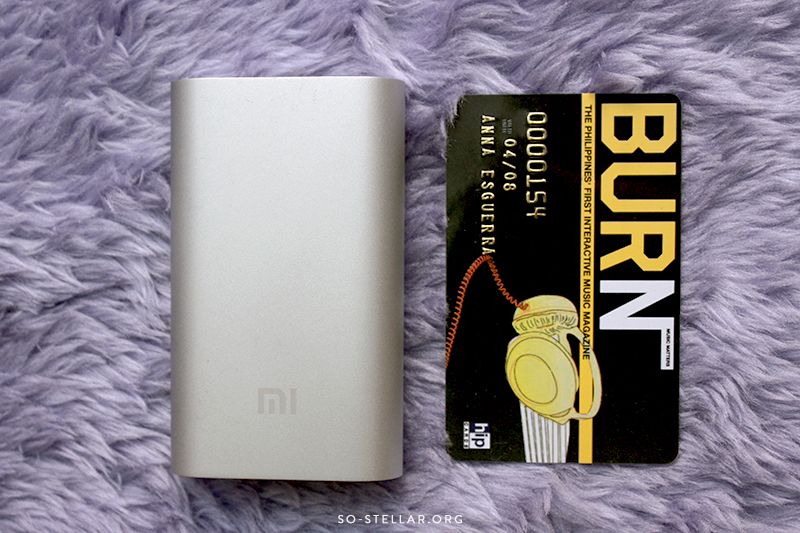 Yeah I thought of concealing the information on the card but it's expired and this is just a membership card anyway. RIP Burn Magazine! So anyway, on the product page of Lazada, in the product information it says that the powerbank is as big as a credit card. I was expecting it to be like that, but lo and behold.. it's a little bigger than the size of a card. Not a big deal though, it's still pocketable and handy.
This time, side-by-side comparison w/ an iPhone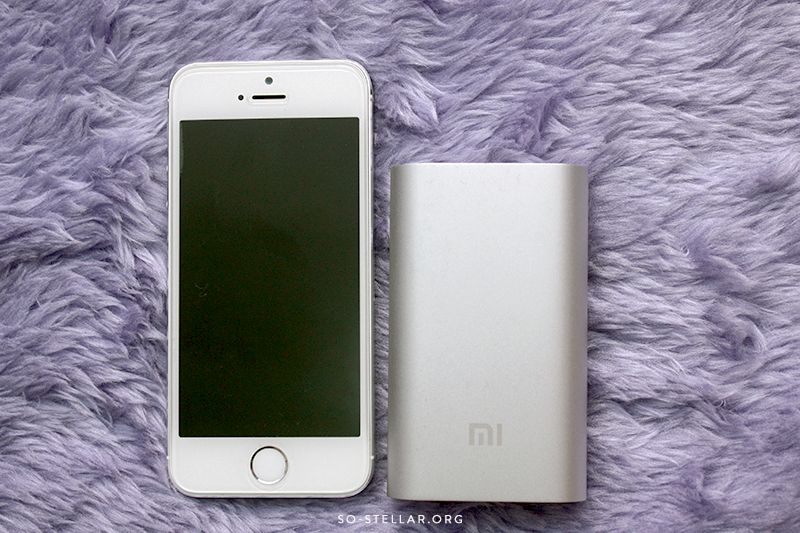 The iPhone would be taller, of course, but the powerbank will definitely be thicker haha. Still, they look good together. Color-matching and all. Since the powerbank is small and light, you can easily slip this in your pocket while you charge your phone or use it while charging. It won't be a nuisance. Or get a longer Lightning cord. 😛
Contents of the Mi powerbank along w/ its box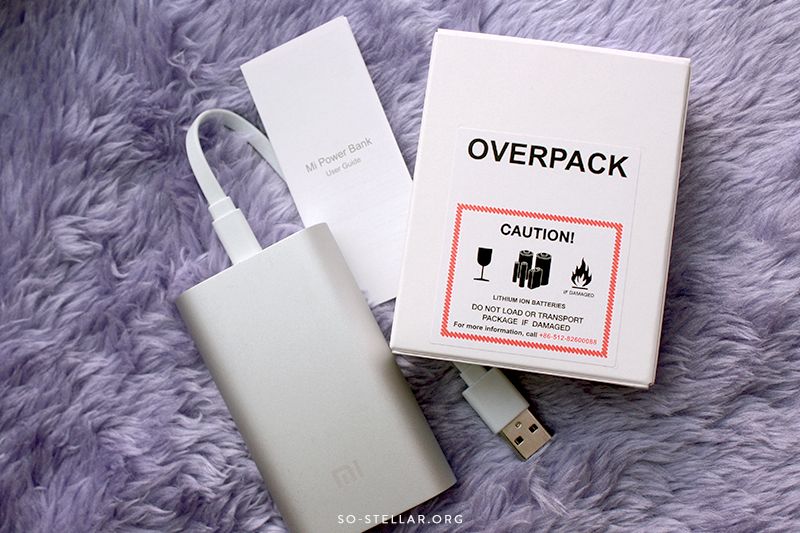 You get the powerbank, a small piece of paper which serves as its user guide, a micro USB cord
REAL-WORLD USAGE AND PERFORMANCE: I ordered the powerbank last August, so that makes it two months old. I think I've used it plenty of times to give an honest feedback about its performance. Well, first it is true to the advertised and expected battery capacity. I bought two pcs. of the 5200 mAh variant. One 5200 mAh powerbank should give me 3 full charges, according to my phone's mAh (which is 1560 mAh). It can charge my phone back to 100% battery life 3x if I charge it with the mobile data turned off and no heavy apps running in the background (but still do normal calls and texting), otherwise maybe just around 2x full battery.
I also switch between the two powerbanks: I bring with me outside whichever is fully charged and leave the one at home to charge while I'm out.
If I were to use my Android phone, then the provided micro USB cord would have double purpose and I think that's a good thing cuz there would be no need to carry an extra USB cord. I can charge the powerbank to a wall outlet and switch the cord to use it with my phone next.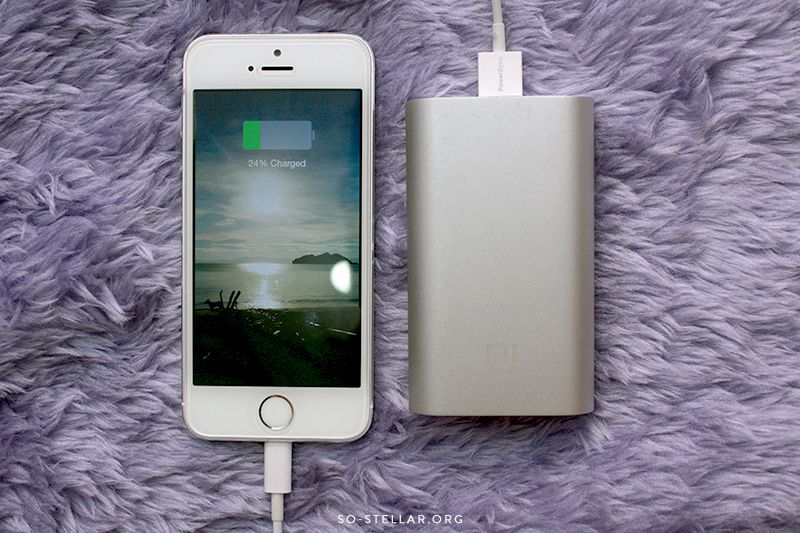 Lightning cord used in photo: PowerSync brand, P295 bought it from Octagon
Your device will immediately recognize it is being charged as soon as you connect it to the powerbank, too. Another feature I liked. Now I don't know if that's the standard, but my other powerbank never did that. Although when I purchased another powerbank for a friend (same brand of the other one I have) and tested it, it was quickly recognized by the device and it flashed on the screen a charging prompt.
I highly recommend the Lightning cord used in the photo too (especially if your Lightning cords often break) because it's very cheap, but does not feel and look cheap. Bought of those as well. Now I never use my 'real' Lightning cord that came with the phone itself. And it looks like it won't be snapping or breaking off in any way anytime soon. BTW I've never broken any charging cable of my devices, so it kinda confuses me how people break theirs. 😛
Last but not the least important concern there is: DOES THIS WORK WITH MOST DEVICES? Yes. In my experience, I was able to charge the following devices: A bluetooth speaker, an Android phone, an iPhone, a Nikon digital camera, an iPad, another powerbank. It will accept most devices that requires a USB cable to charge, I think. The brand does not matter.
——————–
The Xiaomi Mi powerbanks can be bought from Lazada Philippines. They're also the official distributor in the Philippines, as far as I know. They usually have a flash sale every week or two (I don't keep track anymore) for their in-demand products (that would be these powerbanks), so be sure to sign up to be informed about the next sale if you're interested in getting one, too.
The powerbanks costs P445 and P645, for the 5200 mAh and 10400 mAh, respectively.
EDIT: (May 2015) Apparently, there's also 16000 mAh out in the market.. BUT, as usual, it's sold out everywhere. I wouldn't recommend getting the overpriced ones by those hoarders who buy and resell them for thrice its SRP.
Disclosure: This is not a sponsored post. The featured products were purchased with my own money. All thoughts and opinions regarding experience with using it are my own.