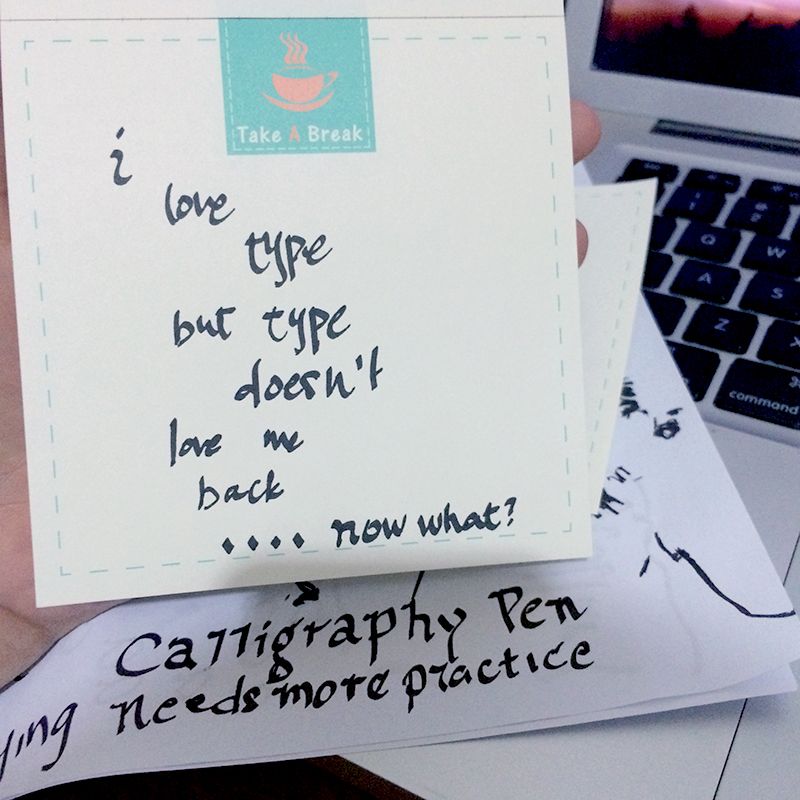 I love art, but I love type even more. When it comes to graphic design, I prefer to focus more and study (if I could, I would) more on type. I think it's the simplest form of visual communication that's very flexible to work with as soon as you've worked your way around it. The possibilities of manipulating type, visually, are endless too.
Now, like everybody else, I, of course, would like to try my hand at it, too. There's this trend I noticed for a couple of months now. Everyone's suddenly into hand lettering, calligraphy. Before, it was called "Doodling", to me at least. People writing off random words, or could be lyrics, passages, quotes, etc., and not just writing it for the sake of writing, but writing it beautifully. Design it with pens, markers, whathaveyou.
And so.. After resisting hard from joining the bandwagon of letterers, calligraphers, last but not the least "doodlers".. I gave in, surrendered and joined in the craze of hand lettering!
With that said, I am also saying bye bye to my money.  This could be just a phase because I have too much time in my hands right now, that I don't know how to properly maximize and distribute my time to do productive activities. But let me tell you something about this hobby: It will burn right through your pockets before you even learn to master the proper way of holding a brush pen. Happened to me from the moment I purchased a brush pen.
First things first: I have had some basic training (counting what was taught to us back in college), but I admit that I was never good at it. I barely passed all my classes that involved making paintings, or freehand drawings. That particular term in college where all my classes were all about drawing, painting, sketching, coloring, were my least favorite. When I was done with those, I was very relieved and made sure I wouldn't ever have to do those things again and that I look forward to concentrating on making art digitally. Never again, pen and paper!
Fast forward to 6 years later, I am back to hoarding art supplies even though I know I suck at what I would do with them. Pens were a bit hard to find, as I wasn't sure exactly what to even look for. I just bought what I saw people on IG had on their WIP photos and figured it out from there. Later, I found out that there's some sort of special paper for this, and that you can't just use any paper. Ink would bleed out and tear the paper if it's the cheap kind, and other reasons. As for me, I found some spare A4 papers around the house, and started from there.
"But it looks so therapeutic to do, what could go wrong? The videos make it look SO easy!", I said to myself. Obviously I was wrong. As soon as I got my grubby hands on brush pens and calligraphy pen and sat down, and paying attention to a couple of videos.. I was struggling so bad at it.
For a beginner, I think this was terrible. Or I could be just being too hard on myself. We (ourselves) are our worst critics after all. Anyway, some people said it doesn't look that bad. Which I am relieved to know, at least? I don't like showing my handwriting either because, it's that messy. A friend suggested we take workshops of these, and I refused because I'm too stubborn and I don't want to spend on it… even though I know if I learn how to do better from that workshop, it will be a fulfilling experience for myself. 😛 Ask me again in a few months, maybe I'd have changed my mind by then.
So that was my attempt at doing that. It doesn't even go either under calligraphy, typography, or hand lettering. Lol. I obviously just wrote on a paper with random lines and thoughts. I wish I could be better at handlettering. Sketching and freehand drawing is a far cry for me. Learning how to draw letters by hand is the closest I can achieve.
By the way! I tried both calligraphy pens and brush pens. In my experience, I find brush pens to be easier to use than calligraphy pens. Perhaps I should use both pens to really find out which one works best for me. So far it's the brush pen, judging from my impromptu practice session two days ago. However, it wasn't a fruitful practice yesterday. Either my brush pen has worn out, or it's out of ink already, or I've lost what little patience I had for it. The text on the piece of notepad was done just a few minutes ago while I was typing this post, from a 2.0 calligraphy pen.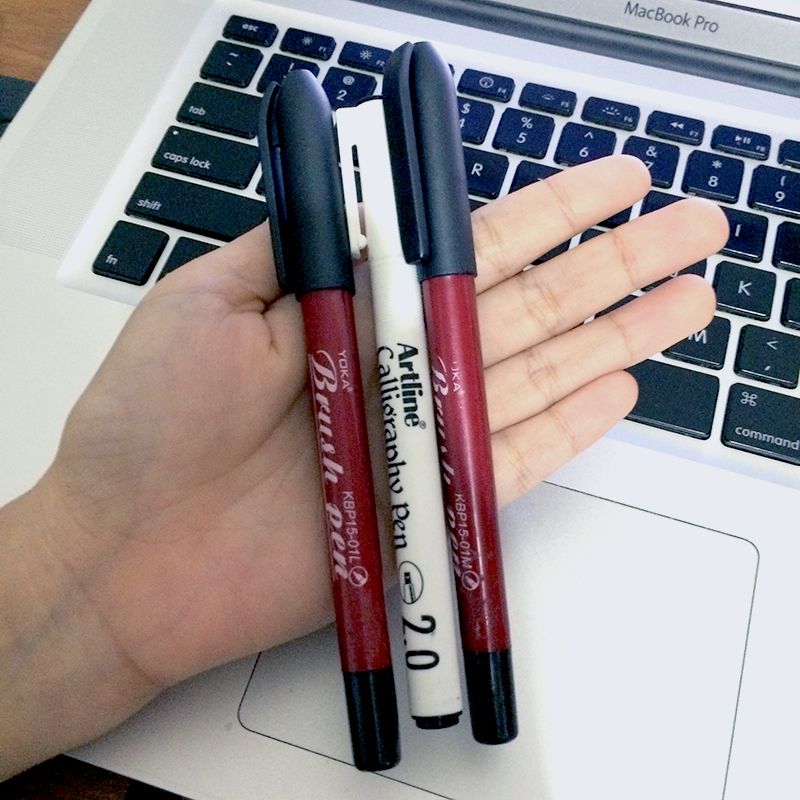 Just be content you were able to write decent and see brush strokes!
I suppose I could put it this way: The moment I do become that good in this.. that's when I've reached inner peace, or maybe nirvana. Whichever comes first to mind when I'm there, that'd be great. Why this strange analogy? Apparently, you need lots of patience before you can learn the basics, before you even become decent at it. Loooots of patience, which I don't have, when it comes to drawing (and any other artsy fartsy activity involving hands lol).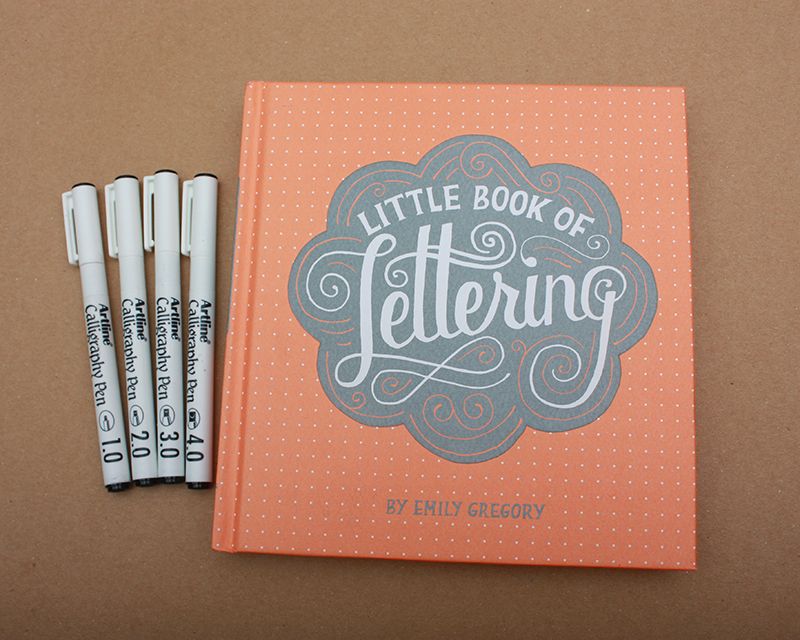 Other than the pens, I've started buying a couple of inspiration and guide/how-to books on lettering and calligraphy. This is one of them. Buuut, I'm putting this one for sale instead.. yes, those pens are included too.
In a few weeks I will be away, and I think my to-do list is starting to fill up with pens and markers to buy (Zig Kuretake Wink of Stella and Luna are on top of my list). And two more books to complete the collection. Oh no. 😆 But I promise, this will be the last. Definitely no more spending after that, and will concentrate more on actually putting these "hoarded materials" to good use and for peace of my mind.