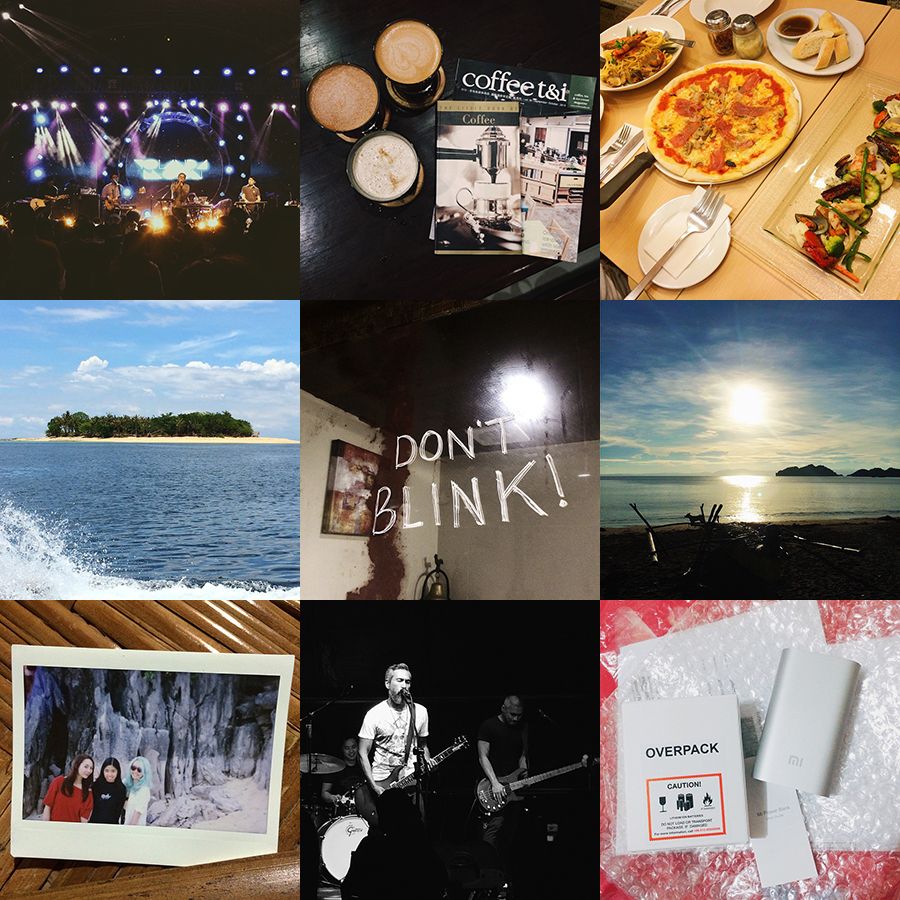 Hello world! I'm updating from the comforts of my bed right now because I can't be bothered to get up and do it from my desk. Not feeling well at the moment, and I'd like to think this is from the constant going out in the past weeks. My health has finally taken a toll on me, sadly. This sucks, too, because my birthday is coming up. FML
Getting sick just a few days before my birthday is normal, in my case. I don't know why. And as always, I never learn. I could say now that I won't go out weeks before my birthday, in hopes to avoid the same thing happening over again.. but give it a few more months and I would have forgotten about my ~promise~.
Anyhoo, I've always wanted to do this thing I see in blogs.. wherein you post 6-9 photos from your IG feed from the previous week and give a description to it. It has a bunch of different names, and I don't know if this one I'm using is taken or is being used widely or owned already.. But here you go, my "The Week That Was". Lol. I don't do this kind of post that often because I don't have an exciting IG feed like everyone else since I'm mostly at home. However, the last two weeks have been crazy and fun.. and definitely made me busy than the usual. 
I'd like to also call this compilation (above) the rundown on how I got sick. With the exemption of the very last photo of course, hehe. Let's start.. so from left to right..
1. YOLANDA MOON AT GLOBE SLIPSTREAM: Last Saturday, Shereen had extra tickets to the Globe SlipStream outdoor music festival event and asked me if I wanted to watch. I was available, yes, but at this point I was beginning to feel more sickish than I was two days ago. I still went despite that. It was cool, finally watching the bands under Terno Inferno's management other than UDD this time. I like Yolanda Moon's set, Autotelic's music take some time getting used to. Probably need more time to listen to them. 🙂 Also the highlight of this event was the daytime event aka seeing Marlon Stockinger. Haha.
2. MAGNUM OPUS: Thursday, just two days after our recent Caramon trip w/ them, I went to see my friend's band (Demi) play in a gig which also coincidentally is the last leg of Teeth's reunion show series/tour(?). So I got to watch two bands I like in one night, not only that, I got to hang out again with these two. Somebody stop me from being too clingy, please! Lol. Sorry, I got off topic here. That photo is from Magnum Opus, a coffee shop. Highly recommended by coffee enthusiasts, and the ambience is just perfect. This is the coffee shop they talk about in social media w/ the TARDIS restroom, btw.
3. LOMBARDI'S ITALIAN RESTAURANT: Before we left for Caramoan last last week, we had dinner in Lombardi's inside the new wing of Shangri-La mall. It was my first time to eat here, and I was expecting the food to be really good since it costs quite a lot than the usual places I eat at. See my review of it here on looloo. I can vouch in that the pizza was good!
4. AGUIRANGAN ISLAND, CAMSUR: During the trip going to Caramoan, we rode a boat that would take us to the main island (of where we're really supposed to go?? lol) and in that two-hour trip.. I noticed this island sitting perfectly in the distance, looking way too perfect to be a natural island. I only found out its real name when someone commented it on my Facebook post. Haha, thanks Monique! 🙂 I was expecting this island to be part of the islands included in the island hopping package of our tour, but it wasn't. Boo. Maybe next time. For now, I'll just appreciate you from afar and from a photo.
5. DON'T BLINK: I just had to take a photo of this when I saw it inside the TARDIS comfort room in Magnum Opus, in BF. Haha! It was either take a photo of the front door (the TARDIS) or this. It was dark outside, so I couldn't take a pic of the door.. so I went with this. I haven't seen the new Doctor Who, by the way. I kinda stopped watching.
6. GOOD MORNING, CARAMOAN!: While everyone was asleep in the morning, I was the one who was wide awake at 6AM the next day because I fell asleep too early. I missed out all on the fun, too. I thought of going out and basking in some morning sunshine (loljk no) and this pretty view greeted me. Pretty in the sense that it looks great in photos; In real life, this burned my eyes. But it's not always that you get this great view in the mornings, especially when you live in the city.
7. ISLAND HOPPING, DAY 1: Just a few hours after we've settled in our room in Caramoan island (Hazel's is the name of the place we stayed at in the first day, would rate it 4/5!), we went out island hopping! I was anticipating it to be tiring (as if I wasn't deadbeat tired already hahaha) but it was pretty chill, which I am relieved to find out. So yeah, 4 islands, photo taking all around and swam a bit. Glad I said yes to joining this trip! And now I have separation anxiety. 😆
8. FRANCO AT 12 MONKEYS BAR: This place has been getting a lot of hype for months now.. just glad I finally found a gig w/ the bands I wanted to watch and with the right people. It's like an upscale music bar in my opinion. Location is great, if you have a car, not very commuter-friendly IMO. Food's a little expensive I think. Other than good music and ambience, the bonus here is musicians and celebrities frequent the place so you might spot someone famous and.. if you have the guts, ask for a photo-op with them. Heh. That night, Basti Artadi and The Nice Ones and Franco were the bands playing. This was my first time watching Franco. I know some songs but wasn't able to hear the one I like being performed. The audience impact during his set was undeniable!
9. MI NEW POWERBANK!: Two days ago, Lazada did a flash sale on these Mi powerbanks. I was supposed to get the other one w/ a higher capacity too but it was sold out in just less than 5 minutes. This one was the only variant left, 5200 mAh good for 3 full charges on my phone, and for a slashed down cheap price to.. so I went ahead and bought two! Undecided yet if I'll let the other one be used by my brother, but probably yes? If he asks nicely? Haha. I can't get over the fact that they look pretty too. It matches my phone's color, lol. Will do a review of it when I'm well and have tested it enough.
——-
That's all for now. I gotta go back to bed. I just wanted to post something before the week ends again because my blog is gathering dust, again. 😆 I have so many things I want to write a post about but either I haven't found the time, or get lazy when I'm infront of the computer, or I forget about it. At least this compilation post is a glimpse of what I would be posting about in the next couple of weeks. Hope you enjoyed reading, and sorry if it's super long. 😛 Can't help myself.