Hi everyone!
Though it's very late to make this announcement, I think I owe it to you who have voted me to let you know that I made it to the top 25 in my region and the top 100 finalists in the Big Blog Exchange 2014. 🙂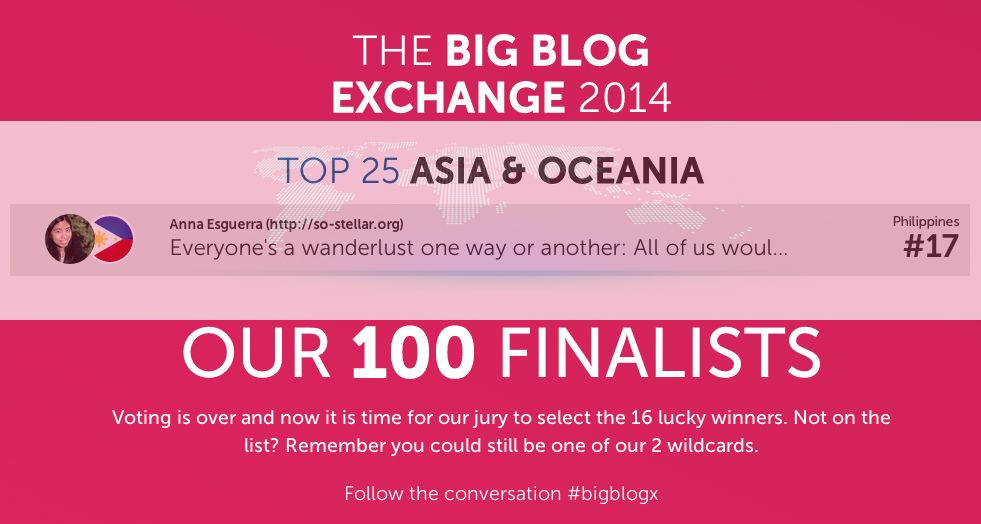 They're gonna announce the final 16 bloggers who will be part of the exchange tomorrow.. or on the 17th, maybe. Lol timezones confuse me. I haven't put much thought about this at first because I was expecting I wouldn't make it to the top 25. I kind of forgotten about it too, until a friend sent me a tweet saying I'm included.
Best of luck to everyone who will be included. Have fun!
And lastly, thanks very much for taking the time to spend 5 minutes to vote for me during the campaign. Or sharing my tweets/posts about it around social media to your friends. Every vote counted, and now we're here. I stopped halfway w/ the campaigning, but I think some people still found the post and clicked from it.
THANK YOU!!
And if I don't make it, there's always next year to try again. No worries.