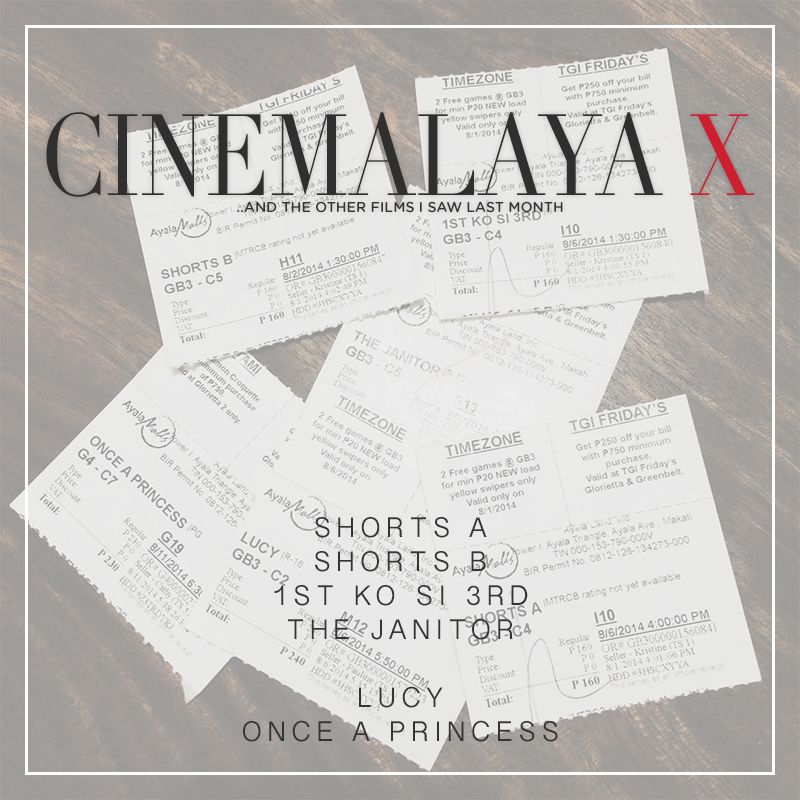 Posting this late on purpose because I did not want to influence anyone on their choices in this year's Cinemalaya X's film festival should they stumble on my post while doing a Google search for which movies to watch.
Now that a month has passed, I think it's safe to post what I thought about it. 🙂 Yes, other than the films I watched during Cinemalaya, I also had the time to watch a couple of movies out of the roster. One of them was on the same day I watched 2 other films first. So it was like binge-watching at the cinemas all day. Yes, at the end of the day, it wasn't a good feeling. It gave me a headache after lol.
Without further ado, here are my thoughts about the films I watched in Cinemalaya X. I hope I won't slip in a spoiler or two. Also, I'm not one of those serious movie critics. I just wanted to share what I thought of them. 😀
SATURDAY
Shorts B I'm gonna say this now.. between Shorts A and Shorts B, the latter has the better short film compilation, in my opinion. It just sucks that I was late to arrive. On the same day, I made a note to myself to never ever take a 1PM screening schedule for any movies ever again. Haha. And because I was late, I wasn't able to watch the first short film, Indayog ng nayatamaK.. and was only able to catch up w/ the last 30 minutes of Lola instead.
Lola – Cool short, but the common theme is overrated for me. There's also a plot twist here. I'd say this was also the big acting break (though she's more popularly known as a cosplayer, among other things) of PBB winner Myrtle Sarrosa. I appreciate the fact that she chose to be in an indie film.
Would I recommend you to watch this? Yes, I think many people will actually love this one. (Well if you can get to watch this separately, otherwise, you don't have a choice but to watch this and the other 3 short films!)
Ina-Tay – When I saw the trailer for this, I was immediately convinced that I wanted to watch this in the big screen. I was probably looking for something funny and light-hearted to watch during Cinemalaya (afaik, films in this festival tend to be serious most of time) and this was perfect, even more that it's a short film. Just the right amount of funny, and drama.
Would I recommend you to watch this? Yes. You'll love it and it's hilarious. 😛
Nakabibinging Kadiliman – Simply described in its synopsis as "about two physically challenged sisters trying to find a way to live a normal life." Nothing exceptional, I feel that I might've seen another movie before w/ a similar story. Good ending though. Felt like I needed to watch the last few scenes leading up to the ending to understand it more, but now all I have is regret not paying 100% of my attention into it.
Would I recommend you to watch this? The story is realistic, I think it's good enough.. likeable. Not a bad short, actually. It's just I didn't find anything remarkable about the story. I'd still would watch it though.
Eyeball – Ok, I was fine about missing a whole short film and half of the second one in Shorts B, but I'm so glad they put this one last to show because this is the reason why I chose Shorts B in the first place. I'm a sucker for stories centered about people meeting online, regardless if it ends good or bad (Catfish, anyone? lol). Also, last year's Cinemalaya I watched a similar full-length film about a conman victimizing helpless, heartbroken women online, title is Babagwa. Anyway, the trailer is super funny… for me, and the whole short is just as funny. And the ending, well… you can look at it in two ways: laugh about it, or feel sorry for him. Haha! Daswhatyougetforbeingcocky.
Would I recommend you to watch this? Sure, hahaha.
WEDNESDAY
First Ko Si Third – From the trailer it looked really, really good.. but it was bitin when I watched it. Maybe I had high expectations, or expecting that typical happy ending for a film like this? I forgot that this is indie.. where the ending is always open to interpretations, and it always makes you guess what or how it should've ended instead of giving the audience an ending. It was a cute movie. Cute, but realistic.
Would I recommend you to watch this? Yes. But lower your expectations a bit. I wish I did. It got me expecting too many things only to be let down by the end. 😐
Shorts A – To be honest, I didn't have enough background about the short films included here. Only a few films stuck by me after watching it.
Asan si Lolo Mê? – Not the right person to ask my thoughts about it, but I did see it. It was light-hearted, relatable for some, and OK for families to watch.. maybe they'll be able to pick up a tip or two about what to do, should they be in a situation like in the film.
Going Home – You're better off viewing the trailer of it than hear me talk about it. Out of the films included in Shorts A, I'd put this as the first on my list. It's like Catfish gone wrong, lol. I'd reference other movies that are similar, but it seems that "Catfish" properly sums everything up without having to explain much.
Would I recommend you to watch this? Yes!! And then be traumatized of going to the PH after meeting someone online.. hahaha just kidding. (The events that happened here, actually happens in real life, btw lol)
The Ordinary Things We Do – For 10 minutes or so (IDK, I didn't really time it) we were subject to this short silent film. I didn't get it, and it left me confused and frustrated. Shrugged it off and hope the next one isn't like this. Looked it up online after and facepalmed because.. why didn't I get THAT message the first time when I watched it??! The later scenes were awkward, too. Also this is a thesis by a student from UP. Okay. Good concept, despite my lack of comprehending it at first. I blame the fact that I've watched a full-length movie first.. mentally tired. Haha.
Would I recommend you to watch this? Yes because I want you to be as confused as I was when I watched it. Or not, you'll probably get it the first time.
Tiya Bening – Another movie that kinda had a plot within another plot.. or maybe I am remembering it wrong now. Not as confusing ang hard to understand as the previous short. In the end, you might find yourself sympathizing for Tiya Bening. You would also love the style of this film too.
Would I recommend you to watch this? Yes.
Mga Ligaw na Paruparo – Another film tackling something related to relationships.. and something that actually happens in real life that couples often experience during their relationship. I remember feeling uncomfortable in some scenes. Idek.
Would I recommend you to watch this? Sure.
Thinking back and writing what I thought about the films for both Shorts.. I've realized that Shorts A is the one w/ more serious selections and topics, a compilation of short films that are more in tune with real-life events and possibilities. Meanwhile Shorts B has the typical themes of a film that I would say they're possible to be made as full-length films, but just shortened for this purpose.. still it doesn't end up bitin. Not to say that the themes of short films included in Shorts B aren't true to life or impossible to happen, but maybe.. it's more fit for the big screen, as opposed to have it shown "as it happens in real life", which was the case in Shorts A.
Lucy – I had 2 hours to myself before I meet up w/ my friends to watch the last movie of the night on this day. This was right after watching Shorts A earlier. Anyway.. instead of roaming around the mall for hours, I thought I'd sit back and watch something and consume those 2 hours. At least I'll be rested (though my head and my eyes won't, lol).. Perfect that Lucy just premiered for showing in cinemas that day, so I quickly bought a ticket for a seat just right smack in the middle of the cinema. Perfect timing is perfect.
After a day of watching indie films for 3-4 hours non-stop, I was relieved that Lucy left me relaxed yet energized again when I watched it. Hahahaha. I love indie films because they're thought-provoking, but maybe next time I'll take it 1-2 a day.
The movie was great. Thrilling. Does it need a part 2? I don't think so. Can you really hate it though, if you're not watching to find any faults in it? Morgan Freeman was in it, ScarJo was badass like the usual. I'm a sucker for movies about people getting skills that's beyond human~, so I definitely enjoyed this one. It looked to me like she was still in her Black Widow role in this one.. I'm probably just saying this because at the time that I watched Lucy, I recently saw the recent Captain America movie.
The Janitor – We finally came to the last movie of the day! 9PM, last showing of this Cinemalaya full-length film. First impressions upon seeing the trailer a week (or just days before, don't remember) before were.. typical action film involving politics. I have no idea what to expect, actually, because the primary reason why I watched this is because of one of the actors starring it in.
Would I recommend you to watch this? Yes! If you get the chance to see this in theaters.. DO IT.
Well, when we watched it.. I was left impressed and speechless all throughout. Really paid attention from start to end in this one. Who knew there would be that much gore in this one?! While my friends were cringing and trying to repress memories of seeing that multiple gross scenes from The Janitor, my eyes were glued to the screen. Mwahahaha. I realize that the movie portrays accurately how justice is done here.. or lack of it. The system sucks and we all know it, yet nothing is done to change it.
I have no complaints or anything to say about it. Though, it did reminded me of OTJ (On the Job), another indie action film slightly about the same things The Janitor was about. Something you might want to look up.. then again, OTJ was pretty much all over the media and shown everywhere last year. Hard to miss.
MONDAY, THE FOLLOWING WEEK
Once a Princess – There was a lot of buzz, hype, talk, critic about this movie. For one, it's based off a best-selling local novel book here. I've never read it but there you go. I watched this because of Enchong Dee, mostly. Haha. This is nothing like his other films that are of the cute boy-next-door type. The character he portrayed here is much more mature, and this may be the break or "step up" I have wanted for him to get into in his acting career. Coz when I started watching some of his shows (TV mostly), I noticed he's typecasted into that cutie/crush ng bayan roles for years, and it doesn't give him room to expand his acting skills.
To be fair, he did have some unknown (maybe?) films that were way better than the ones that were too overhyped. (Like that movie where he portrayed a mute teacher in Paano Ko Sasabihin) But his character in Once a Princess was really different, and damn well I welcomed that different side of him. He held a gun FFS! Why didn't he shoot the person though? JK.
People who have read the book and saw this movie said that it had a LOT of missing scenes that were essential to the story and they feel that the movie butchered the book, also the timing was too fast. For somoene like me who watched it with not much expectations and didn't read the book, I say it was okay. The ending was decent for me. What I would agree on is that the pacing was too fast, and the events rolled out too quickly.
*******
Well that was awfully long. I finally got that out of my system after a month. Again, I am not a serious movie critic. I just wanted to share my thoughts about the films I picked to watch in this year's Cinemalaya. Are you bored yet? 😛
The independent movie industry has changed in the last couple of years, too. When I first started watching these kind of films, most of the actors and actresses in it were unfamiliar to me. You very rarely see an A-lister celebrity in these films.. and even if you do, they're not the actor who is very visible on local TV 24/7. But now.. especially this year, there's at least 1 well known, famous local celebrity in an indie film.
Not sure how to take this for now.. if I should be happy because both independent and well established under the limelight (there has to be a shorter term for this!) are merging and working together OR sad because anytime soon these independent films may become like the mainstream run-of-the-mill kind of movies, and just done for the sake of making money. Sometimes the "we just want to make people happy" reasoning of making a crappy film doesn't justify it anymore. 🙁
A few weeks after Cinemalaya, I gave in and watched SDTG (go figure what this means, haha!) with my friend. I was expecting an average teen romcom, but it was way different from what I was expecting. Thank god. Well executed, good story, pacing, timing, everything fell into place. Could it be the choice of cast? A very very big following? Cinematography? Whatever the formula was in that movie, it worked on me and made me like love it. What a relief to know that despite crappy films come out more often, some quality ones do still show up once in a while.