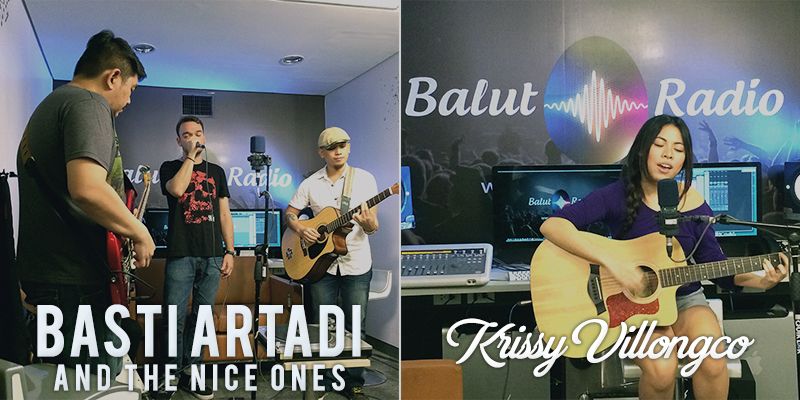 Two weeks ago, I witnessed two completely different musicians of opposite music genres in one roof. I was surprised when I found out from the friend who invited me that Krissy and Basti Artadi will be the guests (2 out of 3) in one Balut Radio episode we're going to that Thursday afternoon.
Basti Artadi. I know him from his other band Wolfgang. Everybody knows Wolfgang, especially if you have an older sibling born in the late 80s-90s. Ask your kuyas. Haha. Anyway, he is currently promoting his solo album project, Everybody Knows That the Dice are Loaded. As for the obvious question when one goes solo.. the answer for that is a big fat NO. He won't be leaving Wolfgang and that band is not disbanding anytime soon. 

Krissy Villongco is 1/2 of the duo, Krissy and Ericka, who became known to the public from their acoustic cover videos in Youtube. I might have seen 1-2 of their videos in the past, from those moments I'd be curious to see other people do covers of songs. And it was pretty lovely. Somebody brought up that they sound like M2M.. watch the videos and see if you think so too.
——–
The flow of the online radio show goes like this: The artist/band performs around 4-6 (or was it 8? nah I don't think so, that would be too long) songs in their set, and in between songs, during breaks, the interviewer would ask them questions. These questions could come from the show's FB page, twitter.. OR, from guest bloggers.
I was part of the latter.
Basti Artadi and the Nice Ones
First up was Basti and the Nice Ones set. Following their launch of the solo album held online via live stream just a few days ago, this felt like a follow up show to that. As someone who watched that album launch, I thought it was bitin, but also my internet connection is to be blamed for that. I was happy that I got to hear the songs played live in real time just days after the online launch.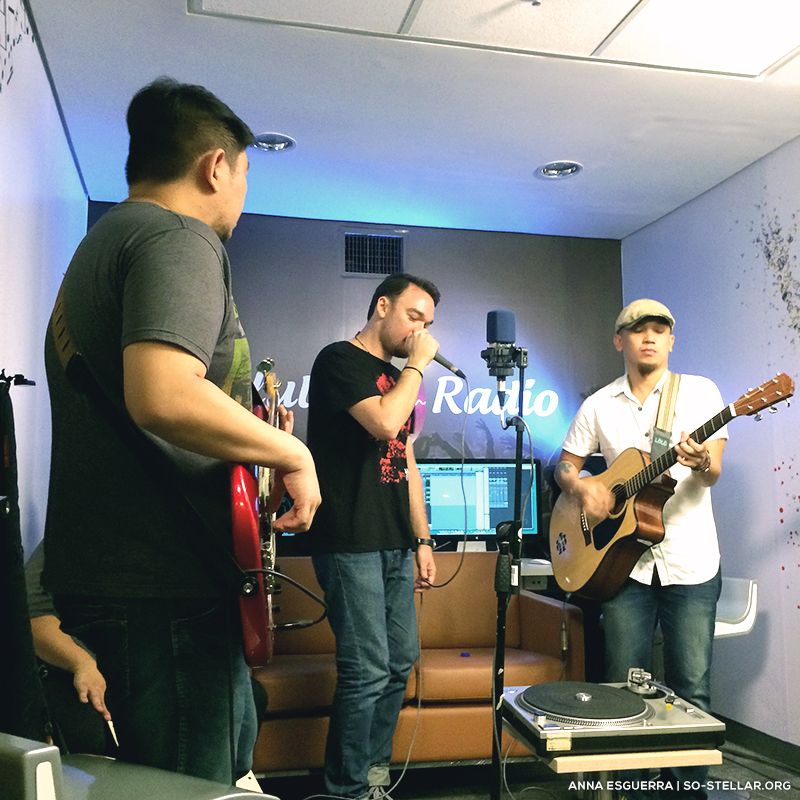 I think it's a given that when you hear musicians perform their songs live, in person, "in real life", it affects how you feel towards a song. For example, a song may not be that interesting to hear for the first time, regardless of how many times you've tried listening to it and want to like it, BUT when you hear it played live.. it suddenly sounds a whole lot better, and you begin to appreciate it more. This was the case that day.
See, before I went there.. I was only listening to "Last Goodbye".. coincidentally the single of this album, but I didn't know that at first. Couldn't appreciate the other songs yet, even during the launch (no thanks to my laggy internet connection). So being there in the studio and hearing majority of the songs in the album played during their set helped me appreciate the songs.
From just knowing 1 song, Last Goodbye, I came home with three more additional songs that I like from the album. These songs would be 1) Señora; 2) Jetblue Sky; 3) In the Wind.
Fun facts and some observations:
On Señora: This is the song they find difficult to play live in gigs according to the guys of The Nice Ones.
The song Last Goodbye was inspired by a documentary Basti had seen.
In the Wind somehow reminds me of a Wolfgang song, but I couldn't put my finger which one.. Cast of Clowns maybe??
Jetblue Kisses… could possibly be a song written from his days w/ Lokomotiv that didn't make the final cut?
As a whole, and in my opinion, the album doesn't have a concrete theme. When I had the time to sit down and really listen to the entire album, it is quite obvious that the songs were written and done at different points of time. Like I mentioned in the previous paragraph, one song reminds me of a Wolfgang song, and the other from Lokomotiv. Some of the songs might have started as demos that didn't made it to the final, re-recorded and re-produced to make it his very own. Which is okay. No problem with that. Besides, we will never know.. aside from the fact that most if not all of these songs were done in an 8-year span.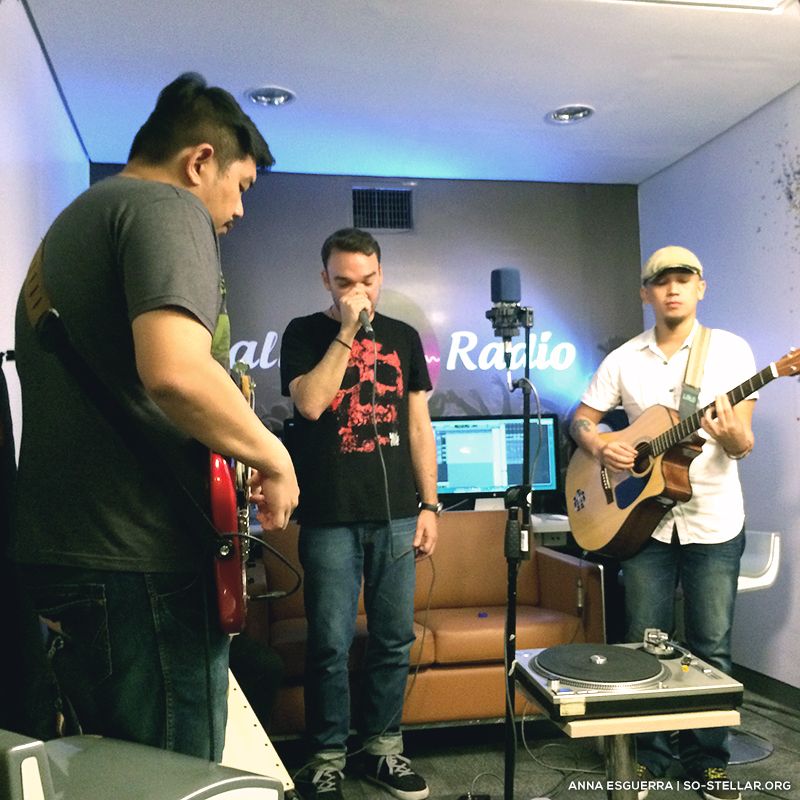 Coming from Basti, this is something new but one that's worth a shot listening to. With Wolfgang, most of the songs there are wild and anthem-ish. This album also has some of that kind of songs, but it isn't entirely made of songs like that. There's a variety of songs in this album.
We were the last group to ask Basti and the Nice Ones during their set our own set of questions. They were mostly comprised of questions 1) related to their gear (because of one of our members, JP, plays guitar and therefore wants to get an opinion related to guitar gear from one guitar player to another), and a question of 2) out of all the places they've had a chance to perform in the past which one is their favorite.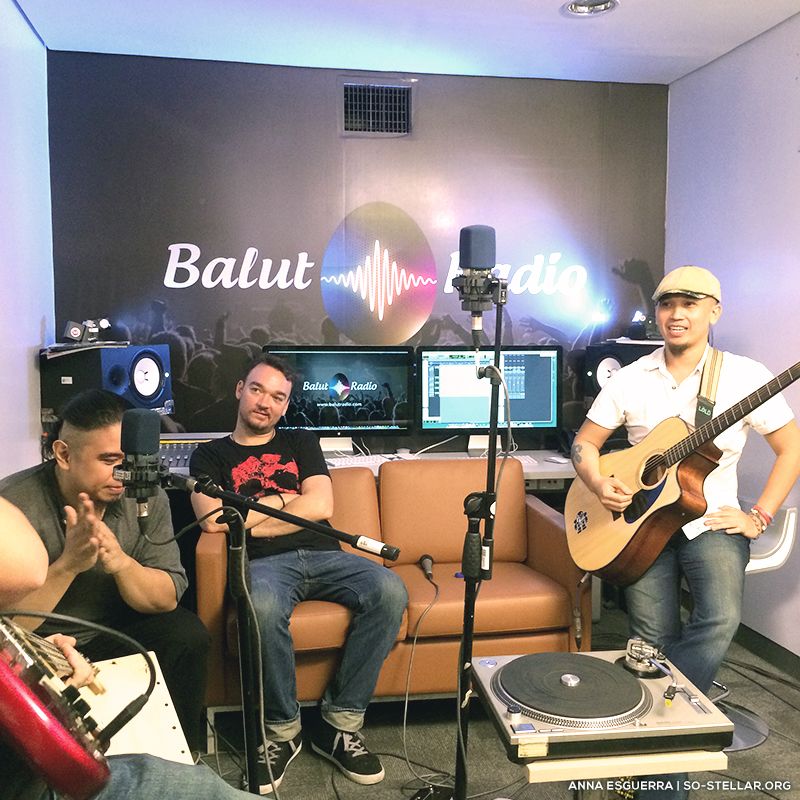 Our gear-related questions were met with big sigh of relief, because it was directed to the members this time. Marco de Leon, being a gearhead at heart, was very happy to answer them. (Sidenote: I knew he looked familiar to me! He's in the band Paramita too) For our last question, I remember they responded w/ a mix of excitement and borderline aggressive emotions for that because they gave a name for that one place that they absolutely loved playing in a very enthusiastic way (and plus points for the open buffet after), and as for their least favorite, it was met with not-so-nice feedback. We couldn't squeeze the name out of them though, sorry! 😛
Tonight (Monday, Aug 18), Basti and the Nice Ones will have a show at the new music bar 12 Monkeys with Franco. I think I'll be dropping by. This will be like the 2nd time I will be watching them. I heard that physical copies of his album will be on sale very soon, according to a post I saw floating online. Hope it'll be available by tonight.. I'd love to get a copy and get it signed after. Wonder if they remember me?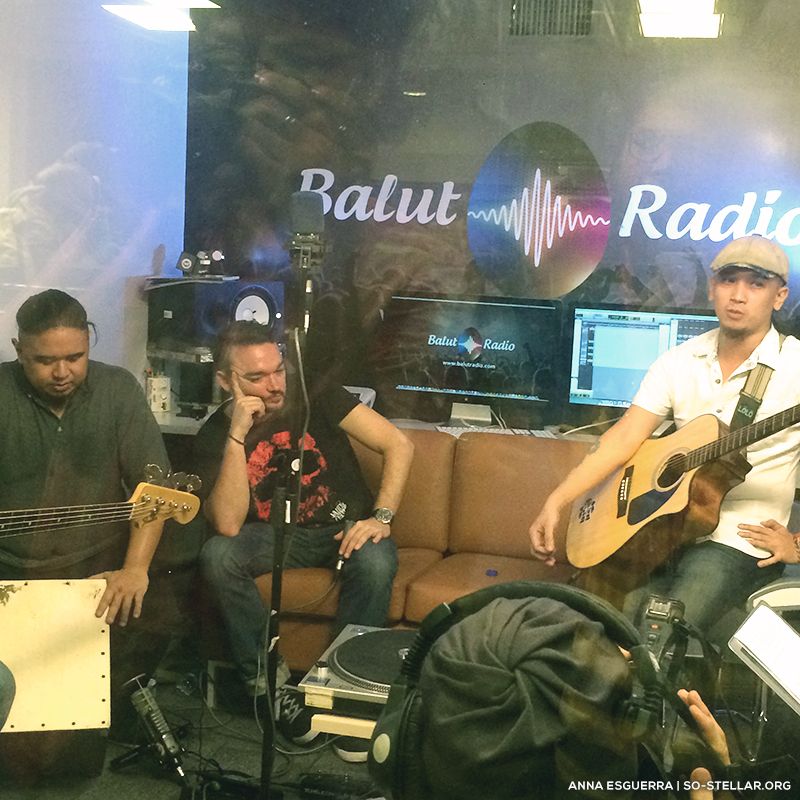 Just kidding. I'm pretty sure I was invisible that day at the studio. I was merely observing my surroundings and everything that was going on for documentation and blogging purposes later on. Haha.
Krissy Villongco
I apologize if Krissy's part of my coverage may come up short. It is because I haven't listened to most of her music and I only know of a handful of her cover songs in YouTube w/ her sister. I have seen her and heard them played live before, but it was from afar.. and she was still 1/2 of "Krissy and Ericka" that time. So my account of events would be from someone who has properly heard of her music and met her for the first time.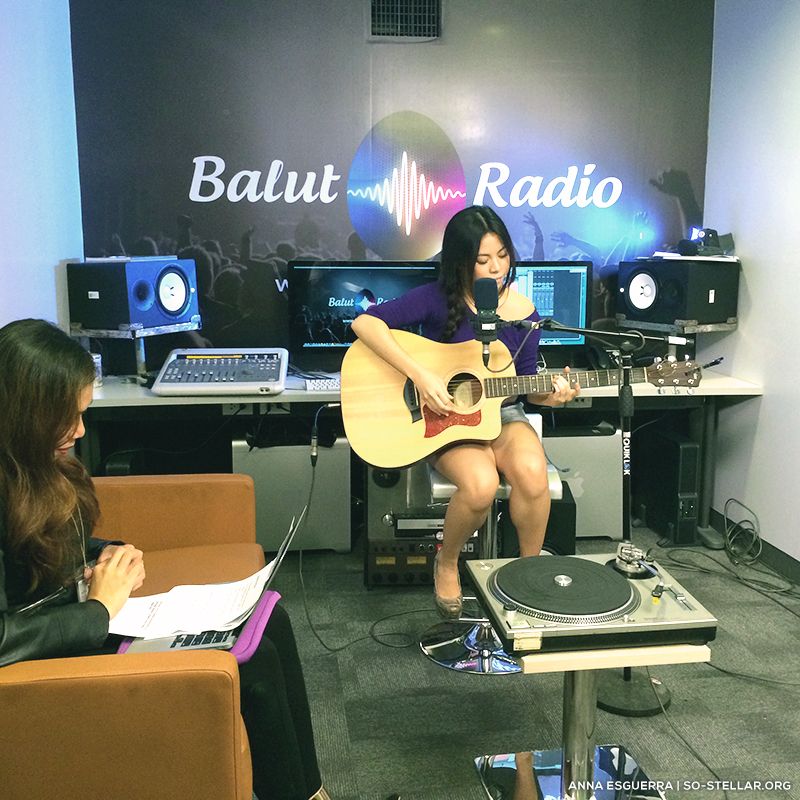 I don't have much to say except I feel that her songs are mostly inspired from situations and things happening in her life, and that she decided to write and make songs of it instead of telling all about it to a close knit group of friends. Her songs are like pages off her diary that she shares to her audience. Sounds familiar? TSwift? Sure. I found out that she's the shy type, so.. that makes so much sense to me why her music is like that and for the meek personality that is clearly seen in her songs, her way of performance, etc.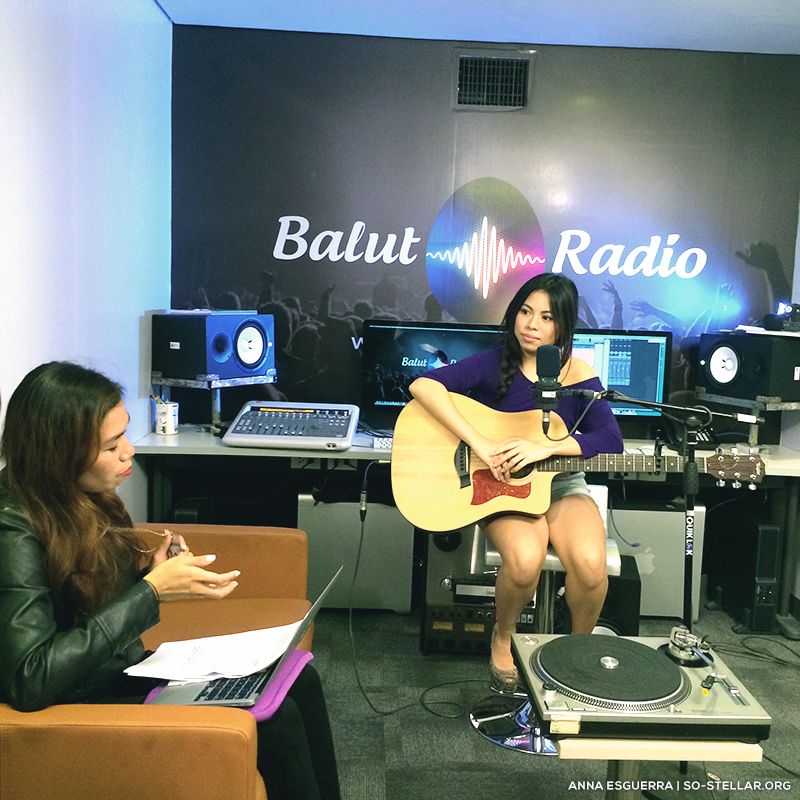 We got to ask some questions too. We asked if there are other instruments that she knows how to play other than the guitar. She answered that before she learned to play the guitar, she was playing classical instruments and learning the guitar came at a later time, and it was her sister that taught her how to play the guitar.
As for her advice for people who wishes to take the same steps she took to get where she is now: (not the exact words but this was the gist) Keep doing what you love and don't let anyone tell you otherwise that you can't make it. Believe in yourself, and lastly, be yourself.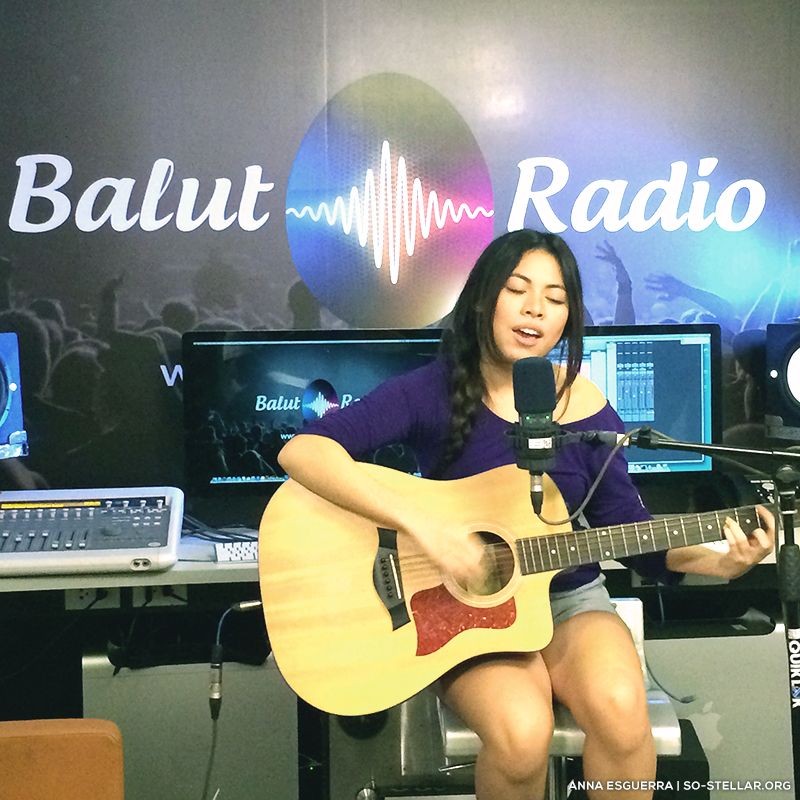 Remember what I said about not appreciating songs until you hear them performed live? I came in knowing nothing about her music, but I got out knowing more than a few and will give her music another chance to listen. I thought 12:51 sounded cool enough, same w/ the single of her album Songs About You (who is this "You"? we'll never know, as usual, lol) "We Can't Be".
Post-event
After their respective sets, we got to meet the artists. Yay! Haha. This must be the 3rd time I met Basti (fourth time I watched him play w/ his band)? Krissy was nice and happily obliged to take a photo with us. I was shy to ask tbh, lol. She asked for a photo-op with my friend because of her pretty~ mint green hair. (It looks like cotton candy though, who could resist? LOLJK Kisty)
Special thanks to Weil Ylagan of Balut Radio for inviting Kisty, JP, and I to the studio to interview Krissy Villongco, Basti and the Nice Ones.