Maybe it makes you think that from this post's headline, this post is going to be one of those types wherein I would incessantly talk about the artist and putting them in good light. Sort of, maybe. 
But given what I experienced from Jessie J's recent show here in Manila, who wouldn't?! So hear me out. 😉
Before the concert, I only knew a handful of her songs. Most of them are songs I would hear on the radio, or on  TV, everywhere even at someone's autoplay music in their social media profile LOL. And then three days before her show, Janelle asked me if I am available to help her cover the event (which she wrote about after here, check it out!). With no hesitations, I said yes to her invitation. I get to watch a concert and take photos — instantly two things I LOVE to do.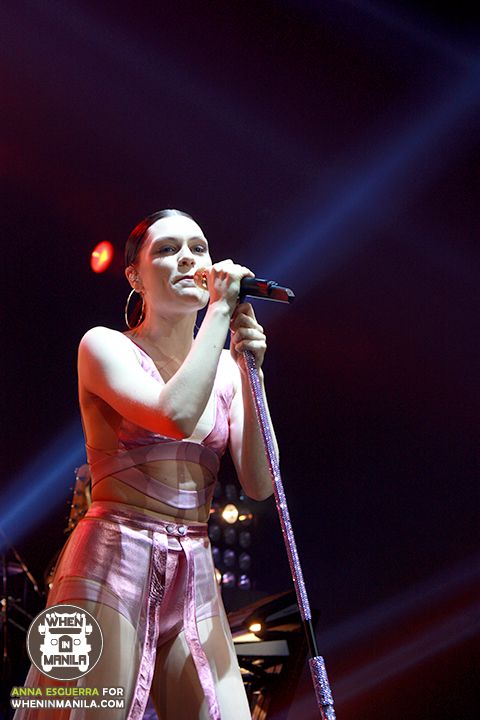 I only had a few hours to prep myself that Monday afternoon. Having just came back to the city after a long weekend at the province with my friends exploring Bohol (to be discussed in another post!).. I barely had time. Took a nap as soon as I got home, and later I just put a random Jessie J Spotify playlist I found while I was getting ready. Infairness, that playlist was helpful!
Fast forward to the main event..
Upon arriving at Araneta, I felt a wee bit lost for the first time. This time I was going there as someone who's doing official media coverage work. This wasn't the same as the previous 823742 times I went there as a nobody, do-whatever-you-want-no-one-cares. Does the Incubus concert count? No because whatever content I got from there ended up on my blog, not at an official media website. Met up with my friend and she accompanied me to get my pass.
Later, we were ushered to a waiting area and moments later the head persons of the security for the show briefed us on how things will proceed during the show. Since I am new at it (being part of the media) I was very surprised to find out something that probably everyone knows by now: We are only allowed to shoot the artist during the first three songs and we will be ushered away from the FOH and to the back section to be the rest of the crowd after that.
Well, okay, I did not know that. But alright. No big deal, it's not like we need 200+ photos from the same distance and angle anyway. Just a few. But still! Hehe. I always thought the media/official photographers for concerts get this spacey area just below the stage to themselves for the next 2 hours. Apparently not. #TheMoreYouKnow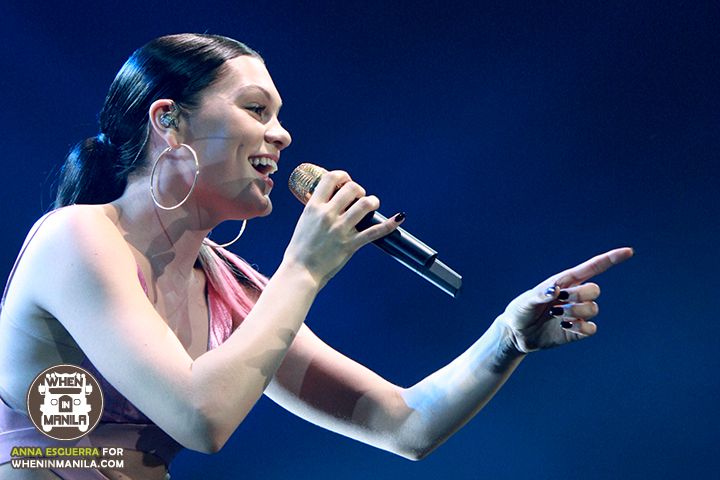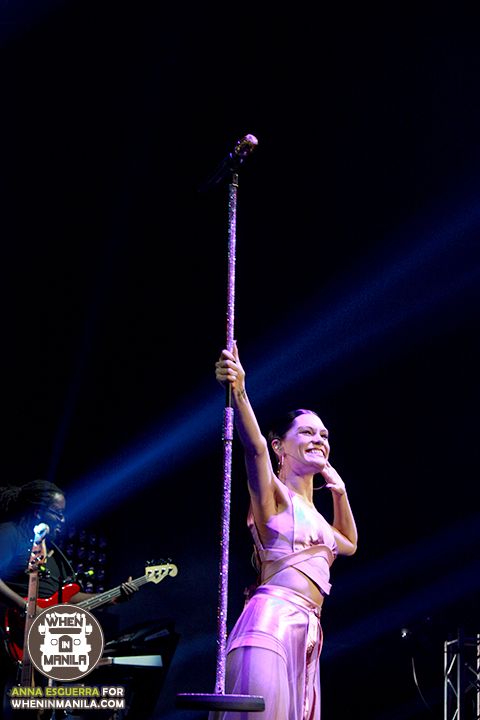 The Voice of the Philippines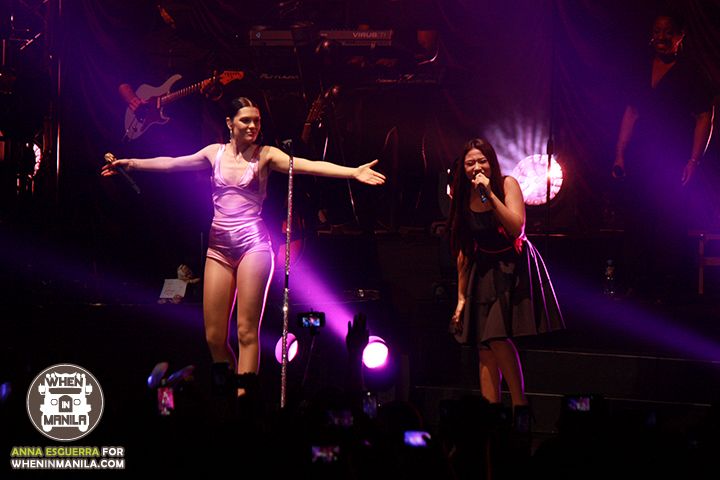 Two contestants from the first season of The Voice of the Philippines had their share of unforgettable experiences they will surely treasure for the rest of their lives. Myk Perez was the front act, personally picked by Jessie, warmed up the crowd by serenading us with his acoustic songs. Morisette Amon experienced an unexpected turn of events. What began as an innocent interview for a music channel, opened a door that led her to have a duet w/ Jessie on stage during "Who You Are" .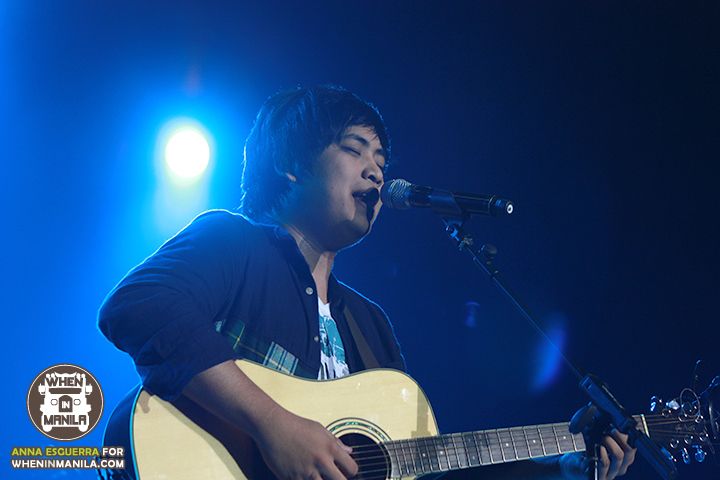 You make me feel good, you make me feel safe.. You make me feel like I could live another day
A usual response when the main act comes out perform to thousands of fans is that they go crazy and throughout the show we see surprises from small, short interactions of the artist towards the fans. But I feel that Jessie J did more than that. Aside from the usual spiels that sounds half heartedly meant coming from other people, let's admit, she actually tried and succeeded connecting with the fans. She opened up herself to the crowd — talking about past experiences (may it be good or bad) at the beginning of some songs, chatting with fans which happened more than once, and those emotional moments of "feels" where she felt moved after reading letters she got from the crowd that night. She was really kind towards other people, whether it was a stranger or someone she knew.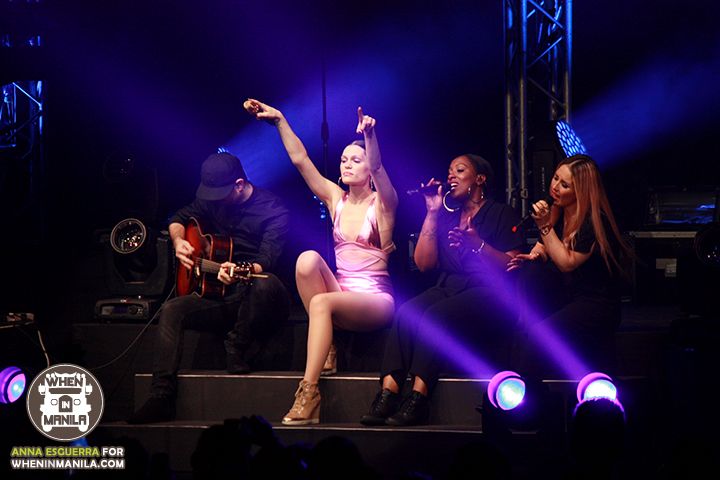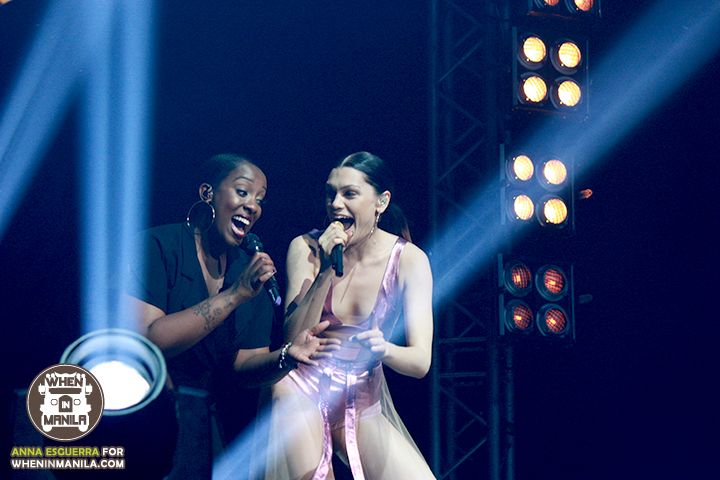 Another thing: Jessie J is not the type or artist to want all the exposure and attention to herself. She lets everyone in her band, team, and crew get under the limelight and bathe in it too. I like that during the show she treats her bandmates as equals and it doesn't look like they're just professionally working. I don't know where I'm getting this perspective but yeah. Basically, she lets them shine with her.
After the show, she called everyone to go up on stage and introduce themselves. Literally everyone who came in the country w/ Jessie J was on stage. WHO DOES THAT?! Maybe it's the norm for other artists, but most of the time I don't see any popular artist do this so I am honestly impressed to actually see it in real life.
During the short unplugged session, as I like to call it, Jessie sang a part of Oasis' Wonderwall and I LOVED it. I wonder if there's a complete version of it somewhere?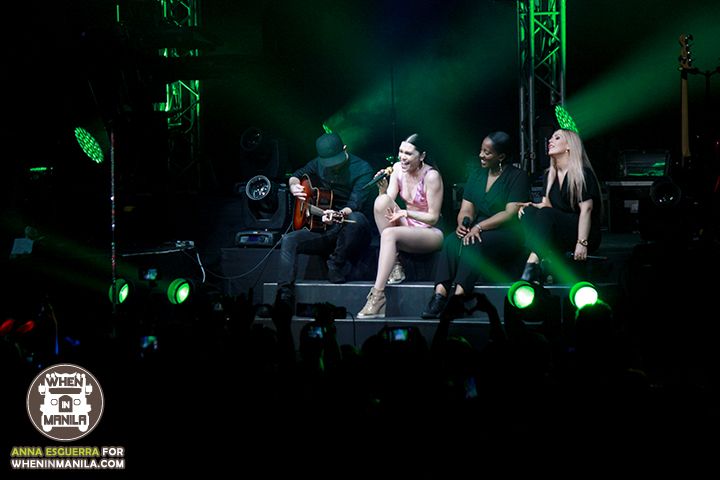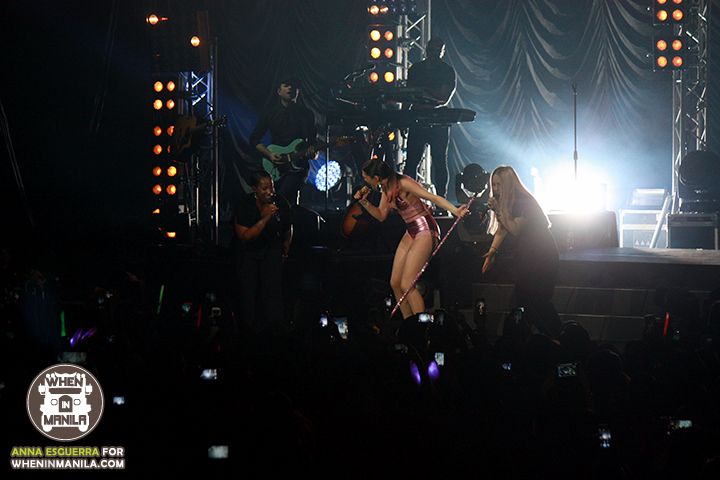 After the show, I saw the meet and greet photos and surprisingly they were nothing like the usual where it's just a group photo with a bunch of people you don't know and her. Each person in the room had a selfie/selca and probably 5-10 minutes worth of conversation with her!! I said it earlier and I will say it again: WHO DOES THAT?! I'm not even a hardcore fan, nor do I know a lot about her and her fandom but from what I observed, she makes an effort to give back more to the fans who have supported her. If I didn't know any better, and I really don't (ha), I say Jessie J's fans are so darn lucky then.
Now I regret not having a meet and greet opportunity with her.. and not pushing with trying to visit the hotel she stayed in after the show, I might have gotten a photo! 🙁 Haha. Maybe if I did, I would proudly be strutting and saying I am a full pledged Jessie J fan. But no. However, I am proud to say that I like Jessie J now and have mucho respect for her, her music, and what she does. 🙂
Turns out most of her undiscovered, hidden from plain sight songs, are much more meaningful than the ones we hear on radio. Plus she has a powerful voice that sounds great, and it doesn't sound overdone when she sings! Sorry for being so late because I was only exposed to her popular songs that well, are just catchy but not meaningful. There are some dance-y songs with likeable lyrics, IMO, such as Laserlight. The rest I've yet to uncover. 🙂 I really liked "Who You Are" though!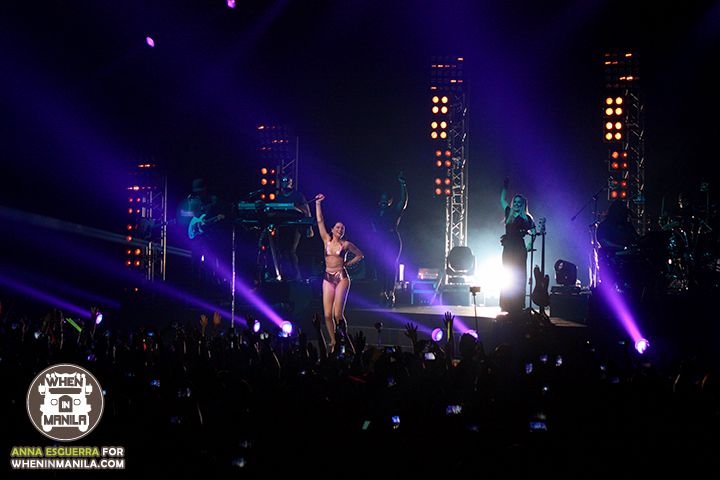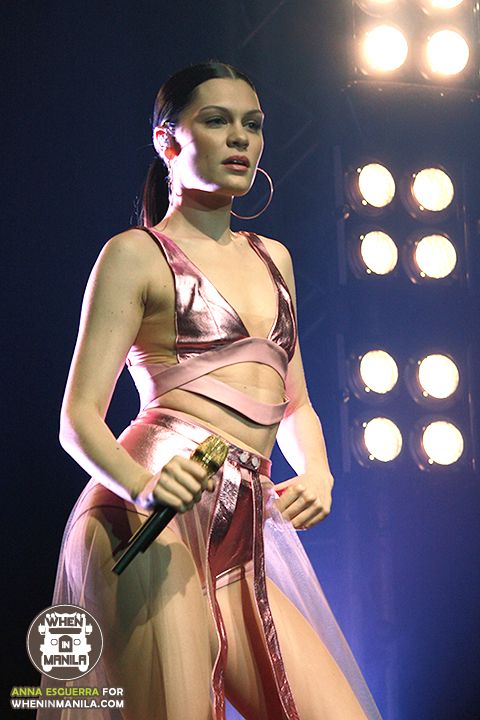 Check out the entire set of photos I shot from this show here (don't forget to "like" the FB page too! wink): 071414 Jessie J Live in Manila
Special thank you to When in Manila, for giving me the opportunity to shoot Jessie J's show from a closer perspective!