Oh hi there. I haven't posted anything new for the last couple of weeks. My bad. I'm falling back to my old habits, haha. Lemme put up a picspam for you in this entry; let you in on a sneak peek of what's been going on and what I've been up to.
—————–
Teeth: The Reunion Part II at The Piazza at Venice, McKinley Hill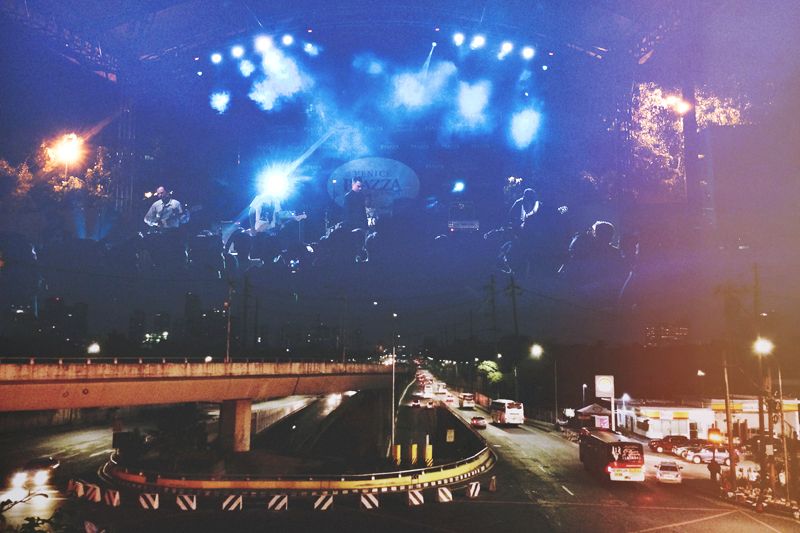 So, apparently, this happened! I knew they just had their reunion show last month, but I was not expecting that there would be a part two. I didn't go to the first one because I knew it was going to be rowdy and that big of a crowd and myself don't mix well.
This show drew in a smaller crowd BUT I liked the setlist of this show (better? nah I've no idea what was played in the first show so I can't and won't compare) and even better — there was a meet and greet after the show. Now I don't know if there was one at the first show too, but I feel that the one I went to was worth it because it was a free show, semi-intimate audience/crowd, heard all the songs I've waited to hear live (Shooting Star!), meet and greet after, got to talk to the members, had some stuff signed. Win-win situation for me.
I didn't buy any merch but I improvised on the materials I had for them to sign. Can you spot it in the picture? Hehe. I'm kinda thinking of doing this in future meet-ups with celebrities and musicians. We'll see. 
By the way the lower part of the pic was taken from the Ayala overpass. That was taken at 4AM, while I was on my way home. Rarely do I get to see EDSA this empty that is why I just had to take a photo. 🙂 After the show, my friends and I hung out at the KFC and.. guess we didn't notice the time pass by. We had a lot of stuff to talk about. 😉
Throwback Sunday with Pazzy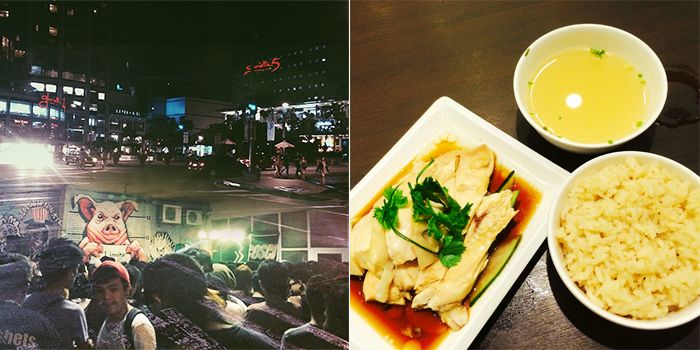 Other than meeting with a friend whom I haven't seen since 2011 (during my exhibit days pa!), the highlight of this night was trying C H I C K E N R I C E for the first time E V E R.
It was surprising to be back at the restaurant where I tried it because I know I have been there before. We had our dinner at Wee Nam Kee, at the Ayala Triangle Gardens, specifically for the reason of trying out this dish everyone on my Twitter timeline seems to be talking about. Well they don't talk about it NOW, but there was a time in the last couple of months that it was an unavoidable topic of conversation. Here is my short review and feedback about my dinner that night. There is a closer branch which is located somewhere in the "New Glorietta", and I intend to dine there very soon. I might not order Chicken Rice, but the other dish I tried the first time I ate at that restaurant. 🙂
After our dinner, our fickle skills in decision-making led us to go to B-Side Bar Makati. We had no idea if there was any event there that night, or bands playing at all. Quickly googling about it led to no results, so we went there with no ideas. We thought of going there to check out the place a bit and settle down in some cozy cafe like the Mochi place. (It was replaced by a new restaurant, we found out. Tsk.)
Surprised, yet again, to see that there was an event and that the place was packed when we arrived. The show was some sort of an end of summer season, hello back to school (lol?) kind of event. Bands playing, booze everywhere, and…. the audience, AFAIK, were mostly students. God we're so old. 😆 Even the bands for that night coincided with our throwback theme — Sandwich, Chicosci, Mayonnaise (among the other bands I couldn't remember now, sorry)! Take me back to 2006, hahaha! We didn't stay long to hear the first two bands play, though we did get to see Mayonnaise play from afar. More like heard them play this song. Glad we dropped by this place tonight! 🙂 We were at the right place at the right time.
While we were on our way home (after I quickly snapped that photo of Glorietta, moments after my friend and I separated ways), I realized that that crowd and going to gigs isn't my ideal activity for a fun Saturday night anymore. 🙁 I'm so oooold and tired. I wanted to sit down and watch from afar instead lol. Or sit someplace and eat pica-pica while enjoying the live performance of the bands.
Maleficent Afternoon with the Girls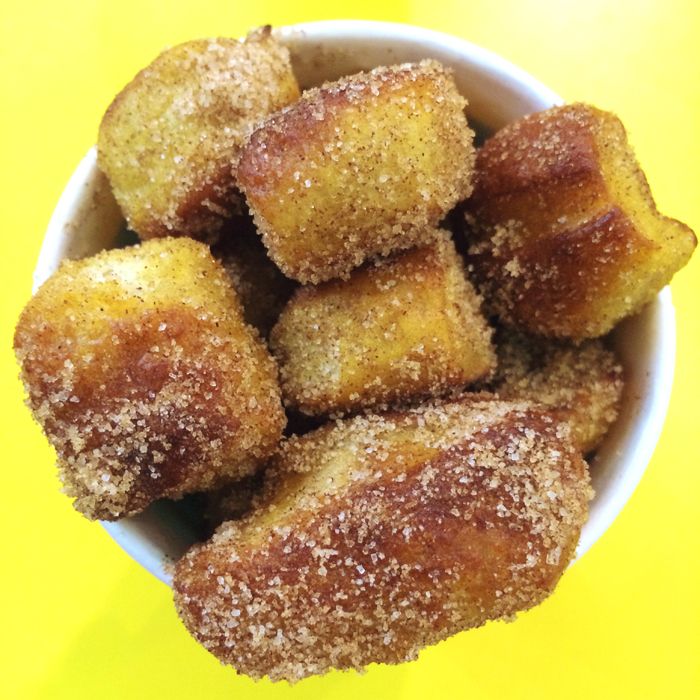 This one kept getting postponed and rescheduled because of one of my friends who was not certain when she was going to be in Manila. I actually don't remember the day we went out to meet but I do remember the food we had and the movie we watched.
So, Maleficent. It was a so-so movie, with a ton of Angelina Jolie GORGEOUS closeups and underlying meanings in selected scenes. I didn't feel that it was a draggy movie, but it went by too fast in my opinion. Waiting for it to become available online (in a few months, a long waiting time! Ugh) to watch it again and look at the gorgeous Jolie closeups. 😛
Our friend who was in the city for a week treated us to food and snacks. No photos of tickets (the usual for movie goers) to show off here, but here's a photo of our post-Maleficent screening snack: Auntie Anne's cinnamon pretzels.. in a cup!
The Fault in Our Stars w/ the Girls (Again, but not so!)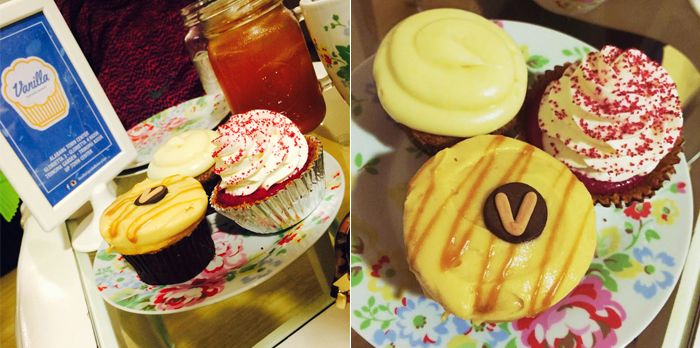 Out of everything I just posted here.. this one was the most recent "happening", obviously, given by the movie we watched. This was just last weekend! I caved in and finally watched the most talked about movie of the month! I watched this w/ these girlies who are also friends from college. 😀
Maybe it's because people overhyped it for me that I was expecting things when watching it, or I'm just not that emotional when watching movies in public but I. Did. Not. Cry. I think it is expected of whoever watched this film to shed buckets of tears, even joked around in my circle of friends that we should bring blankets or anything big to absorb and dry out tears.. but I didn't. Not even a tug in my heartstrings. Though when I read the book, I did shed a tear or two.
My favorite scenes would be the chase between Hazel and Gus, and the ending. I liked how they turned out in the movie. Oh and the Amsterdam scenes.
I blame the other people in the cinema. Their distracting, mostly hilarious side comments, drove me away from even bothering to sympathize with what I'm witnessing in the big screen. This is actually a problem and why I refuse to watch most films, especially local ones, in cinemas. I cannot stand people side commenting on every scene. Especially when their bias loveteam/person of interest does something significant in the film. Okay we're getting too far ahead now.
We chanced upon this cupcake bakeshop in the middle of the mall while we were walking around the mall after the movie. It was my first time to try this cupcake bakeshop. This is significant because I never bother going into cupcake stores, much more buy a designer~/specialized cupcake (other than this cheap ol' Lemon Square cheesecake cupcake) ever. Quaint designed interiors (from the furnitures to the plates, cups, utensils, and mugs!), delicious randomly picked cupcake, time well-spent with friends I haven't seen for months. Yes, I will drop by, you have gained yourself another occasional buyer, Vanilla Cupcake Bakery. My cupcake in the photo is the one w/ the V. Argh.. I am craving for one right now!! (Check out my short review on looloo here)
That's all. People are busy livetweeting about the #GERPOR game on-going right now as I type this. I am simultaneously monitoring my twitter while trying to make sense of the game AND playing a game in my phone. Hahaha. Later!