Last year I saw a photo of an anchor bracelet making rounds in my tumblr dashboard. I don't really stock up on 'arm candy' but it's one of the things that caught my attention. From then on I said to myself that as soon as I find one that makes them locally, I am definitely going to purchase.
Months later, I forgot about it, until the last few weeks of December 2013, I was reminded of it again because the photo showed up on my tumblr dashboard. Realizing that the photo is from a US-based Etsy user, I crossed it off that list (because I do not want to deal with our shitty post office and customs, as much as possible, EVER) and went to Google for someone, anyone, who makes them here.
And that's how I found Yarn Memo. Meadow is also hers, but more on that later….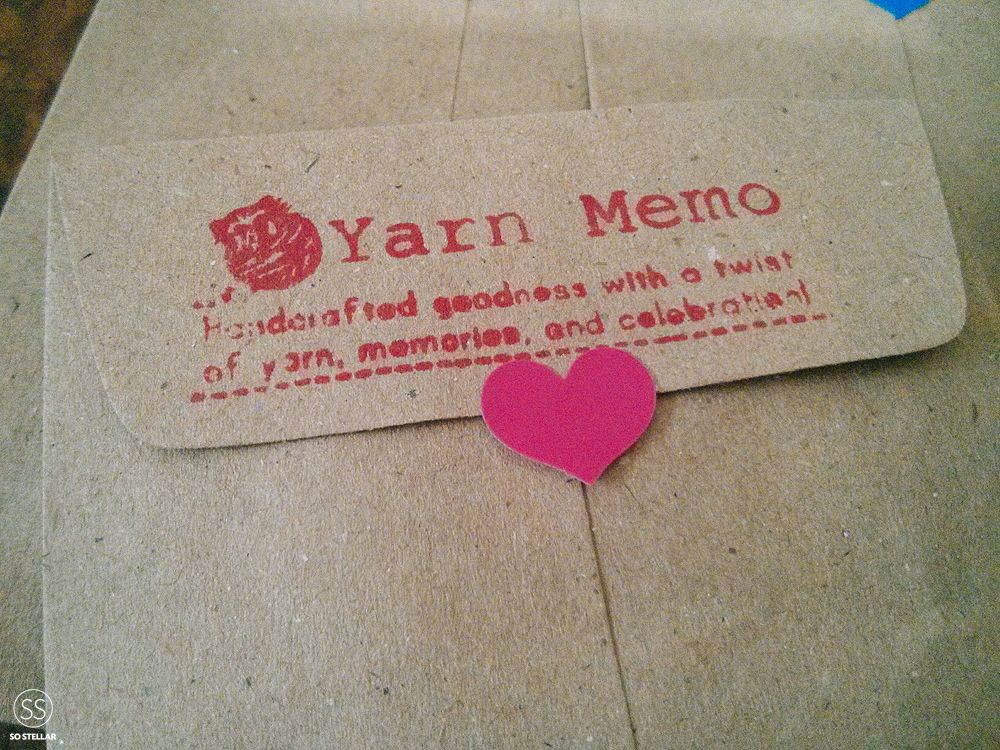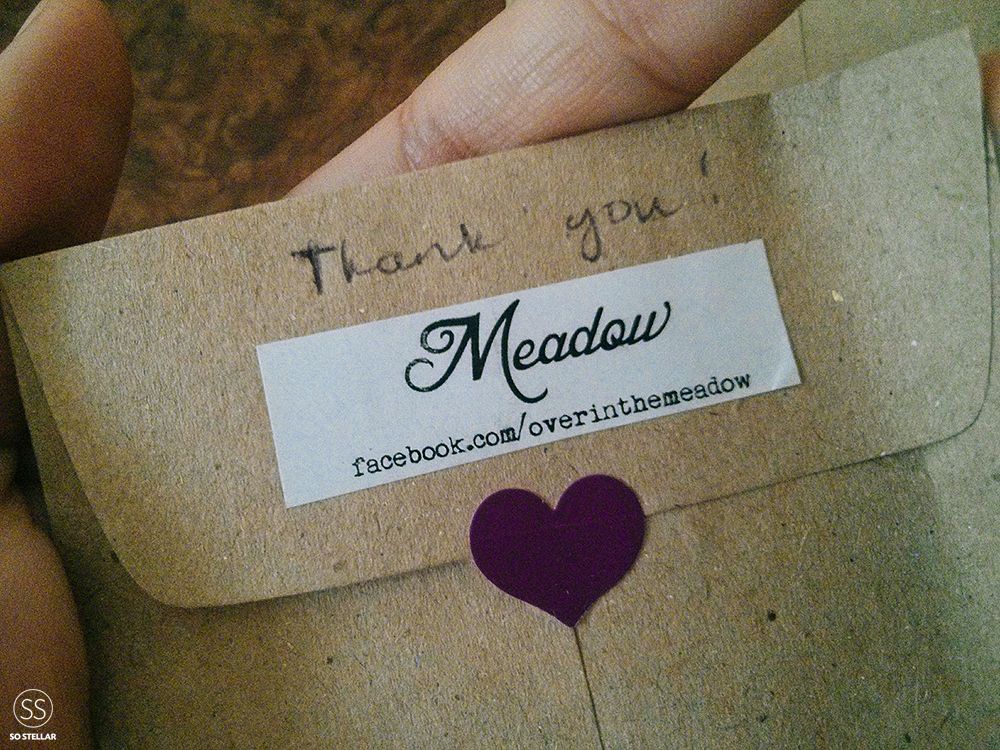 I also had the pleasure of exchanging a few inquiries and conversing with its owner, Leng Desuasido, who was more than happy to accommodate every question I had. From my experience, and I am VERY polite and nice when I inquire, sellers are very snobbish and refuse to reply. (I don't know why they're like that?) So I was very pleased that she was pleasant throughout the conversation, and not just for the sake of making a sale. 🙂
Unfortunately, I found her shop too late because the Christmas holiday had just begun, so she was on break by the time we were talking but it was a done deal. As soon as January came, my orders were shipped in the soonest time the courier was back to regular operations and I got them all in good condition the following day.
Everything was handmade and DIY down to the packaging. It was packaged pretty simple, wrapped in used/printed scratch papers but I thought it was really nicely done lol. Upon opening, I was greeted with these small packets of envelops. Eeep, so cute!! I LOVE DIY THINGS OKAY.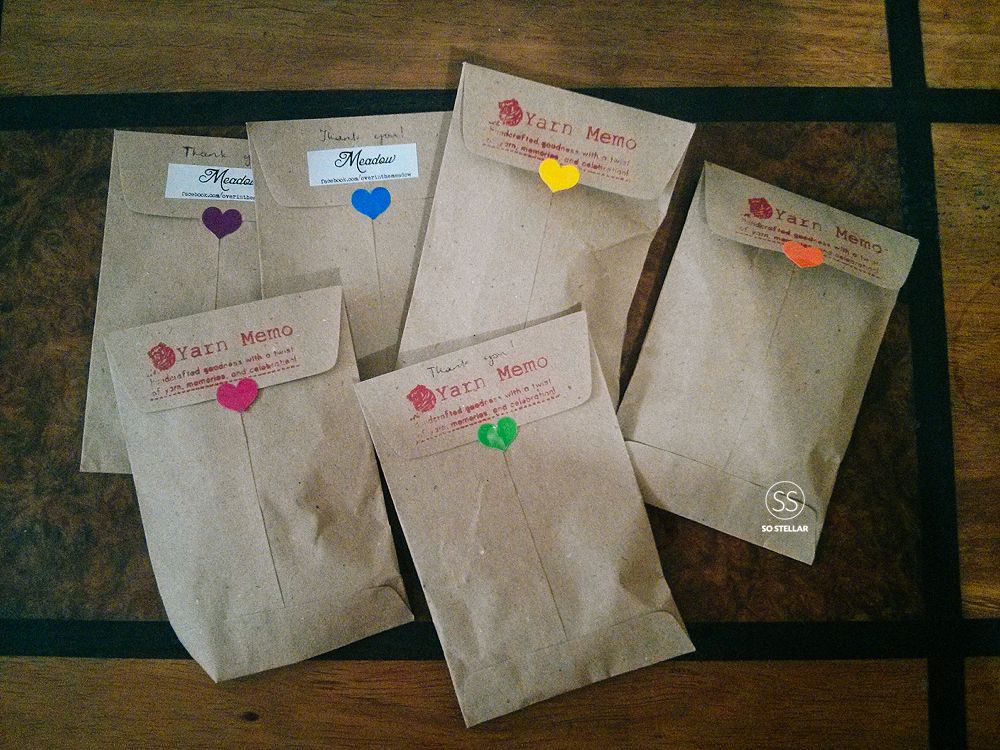 I looked up the URL on the other packets, Meadow (facebook.com/overinthemeadow) but it wasn't available. From how I understood it though, Meadow is her other online shop but it's for small jewelry trinkets, while Yarn Memo is for her knitted trinkets.. right, Leng? Hahaha. By the way, I only ordered three bracelets from her, so yes I was curious what was inside the three other packets. At first I thought these were sent to me by mistake, but I think they were freebies, yes? 😛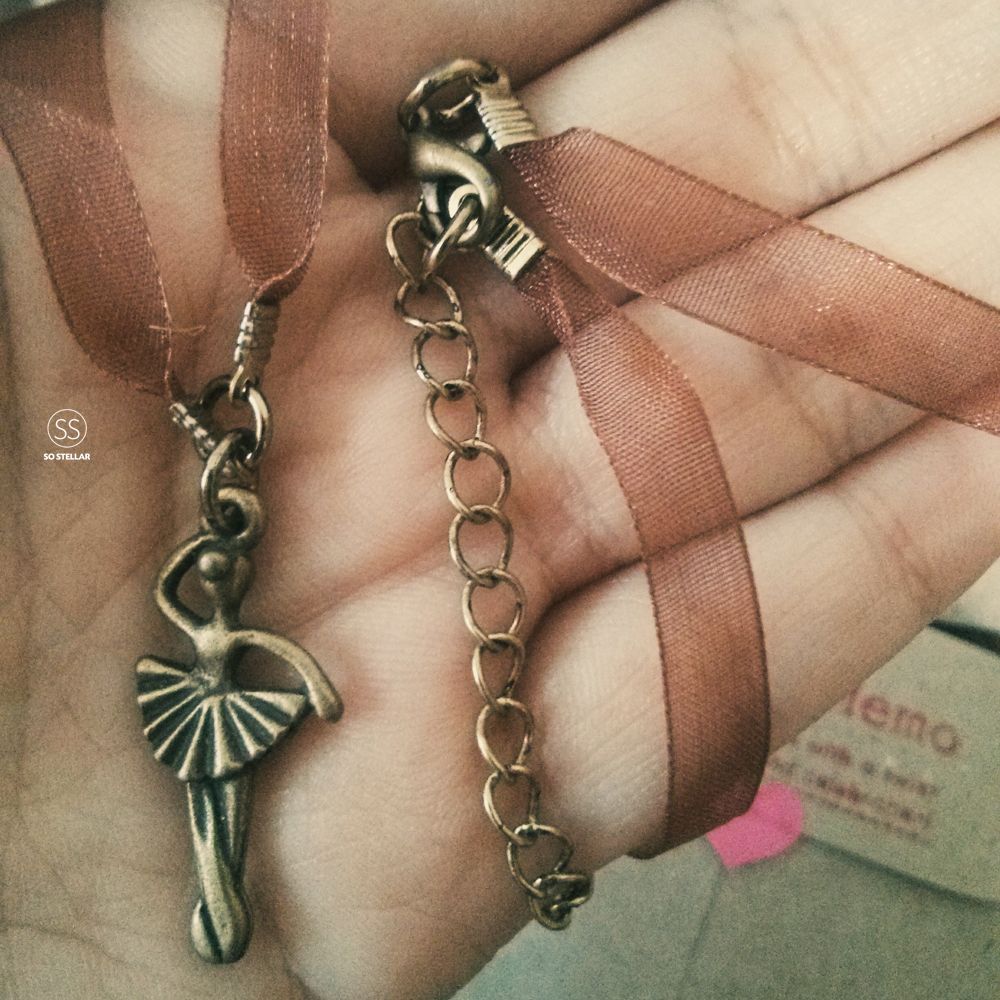 Freebie #1: Lacy DIY necklace w/ a ballerina pendant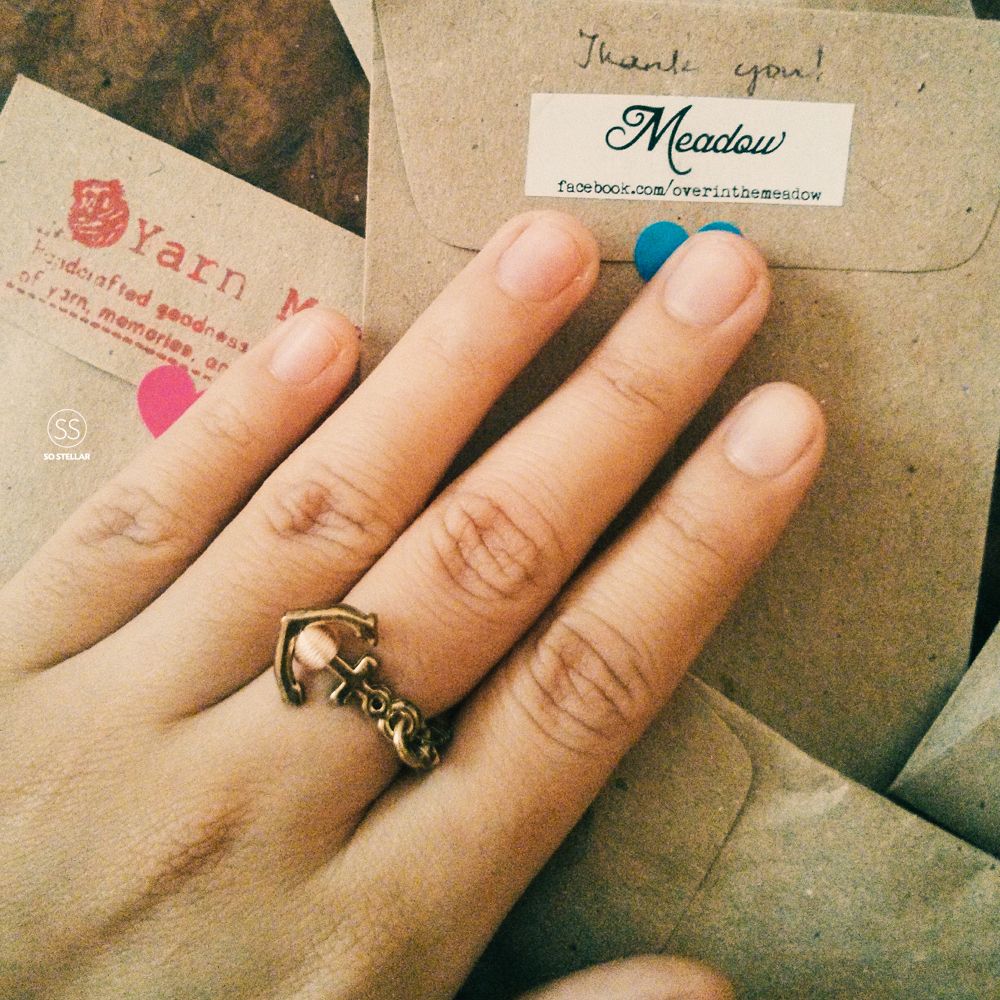 Freebie #2: This uber cute anchor ring (fave freebie from the bunch! sorry it's too filtered lol)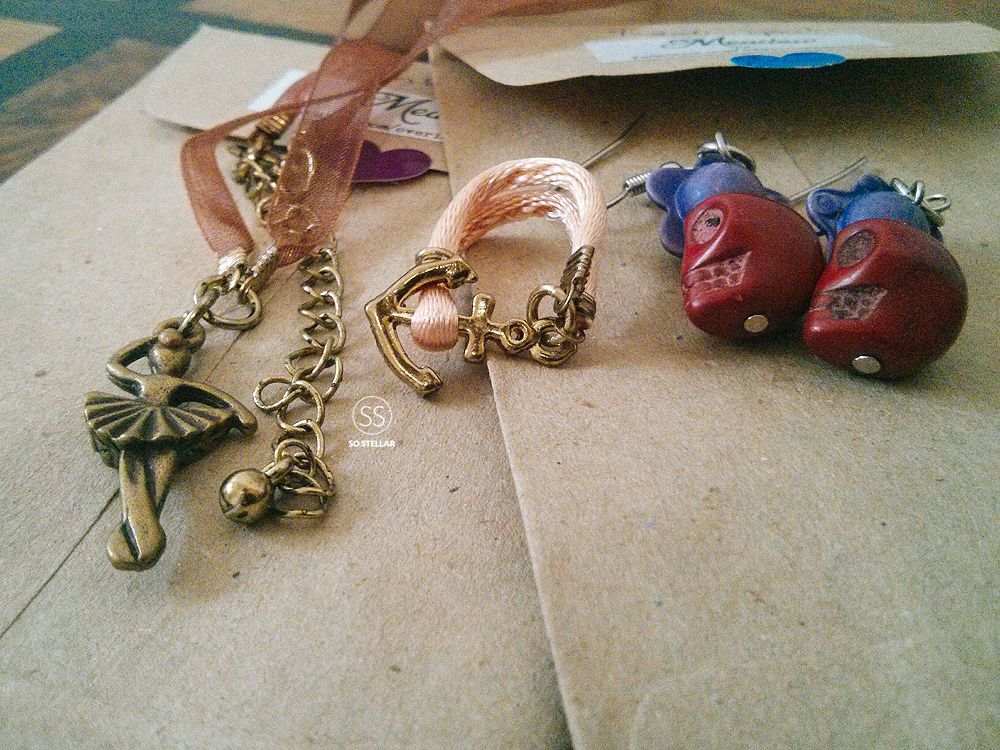 Here's all the freebies from my Yarn Memo order 🙂
The earring isn't really my type.. not sure what I should do with it. My little trinkets are also starting to pile up here so one of these days I might put them up for sale or something.. a giveaway maybe? Or if you want it, just let me know I'm sure we can work something up.
Moving on, here are the bracelets I ordered. While I was browsing the product albums last year, I found that there are also other types of bracelets that she can make. My plan was to only get one anchor bracelet but the other bracelets looked nice, too, so I picked up a couple of bracelets w/ a metal snaphook. The design of the wraparound bracelet is more manly than it is for girls, cuz the braids are thicker, but who cares… since when was I one of the girly girl types? Hehe. The bracelets were wrapped around a piece of kraft paper which also has the instructions how to wear and guidelines how to care for it written.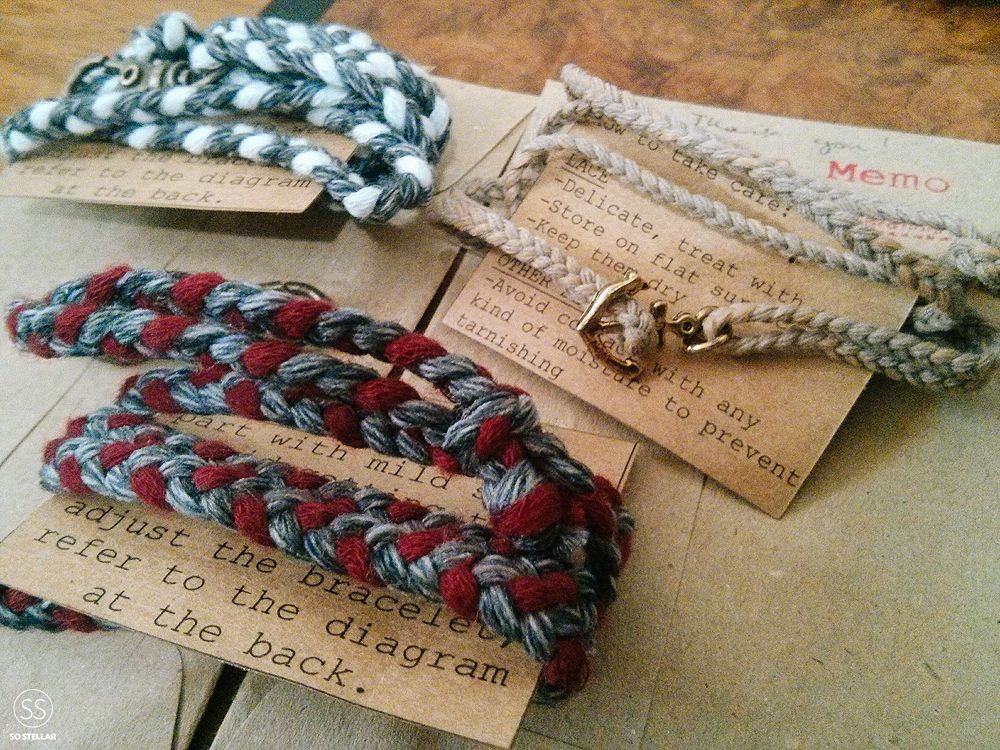 And here's how they look like when they're worn.. Sorry my wrist is tiny(?) and for the unappealing photos(?)? 😆 I need to work out, fatten them wrists! (Yeah right.)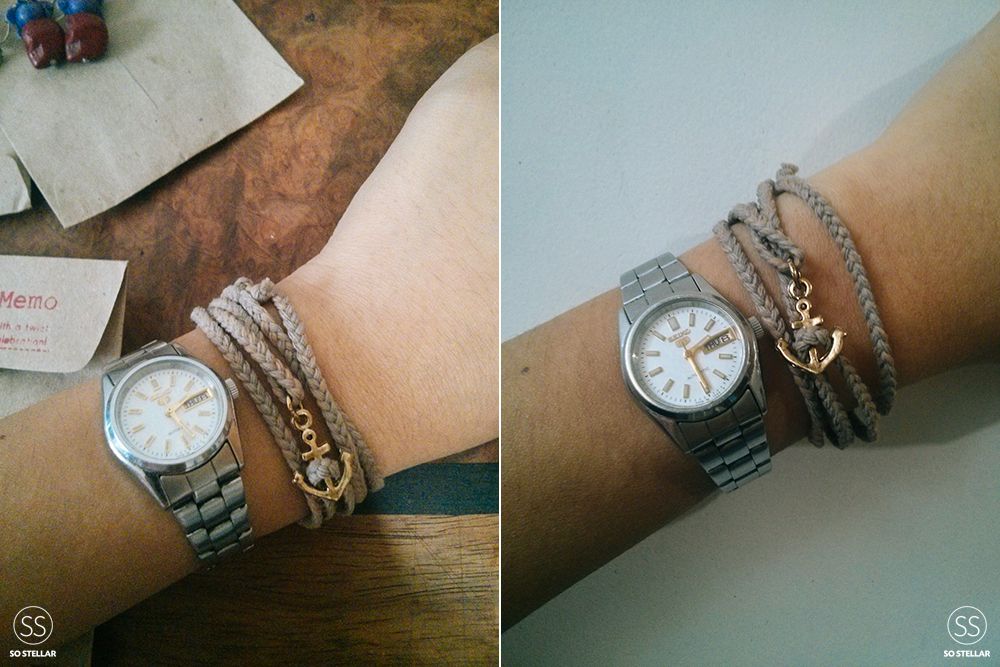 Beige Anchor Wraparound Bracelet from Yarn Memo
Black and Red Combination Wraparound bracelet w/ Metal Snap Hook from Yarn Memo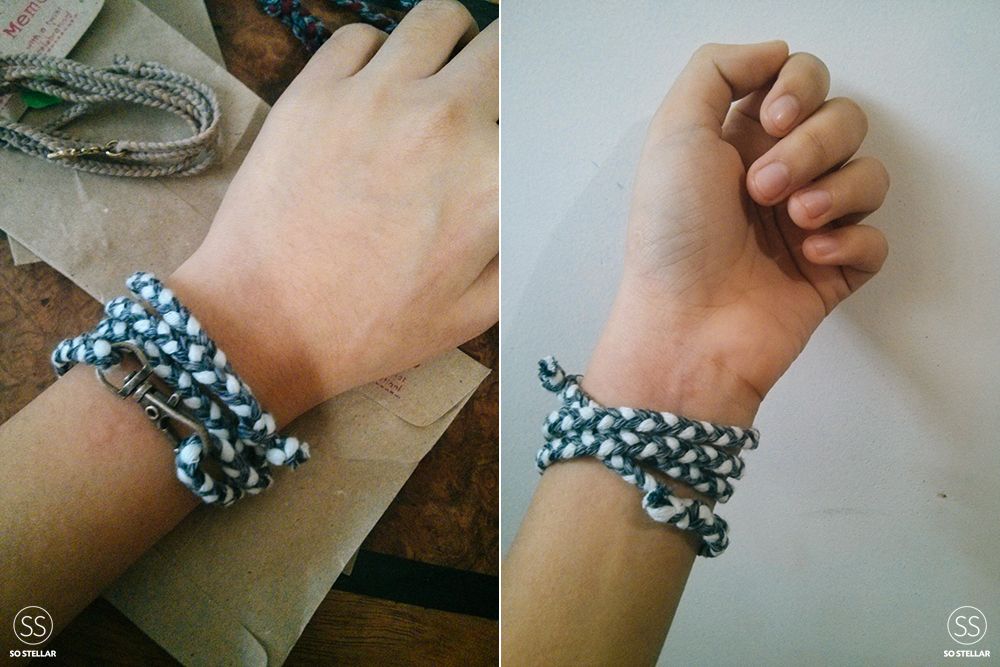 Black and White Combination Wraparound bracelet w/ Metal Snap Hook from Yarn Memo
I wore them for a week, as much as possible trying to switch between all three whenever I go out so they're equally used.. but what I noticed is that I liked wearing the black and white wraparound bracelet more than the other two. And the Anchor bracelet seems to be the hardest to put on out of the three on my own. I never knew these things were a hassle to put on lol. I always had to ask someone to put the Anchor bracelet on me. If only I went out more, I'd get to wear these more.. but now they're just back in my organizer, haha.
I like these bracelets a lot and I think they are a good buy! They are reasonably priced too, so yeah, worthy of your hard earned cash.. if DIY jewelry is your thing, but it also works if you aren't but interested in trying these out. As far as I remember, I paid a total of PHP 390 pesos for these, and the freebies were useable too. Not bad!
It was a little bit of a struggle to take these photos because I just used my phone and it was hard taking a photo of the other hand most of the time.. haha! So that explains why the photos are on the low-res side.
If you are interested, Yarn Memo is on Facebook and for international customers, they are on Etsy! Other than that, Yarn Memo frequently included in various bazaars, according to what I see on their Facebook page.
Yarn Memo (Manila, PH)
Instagram: @yarnmemo
Twitter: @yarnmemo
Facebook: Yarn Memo
Etsy: Yarn Memo