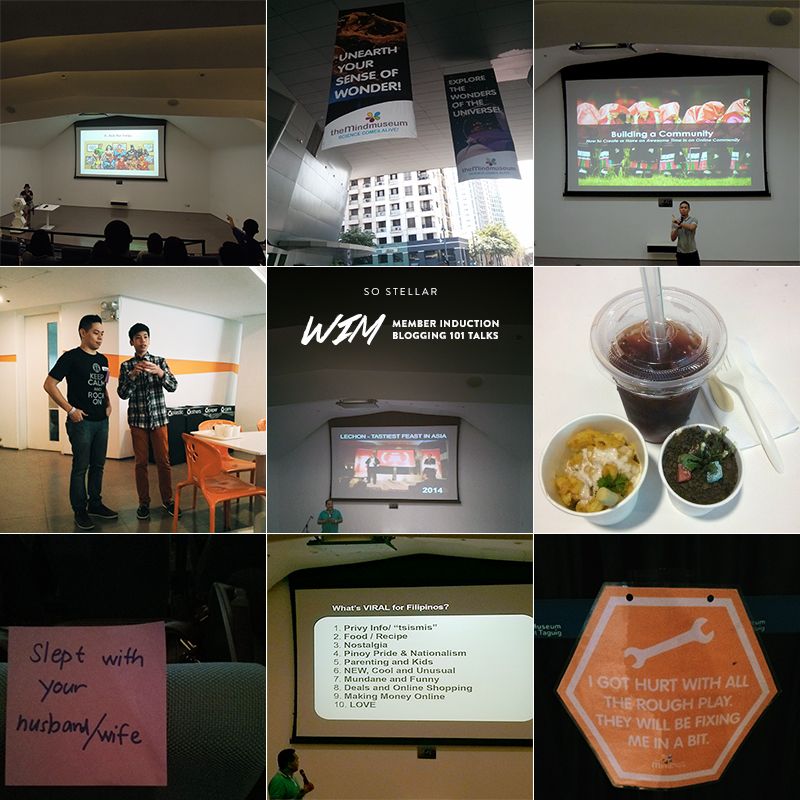 L-R: 1. Angeline of WIM speaking about how to make writing easier 2. Outside The Mind Museum 3. Jason Cruz on Community Management talk 4. Kyle Imao of Kyle's Lab (located in 2nd floor of The Mind Museum) explains his Tiramisu Pot to the WIM members, and Vince Golangco of WIM 5. Anton Diaz of OAP on Blogging Secrets talk 6. Snacks c/o Kyle's Lab! 7. The flashcard I got for the icebreaker game (I had to guess what it is by the way my teammates treated me) 8. Anton Diaz of OAP talks about viral topics that gets our attention online (I cringe at #10) 9. Funny sign I saw outside somewhere in the museum
I'd say that yesterday was a very productive one. After weeks of being stuck at home, cooped up in my room and fixing all sorts of things in my offline life, I went out to meet new people, and went home at the end of the day with newfound knowledge about what I have been doing most of my life. Blogging, what else?! Hahaha.
Happy to be part of the growing community of wheninmanila.com, too! I was a little starstruck seeing most of the known people in there in person but I'm happy to say they're all approachable and really nice people. That might sound creepy, because.. for a few months I've only lurked around, hah. I love how they're geeky (aren't we all?!) and funny. I had no expectations but to just learn from the talks but I got more than that from yesterday. I met a couple of new people, and two who are frequent visitors of my blog (hi Jhanz and Martin!).
Oh, the talks! You'll be glad to know that none of them was a snooze fest. That's saying a lot because nearly all conferences/seminars I go to, I fall asleep at some point. Perhaps it's because the topic is something of my interest and that I was eager to learn from them. Or they were really engaging and entertaining speakers? Either way, all of the talks were so informative and helpful I actually took notes. Some of it I already knew, but good to be reminded nonetheless. Also, be mindful of what you post online. 
Here are some of the things I learned:
Connect to your audience/readers. Engage in interaction. Communicate with your readers, this is also networking, but for me it's better because most of these people turn to be friends in the long run. Having friends is good. 😆
SHARE, SHARE, SHARE! (I guess this is the point of putting out something online in the first place. To get reaction about it?)
If you're making a non-personal post, especially for reviews, try to address the concerns and problems of a particular topic. Half the time it's the reason how people stumbled into your post (from Googling about it.)
Write about the topic when it's still fresh in your memory so it sounds authentic and genuine, not made up for the sake of it. People will see right through that kind of writing.
Learn to make catchy titles that deliver promise in the content, not to mislead the reader. (I admit I'm terrible at this and never really cared about it much until last night, especially when it comes for SEO purposes.)
I have to learn more about SEO because apparently it's a big money making skill these days, hahaha!
The viral topics in the Philippines is mostly true. #9 is cringeworthy (for me). God how sentimental are we?! Lol. I'm guilty of #8 though!
My other notes were websites  and apps that were highlighted from the talks. I think most of them are iPhone-only so they're useless for now. However, the websites were helpful so I shall spend some time this week looking them up. Suddenly I am in the mood to get back to learning. Bootstrap is one of the things I am going to dig up soon, too. Yeah, ok, good luck with that.
The WIM members inauguration and Blogging 101 Talks was held yesterday afternoon at The Mind Museum at BGC, Taguig. It was also my first time in that place, as embarrassing as that sounds. I arrived a little late though, so I was not able to roam around the museum until after the event which was around nighttime. Went straight to the auditorium, turns out I was there just in time for it to start. Talk about Filipino Time nga naman, hehehe. 😛
Our first activity was to get the members talking, so we had an icebreaker game. Sorta like the charades game. They only needed to mention the current TV hit teleserye here for me to guess what was written on my flashcard, but after I mentioned a few explicit terms, lol. For the next 3 hours, WIM members and special guests took the floor for their presentations — all of them helpful and informative.
Late afternoon we took a snack break just outside the auditorium, to Kyle's Lab. The small restaurant operated by Junior Masterchef PH winner, Kyle Imao. He's 14 and already has his own business. Makes you want to evaluate your life and how little you have accomplished, huh? 😆 We were served Mac and Cheese (w/ a breadstick, as shown in the photo), Tiramisu Pot, Strawberry Iced Tea. I liked the Mac and Cheese most, hehee.
In the photo above he is telling us the story behind the Tiramisu Pot dessert. Here's a better look of it.. (Sorry, the pot I got isn't perfect, referring to the leaves hahaha. Everything in the pot is edible, btw!)
The last two speakers were Anton Diaz (of OurAwesomePlanet(!!)) and Jomar Hilario on Blogging Secrets. That which I can't talk about. Loljk. Some of it I already mentioned on my list above, guess which ones they are. 😉 I won't mention who, but of them was so funny w/ their presentation that I enjoyed their talk so much! 😆 I think he was one of my teammates in the icebreaker activity at the beginning of the event.
——
After the WIM Blog Talks, it was the end of the event and you could either roam around the museum or head over to the dinner slash afterparty and mingle some more w/ the members. My newfound friends and I chose the former, since I did not get to tour the museum. Hi Mielyne, Jhanz, Lora!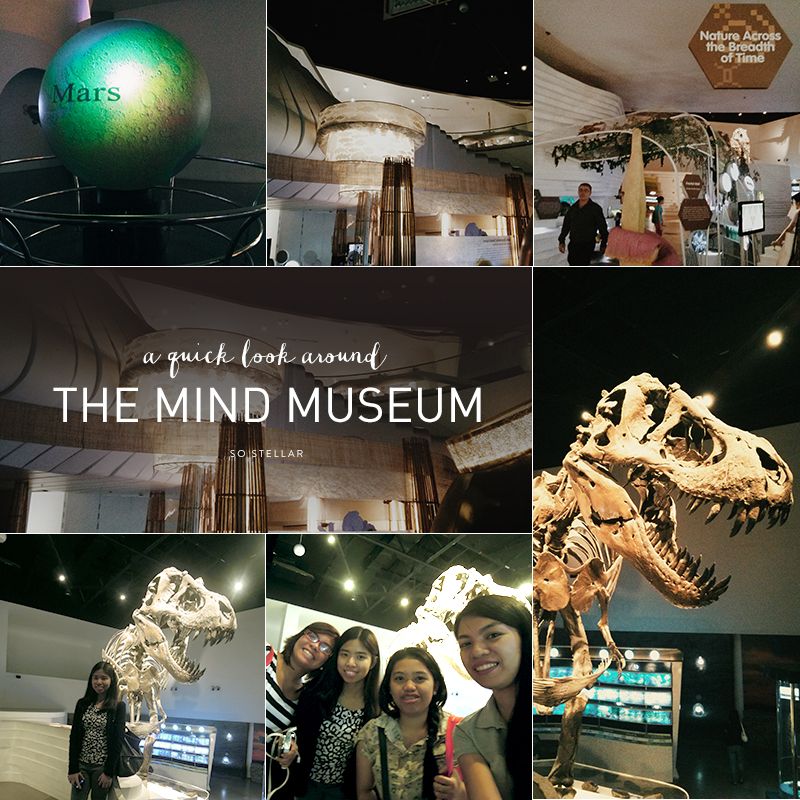 Most of the interactive exhibits inside were turned off from operations because it was after working hours already, bummer. I wanted to try them out!! I don't know the names so I won't bother enumerating them lol. Tunnelcraft gave me a headache. The show in the Planetarium was fun (the guy speaking looked like Morgan Freeman from his shadow, or a rapper if you muted him and put a rap track over the sight of his shadow explaining everything).
Anyway, maybe next time I'll get to visit again.. and by then, everything would be working. I had a great time, especially meeting new people. Looking forward to this new experience being with When in Manila!