Correction: My imaginary bucketlist! I don't keep and take note of whatever dream goal list because half the time I think they are unattainable. Speaks levels of my optimism in general, doesn't it? Lol
Warning: Very, very long post.
So yeah, I traveled alone. For the first time. And like every first timer, it was a very big deal for me at the time and I thought I won't be able to survive, thought I'd make a scene in the airport and cry etc etc but thank the high heavens~ I didn't. IT'S FUNNY NOW BUT IT WASN'T AT THE TIME.
Actually, I just laugh at everything embarrassing that happened in those four days now. 
My dad and I were supposed to travel to Hong Kong over the weekend for business purposes, but a last minute problem on his end cost us our trip to be canceled. I, on the other hand, wouldn't let it go because this is already the 2nd time I would have to give up on an already paid for plane tickets to HK w/ hotel accommodation and there was just no way I would let it happen again. Not on my watch, especially not when we have paid for everything beforehand!
I probably sounded like a spoiled girl to the lady who overheard me (well she was sitting next to me so it's not really overhearing?) pleading my dad to let me go and allow me to go on the trip alone, but I did that complete w/ "come on dad PLEASE, we already paid for it, it'd be a waste to let it go!!", "it'll be fun and I know my way around there, let me go back there PLS PLS PLS!!", "I'll call you immediately as soon as I get there, it'll be okay! I won't be kidnapped lol".
Truth is 1) I didn't know my way around there (because in all the times I've been there, he always did the talking and I merely just followed around), 2) Within the next 10 minutes after we separated, I called him back because I didn't have enough money to pay the fees that came after the check-in part of the boarding process in the airport. Good thing he was still there or that would be really embarrassing. Like I said, I wasn't prepared (and so far this is getting ridiculous).
In the entire course of this trip, I didn't have financial problems since everything was paid for and the HKD I had was enough (it was my dad's but gave it to me since he wouldn't have any use for it now, hehe) to cover my expenses during my stay there. So I won't be covering exact figures on how much this and that cost, maybe on some stuff only, aka this isn't a travel guide to HK post. 😛
Oh the mishaps don't stop there by the way! Where was I..
Right after I successfully checked-in my luggage and said my goodbyes to my dad (insert overdramatic tears here, loljk), I got lost where to head off next. I went up the escalator but didn't see any boarding gates. Okay. I asked the nearest staff person about it and he said the boarding area is downstairs. Okay. Went down and ran to the boarding area and saw the window for immigration. Great, okay, I'm one step closer now.
As the guy was checking my travel documents, he asked me for a receipt to something and I was shocked that I didn't have it. :)) I was going to be left by the plane, I have no time for this!!! I quickly rang my dad and glad to know he was still within the area. Frantically tried to get his attention as soon as I saw him outside the immigration area and we had a brief meetup to hand me what was required before I can pass immigration. :)) Would you believe I literally had no local money with me.. HOW DARE I DECIDE TO LEAVE SOLO I CAN'T EVEN PAY. Jk, I had money, only it was for paying travel tax. I thought that was the only thing you are supposed to pay. FFS. Fuck the Philippines and all this unnecessary ways to milk money from us, yo.
Past the immigration window, I looked for my designated boarding gate and when I found it I ran to it as fast as I can. A family of three and myself were the only people they're waiting to get inside the plane, everyone else has either boarded or already inside the plane, secured on their seats. I know I was very late already, but I'm glad I still made it or else this risk would end in vain. For the first time I heard my name called on speakers, which isn't cool.. I'd still count that as an embarrassing moment.
In the next two hours, I was both freaking out and scared and worried at what awaits me when I get there. A lot of what ifs such as.. what if I get deported (logic says: For what reason?)? What if they ask me too many questions and I won't be able to answer and they'll deport me? What if I get lost? What if this, what if that. I fell asleep during the flight eventually though.
My bag reeked of croissants bec my mom insisted we bring food because airplane food is expensive. I agree but I could hold my hunger for a little while. It helped though, I had food to keep me company. Who knew I'd end up on my own on this trip?!
8AM: Touchdown, HKIA!
And so, we are finally here. I am/was finally there. On my own, for the first time. The airport wasn't particularly busy that day, or maybe because it was only morning.. or maybe the busy part of the airport was in another area. I was especially observant of my surroundings as soon as I got off the plane and walked around the airport. Minding every face of the people I pass by, and remembering that (still on-going?) thing between Hong Kong and the Philippines. Most of the staff wore face masks. I had a diff interpretation as to why they're doing that, but I also knew they did it for hygiene and health reasons (not to spread virus!).
I still obviously didn't know where to go and what to do, but one thing I remembered was that you'll never get lost in Hong Kong if you know how to read and mind signs and notices. Literally everywhere there are guides (in English and Chinese (Cantonese/Mandarin?)) for people to follow (it's one of the things I like over there, why can't we have that here as well?). Other than that, always be mindful of landmarks.. you'll definitely get lost (I did, more on it later) if you don't. Also this is the first time I have thoroughly used a map lol.
Okay so I was able to get past HK immigration without raising any eyebrows from officials and made my way to the baggage claim area with no problems. I felt like wasting 5 minutes prepping myself (of what I'll say, NOT how I'll look, hahaha!) should they question me about anything because when I handed them my passport, the guy didn't even look at me and just stamped it and gave it back. That was disappointing and underwhelming.
I remembered there's wifi in this airport (unlike the airports in the PH, pfft) so I quickly called some people back home (Viber was especially helpful here omg you don't even know!), ask for the most basic instructions for now on how to get to the hotel at least.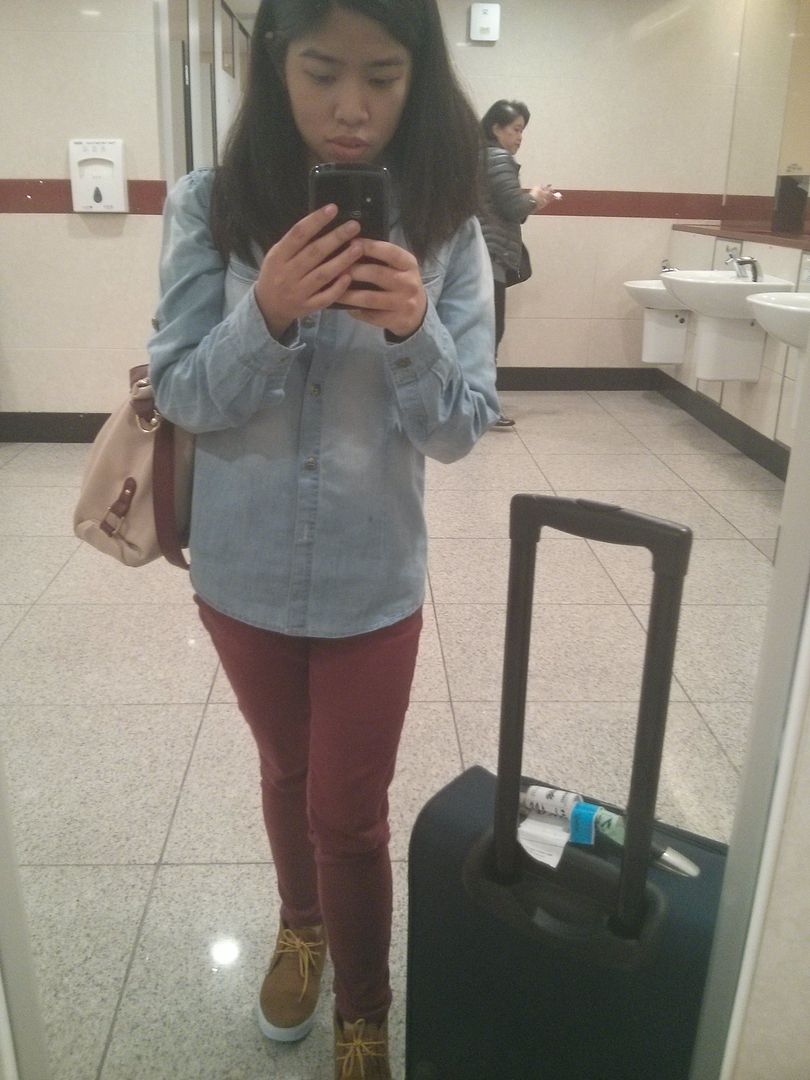 First selfie/outfit photo when I got there (I like what I wore here, sorry haha)
I messaged anyone online on my phone. Luckily one of them bit my bait (loljk), so I had company for the meantime and I couldn't be any more relieved they were online at that time. I think that was the first real freakout and paranoia moment I experienced, that moment, and to have someone talk you through it, guide you out of it.. just listening is enough to calm you down. It was one of those situations where I wasn't thinking logically and thinking stupidly. Stupid things like I can't do this on my own, I need a companion, I'll definitely get lost around here, how soon can you get here?? See I told you it was illogical and stupid. 
Had I told those things to my dad he'd yell at me over the phone, all the way from the Philippines for being "irresponsible". Hahahaha. This was the only responsible thing to do, actually, dad, to not let our paid bookings go to waste. Imagine the money you're throwing down the drain.
After asking my parents for directions, my dad couldn't keep himself at ease of the fact that I was so alone~ there, he looked for someone who can check on me here and he did find someone. I was a little relieved, but nervous at the same time because.. oh no I have to mingle and talk and socialize. I am shy.
Nevertheless, I was grateful because that person will take a day off their schedule to show me around and spend time with me. Also the constant reminders of be careful, be careful with your stuff, don't put your money in one place was said far too many times. Standard parenting protocol, haha. Yes dad, yes mom, they're hidden in more than one place. Yes I'll be careful. I only intend to spend the day inside my hotel room anyway, for day 1 at least.
I felt like I've been lounging and loitering around the baggage claim area for far too long already because the airport staff have been keeping an eye on me (I notice you!!!) and it was starting to become uncomfortable. Seriously, what damage can I do to you people? I look like a lost little girl, speaking in incomprehensible language in your sight I would assume. I couldn't leave the area because there might not be free wifi past it. :)) Yeah.
Once I have calmed down and regained my confidence to past those borders, I fixed myself and went out. I was now starting to see familiar areas from my last visit. I passed by a small kiosk distributing maps and guides around the city. I quickly took a bunch and stuffed them in my luggage. =)) I noticed a crowd approaching my direction from the back and they looked like a family.. no need to remind me again how alone and poor I felt here, so I quickly distanced myself to them and looked for the way out.
I was supposed to buy train tickets that'll take me to the main city, which I was able to find easily with no problems. Upon purchasing my ticket, that's the time I felt secured and ready to wander around. Remembering the instructions, I think I am ready. It'll be okay. Confidence suddenly gained… until I reached my station, got on a taxi and was driven in circles by the driver and did not even take me directly to the hotel. What the fuck. What luck.
Just when I become confident about everything that was happening, another stroke of bad luck. Misunderstanding with our booking at the hotel. I asked my dad multiple times about this if our reservation was confirmed and most importantly paid for, if the money has been deducted from his account. I even asked before we parted ways at the airport hours ago. He said yes everything has been paid for, but it wasn't the case when I got there.
I showed them my reservation and they were confused about it at first and was looking for my dad to sign the receipt. I informed them of the situation, but at the back of my mind I was freaking out again because I might not have a place to stay for the next few days. In the end it was a matter of just changing the name under the reserved for section in the website where we did all the booking. Why didn't they say so in the first place?! They could've just told me to change the names there and we could have saved time from almost-arguing and being lost in translation.
I think they didn't even needed my dad's signature after all. I did sign something though, like a c/o sort of thing on the receipt where the amount was deducted. Okay, so the amount was on-hold until he was physically there to approve it. I didn't even care of the extra I paid for checking in early, I needed to be someplace because I cannot stand loitering around anymore.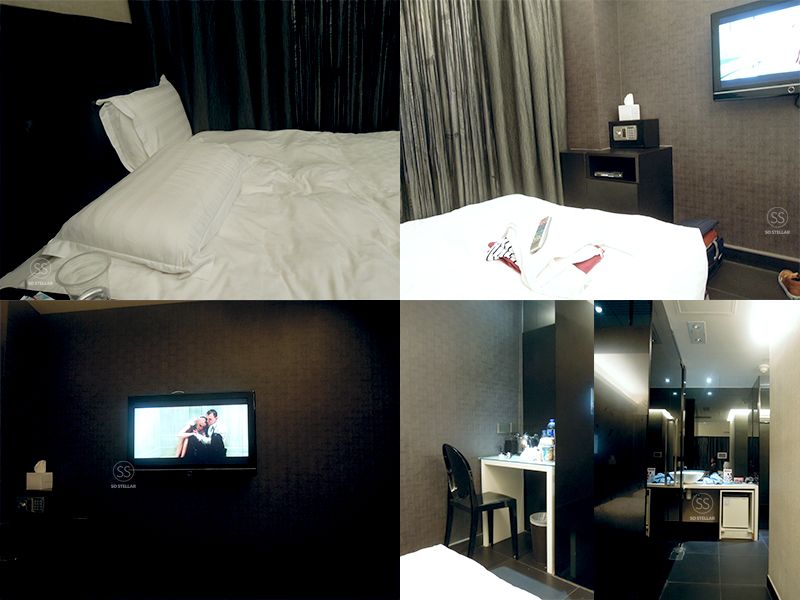 Definitely not bad for a budget hotel. Free and unlimited high-speed wifi was more than enough for me lol.
Apparently they upgraded me to the next type of room available (which, I assume costs more than the type of room we originally booked) but they didn't tell me why. I suspect because I think I looked suspicious(?) they intentionally placed me to a room close to the reception so they can monitor if I sneak out or something hahaha. But the truth is the room was nice, comfortable enough for my needs. I don't ask for much, nor do I require special treatments when it comes to hotels. It has wifi that's fast enough, the amenities in the room were best (I LOVED the bathroom the most, hahaha!), not the best view but who cares, close to the train station, near the shopping district, accessible from major areas in the city. The wifi was what I used a lot in that room, lol. I should've brought my laptop with me.. haha no, it would be counterproductive to my purpose why I insisted on going in the first place.
When I've settled in my room and unloaded and unpacked my stuff, I thought about just staying in my room the whole day instead of exploring around the area (which would be huge waste, I know). I haven't had lunch at this point and I was wasting time online updating my social network but not announcing on purpose where I was. But I was hungry, very hungry. Eh. Thought about going out, but eh. The friend who I was talking to at the airport earlier was still awake at that time so we picked up where we left of, kept talking and helping me settle in. I joked that, there's huge bed good enough for 2-3 more people. And that he should come over! LOL.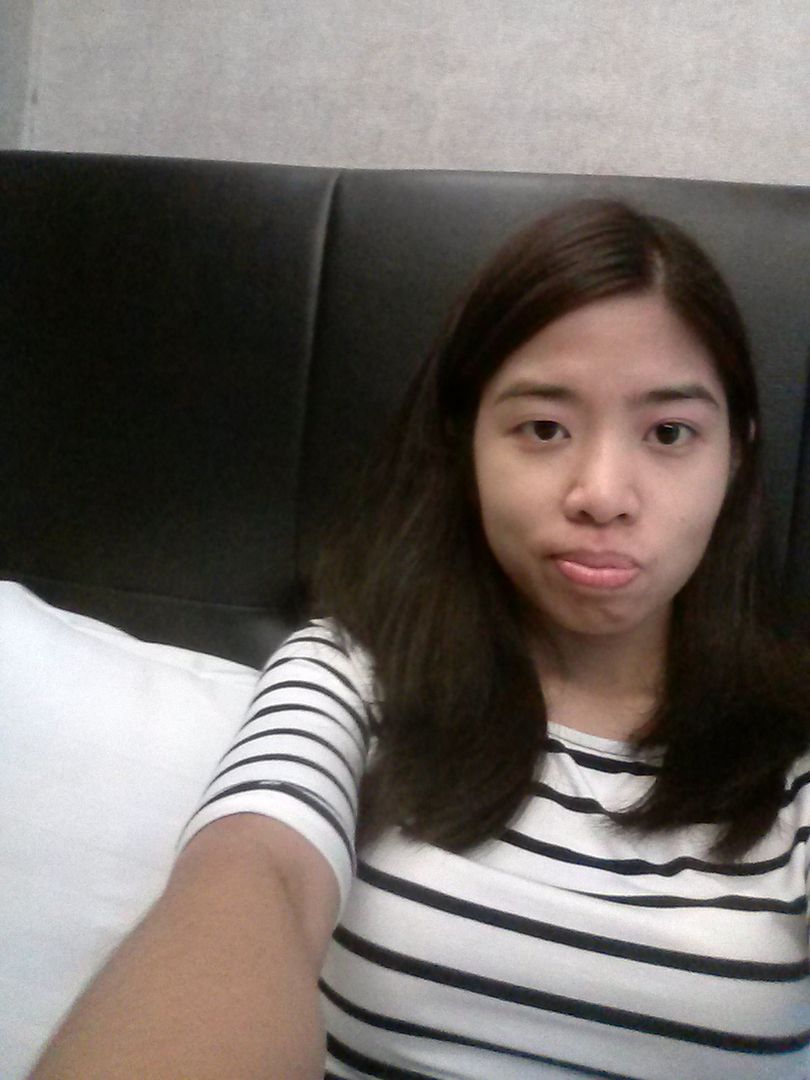 I. Wanna. Go. Back. Home. (not) Am I as pale as Daria now?
Posted a quick check-in on my Facebook after, thinking no one would care about it (usually) then a friend whom I forgot is in Hong Kong, Ate Vergie, replied and asked me if I wanted to hang out! I immediately took the invitation because at this point, I am alone and I don't have any plans and this is going to be fun, I'm sure of it. We've agreed to hang out the next day, Saturday. Said she'll take me around HK. 😀
In the end though, I went out lol. I found a Yoshinoya close by (dropped by to have my first meal of the day, at 3PM!) while I was aimlessly walking and crossing roads and going to.. I don't know where yet. After that, I kept walking and apparently I have walked too far and I didn't know how to go back home by walking. First few hours of this 'adventure' were okay, the next was horrible. Very horrible. I manage to get myself LOST. Admitting it, yes.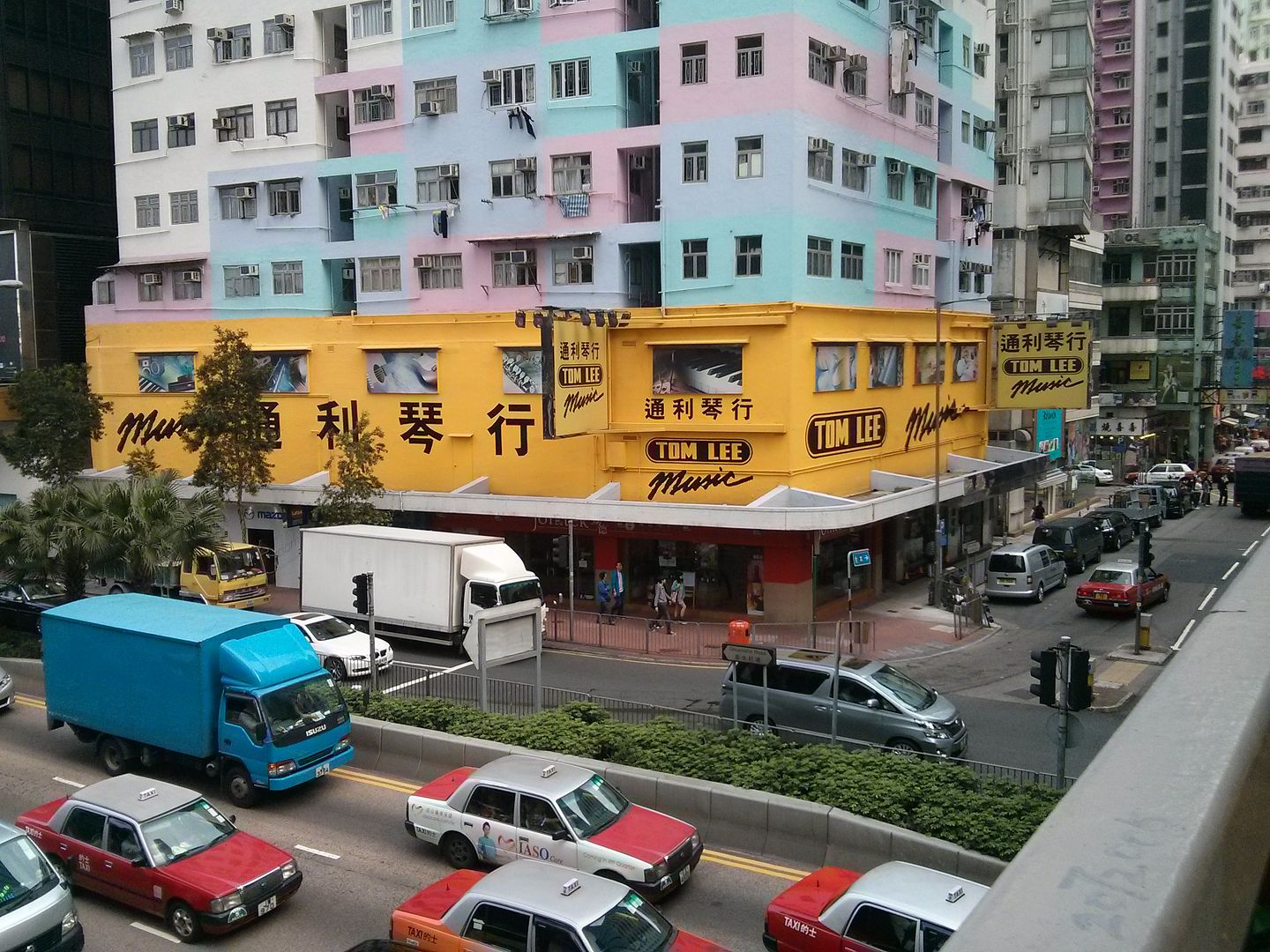 Tom Lee Music Causeway Bay
At the beginning of my adventure, I passed by a Tom Lee store and remembered Alex bugging me to get him a guitar there. It's not that easy though. I posted the photo on his FB page to tease you, bro. He didn't budge though. He is still persistent that I check out this other branch which is at the other island. Hahahaha. OKAY. I think this is the same branch my dad and I checked out when we went there. My brother doesn't care anymore. I think he has given up on the dream~.
Hmm, wait, I had a short list of places I intended to go to that day. On my way to the hotel, I passed by the Hong Kong Convention and Exhibition Centre — so I wanted to check that out on Day 1. The main reason why my dad and I are going in the first place was to watch an auction during the weekend. Sucks that I got to go and he didn't and that I got to watch it and he didn't. Obviously it would be more fun for him than it would be for me.
I did not get a chance to visit the HKCEC on my first day because I got lost, as you know. :))
Other than the convention center, I wanted to check out a record store there. Because I'm sure that if I had someone with me, I would never get the chance to go to one. It's unimportant, waste of time, etc. :))
I tweeted about it, expecting no one to reply me for directions or guidance of any sort.. I wasn't even aware if the HMV stores in Hong Kong are still operating or they all closed down. Niko tweeted that there's one "close by", "18 minutes away" or something like that, he said. Sad to say I didn't find it easily nor did it take me 18 minutes. It only took me like 4 hours of walking around back and forth, consulting Google Maps continuously until it drained my battery, bugging Alex in the middle of his morning and ranting how the fuck did I get to here and there and how the fuck do I get back, and even getting myself to places as far as The Excelsior hotel, and Victoria park which was all the way at the other other edgey end of the city according.. this map I kept referring to for directions.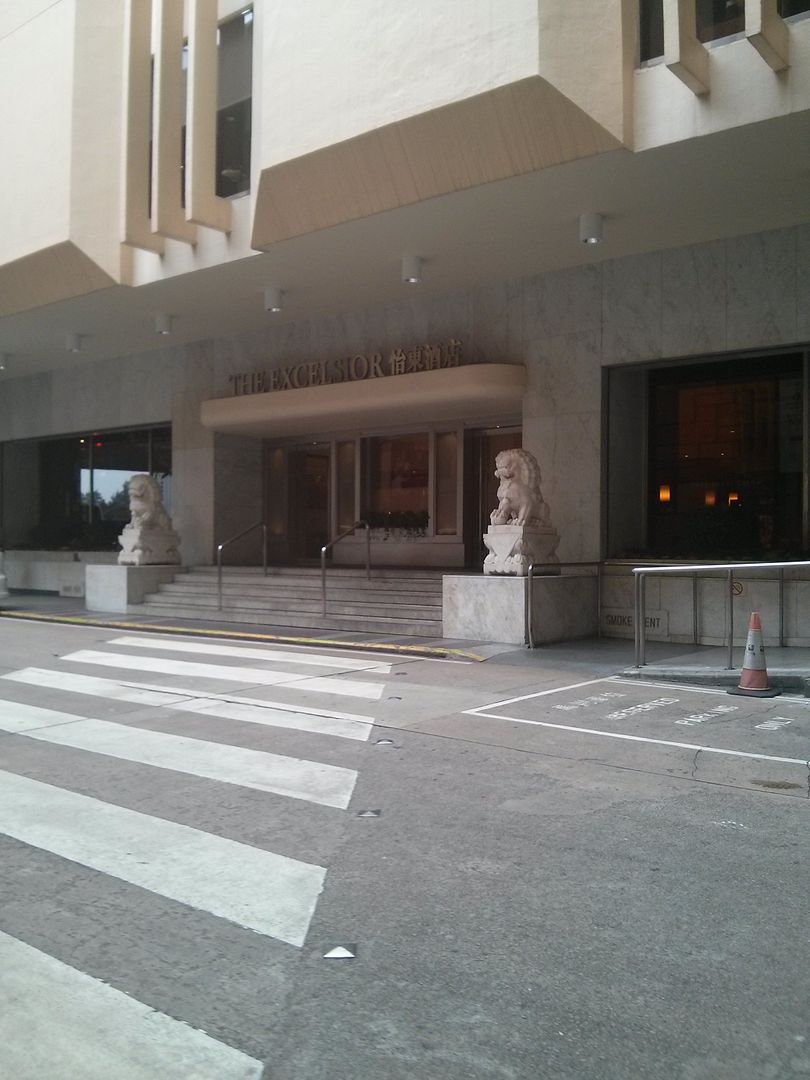 Sent this over to Alex as a landmark to where I was.. fml I was getting lost lol
The good news was that I found the damn record store…. WHEN I FINALLY GAVE UP LOOKING FOR IT. I saw the damn signage of it infront of me just a couple of blocks away. Fuckin A, makes me think I should've given up sooner maybe it would've showed up earlier and I saved time and energy walking around. :)) The building also had an Ikea shop and I was thrilled when I saw the logo. People talk about Ikea a lot, saying it's the best store for all your home and kitchen and house, interior, etc needs. Since I'm already there, I took as much time needed to inspect and go around the two stores in all corners.
I saw a lot of records I wanted to buy in HMV, but at the same time I was thinking twice every time I grabbed an album and about to head to the cashier.. I left the store without purchasing anything. I kept thinking that what if record stores in Manila sold this album too, for half the price? Even for a discounted price, during the big CD sale that happens every year? I held longer to two Jack Johnson albums because I really wanted them, but at the same time they would be about PHP 1000+ if converted, and that's rather extreme. Haha. Also the Oasis albums! They had like a 2 for 1 sale going on for it. It was good to finally visit HMV and thoroughly check the stuff out though!
Next was Ikea. It was fine. I saw some stuff I wanted to buy but I obviously can't. Like this cool usb-powered LED bedside kind of lamp. I bet it would be a pain in the ass to take that home and it might break, so maybe next time. The store's setup was like an impossibly never ending maze, they make you walk through the entireee store and check out various room setups. Most of the customers lounge in these rooms and I saw them resting by the furnitures and I thought it was weird. Here, people aren't allowed to lie down or sit by the furnitures on display. Must be a culture thing that makes it "okay" for them to do that over there. Lotsa cool setups I saw that I wish my room looked like, too. :)) The drawers and cabinets and dressers were nice as well. If I had the money, and a chance to renovate our house, I'd choose Ikea to get most of the stuff from haha.
Meh. It was nighttime and I've gone to the places I intended to go to for today so it was time to head back Dundundun, I got lost on my way back! I already got lost looking for HMV, but the experience of getting lost was worse when I had to go back. I got as far as reaching Victoria Park! Thinking of it now, I am appalled that I was able to walk that far and not collapsing. Felt my legs and feet would give up anytime now if I walked that far over here. Stupid me could've just taken a taxi back, but I was stubborn and wanted a challenge and a bragworthy moment of being able to walk back on my own back to the hotel with minimal assistance. And I still couldn't accept the fact I paid $50 from airport-hotel earlier in the afternoon lol — that was mostly why I didn't want to take a taxi back.
In the end I 1) wasted a LOT of time (obviously bad), 2) wasted energy walking back and forth (bad), 3) got to both good and bad-looking places (like a sleazy looking alley, definitely bad and creepy), 4) terribly sore body and tired feet that I couldn't walk in the boots I used on Day 3 (bad, tsk), 5) found the Forever21 and other "mainstream clothing stores" that I originally wanted to go to (yay), 6) found Times Square Mall, Hysan Place, malls malls malls! (I LIVE FOR MALLS, a definite "yay!" haha).
After 8 hours of walking, walking back and forth, consulting the map and passing by a supermarket to buy the essentials.. I found my way back. Called it a day.
On my first day, I realized that being here on my own for the first time has left a bad impression, one that I would carry with me for a long time. It definitely did not feel like this the last time I went here. Somehow some people I encountered that day were rude, even though I was really, really polite to them. They weren't very helpful either, even though I asked nicely and as clear as I could. Most of the time I had a hard time understanding them, and misunderstanding happened a lot.
The sad part of this trip, overall, was the way how I spent my mornings, food-related. Eating cold bread and drinking hot choco or tea. The mornings of my first and last day during that trip was lonely and annoying because of the food I had.. if only I was more familiar and prepared for this, I'd have researched where to eat. One of the things I wanted to do over there was to try a lot of the local food. Then I remembered I might have a hard time ordering especially in local restaurants because of the language barrier. :-/
Specifically, I wanted to eat at Delifrance again (I did, happy tummy moment there lol), and this restaurant in Causeway Bay near at the guest house we stayed last time that serves this delicious.. I don't even know what to call it, but failed to find it on my own. Ugh.
I contemplated about trying the McDonalds there, going in for breakfast on my last day but realized that I have a lot of food on my desk so I had those instead. Also, I thought it won't be much different w/ the one back home.  I was wrong. Dead wrong. And why would I go to another country to try fast food? I thought about going to McDonalds on my first night, for late dinner, too, and I'm sure there's a 24 hour branch close by.. but failed to find it. After my 8-hr long adventure I didn't want to do another exploring, and it was late at night. Alex found the McDo over there does 24hrs delivery, so I asked the guys at reception and they weren't helpful. Okay, so much for that.
PS: My dad did not miss an opportunity to call and check up on me. If I kept tabs, I'd say he called every 2 hours checking up on me. Hahaha.
I am still thinking if I should do a separate post to review the hotel I stayed in. Also I shall be blogging separately about what happened during the weekend. 😀
————————————————————
Monday morning was my last day at the hotel, and my last morning in HK. By nighttime I should head back to the airport for my flight. The trip back was alright. I did not have problems going to the airport through the Airport Express (still feels weird saying this because the "Airport Express" I know is an Apple wifi router, lol). To me it was the most convenient, stress-free, and one of the fun things I did over there. The train trip to the city and from there back to the airport was fun enough for me. Suddenly, on my last day, things started to pick up and turn nicely for me.
Was HK really that happy to get rid of me? Lol
Also, whenever I'm in Hong Kong I make it a point to always, always eat at a Popeye's restaurant. Hahaha! I only know the airport has it, anywhere in the city – I'm not sure. I had my Popeye's after check-in, mission accomplished.
Check-in was no problem either, and I felt right at home because the passengers with me were Filipinos too. You could say I was beginning to miss home after 3 days and started to appreciate the company of my own. :)) I hung out with this family until we separated upon boarding. Thanks for accommodating me, ate Pinky! Haha.
What annoyed me the most was that on my last day, is I realized just then that I am not too far from the hotel at all. I mean from Hysan Place, Times Square mall to my hotel, the distance isn't far at all. And by day 4, I have memorized the place already. Great, just when I have no use for it.
So what was all that unnecessary back and forth walking I did? All of it were nothing but unnecessary walking and I regret wasting 8 hours for that now. Sheesh.
Okay, so I do regret doing that, but I did learn so.. sort of win-win? You'll never learn unless you try, or make a mistake doing something. Something like that. I'm sure there's a saying like that around, somewhere.
I think I am ready for next time, IF I were to stay in the same place. I'm more confident now that I won't screw up.