Last month, while I was organizing my photos from the MaD show, I suddenly had this idea of having some of them printed. Not my shots from the show itself, but the spontaneous photo-ops w/ the artists after the show. And I also thought of compiling everything, like a small album for my own — that sort of thing. When you have been doing this for a while, it's kind of hard to keep track, cuz they're growing in numbers over the years. In the end, I thought that wouldn't be a bad idea at all.
Shortly after that, I thought about the means of having these photos printed. It would be very costly if I go out every time to have them printed and done professionally at a photo developing studio. Then I remembered those portable Canon Selphy printers. My friend has one of those, and they were fun to use last time I remember. Thought about its practicality and cost of the paper and inks, realized that it's not that bad.. especially for the quality of the photos which cannot be beat by the regular print quality of home printers (inkjet type).
I texted her and within a few hours, we have agreed to meet up the next day cuz she'll lend me her printer. T'was the right time because she isn't using it now because she doesn't have any photography classes requiring it. 🙂
I headed to the Mall of Asia maybe two hours earlier than her and while I was waiting to hear from her.. I took these random photos whenever I stopped by a random corner around the mall.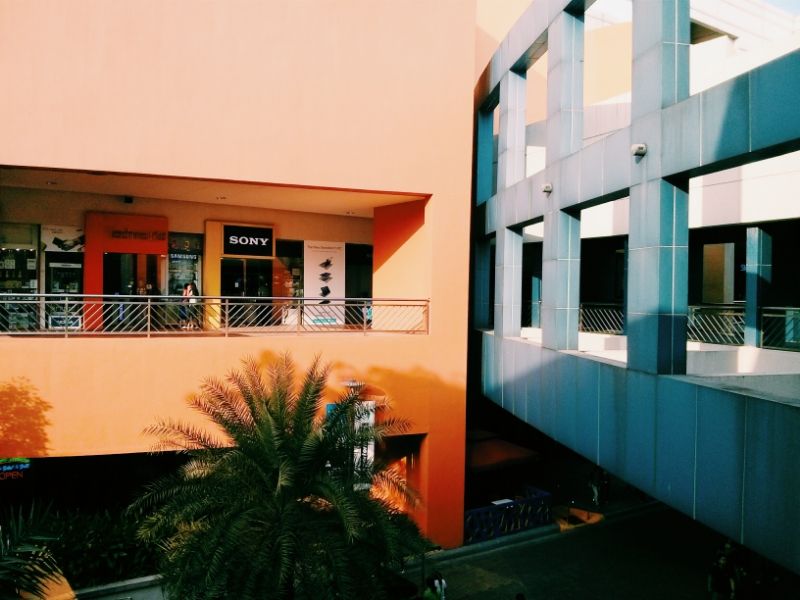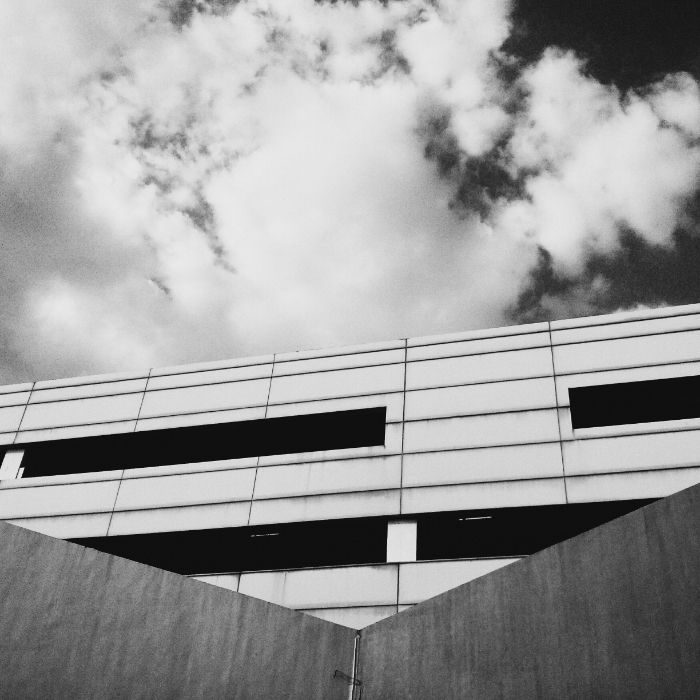 Nothing special, just paying attention to the geometric shapes they formed. Probably not a big deal to you but I like the contrast of the photos.
I hung out longer in the corner area near Uniqlo. Took a panorama of the area. I love how this turned out, after so many tries you don't even know. Lol.

I love, love, love the facade of this particular part of the Mall of Asia.
While I was waiting for her, I went to the Canon store to get a box of inks and papers for the Selphy printer. The one I got cost about PHP 1500. It is that set w/ three ink cartridges and 108 pieces of photo papers. No photo because I was too busy. Just Google it, hehe.
We met up an hour later and she gave me the printer to borrow for as long as I want, but if she needed it back at any point I would happily return it. Woopeee! Thanks for letting me borrow the printer, buddy! Really, really excited to use this!
————————–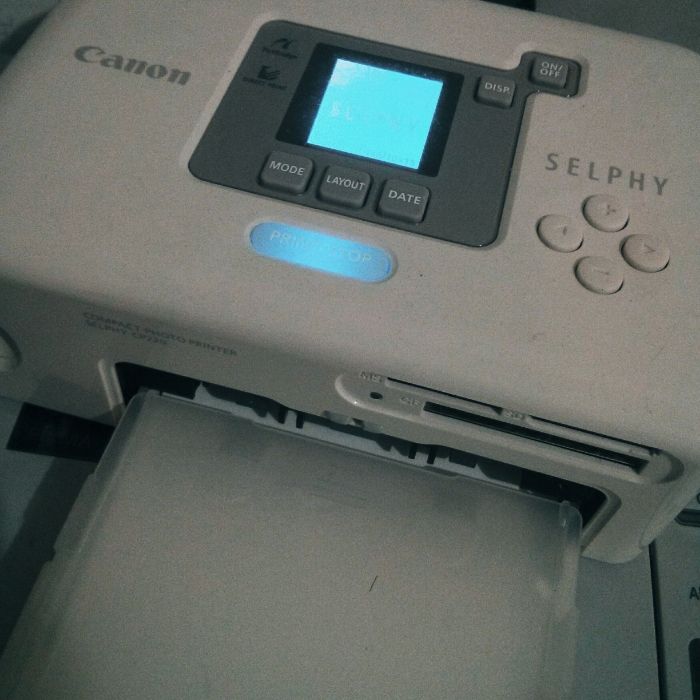 Okay, my short feedback and review about the Canon Selphy printer: The model of the Selphy printer I borrowed from my friend is an old model. Compared to the newest model (which is CP900), this one I have right now (CP720) is quite limited on features but what didn't disappoint was the print quality. It isn't evident on this photo (below), but I assure you it is of the same level (if not, it is just about really, really close!) as the photos done from a photo studio. Lab quality is what they would call it, I suppose.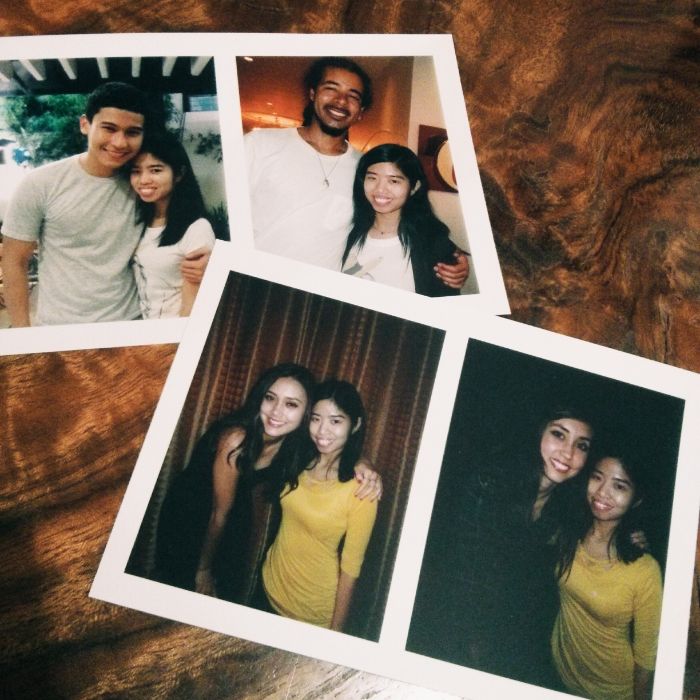 Top (photo w/ Enchong Dee, and DJ Kilmore of Incubus): Post processed in Photoshop photos; Bottom: Straight from memory card, unedited photos w/ Dia and Meg Frampton of Meg and Dia.
Compared to the Instax (Why did I choose this out of other printers? because it's an instant photo printer too!), the Selphy seems like a better choice to be honest. But lately I've been sucked back into instant photography! Ugh. Haha. They're fun to use.. just the expensive films is something you should really consider for long-term use!
This particular Selphy printer can only accept direct from memory card photo printing and from certain(?) Canon digital cameras and DSLRs w/ PictBridge/Canon Direct Print(?) capabilities. Also, the general (maximum?) size of photos for this kind of printer is 4×6, but upon inspection of the photos I noticed that it crops the sides of the photos so you should leave allowance on your photos around the edges because that will be cropped off unless you are printing in smaller size (like my sample photos above). I'm not sure if this issue (if it can be considered as such) has been resolved in the later models.
Maybe someone who's more experienced w/ photo lab quality printing would find faults w/ the quality of photos this printer puts out.. but honestly, I haven't found anything bothersome w/ the print quality. As long as the dots aren't THAT visible compared to inkjet printer, I'm fine with it. Good enough for my use. It's not like it's for presentation or portfolio quality. I think primarily, this printer is for scrapbooking? Hmm.. the quality looks by the par of lab-quality prints for me. So I'm contented with it. Otherwise, for some users that's one small drawback from this overall good product.
It was inconvenient at first to use because most of the photos I needed to print were already transferred out of their memory cards, so if I dragged the files back to the memory card, they would be unreadable. However, I found a workaround to it. But IDK it's long term effects (if it might corrupt the memory card in the future, etc.). Basically you overwrite the existing image files in the memory card w/ the edited photo and it should be readable when you plug the memory card in one of the printer's MMC slots. Also, for additional care and maintenance tip of your Selphy printer, please watch this video! I think it applies for all printers, if I remember it correctly.
Overall, I'm very pleased w/ this Selphy printer. I'm still using it up to now, but I've yet to finish off my first pack of photo sheets! I told the family about it and they're just as amused as I was whenever they see the photos finish printing, lol.
I looked for cheap affordable deals for the newest Canon Photo Printer Selphy model (CP900) and luckily I found one, for way, WAY less than its mall price. Just Google around and you'll find it too. Now, I'm just waiting to save enough to get one for myself.
The newer one has more capabilities including sending photos to print via wifi to print. And other new features than enhances the photos in print. I love the wireless printing feature the most and that's the one I look forward to try when I get one of them. 🙂
————————–
My friend and I did some catching up over late lunch-early dinner at Fish & Co., Mall of Asia. By the way, this is the first time I ate here and I'm glad that on my first try, I picked (at random) the perfect dish and it was well within my budget. Score!!!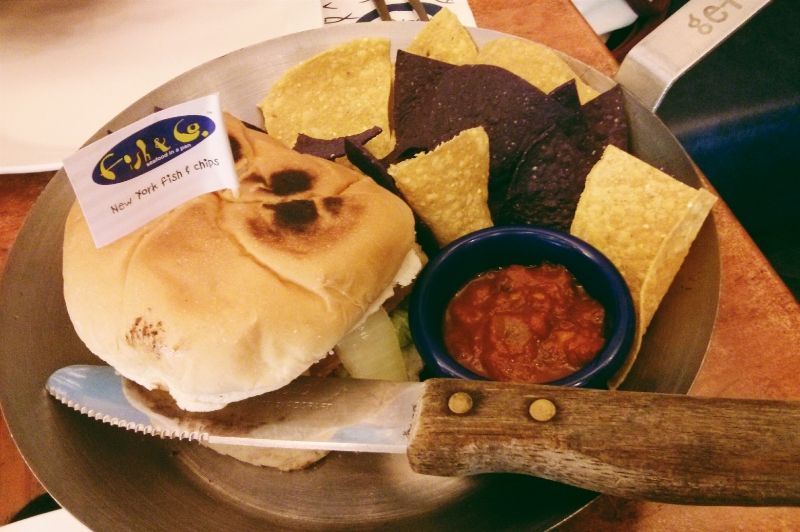 I think this is their Fish Burger (well duh, haha!). Way too much for my own consumption but it made me feel full when I (almost) finished it all. Yummy!!
Over good food and a good time of conversations, we  talked about our plans for the summer – entire year. If our plans to go to some places around the Philippines will push through and on what dates should we plan them on. I also asked her about school, how's everyone.. how's the entire *school* these days. How many more months does she have left before graduation, or until she gets to the thesis subjects.
She's also the first friend I met up for January, I think. Positive about that! Hahaha.
I brought my Instax w/ me that day for the sole purpose of having an Instax with her. During this time I was still trying to get the hang of the camera… unfortunately I became the victim of an overexposed Instax. Tsk. Well, whatever. Sometimes it works.. I'd like to think it did. Somewhat.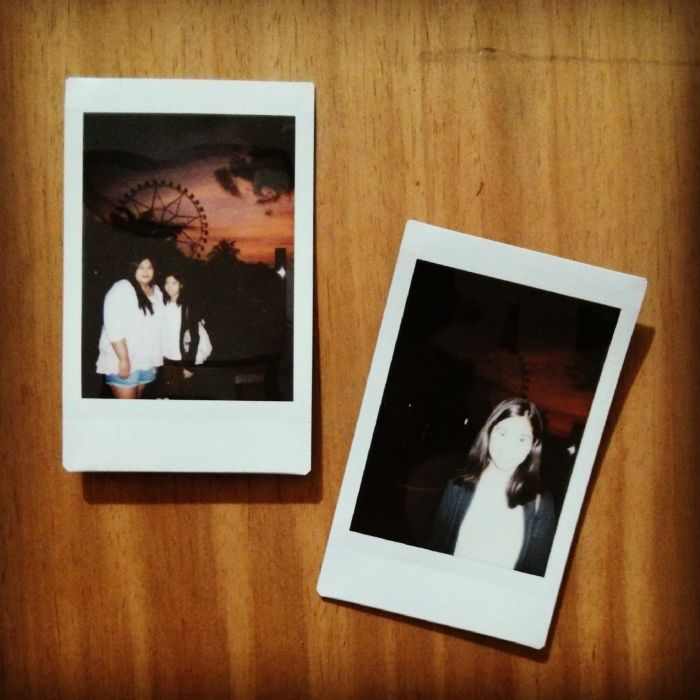 Great seeing you again, P! See you sometime this summer. 😉
All photos in this post were shot w/ a Nexus 4 and edited in VSCO Cam app. Canon Selphy CP720 portable photo printer reviewed (though in spontaneous fashion) is a borrowed unit from a friend, and not mine.