Everyone has their share of opinions about the recently concluded 7107 music festival last weekend. No, I didn't go. (#brokeassblogger problems) But would it count for anything that I did go to one of the mall shows w/ a couple of their artists headlining it?
Well I did, and it was 'nice'. I am not a fan nor do I know a handful of songs from both performers, but it's still something. At the end of the day I'd have my own story related to 7107 to tell people about. Hahahaha. Not close, not quite, but still somehow connected.
Yeah, keep telling yourself that. 
So what really happened was that I accompanied a friend (who's already going to the festival itself the next day, w/ tickets and hotel accommodation already set, by the way) to the 2nd mall show featuring The Red Jumpsuit Apparatus and The Astroid Galaxy Tour. It was in the Venice Piazza mall in the McKinley Hill, BGC. Far from where I usually go. Show's venue was at the open area location.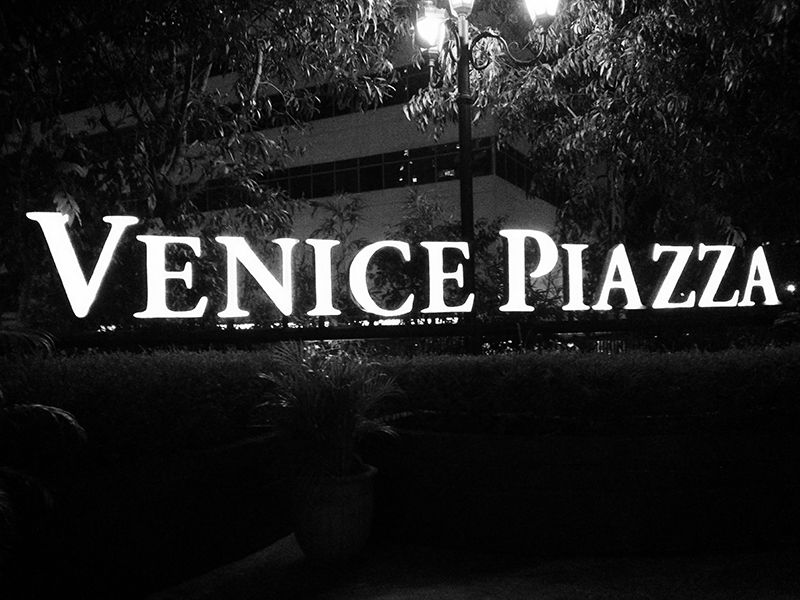 It was my 2nd time to go to that mall and we even got lost on our way there. That's what happens when you try to save up money by taking multiple public transports even though you have no concrete idea how to go there instead of saving time (but not money) and getting a cab in the first place that'll take you there. Luckily when we arrived, the show hasn't started yet.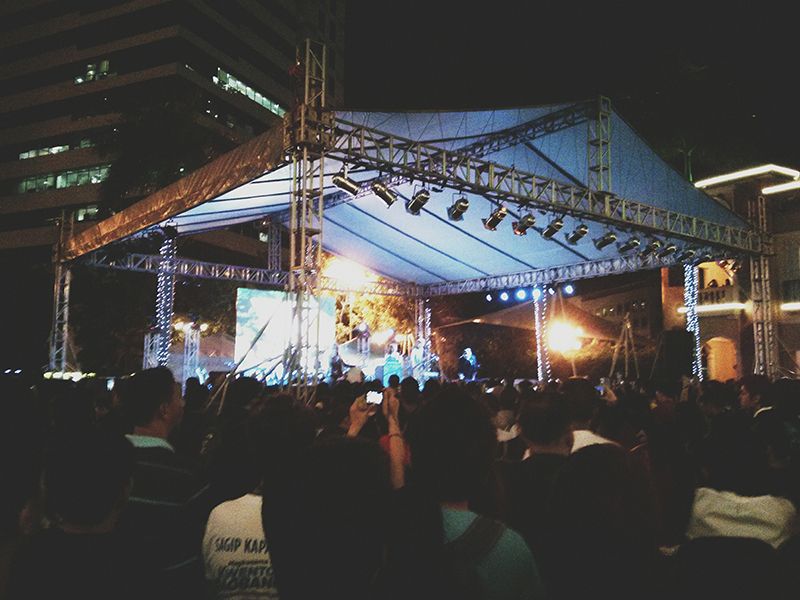 In 10 minutes the show started and yeah there they were. The Asteroid Galaxy Tour opened up the show, followed by Red Jumpsuit Apparatus. RJA's set was longer than the first band that performed, or maybe because I watched the 2nd performer from start to end but not the first one.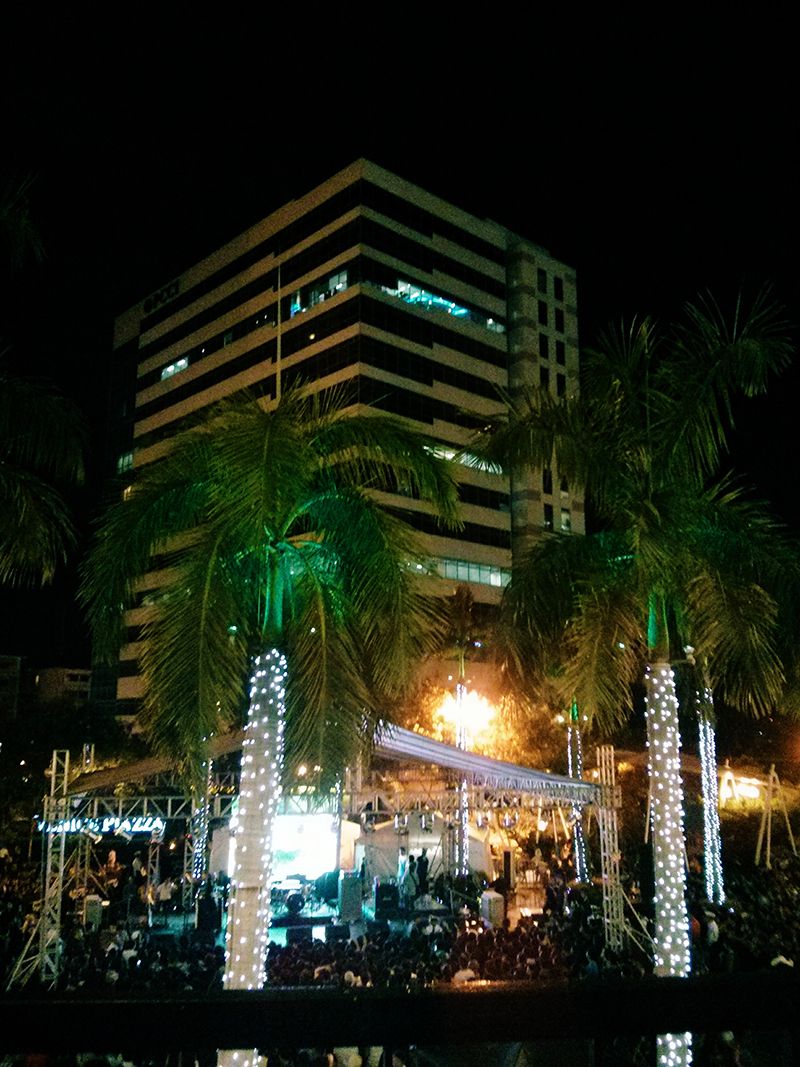 We also found a better spot to watch the show later on: Upstairs at the balcony area of the mall. The view isn't THAT good, but at least we get a wider view and we didn't have to tiptoe (especially me) to see them better. I got a nice photo of Red Jumpsuit Apparatus, too, from this viewpoint. Hahaha.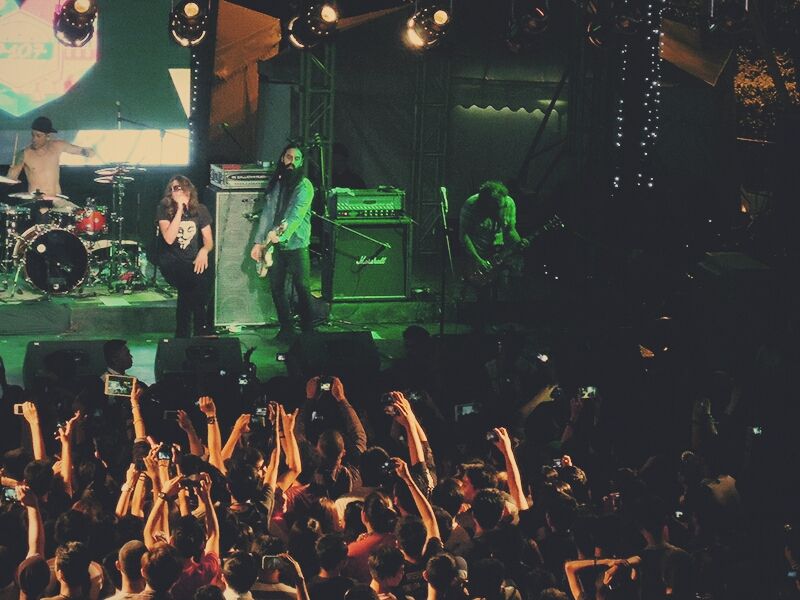 Overall the show was okay. Eh, I heard the one song I know from RJA so that's cool. Out of the two, they were the ones who were more anticipated and most people in the audience knew the songs about. I only know 1 song, I heard it played live and was contented. For the rest of their set I took photos. My friend on the other hand seemed to have a lot of fun watching them.
Lol I am obsessed w/ my Instax. I take it every chance I get that I go out and meet w/ my friends despite being heavy. Anyway, Anne and I got hungry from the long commute and we both hadn't eaten any meal throughout the day so we looked around which restaurant to dine at. We looked for a place that isn't available or a common place where we're from and ended up dining at a ramen house.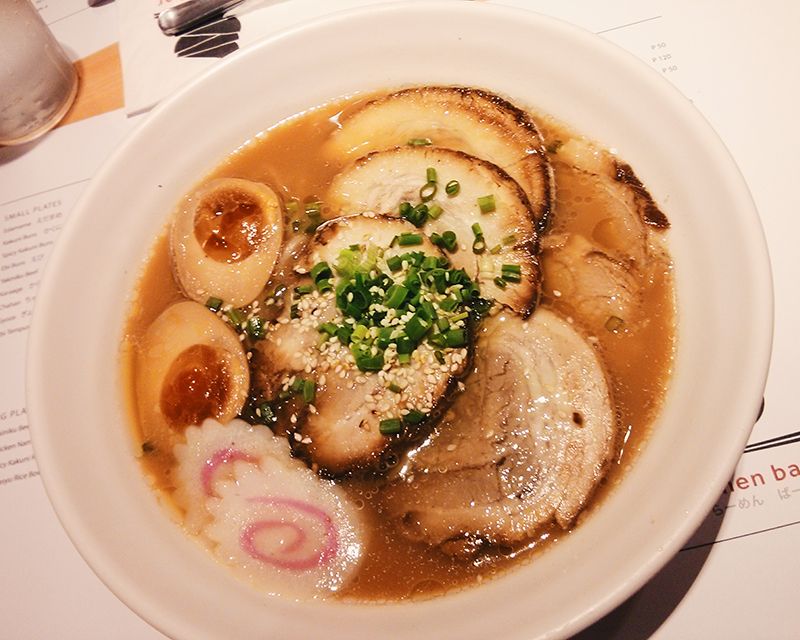 Guys, twas my first time to try a legit ramen noodle soup. But, erm, sorry to report back with this news: For my first ramen, it was disappointing. A lot of factors might have contributed to adding up in my not-so-pleasant-first encounter w/ trying ramen soup.. or I'm just making up reasons.
I assumed it would be tasty, not too salty (first thing that really bothered me, so I did not finish it). The soup would be hot, not too hot but just right, at least enough to keep you warm even if the restaurant's room temperature is ice cold. What I found was the soup was almost cold, and it tasted salty I couldn't finish it. The noodle was okay (noodle is noodle, no qualms about it). The other ingredients were okay, but the meat was salty too (but that's the soup's fault now huh).
Maybe I ordered the wrong ramen. Whatever. I'm not completely giving up yet on this, but safe to say I was really disappointed. It was also pretty expensive for me. Next time I'll try a different ramen house, if the person I'm with by then wants to eat at one, too. I don't wanna go there by myself because ramen houses are frequented these days.. I'm shy to eat alone at a populated restaurant. :))
Note: This is not a bad review of the restaurant and its food. I'm putting the blame here on me for ordering something I did not have much of an idea of. Next time I will ask which ramen is less salty. :))
We hung out around the mall for sometime before moving to our next destination. We saw the guys of RJA and some fans were waiting for them. I took photos of the mall's facade. Lol.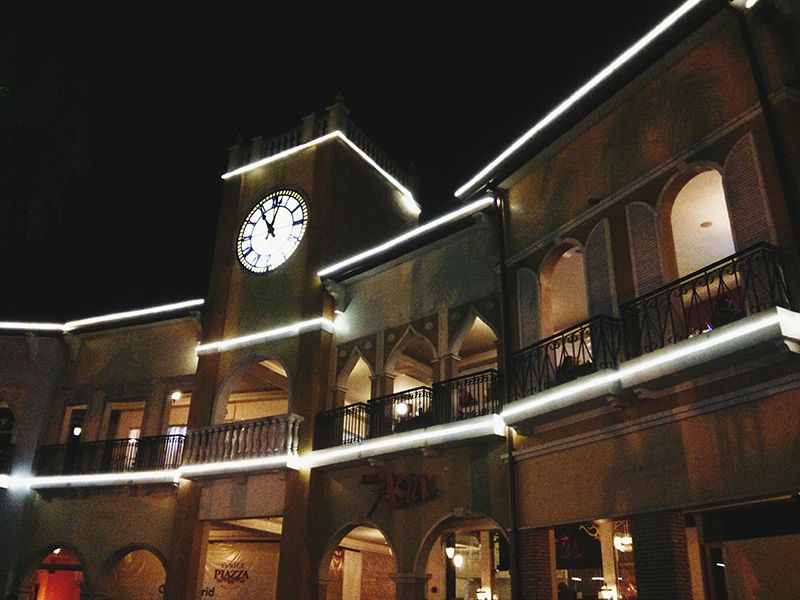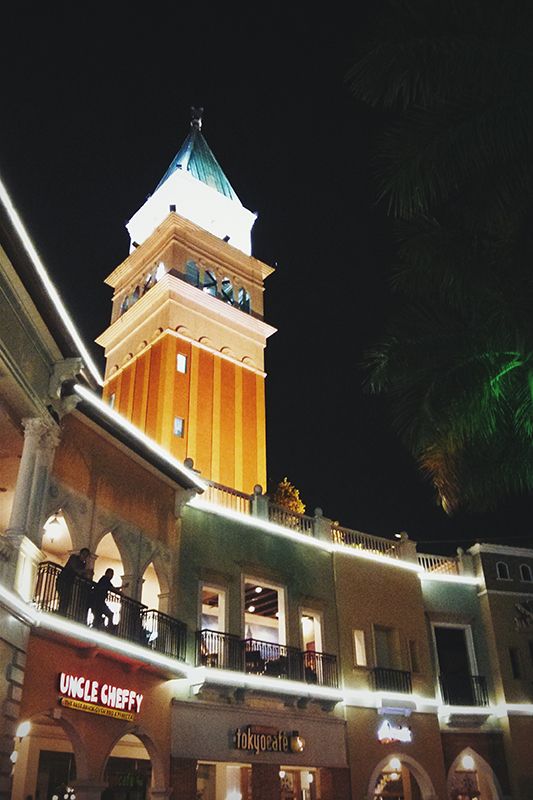 I wanna try dining at Uncle Cheffy next time
Our next stop that night was at one of the hotels in Makati to hang out by the lobby bar. Quiet Friday night, there weren't many people. We occupied one of the sofas at the bar and ordered drinks and talked throughout the night. May not be much but it was everything.. catching up on everything since the last time we saw each other. Mostly talking about that event one of our friends will be going to the next day. :))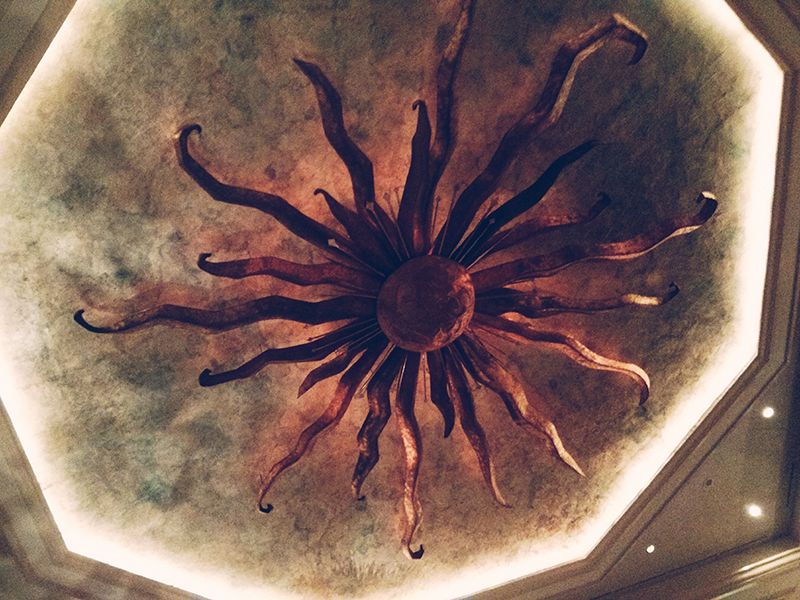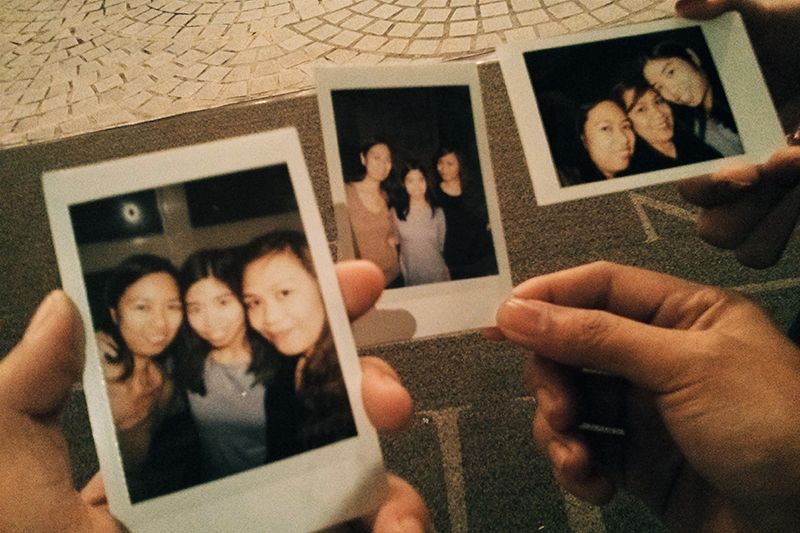 We capped the night around 3AM because I had plans to go to Mitch Albom's book signing in a few hours…….. that didn't happen (tsk) because as early as 7AM, there was a crazy-ass queue outside the mall and by 12NN, the organizers had to impose a cutoff. I had just woken up when I saw the announcement on Twitter. FML. Missed Mitch Albom. Hope he returns. Promise I'll plan that out for real next time. I shouldn't have went home, we were so close to the mall already!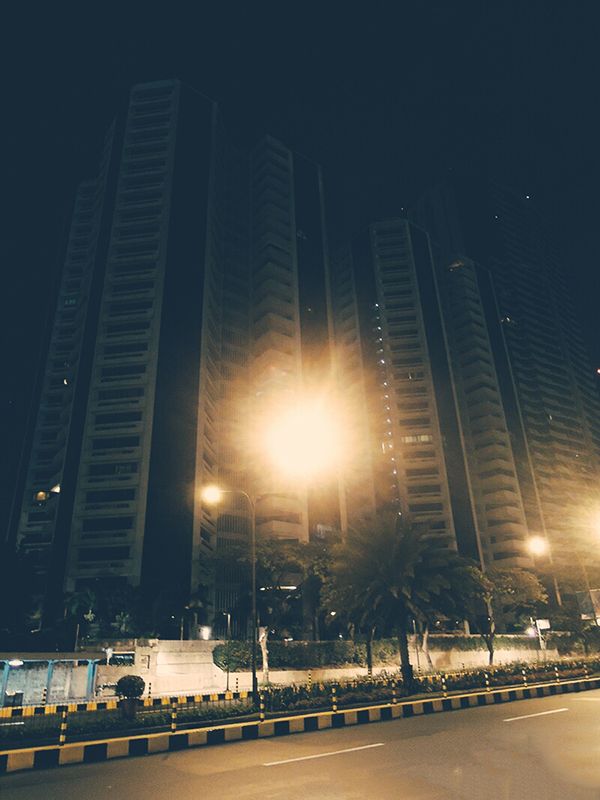 Shereen and I walked from the hotel back to Ayala to catch a bus that will head home. Walking around Ayala, Makati in the wee hours of the night somehow feels relaxing because there aren't many people, no cars, you can cross the street freely without worries and dilly-dally until the sun shows up. Well of course you still have to look after yourself and your stuff. Always be wary of people walking with you. 😛