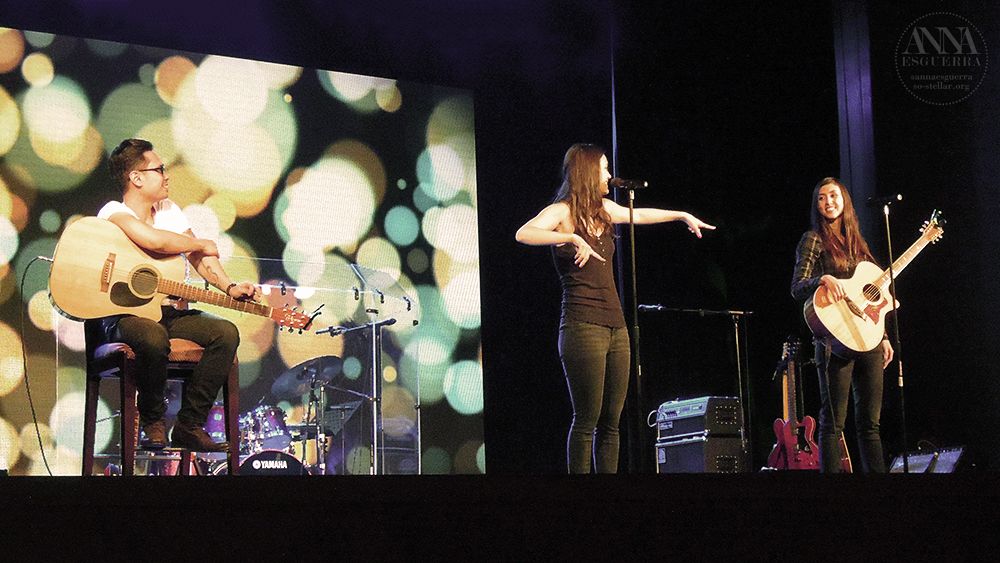 Meg and Dia
The following night after their show at the Hard Rock Cafe, Meg and Dia had another show. This time it was at the Eclipse Bar in Solaire Resorts, Manila. Unlike the HRC show, this one is free for everyone, but the setlist is a lot shorter and it certainly wasn't that intimate when it comes to the crowd interaction.
I arrived late to this one. To get to Solaire, we had to get to their free shuttle located at the Mall of Asia first. It took some time for the minibus to be occupied enough to leave so we waited longer than we expected. Well, I'm just glad that I did not miss a lot.
It was also the first time I visited this place. Solaire Resort and Casino looks cool. Looking forward to going back and exploring the place next time.
By the time we got there, they were on their third song. I met Lexie's friend, Baldwin, and Crisel that night, too. I went to this show w/ Shereen this time since Clarizze had work. I hope I did my job of converting Shereen to be a fan of their music at the end of this night! LOL
I took some videos from this show since the previous night, all I had were photos. I had to make up and do video documentaries for my own use, too. 😀 The rest of the photos and videos and stories under the cut. 😉 Enjoy!
The videos are better watched in HD quality. Nevermind the quality of the video itself.. this was just from a digicam, but the audio quality is good enough methinks. I didn't bring a DSLR to this show. Sorry for the amateur edit, I was in a hurry to upload these videos for this post.
First up is Pumped Up Kicks. I just got to the venue when they played this. I hit record just in time, lol. (This was the 3rd song, as far as I remember)
Second is the song Daniel, from her solo album, "Red".
Lastly, they closed the show w/ a cover of Avicii's "Wake Me Up". I am slowly starting to like this song. But not the original version, sorry to say. :/
Dia Frampton
Despite this show being a very short one.. it was at this show that I got to talk to them for more than a few seconds (such was the case at the insanely quick meet and greet after their HRC show) and had more chances of getting a photo w/ each of them. :)) It's kind of ironic in a way.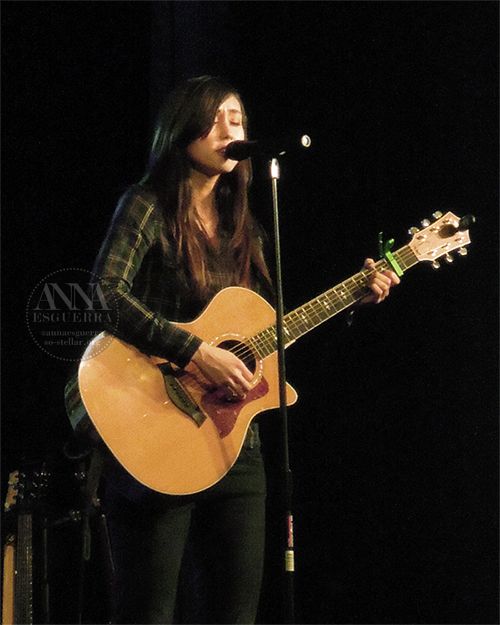 Meg Frampton
Carlo Gimenez
I guess you can say that having individual photo-ops w/ the three of them was one of my goals that night. Other than that, I also wanted to see them as much as I can while they were here. No tables left unturned, something like that(?). Even though they did announce last night that they will come back again sometime this year, it's still a rare occurrence for them to have more than 1 show in their 2nd visit here.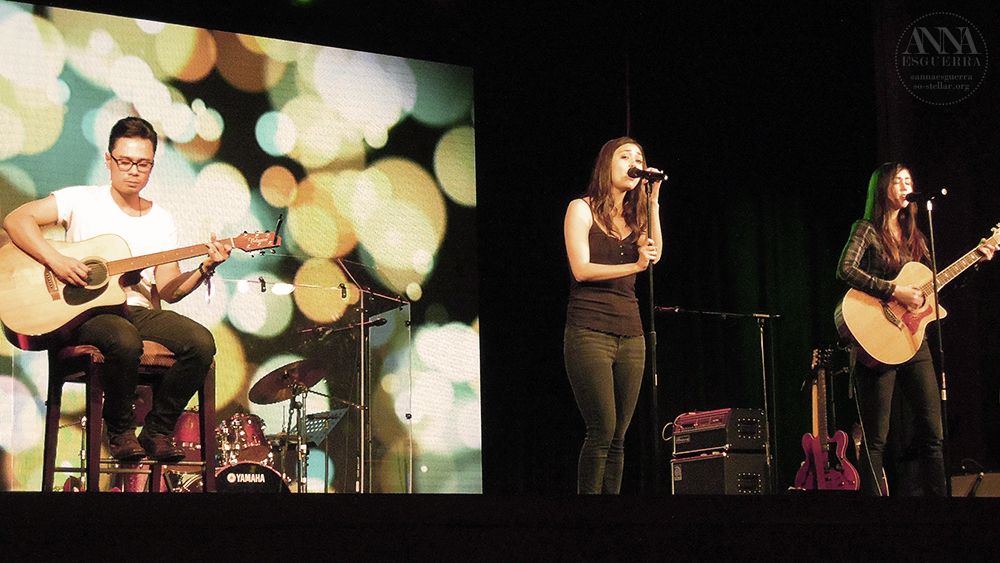 Meg and Dia
After the show, people were quick to approach them (Dia, Meg, and Carlo) and ask for the photo-ops and give their gifts. I noticed most of them gave food to them, hahaha. My friends and I waited a little bit longer before approaching any of them.
Meg and Dia w/ the Perkins Twins and Execs of Solaire Resort(?)
Meg was just at the table to our back, hanging out w/ the rest of the people they met during their stay here. Out of the three of them, she's the nearest one to approach. Dia was busy entertaining some of the hotel people, and executives for the PR photos and stuff. Carlo was.. everywhere. One minute he was walking w/ a beer in hand, chatting with someone and fairly within our reach too, the next minute he's at the dance floor (sans the beer) dancing w/ Meg. By this time, Dia was still busy talking to the hotel people and possibly negotiating business in the middle of the busy crowd.
I almost did not get a photo w/ Dia because too many people were approaching her and when it was my turn, Mike swept in and said that I'm the last person who'll have a photo and they need to leave the area. Meg and Carlo didn't go with them and for the next 20 minutes they were roaming until Meg left eventually, carrying her stuff w/ her.
I was shy with approaching each of them. But I think they remembered me because I was able to hold up a 5 minute conversation with one of them, hahaha. OK so remember my goal was to get individual photos w/ the three of them? First up I approached Meg, well because she was closer. Also the night after the concert, I posted some 'teasers' from their HRC show, this photo to be specific: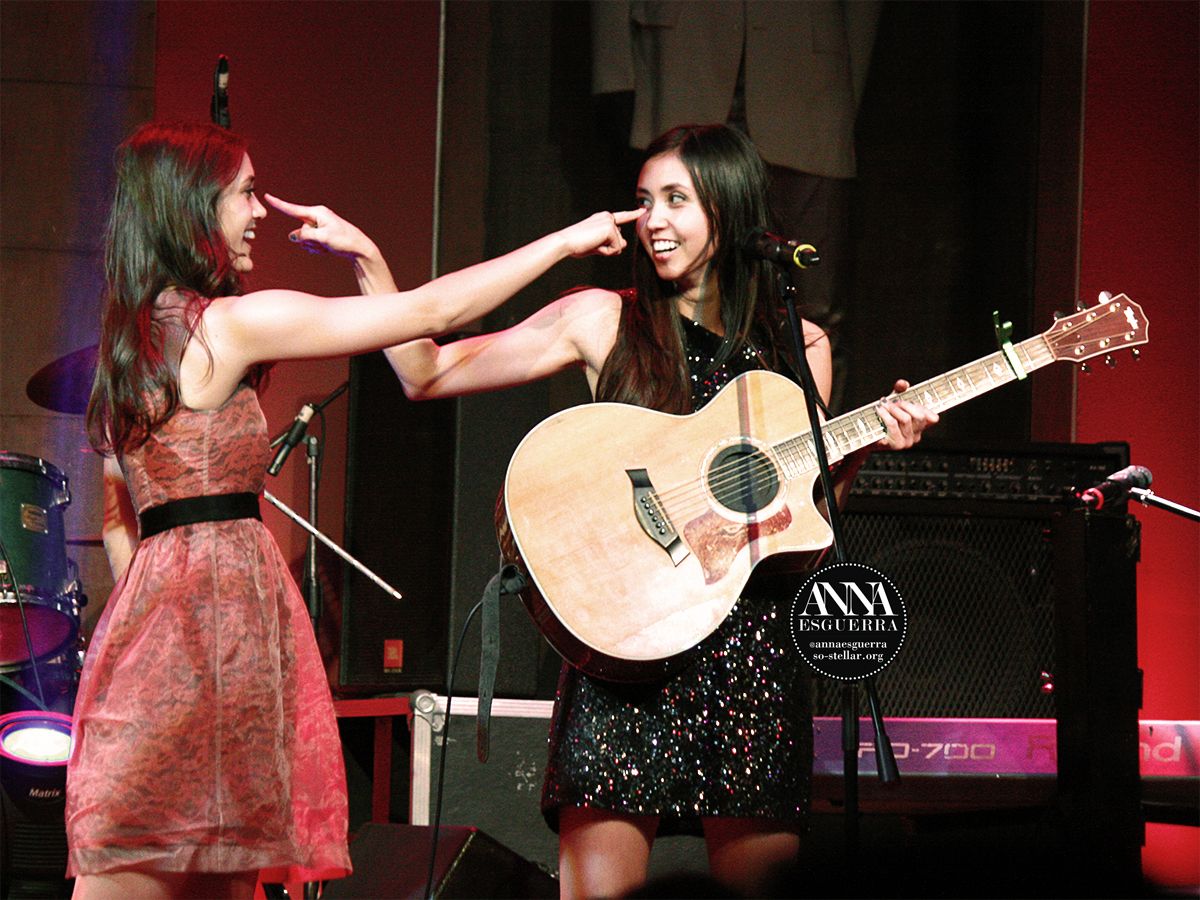 It got to her (and then to Dia, eventually, then reposted over their Facebook and Instagram accounts) and she tweeted me to say thanks for capturing that moment. Apparently that was an important moment. At the time I shot that moment, I thought it was a pretty cute one. Two sisters, bonding, enjoying the moment. Wasn't expecting that it would be well-received.
Anyway, so I approach Meg and try to introduce myself when she cut me off and this conversation happened:
Me: Hi Meg I'm —
Meg: Oh wait, don't tell me.. I'm gonna guess! You're….. (insert name here)
Me: Huh? Haha no.
Meg: (says a couple more names) It's at the tip of my tongue!
Me: Um I showed a photo last night..
Meg: Oh right, yeah! Anna! (Sounded like "Eh-nuh" to me, hehe).. hey! How did you take such amazing photos?!?
Me: Oh! Um.. um.. I used a DSLR? And right timing?
Meg: Cool! The photos are really good!! Do you have a blog? Do you blog? Anywhere where I can see the other photos too?
Me: O_____O Wait wait.. you wanna view my photos, and my blog?!?!??!
Meg: Yeah, of course!
Me: Okay. O__O It's so-stellar.org (but I'm not sure she even remembers this now, HAHA!). There's a dash between the two words.
Meg: Okay, I'll check it out later!
(Unfortunately when I got home that night, I found out my site got hacked. UGH. So yeah she probably saw that then and got turned off *sigh*)
Me: Thank you so much :'( wait, can we take a photo together?!
Meg: Sure!
So there's photo #1, challenge done! We had a couple more photos taken after because it looked awkward. Lol. The following day, I showed another teaser photo and Meg tweeted me asking if I could email the photos to her. I ended up sending a whole lot of photos. I dunno if she has read the email by now though. Welp.
Carlo was pretty quick to approach and talk to. He seemed busy talking to other people and entertaining his guests (relatives or family friends, I think?). I quickly said hi and asked for a photo, said thank you after and he moved to the next person. Sorry for being rude by speaking in Tagalog again. O__O
Dia, the last one I approached. I shyly went to her little corner of meet and greets at the 'bar'. She recognized me and greeted me w/ a very enthusiastic "Hi!!!" (I'd take it that she recognized me, finally?) and asked how I was. I said something short (probably "I'm fine, thank you for asking! :)").. I meant to say something else but people were surrounding us and I feel like I'd get shoved off to the side the moment the photo is taken and I wouldn't be able to get a take 2 again if things don't go well like our first photo. :))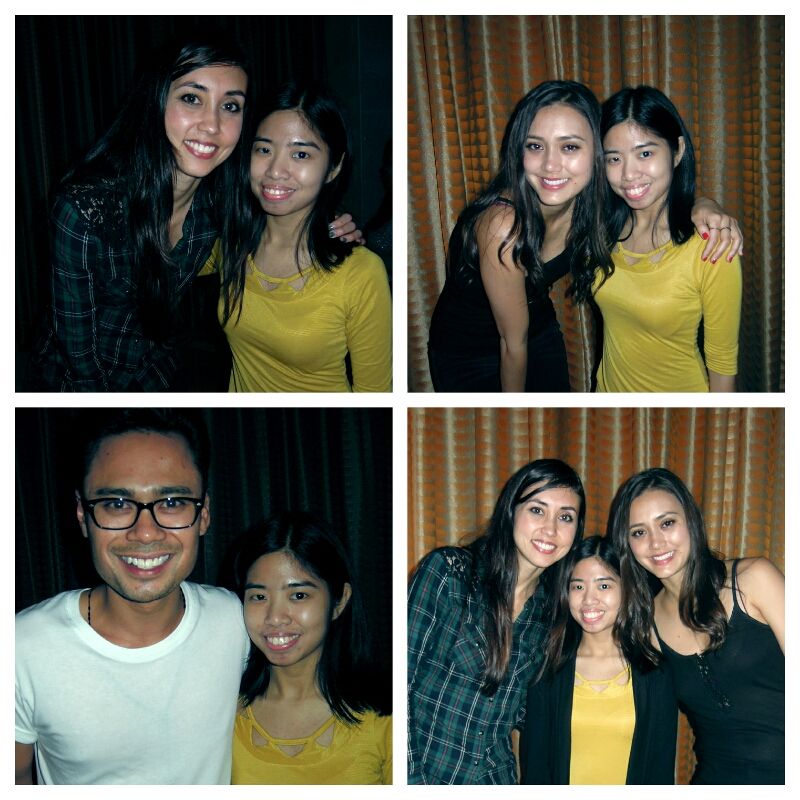 Mission accomplished! (PS: M&D were really tall.. had to stand on my toes there HAHAHAHA)
Moments later my friend and I went to approach her, this time she was with Meg and I realize that I don't have a photo w/ the two of them so I snagged the moment to get one. And that was the last photo-op they entertained before Dia was accompanied out of the bar by Mike.
We later found them at the foodcourt. It was a little bizarre seeing them there. Haha. I mean, to me they're famous.. VIP status. And you find them casually hanging out at the foodcourt w/ a prod person. They're probably talking business and that place was the most low-key area they could find on such short notice. The entire Resort is a casino (the bar they performed was next to it). So yeah.
And here's a photo of the gang that night.
Top: Shereen, Crisel, Myself, Baldwin. Bottom: Shereen and I.
It has been three weeks since Meg and Dia week and the memory is still fresh. Haha. What a good start for 2014! Can't wait for them to come back and once again, I am hoping I'll get to go even if it's a last minute thing. I somehow always lose my savings whenever Dia visits the country, lol.
Oh yeah, last but not the least.. shoutout to the people of Phoenix Productions for always bringing them here. :)) Thanks, guys. You're awesome for bringing them here!