While waiting for our turn in the meet and greet queue, Allene approached me. Haha! We met through a common friend, and that friend I met during this time too (Dia's first visit), all this transpired through Twitter. He was making a crash course blog entry about her music and I suggested a song from one of the Meg and Dia EPs. Always nice to meet people behind the username. So sorry if I'm awkward. D:
Compared to last year, the queue for the meet and greet was shorter. It took some time before our turn, yes, but last year the waiting time felt longer? Lol. And then there was an assigned photographer unlike last year that we could get our photos taken with our camera. Pfft.
So this is my M/G photo with the band. I knew it, I wasn't looking when the photographer took it! 🙁 I wish photographers would give even just a second for us to get ready. Photo opportunities like this don't come very often, or at all!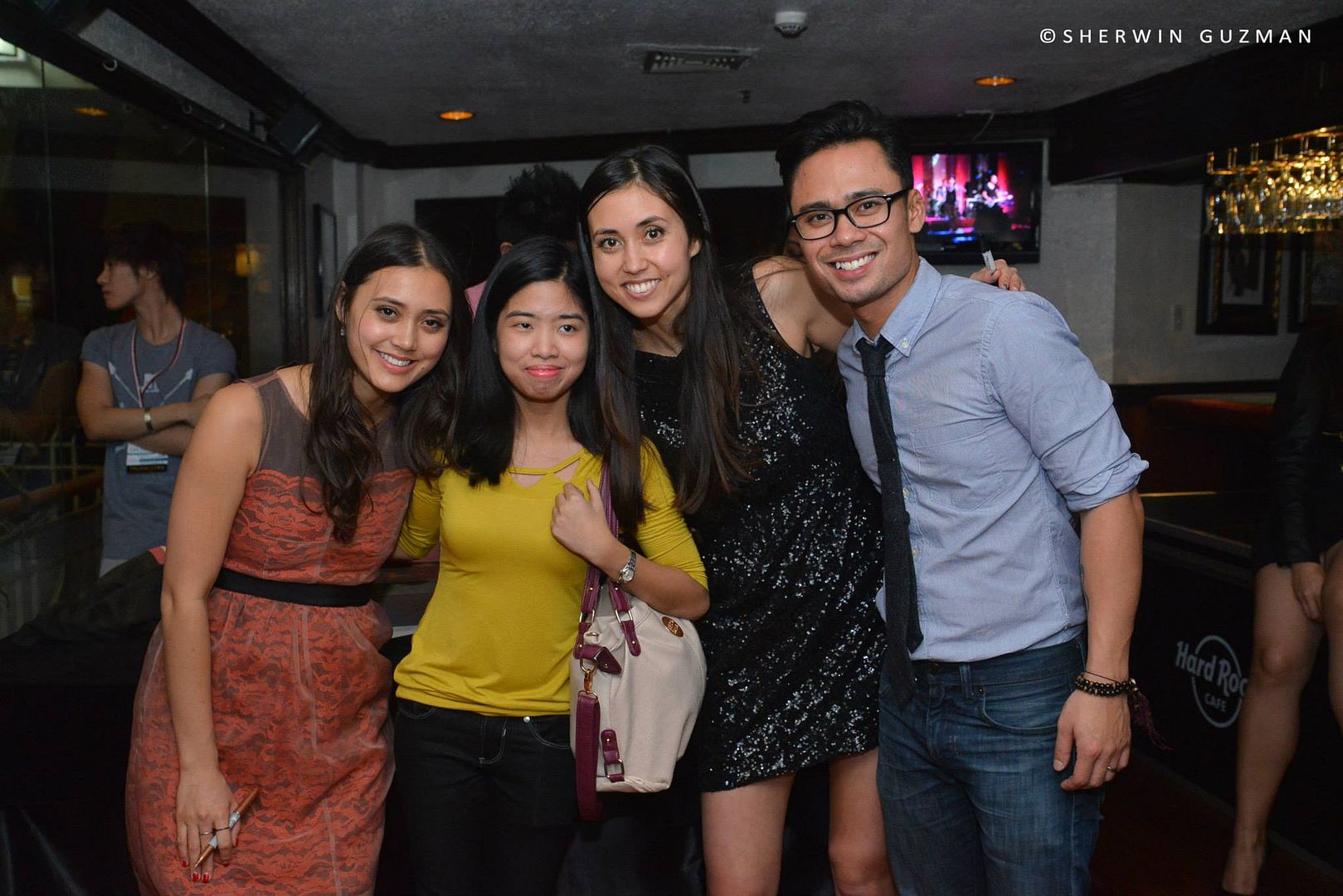 Anyway, before that photo was taken I had my way-less-than-5-minutes moment with the three of them. Everything had to be done quickly, as always when it comes to these things. I prepared everything that I needed to get signed: My CD, the prints from last year's show. Good thing I gave the gifts earlier on or that would have consumed more time and who knows maybe I wouldn't get a photo because I'm "taking too long" w/ my turn. Though my friends did say that it would have been much better and they would've remembered me if I gave the gifts to them personally. Meh, whatever, it's done.
In a short span of what felt like 3 minutes, I told them "hi it's me who gave the gifts! 🙂 " (to each one of them, talk about being redundant LOL), and then asked Dia if she remembered me from last year (from the hotel encounter, to the show, to the meet & greet then), she said yes she does remember. I felt like I was being annoying but it's the first thing that came to my mind. I say that was better than letting myself be starstruck and say nothing to her at all. I also had some extra prints I asked if she can sign, to which she gladly did. After that, we took the photo, quickly asked for a hug(!) and I was shooed out the "Green Room", by the other people, not by the band.
Oh and here, I finally have my first Chandler jewelry! Hi, Chandler.
Now that's done, the big M&G, it was time to go. But not yet without meeting Mike K. Hahaha! While in search for the elusive manager, I saw Carlo slip outside the Green Room carrying a small laptop and hanging out with the PH Boardies. We went to him, borrowed him for like 3 minutes and asked for a solo photo and then asked if he can call Mike if he finds him. LOL. I'm embarrassed remembering that now. No one remembers that now though, I'm sure. Phew.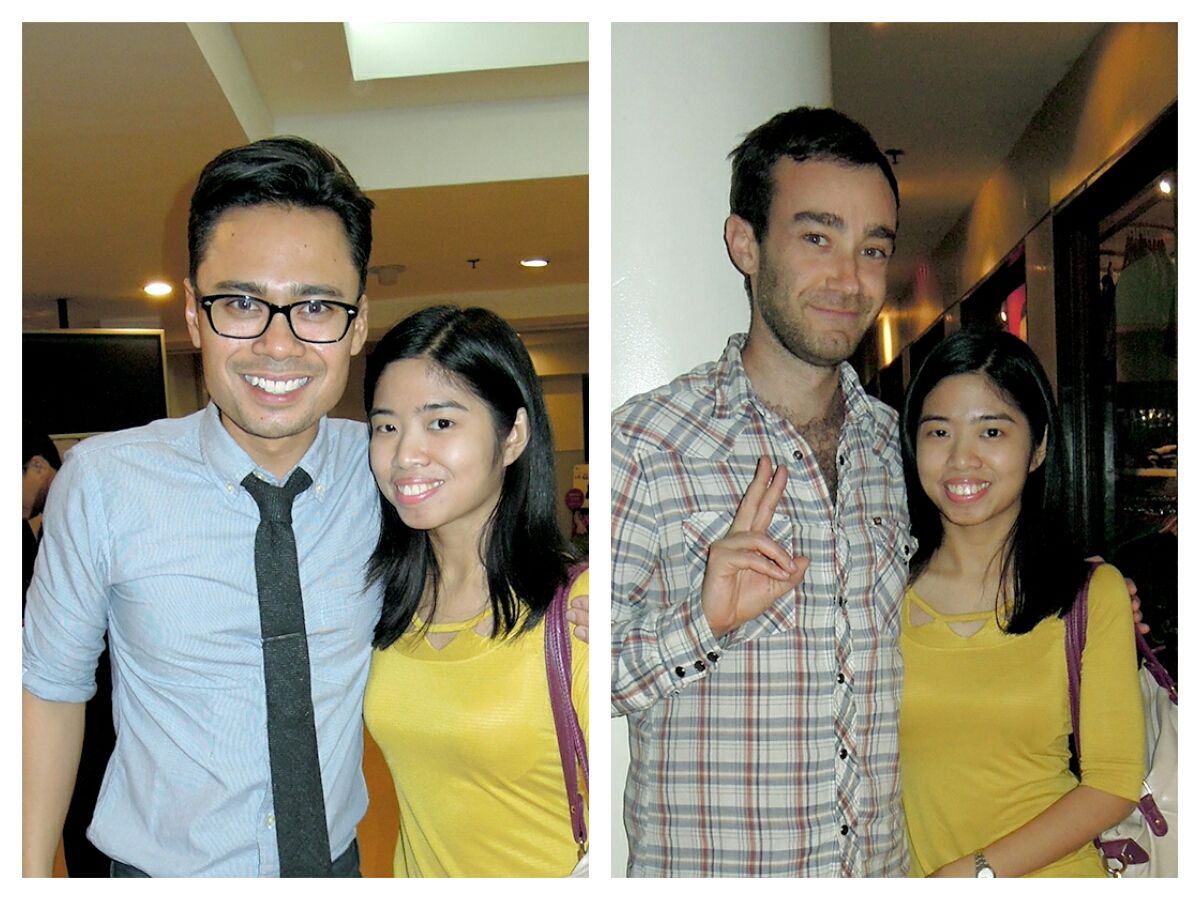 w/ Carlo and Mike of Meg and Dia, woo hoo! :))
Another thing I remembered in all the times I got to talk w/ Carlo was.. I spoke to him in Tagalog, 100%, not in English and then all his replies were in English. Just thought that was funny.
Anyway, moments later, Mike went out of the Green Room eventually and then I approached him to ask for photos.. and then,
Me: Hi Mike! Can you sign my CD??
Mike: Why? I'm not even a part of this band lol
Me: Uhh yes you are. You manage them lol
Mike: Okay! *Aggressively writes on the CD booklet lol*
Me: Also could we take a photo with you?
Mike: Okay sure 🙂
Me: Thanksss
I introduce myself after that and said I frequently like his stuff on IG and thought it's hilarious and he remembered me, I think, he said something like "oh yeah I see you over there". OKAY.
And then that was it. My friend and I said our good byes to him, and left. I always end conversations awkwardly. Welp.
I'll post about the Solaire gig another time and put the link here as soon as I publish it. 🙂