Two years ago, in December around Christmastime, it was announced that Dia Frampton would be making her first visit in the Philippines as part of her mini tour around Asia to promote her solo album "Red". Originally, she wasn't supposed to visit here. But because of social media and teamwork between fans and people who could make it possible, it was made possible in the end. So, in January 2013 she finally came here.
We all know how that ended up, for me, anyway. It became to be the best show to start my year 2013. 😀 I'm happy to tell you though, that history repeated itself because this year she came back. I feel that we're too lucky that we get to see her again in less than 5 years which is (usually) the normal waiting time between visits of foreign musicians here in the Philippines.
PS: Very, very long post. 
It was weird at first because everything felt like deja vu(?). For instance, the timing of the announcement was around late December again, close to Christmastime. Her show date was on January, but the difference is it's a few weeks later than last year. Other similarities I could remember was the feel of the crowd on the night of the show. It felt like part 2 of last year, because there were too many familiar faces. Lastly, and what I would consider to be "more than just a coincidence" was that we were even assigned to the same tables we were assigned to last year AND the people on the next table were the same people last year (Hi, Lexie!).
The biggest difference of this show from last year was that she brought 2 members from her band (this era was pre-The Voice USA) Meg and Dia. Meg and Carlo are coming with her on this tour. MEG FRAMPTON AND CARLO GIMENEZ ARE COMING WITH HER, TOO! Naturally I went gaga as soon as I found out. I HAD TO BE THERE. And coincidentally, at the time, I, again, did not have money for the tickets. So as usual, I had all these plans that would be considered silly now just in case I don't get to watch (but who are we kidding here, I won't let them just go here and not go to their show lol).
The show was promoted as "Dia Frampton Live in Manila. One night show only.", etc. But we all know that in the eyes of fans who followed them since the beginning of time (wouldn't count myself one yet..), that with Meg and Carlo along with her, they automatically become "Meg & Dia", the band, again. So please excuse me if I did not use the proper show title. They really looked like MaD to me that night and not just Dia "with special guests" Carlo, and Meg.
Among the OA preparations I made for this concert was get myself an item that I can get all three of them to sign. I obviously cannot show my copy of Red album to Meg and Carlo to sign because they are not really a part of it (well yeah they are, sure, but come on), and besides that one's already signed.
I was thinking of getting a print or two of my photos from Dia's show last year signed, then I remembered that Carlo and Meg won't have any connection to it as to why they should sign it.
Finally, I have decided that I will get myself a Meg and Dia album. It was my last resort at the time, and the only item I can think of that they can all sign! I literally do not have any MaD stuff here anyway. So with the help of a friend, I asked if she could get me one of their albums (or even better, all three). Had to ask help from someone because if I order internationally, I am 10000% sure it will not get on time here AND if it does, I will get taxed for it. I am 10000000% DONE with the customs and the bullshit post office system of the Philippines.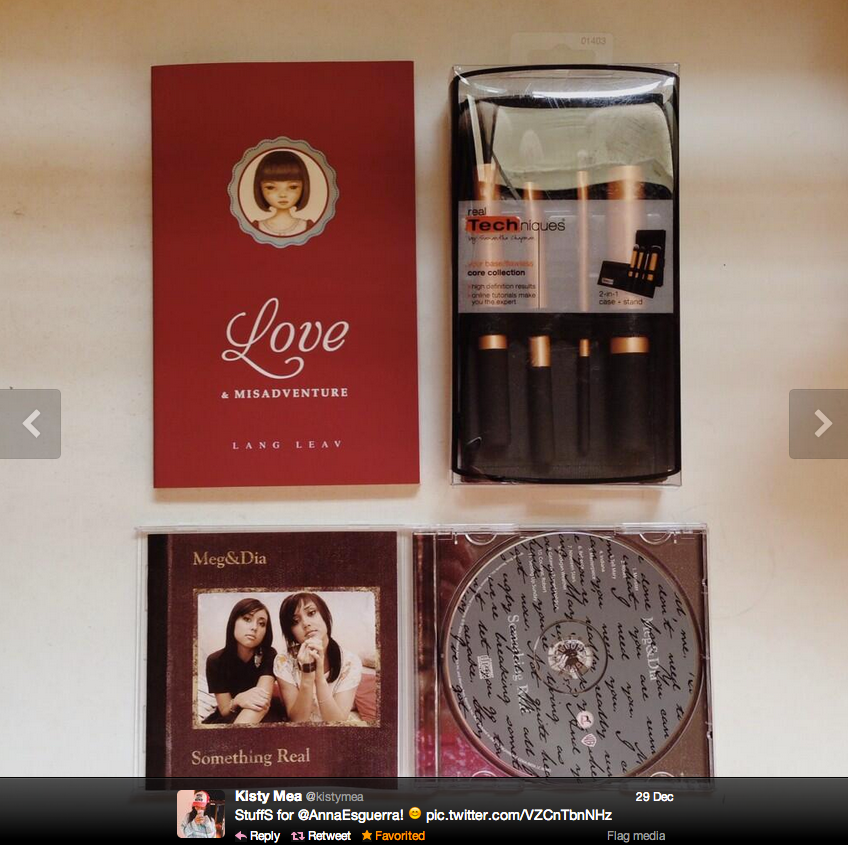 Spot the Meg and Dia record below! (The other stuff are mine, too. Thanks, Kisty!)
From planning to get it on Amazon and failing to get it from there in the end because we feared that it might not get to me in time for the concert, to my friend finding out a copy of Something Real in the local record store in the country where she's residing (much to my relief!). I finally have an item that I will show to the three of them come concert day, at the meet and greet. I can only hope that there will be a meet and greet after the show like last year (there was). The album that she was able to get for me was their first studio album, Something Real. My favorite. The succeeding albums that followed became favorites eventually, just too bad there weren't any copies available anymore.
I wish I knew about the stuff they did for their fans back in the years when they were more active, at the peak of their career. I found out about it post-concert day when I met fans who were friends of my friends, eventually became friends… and I am just so envious of the stuff they have! Most of them have the complete physical copies of their discography. 🙁 Meg and Dia really spoiled their fans good, lol. I'd be happy to just have their three major studio albums, really.
Same as last year, it was Clarizze that I invited to watch with me. So glad she was just as ecstatic to watch it with me. 😀 We only bought our tickets like 3 days before the concert. Does that make us non-serious fans? Lol. We intended to get them earlier but like I said I was broke at the start of the year. We spoke to the people behind the production when we bought our tickets and they said that Dia will have another show the night after her show at the HRC, at the hotel she's staying. They were nice about it too, which I find to be a little weird because they usually don't just casually throw out information like this? I don't know. But hey, thank you for advising us way early. We felt exclusive for a while there HAHA.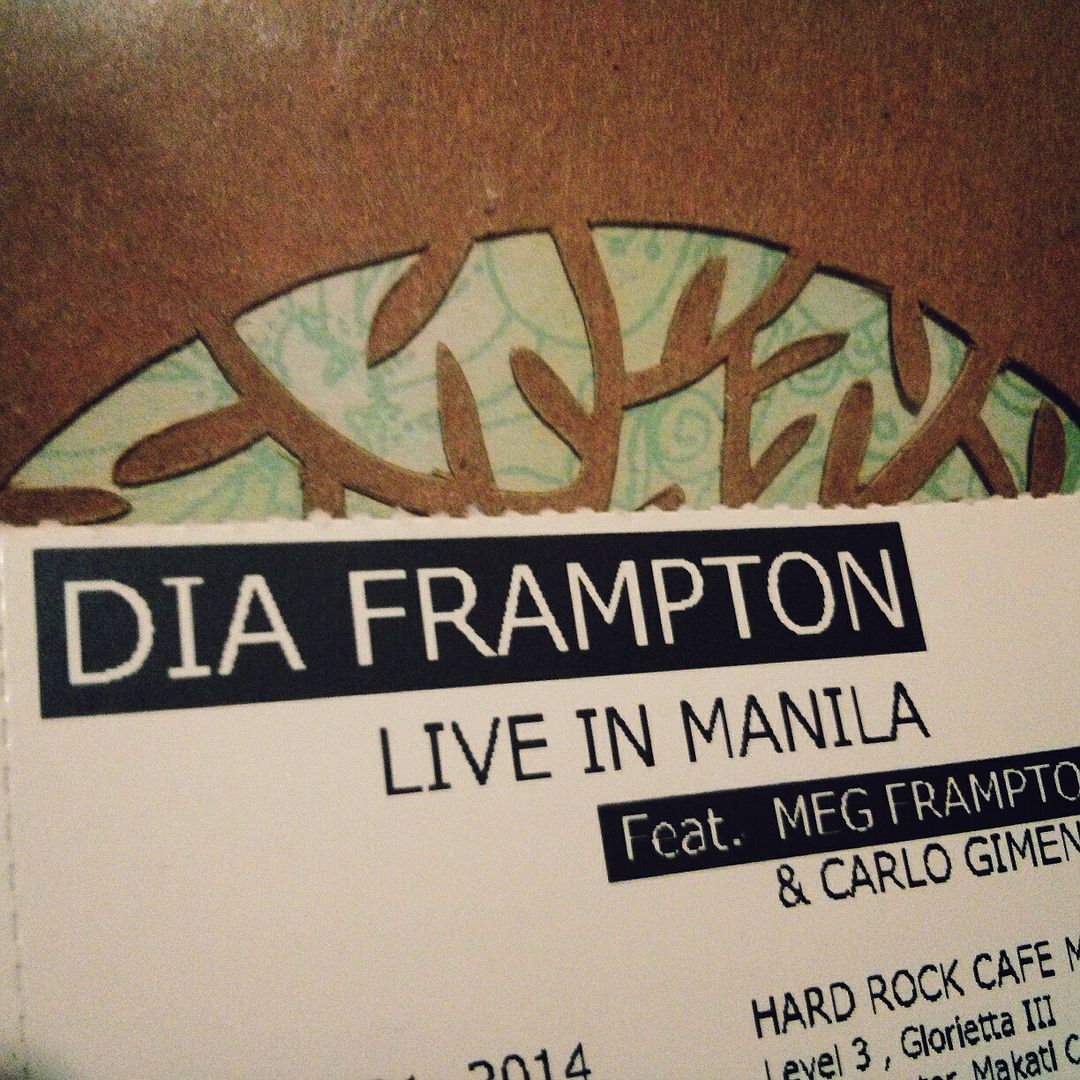 There were a lot of misspellings in the tickets. Meg's last name was one of them. 
Meanwhile on Twitter… few days before the concert, I looked up on what's current/trending/happening in the fandom of Meg and Dia and if there's any hype for her show in the Philippines. Carlo and Meg got here a week earlier than Dia because she had prior commitments to other shows elsewhere. The three of them frequently replied to most fans during this time and I tried my luck to tweet them and in a few instances I got lucky to receive a reply from either of the girls. I was just curious how Carlo is taking it all in.. back in the PH after such a long time. :)) Must be a Filipino thing for me to be curious like this for him. Found out they went to a music bar and watched a gig, visited friends and his relatives later on.
I also met a few boardies from Twitter, the term I found out about later. What I like about this fandom is I always meet new people whenever Dia's coming over here hahaha. :))
The night before the concert I had this crazy idea, one that I've never done before: Give them a letter. But I couldn't just give them a letter. I could, but I feel that it would be lacking. It needs to be more than that. If I'm gonna do it, might as well go big, right? Plus I bet other people would be giving them something too.
Fast forward to the day of the show…
Firstly, I ended up getting more gifts than I intended to give. Second, it turns out that a handful of people only had gifts. I don't know where my idea that a lot of people would have something to give to them came from. I felt embarrassed. 🙁 Haha.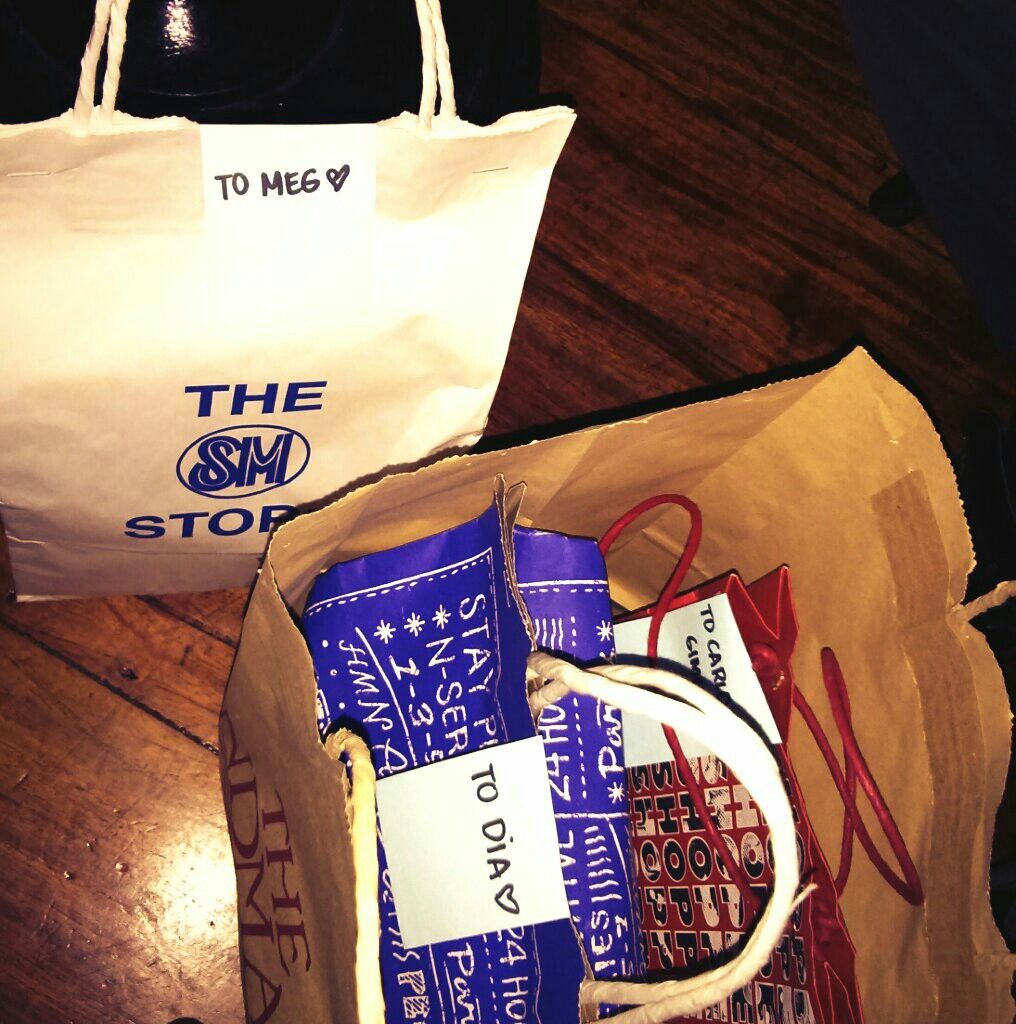 I come bearing gifts~! :)) (That is Clarizze's handwriting on the tag, not mine)
During the show, they gave a shoutout to me in one of their spiels (is that what its called? can you call the talks they do before every song a spiel?) and while I was not expecting that at all, it was nice. Hehe. Good thing it was dark, I wouldn't want to see how I reacted. Probably wanting to hide under a rock at that moment? I hope they liked the stuff! Just to give out a little clue, this is what I gave Dia. For Meg and Carlo, well, it's for me to know and for them to find out. Haha!
I wonder if they read the letters though. Nah, I wouldn't think about it now. What's important is that I got to give it to them.