My first post about Grabtaxi was about introducing the service to you and then highlighting the fact that I personally have not tried it out, but as much as possible I try to recommend it to my friends. Between my friends and I, they are the ones who takes cabs more often that me. I prefer to go to places by other means of public transportation. The budgeted way.. 😉
Who are we kidding here, I haven't got much money to blow on cab fares, so I suck it all up and commute! 😛 However, I do get on a cab on special occasions. Last week I was able to finally try Grabtaxi's app and here's my feedback on it:
The 411
I booked a cab through the Grabtaxi app, for a trip from SM Bicutan to Glorietta mall in Makati city. Shouldn't cost a lot, right? It's pretty close by.
Booking a taxi
Expectations: I was expecting that I would be assigned to a cab ASAP.
Reality: I had a hard time booking a taxi. I had to try booking more than twice because no cab would pick my booking(?). Finally on my 5th try (lol), someone picked my call and I waited patiently for them to come around to pick me up.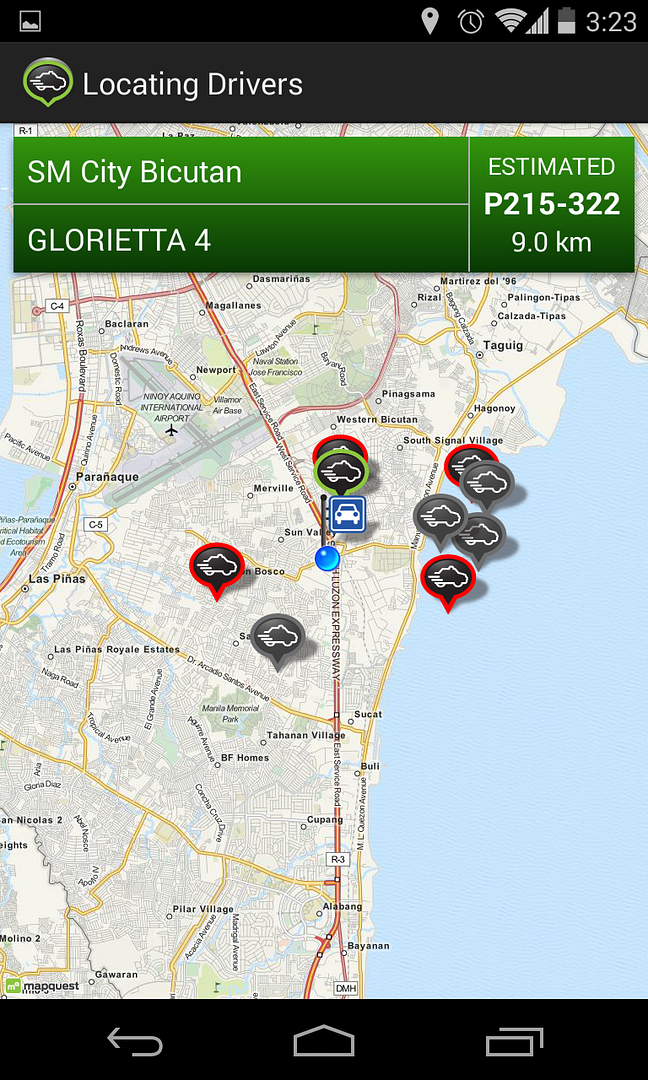 Waiting for the taxi to pick me up
Expectations: From the booking I did for my friend last year, I saw this timer on the app that tells how many minutes until the driver comes to the pickup location. I expected that the driver would be at the meeting place ASAP.
Reality: Since this was my first try, I did not have any idea how long I should be waiting. Shouldn't there be a timer in this screenshot? That undefined timer stayed in that state throughout the whole trip. I waited for more than 30 minutes probably, an hour even.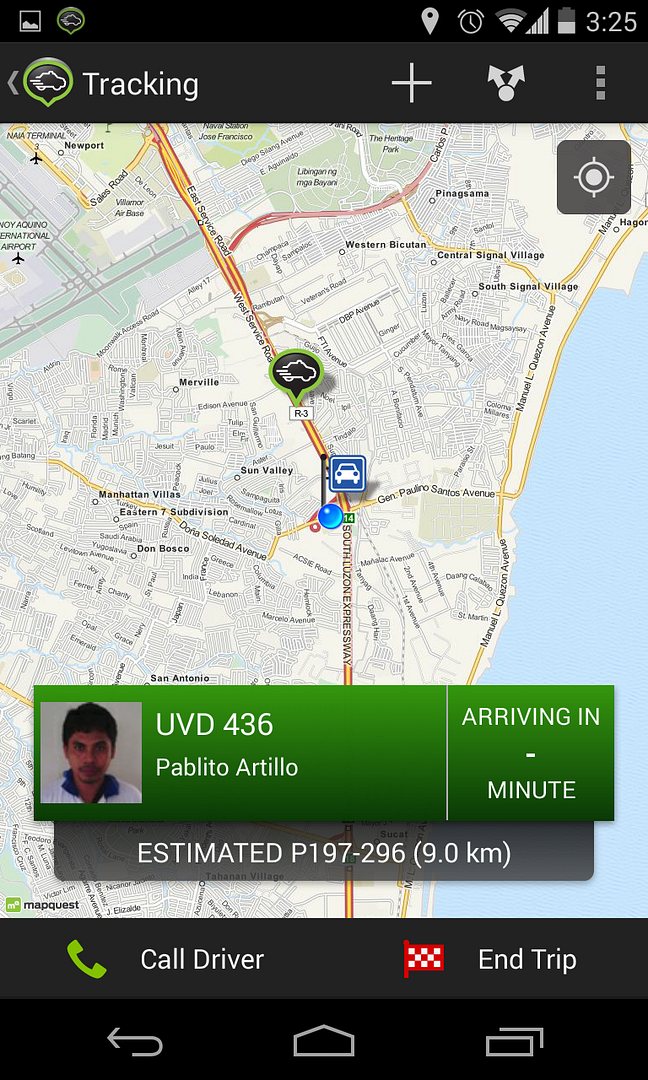 Note: This isn't really a red flag by my standards. It was almost 4PM and a Tuesday, and where I'm from this is usually the beginning of rush hour.. so I expected the delay in picking me up. Traffic sucks, and it isn't the driver's fault. Or maybe I'm just that patient.
When the cab FINALLY arrived…
Expectations: Nothing, really. Lol I just wanted to get in because I have been standing for what feels like an hour from waiting.
Reality: Glad you could make it JUST in time, kuya. You're like so tagal, ugh~. (Totally did not say that to the driver, JSYK.)
How was the trip throughout?
Expectations: I would get a rude driver, one who wouldn't stop asking me random questions and be nosy about my life like the other taxi drivers I encounter whenever I get in a cab.
Reality: Moderate conversation w/ the driver. He was polite and friendly. Did not give creepy vibes (loljk), and he wasn't nosy at all. Of course that's to be expected, since his taxi is Grabtaxi accredited. He has to behave properly. :)) I notice that they always try to engage in a conversation with their passengers, but they don't do it in an annoying way. If the passenger is giving off that 'do not disturb me' vibe, they'll probably back off.
The entire trip felt "safe" enough for me, that's for sure! I even got the contact number of the driver just in case I may need a cab (well, maybe) ride home in the future and the app won't be accessible because there's no WiFi or mobile data (3G) around the place.  How convenient that this cab I got is located close by my neighborhood, too, hahaha.
Fare and fees
This is the estimate they provided while I was waiting for the cab to arrive..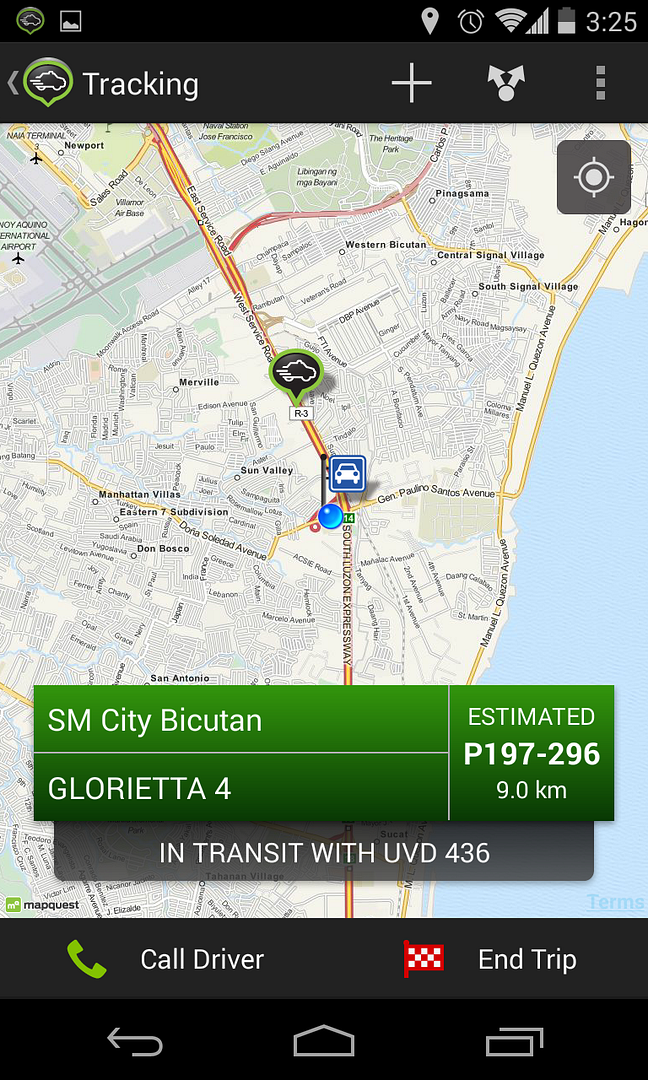 All in all I paid an amount close to the estimate the app provided. I was able to use a coupon to have the P50 booking fee waived.
——
That sums up my firsthand experience of trying out Grabtaxi. I think the first time wasn't that bad, don't you think so? I would use the service again, if a situation calls for it. Say, if I'm in a hurry to go somewhere.
What I learned though is that I have be mindful of the hours regarding rush hours and traffic.. and if you're in that unfortunate situation, you have to understand.. I know that if someone was in my position and had to try 5x before they get a taxi, too, they would've given up on the 2nd try.
If you know that by the time you need to get a cab it'll be a rush hour, then try to book earlier than the usual. There's a note section in the app where you can put that.
Lastly, just because there's a tracker in this taxi booking service, it does not mean you have to be 100% trusting of the driver. It still helps cautious, but the difference is you can be a little loose about it now.