Here's the thing with posts like this: 90% of the #WhatsOnMyPhone posts all over the blogosphere are for iPhones. I hardly see posts for the Android phone users out there. You can't say that the reason for this is because "no one" uses Android phones that much compared to iPhones.. that's not true at all. 😛
I'm not the first to create such a list but I hope this will be helpful to people who are looking for apps to download to their Android phones. Us Android phone users gotta stick together, right? HAHA. Some of these you have probably heard of from their iOS equivalent, some may sound completely unfamiliar. Either way, my goal here is to introduce these apps to you.
Without further ado, here's my phone's homescreen: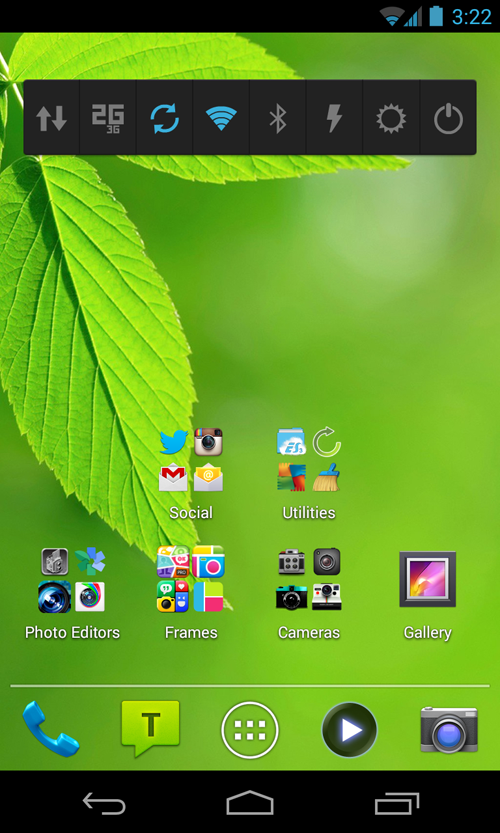 One might think that since this phone is an Android, I would spend a lot of time making my phone flashy and put all sorts of widgets and things to make it look 'busy' and 'customized'. Because, why not, right? "FINALLY, I'M FREE FROM THE RESTRICTED ANTI-CUSTOMIZATION ENVIRONMENT OF IOS!!" No. The truth is, I would rather not because I feel like it will slow the phone in the long run. The phone's storage memory is non-expandable too, so I am trying to leave enough space for photo storage for the camera.
WARNING: This is an incredibly long and detailed post. 🙂
Before we proceed: The phone I have is a Google Nexus 4, 16GB non-expandable/removable storage, 2GB of RAM, running in Android 4.3 Jellybean.
By default, on the top portion of the homescreen sits Google's search bar which is non-removable and immovable. However, thanks to the launcher I use, I am able to hide it and put something else in its place.
Nova Launcher (FREE, but the Prime version costs $4.00. Worth purchasing IMO.) – The launcher I use. You're better off Googling what a launcher is in Android lingo because if you ask me, I'd give you a horribly long explanation and you still might not get what it is. It's not you, it's me.. I really can't explain it myself. :)) What I like about it is that I can do things, such as hiding the Google search bar, customizing the way how the phone operates without rooting and unlocking the bootloader. It's customization is a lot cleaner and simpler than the other launchers I have seen and tried.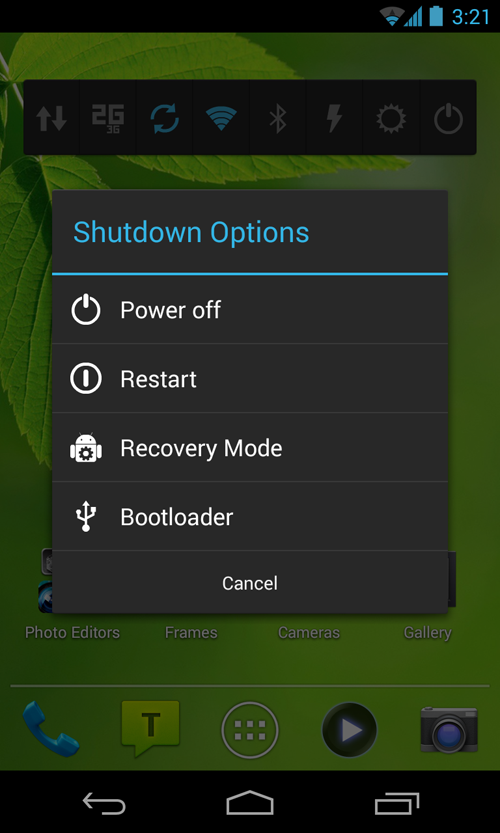 Power Toggles (FREE) – This is the widget on top of the main homescreen. Super helpful and a must-have app. Easily access the Wifi, Data internet, switch between 2G/3G network, Bluetooth, Flashlight, Brightness, Restart Button. There are other options that you can add to the widget, that is just my preferred layout (you can add up to eight). The Nexus phone does not have the feature that you can access these options easily by doing a down-swipe gesture on the screen unlike the Samsung phones. I was relieved to find out there's such an app after all. Oh yeah, the Nexus phone does not have an option to restart the phone when you press down the power button. Lol.
(Photo: Options of the Power button from the Power Toggles widget on homescreen)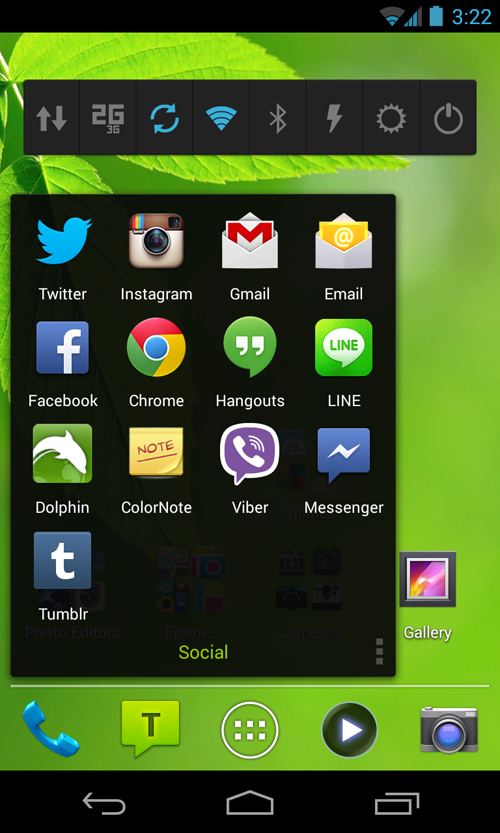 SOCIAL APPS
Starting here, I won't talk about each app. Just the important and apps worthy of mentioning.
ColorNote (FREE) – It seems that the phone did not come with its own notepad app so I had to look around for free apps that does the job. I heard of Evernote, and I heard that it's better than the rest of apps in this category, but I just wanted a simple go-to notepad to quickly write things that I need to be reminded of. My notes are also synched with my email, although I have not tried to access the synched files on my email yet.
Dolphin Browser (FREE) – OK let's talk web browsers on Android phones. There are plenty of browsers available out there such as Boat Browser, Firefox, Opera, Google Chrome. I intend to keep one only, but since you can't remove Google Chrome, I downloaded Dolphin Browser as my alternative browser. I use this more because it's a lighter app compared to Chrome for Mobile. Websites load faster which is a plus in my book.
Line (FREE) – Before keeping Line and Viber, I had WeChat and WhatsApp too. Then I realized that they're too much and hardly anyone sends me a message so I rarely use them = waste of space on the phone. I like Line because of their stickers, and their camera is fun to use too! Again, mostly because of the sticker feature.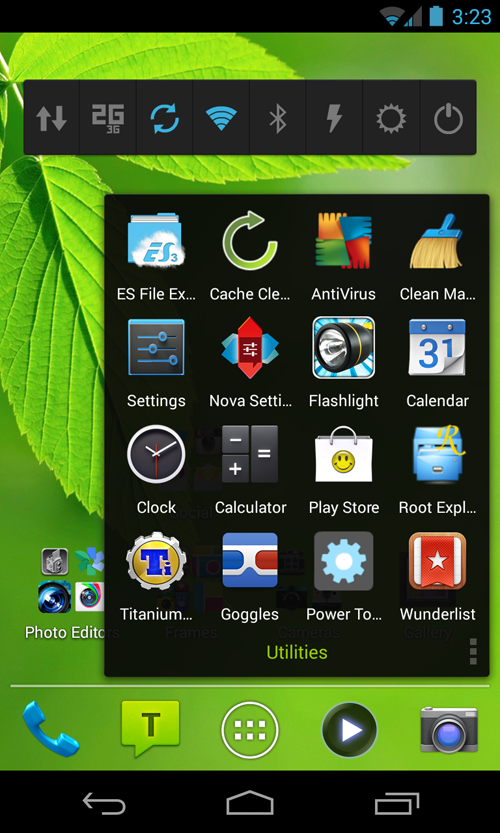 SYSTEM APPS
Power Toggles (FREE) – Already talked about this a few paragraphs. This is the horizontal widget on the homescreen.
Titanium Backup (FREE, but the PRO/paid version is better ($6.58), highly recommended for rooted phones) – Ah I love rooting my phone and having full access to it to do whatever I want. 😉 With this app you can "freeze" (disable and hide) apps, uninstall system apps (at your own risk, of course), create backups of your phone (should you wish to do a clean install/reformat of your phone, and this is for people who often install new launchers on their phone too).
Wunderlist (FREE) – I saw this on Kisty's app post, but for iOS version. I'm not into prettified to-do lists and I think ColorNote can take care of that already but hey it's worth a shot. The Android UI of it doesn't look so enticing though. Haha.
Google Goggles (FREE) – It's a Google app but didn't come preinstalled when I got the phone. What it does is it can scan texts from a photo. From what I remember it's not very accurate, like maybe 90% accurate w/ deciphering texts from a photo. Eh, good enough for me anyway.
Root Explorer ($3.99) and ES File Explorer (FREE) – Root Explorer allows you to access more of the phone's system files, while ES File Explorer in general does the same thing but minus the system files access capability. These apps are best utilized if your phone is rooted.
Play Store – Yes, I'm aware that my Play Store icon looks different that's because it is a cracked app. 🙂
Clean Master and Cache Cleaner (both are FREE)- My go-to app if I want to clean up/make space for my phone. It takes care of sorting out and clearing the temporary files and app caches with just one tap of a button. Cache cleaner was suggested to me by Alex, and I use it whenever I don't feel satisfied by the cleaning that the Clean Master app does.. like I use it to be sure that the cache has been cleared out? :))
AVG Antivirus PRO ($14.99) – Who knew that I would have to bother w/ anti viruses again on a gadget… lol. It's not a memory-hogger app, that's for sure, and I think it does its job naman for an antivirus. It scans my incoming texts and emails too. So, good job, app.
Nova Launcher Settings (FREE) – Basically just a shortcut to access the settings of the Nova Launcher. I should remove that since I can access it much quicker by double tapping anywhere on the homescreen (another feature of the launcher, zing!).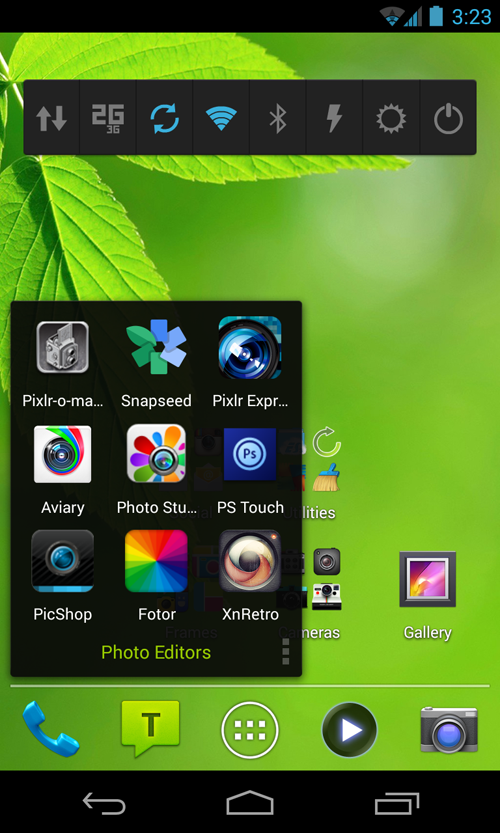 PHOTO EDITOR APPS
Yay, my favorite part! The camera and photo editing apps section.. hahaha. I had a hard time looking for the good-"okay"-"will do"-best apps in here the most. Let's face it: iOS is KING when it comes to photography (anything related to it) apps. I hate it… hahaha jk. I am considering getting an iOS device just for the VSCO cam and other new and much more better camera apps that I have yet to discover until I get a iPhone/Pod Touch and search for myself.
THIS JUST IN: Apparently there is a beta version of VSCO camera for Android, but it is not available for testing on Nexus devices! I am sad by this. Hmph.
Honestly, the only app I use the most here is Fotor (FREE) because it's the simplest out of all these.. but when I'm in the mood to thoroughly edit and stuff, my next go-to apps are Aviary (FREE, but some of its add-ons aren't), Pixlr Express (FREE).
Picshop ($4.98), XnRetro (FREE), Photo Studio (FREE, but some of its add-ons aren't), Pixlr-o-Matic (FREE) have additional filters that I like as well as nice frames, hence the reason why I kept them. Here's a sample of what XnRetro can do. I love the paper and tape textures, hehe.
Never used SnapSeed (FREE) more than a few times, it's just there as a backup photo editor app. Photoshop Touch for Phone ("PS Touch", $9.99), I use for cropping, copy and paste, basic Photoshop functions basically. Can't seem to find a lighter app that will do those things, haha. But hey it's Photoshop, and this is the first time I've heard of such a powerhouse software to have its own compressed(?) mobile version of it.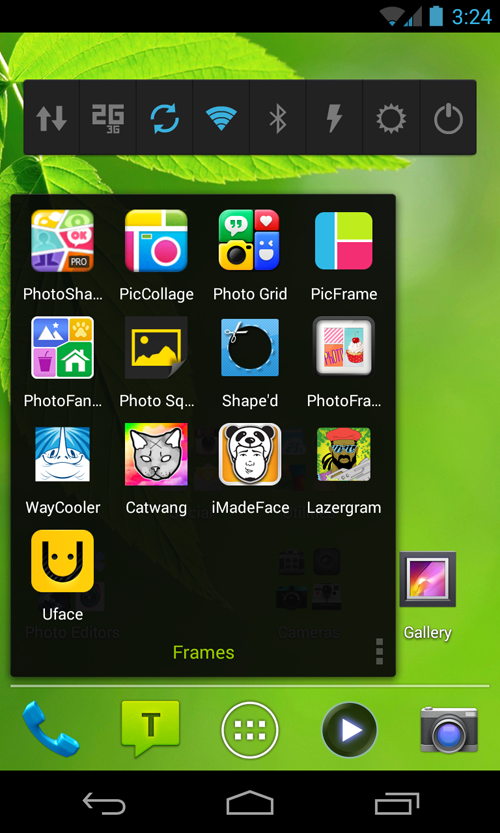 PHOTO FRAMES AND PHOTO NOVELTY APPS
Photogrid (FREE) – This is my primary go-to app for photo collages to be posted on Instagram. It's convenient to use especially if you are in a hurry to post a collage on Instagram because you can make collages/compile photos and quickly post process them, too, from the built-in filters in the new update. And the shake to change the frame design is fun, lol. Don't worry you can disable that if you don't like it. The downside is the frame selection is quite small compared to PicFrame.
Picframe ($0.99) – Both the Android and iOS version of this app is worth purchasing, in my opinion, because of the ratio feature. What that does is you can change the image's ratio, and then just "compress" after via Whitagram (for iOS), or Photo Squarer (for Android) if you wanna post it on Instagram after. Also you can change the shape of the frame, like this! I don't know about you but I love that.
Photoshake Pro ($1.99) – It's an OK app but I don't really use it much. I find it too limiting and the patterns and frames are boring. The free version seems to be better than the paid version. Man now I regret purchasing this. Haha. I had the paid version for free (read between the lines), but I couldn't save the photos properly so I was forced to really pay for it.. and now I don't use it so, what a waste. :))
PhotoFancie (FREE), PhotoFrame (FREE), PicCollage (FREE) – These are my backup frame apps in case worse comes to worse that my primary frame apps don't produce results that I like (lol). They have a larger frame selection (PhotoFancie, especially) from normal-designed frames to eccentric-looking frames and wacky-looking frames. My only complaint is one or two of these apps cannot render the final output in JPG that's of a higher quality. I notice the photos come out too sharpened or gritty on the edges (ex: This photo I made from PicCollage).
Photo Squarer (FREE) – If you want to post your photo on Instagram/make your photos Instagram-friendly, without cropping, this is the app for it. At the time that I downloaded this, there were no other apps to select from. Been using it since then and didn't bother looking back. However it seems now that another popular app that is similar to this, called #Square, is getting attention.
TL;DR: Photo Squarer is the Whitagram of Android. It does its purpose for me and I'm content with it. #Square must be nice because it's new and getting good feedback but I think I'll stick to this since I've used it longer, and the interface is much more simpler.
Shape'd (FREE, $0.99 to remove ads) – Looking for an app that can generate those images you see on Instagram w/ the image occupying a certain shape (may it be an O, a heart, circle or letter X, triangle (hipster lol), etc.).. this is the app you might be looking for. I think it's better I show you this image to show you what it does, aside from the shape thing.
Catwang (FREE), WayCooler (FREE), LazerGram (FREE) – These are what I would call novelty apps. I feel like I'm the last one to have these apps because, I think, they were primarily available for the iOS market first and it was only months later that an Android version came out. What these do basically.. make your photos look fun and "cool". Click their respective links to view sample photos edited with these apps! I've only used CatWang from these bunch!
iMadeFace (FREE) and Uface (FREE, but the selection is limited compared to iOS version) – Once again, I'm the last one who has heard of these. I don't think it needs to be explained what these apps do. A quickie Twitter DP maker, perhaps? Hahaha. Currently digging Uface, I'm using the face I generated as my Twitter DP actually.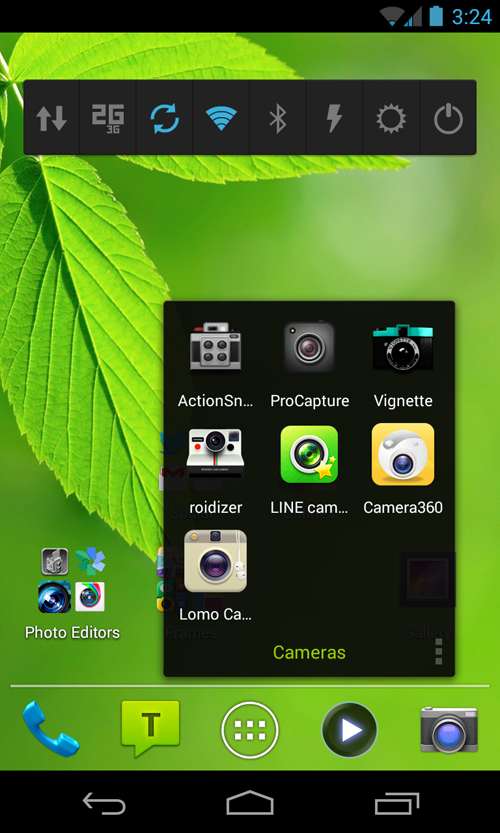 CAMERA/PHOTOGRAPHY APPS
Another favorite part of app hunting for me is looking for photography apps! Admittedly, the camera of the iPhone (..5? haha) is far more ~*superior*~ than my mere "low class" (lol said some Apple fanboy, not me!) LG Nexus 4, but I would like to think that it's not the medium that dictates you as a photo-taker (take note that I did not say photographer), but your skills in composing a photo (among other stuff).. Where is that indian-arrow quote of Photography again when you need it? :))
This is a cellphone, first and foremost, so photo quality is not its main concern.. if I wanted high-resolution/high-quality photos I would resort to using my DSLR/Digicam for important photo subjects. How bulky it is to carry different cameras isn't really an issue for me too. I say that the phone's camera is only good for spontaneous events, everyday things, and things and mostly for social media sharing..
There are plenty of apps for post-processing anyway, so if your photo is badly shot sucks you can easily edit it after. Problem solved, no one will even notice it. Haha
Anyway! I used to have more than what you see in this photo. I decided to trim 'em down and remove the ones that I don't really, REALLY use and just keep the important/vital photography apps (may ganon?!).
ActionSnap Pro ($3.99) – Simply an actionsampler camera, it takes multiple shots in one photo. Like this, but the fisheye effect was from mounting a jelly fisheye lens infront of the phone's camera lens. The difference from the free version from pro/paid is you can use the front camera (hehehe click at your own risk LOL), and there are more settings to tinker. The downside I could think of is it does not have an option to save the image in a higher quality. If I remember correctly, the highest file size is lower than 2000px. I wish there's an option to change the color of the image's borders too.
ProCapture ($3.99) – This is my favorite go-to photography app when it comes to shooting ~*pang-photography*~ kind of photos because of its manual-ish features. You can set the photo's aspect ratio, exposure, Flash level, White balance, shooting mode, Focus mode, Scenes and it also has filter presets. When I am in an area with real bright lighting (at a concert that disallows DSLRs, for example), I use this and set the exposure way down low. Here are a couple of photos shot using this app from my phone: Bantayan Island, Cebu, Demi Lovato's Manila concert, Rico Blanco's birthday concert at Music Museum, Bench's Skin White Expert ad (place was brightly lit, but I focused on these two ad materials), Movie Stars Cafe at MOA Seaside by The Bay.
Vignette ($2.60) – I'M TELLING YOU RIGHT NOW TO GET THIS APP, SKIP THE DEMO AND GET THE PAID VERSION INSTANTLY. It has filters, it can do instax photos and polaroids and 16:9 photos and whole lot of other preformatted photos! I also love that it has a bit of manual settings for me to tinker before shooting such as the exposure, focus mode, shooting mode (DOUBLE EXPOSURE, YES?!), white balance, scene mode and a lot more!
Photos I took w/ Vignette, which I hope will convince you to even click the link and view more sample shots and reviews from the Play Store: Instax Wide (Friends having dinner somewhere in Cebu last summer), Instax Mini (1, 2, 3), Polaroid, DOUBLE EXPOSURE YEAH (1, 2)
Roidizer (FREE, recently taken down from the Google Play Store :() – Polaroid app. Unlike Vignette, this only produces polaroid-style photos. I think it can also save the original photos. Just found out, as of this posting, that the developer took this app off the Play Store. Here is his statement, if you are curious why it was removed. Sidenote: Whew, I'm glad I downloaded this one while it was still available!
Lomo Camera (FREE) and Pudding Camera (not pictured, FREE) – Lomo cameras worth trying! Pudding Camera doesn't work well w/ my phone anymore since they updated it because, I think, it conflicts w/ the current version of Jellybean. The developer has stopped updating the app too. Sucks. It was good though! Will probably find a previous version and stay away from its current version.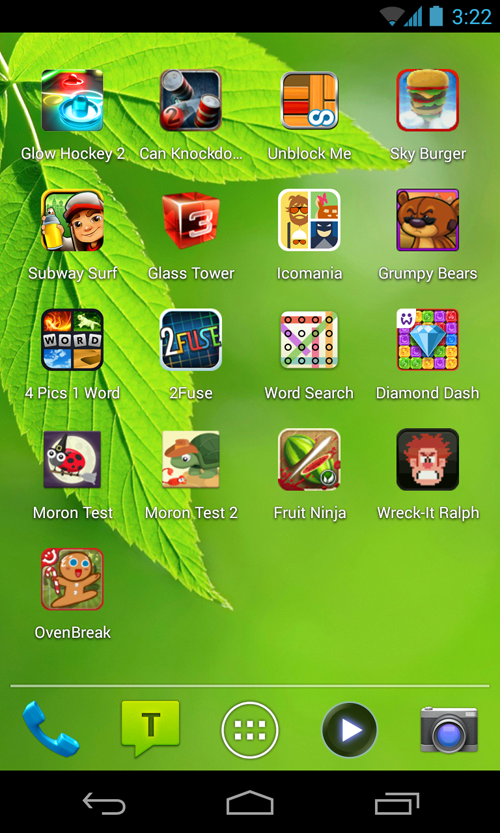 Games, games games!
I don't take pride in the games that I have because.. hello, they pale in comparison to what everyone is playing nowadays. =)) I don't like Candy Crush, first and foremost. I don't like it when I have to spend a long time playing something and not getting ahead. :)) I love word games though and Unblock Me (FREE) is one of my favorites and I'm on a higher level at that game. I play all these and I think I may have installed other games that aren't displayed in this screenshot but most likely I've deleted them if I don't find them entertaining.
No need to go through these games one by one, as I'm sure that you know these by now.. again w/ being late to discover these stuff.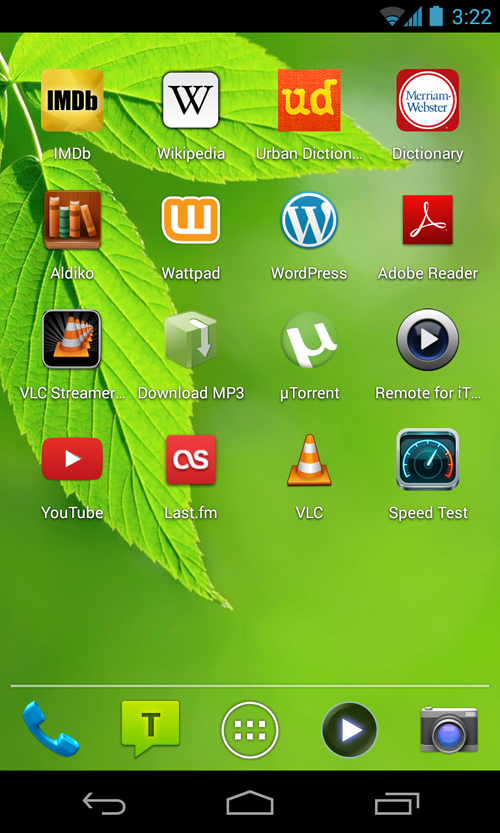 Entertainment and Media-related apps
Merriam Webster Dictionary (FREE) – I could have downloaded the famous dictionary.com Dictionary app BUT I want one that I can use offline/even when I am not connected to WiFi or 3G internet. This app does that exactly. So yeah.
Aldiko Book Reader Premium (FREE, $2.99 for the premium version) – Out of all the eBook readers available for Android that I tried, this one is the best one out there. The UI resembles iBooks and it can display your books by shelf view. Might do a review for this app on a separate entry soon! Yes this is worth purchasing too.
Wattpad (FREE) – The app version of the website. Whenever you have to read a book, they display it like you are reading it from an eBook reader. This will not download a book to your phone that you can read offline though.
Adobe Reader (FREE) – To open and read PDF files from emails that I access through my phone.
WordPress (FREE) – Self explanatory. 😛 I've only used this for a few times so far, mostly to do small edits in a post when I'm lazy to go to the computer and do it from there.
VLC Streamer (FREE, but paid version costs $1.99) – Stream your videos from a nearby computer to your phones via wifi. Laptop needs to be turned on, too, if you use this. 😛 Maybe you can use this when someone is watching something on your laptop and you want to watch something, too, but watch it from your phone instead.
Remote for iTunes (Free trial, $3.99) – Self explanatory. T'was my first time to use this and I find it cool that I can control my iTunes away from my computer. For the lazies, this one is for you. :))
Poweramp Music Player (Free trial for 15 days (I think), $3.99 for the full version unlocker) –  Had a hard time deciding on which music player to use because I am very picky and I don't like the default music player that came in preinstalled with the phone.. lol. Mostly UI design-related were my reasons why I didn't like Google Music app. Will do a review of this one soon, too!
—————————
There you have it! Those are all my most-used and favorite and recommended apps, what-have-you for Android. I hope my post was helpful in some way to you.
If you are a newbie to Android and noticed that I have mentioned the terms "rooting" and "unlocked" and mybe "unlocked bootloader", and you are interested to find out more what it is and what it can do.. more importantly how beneficial it can be to you (hahaha), I suggest you lurk the internetz further for it. XDA Developers forum is a good place to start. 🙂 But I find that YouTube videos helped the most because you see how they do it literally step by step in there.
Just in case anyone asks or is curious why I went w/ a Nexus device instead of the usual Samsung S3 or S4, HTC, Sony Xperia phones w/ Android 4.2 Jellybean installed.. it's because Google Phones receives the new updates of the software first than the other phone brands, and it does not include any bloatware in its software (Google calls their software "Stock ROM", I believe.. Okay no, Vanilla Android pala. Thanks, Mikyu, for letting me know!). Back to basics, that's how I would summarize the Google Nexus phones. I also have not experienced any lags with this compared to non-stock Android phones. Lastly when I mess up anything on my phone, I can easily reformat/put it back to how it looked when I first got it since I am running on Vanilla Android. 😀