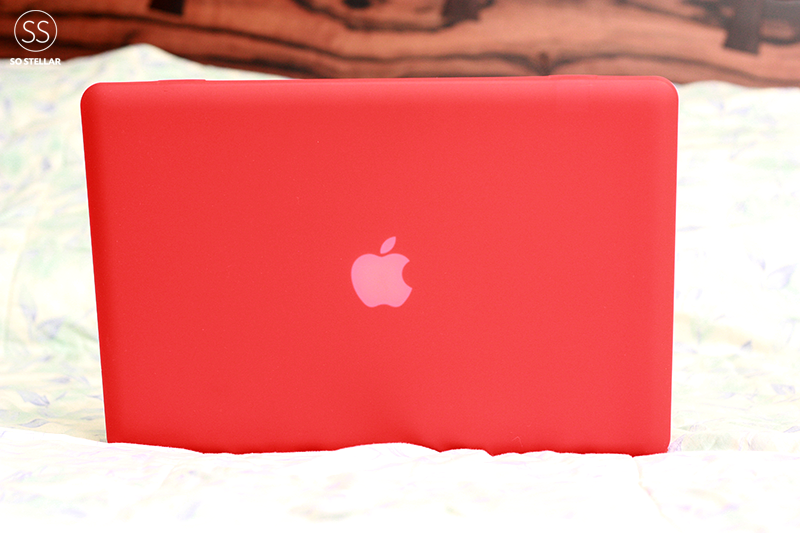 Up until recently, I haven't given much thought to putting any accessories on my laptop since I use it at home 99% of the time, and it doesn't leave the house at all. Instead of being a laptop-laptop (haha), it has become a desktop replacement over the years.
There's also the fact that cases for Macbook laptops don't come cheap or affordable, and that is my primary reason why I did not bother getting a case for it. But wait, this isn't to say that all these years my laptop is "naked" all along. I bought a Wrapsol matte protective film for it weeks after I got it 2 years ago. That alone was enough for me.. but as the years went by, specially when I had to get the laptop fixed — had to get it out of the house, stashed it inside my bag.. it probably endured small bumps here and there.
As a preventive measure from getting irreversible physical damages to my bb (though I have no plans to sell this, my intention to keep it 100% in ~*perfect*~ condition is just my OC tendencies talking), I gave in and considered getting a case for it.
Then one day, I saw one of my friends on Instagram post a photo of her new case for her MBP and I was surprised to find out that the whole set costs less than $25 (the higher-end MBP cases go from $49-up!). For the price you get the top and bottom case for the laptop, keyboard protector, and dust plugs. The keyboard protector (silicone/rubber) and the dust plugs are free! 🙂
What a steal, right? I thought so too! Plus it comes in other colors as well as in matte or glossy type of case. My order was a red matte/frosted 15″ case, originally mint green but I had it exchanged because of some problems.
Here are more photos of the case attached to my laptop, up close.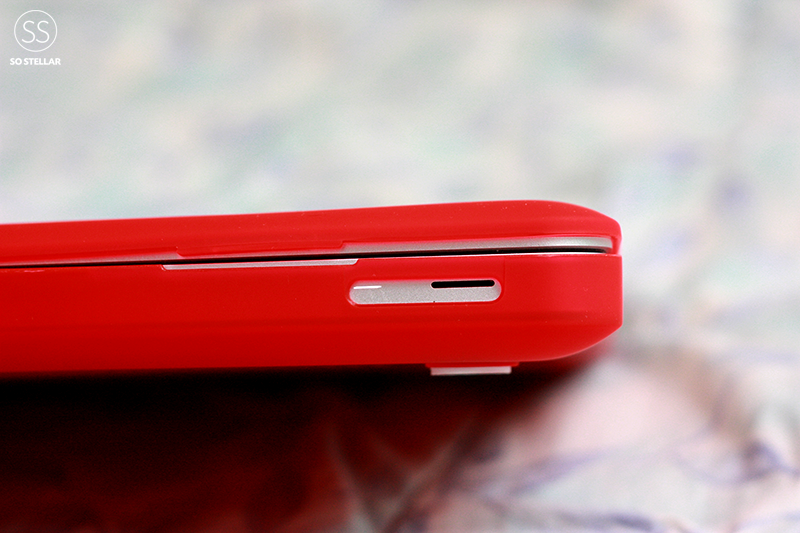 The only prob I found is this. It doesn't, idk, go all the way to the edges to snap on. :
I forgot how this is supposed to look when snapped on the laptop's edges in the wrist area, but the clips don't snap all the way through (well one of them doesn't). I dunno if the problem is on my end because this is already a replacement item from my first order (I bought a mint green matte originally) but I just decided to shrug it off and hope it doesn't damage the aluminum body in the long run. It probably wouldn't since aluminum is stronger than plastic?? Lol.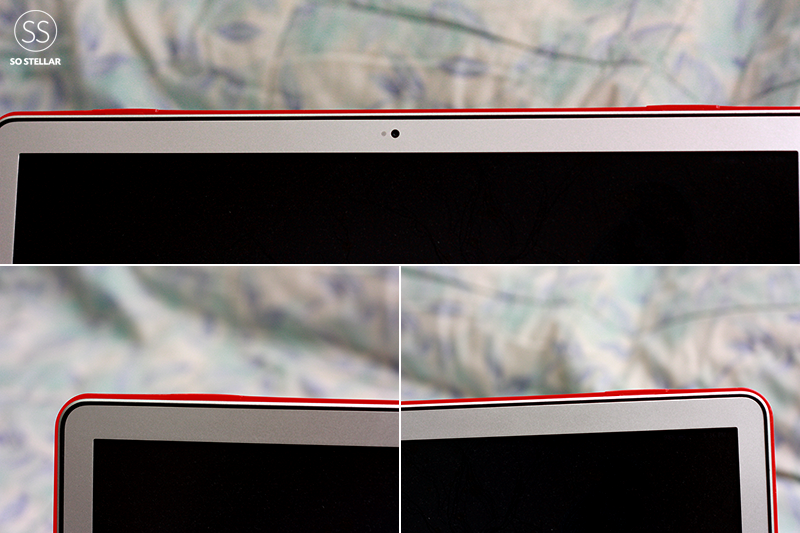 In my original order (mint green model), the clips couldn't reach the edges of the screen too, so I'm happy that in the replacement I received it snaps in place fine now.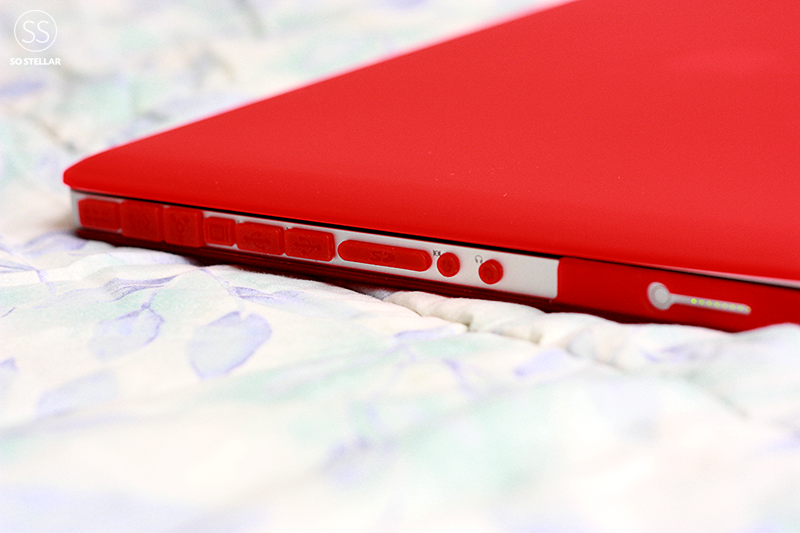 Here's a close up of the dust plugs. Lol they're so cuteee! TBH I didn't realize its purpose until I got them, haha. Here I am wondering how the hell dust gets in the ports and how I'm going to clean 'em.. cuz it's hard to get them out (amirite?!)
The keyboard protector is my least favorite. :)) But better to have it than nothing, right? It was free, afterall. It's also quite noticeable from the photo that the edges aren't covered. Maybe I didn't push the case hard enough to snap into place.. but I might scratch it if I force it, hahaha. The case does not come loose easily, btw! Again, just my OC side being so picky about it.
FEEDBACK: The material feels solid. Looks like it's made from the same material as the high-end ones, but way more affordable. I read some reviews online that these cases crack in a short period of time BUT I don't believe that it does on its own. I think it's simply a matter of how well the end-user takes care of it. Like just because you have a case, it shouldn't mean that you can just abuse your laptop by the way you carry it around. Or if you put it down on a surface, of course you should still do it gently. That is still a $1000+ piece of machine you're holding, no.
OMG I WANT ONE OF THESE, WHERE DO I BUY?1 WHERE WHERE WHERE?!
If you would like to get one of these for your Mac laptops too, follow them on Instagram under user @cocoxtoffee and place an order. They have cases for most recent models, except the plastic Macbooks (polycarbonate models, white and black color), and 17″ Macbook Pros. 🙂 I think they also ship outside the Philippines. It also did not take a long time for my order to arrive.
Lol yes I have done my research that well.. I had time to since I was waiting for my order to arrive.
Shoutout to the seller, too, for being patient and accommodating! I had a lot of questions that would've annoyed the usual online seller but not once did she acted rude throughout the whole transaction and answered each one of them. I just wanted to be sure w/ everything so I kept asking no matter how silly the question might have been, hehe. Thank you.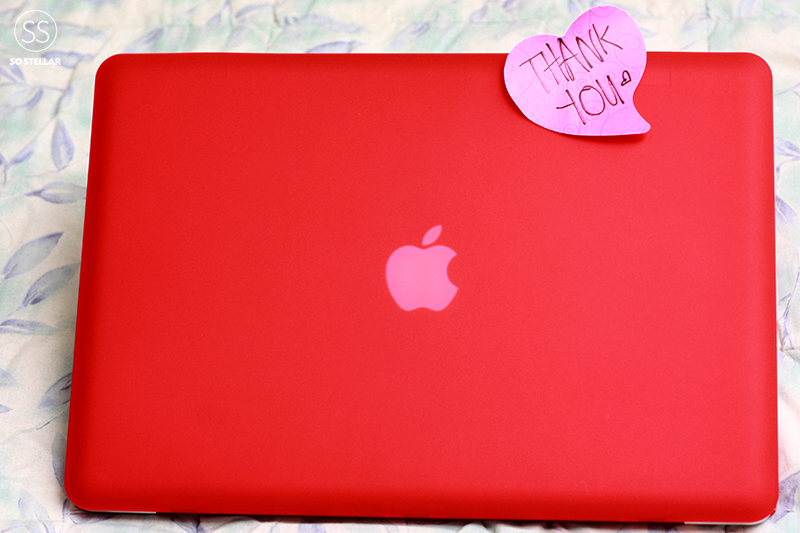 This is not a sponsored post. I bought the item with my own money and wrote the review without any compensation in return.