Music Museum is known as the usual venue for our local artists to hold their concerts. You may have heard of the place whenever ASAP artists promote about their shows on noontime shows. Compared to the usual concert venues I go to, it is really small and rather intimate. Like the performer would be able to see you even if you are seated in the balcony area. :)) Forreal though.
Two months ago, Rico Blanco held his first major solo concert here. I, of course, had to be there since it's his first (since going solo) and hey, gotta be part of that crowd who will witness him hitting another milestone in his career! Loljk. Well, I am not that active in going to local gigs anymore but I try to be present at the big ones at least. 🙂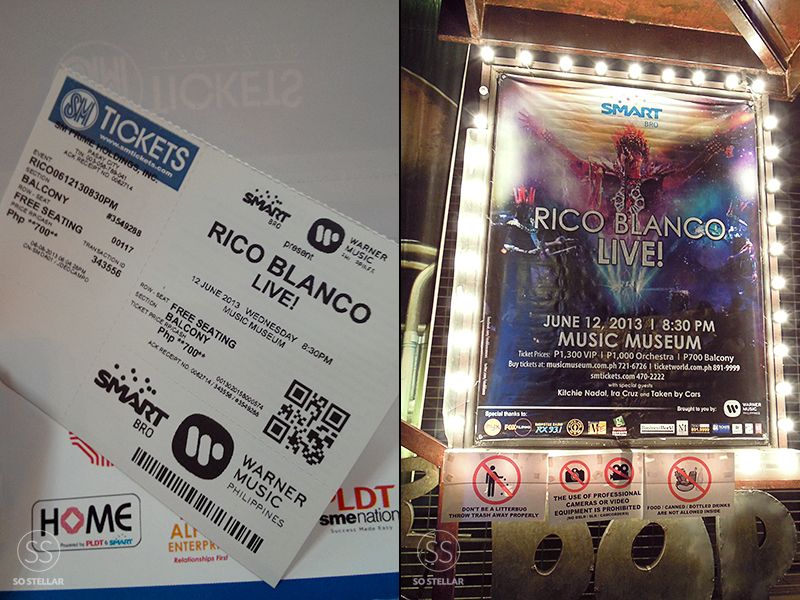 You would think that by this time I would have learned not to get balcony seats because that was where I was seated during the first time I was there. Then I remembered that people would probably be trying to video or take photos of him using their iPads in the floor area (thus, blocking my view) so, why bother? Anyway, balcony seats this time weren't bad since we went there early and go to choose a good spot w/ a perfect angled view of the stage. 
Since we got there earlier than most people, I had time to actually take photos that aren't really that relevant! =))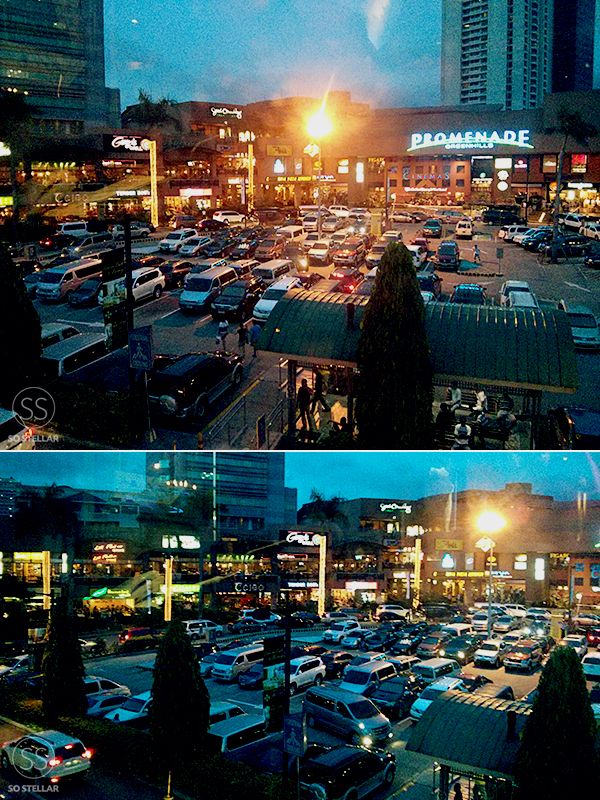 Greenhills Promenade mall
So um, I was waiting by the window for an hour and realized oh okay, this looks like a nice photo for IG. Hipster mode: on.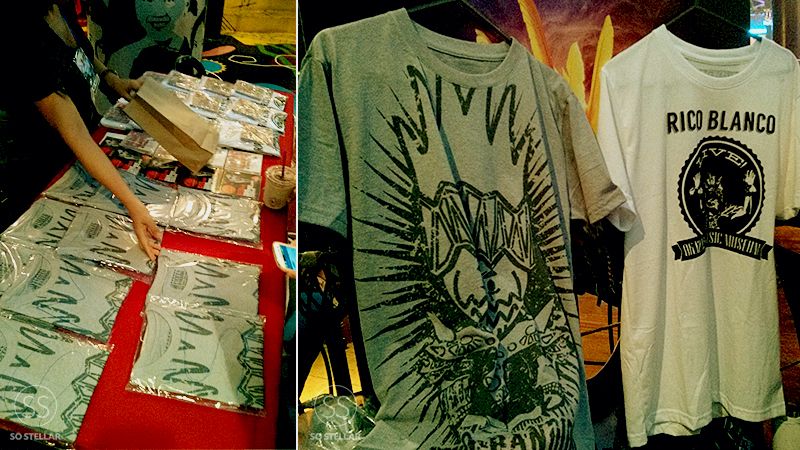 The white tshirt is free if you buy an album (drats! why did I buy a copy early?!)
The merchandise table. I didn't have extra cash to get anything aside from food, and they did not have the tshirt in my size either. Might as well take a photo of it since I can't have it anyway.
Unfortunately, no DSLR photos this time. Pure, straight from Nexus 4 photos coming your way!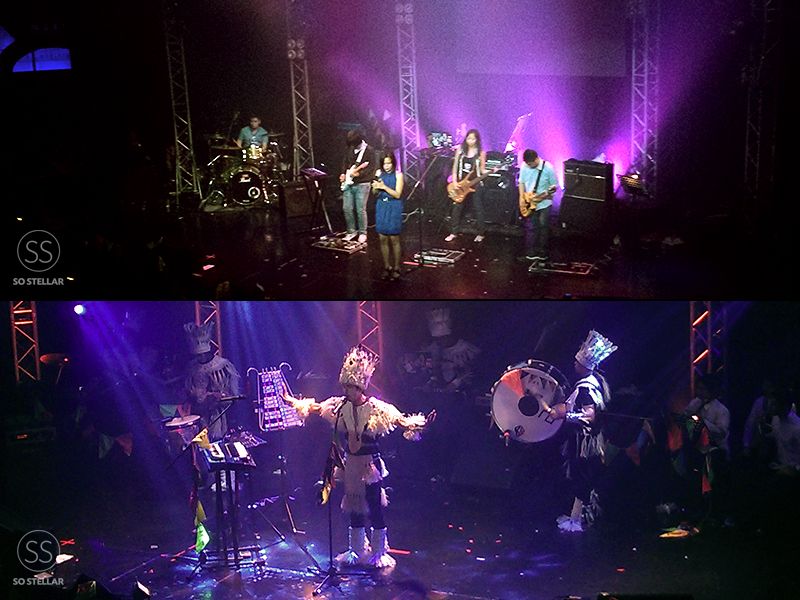 Taken by Cars opened up the show for us (Photo below: RB debuts new addition to the Fiesto costume, hehe)
If you have been to any of his shows in the past, you know that even if it's just a bar gig, he still goes all-out as far as production is concerned. He changes into his alter ego Fiesto Bandido (effort!) and by the time he gets on stage, it'll be different persona you'll be seeing. Haha. But that's not it. It's the stage lighting that completes every Rico Blanco gig. It's such a simple element but when you see it in action, it complements the overall look of the show.
The way I see it, a Rico Blanco show is like this: Awesome stage lighting (c/o their awesome stage manager) + badass costumes (that requires 1000% of confidence to pull off!) + well chosen set of songs + RB going crazy in a good way that encourages everyone to let loose in those 4 minutes of a song, too = A GOOD SHOW.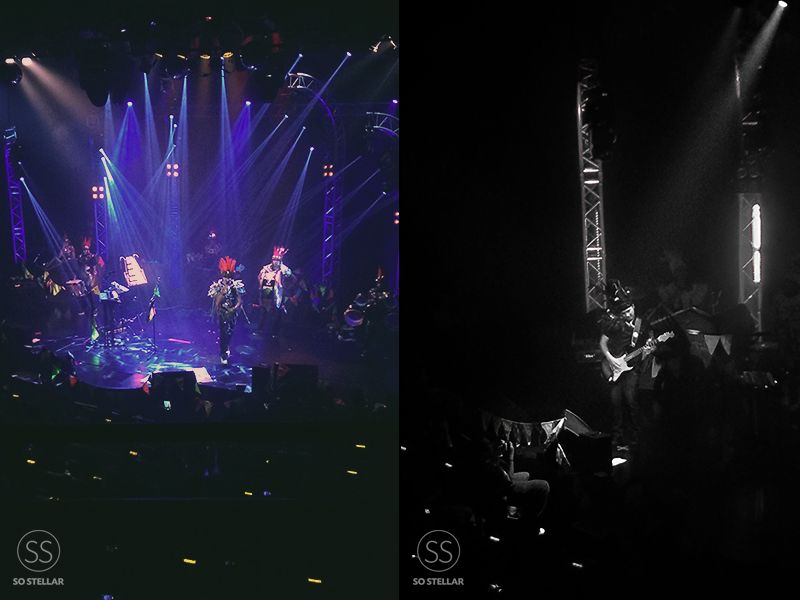 Left: Rico Blanco | Right: Ira Cruz of Hijo (one of the special guests of the night)
For me, this concert at the Music Museum was like part two of his pre-birthday gig at 70s Bistro that I was fortunate enough to go to. That one was already on the level of "all-out production" for me, but THIS one is on the same level of production, with a longer setlist, held venue that's 5x bigger, and with special guests that joined him as well as some VIP guests as part of the audience.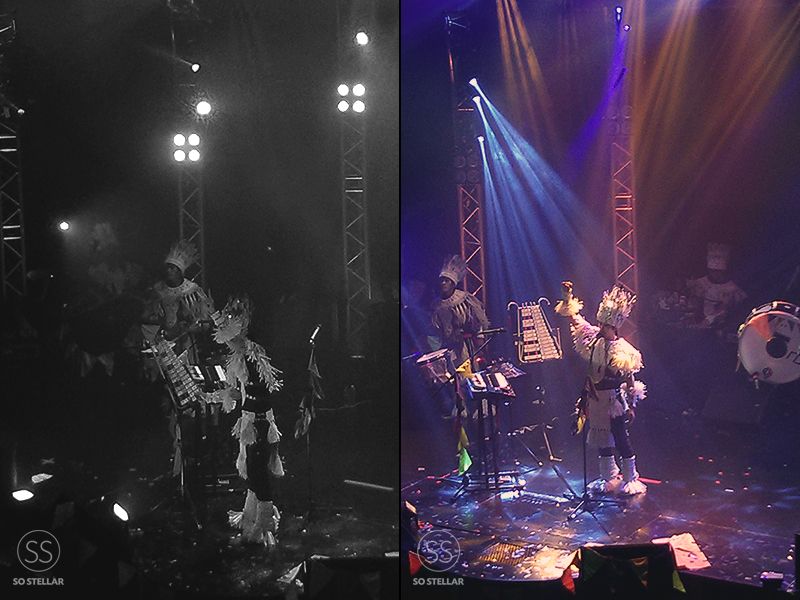 It's been two months so my memory of this is blurry now, but one thing I cannot forgot about this was Kitchie Nadal's guest appearance and singing 214 with Rico Blanco. I love her music so much, and I miss seeing her around, too. I wish she would have more gigs around the metro, or mall shows cuz I have never been to any of her shows tbh and I have merch to be signed! 2006 is calling! =))
I found a video of their performance on YouTube but a few weeks later, it was taken down. Ugh. And then I heard there's going to be a DVD of this show, too, so that must be the reason why most hi-res videos of this show were taken down.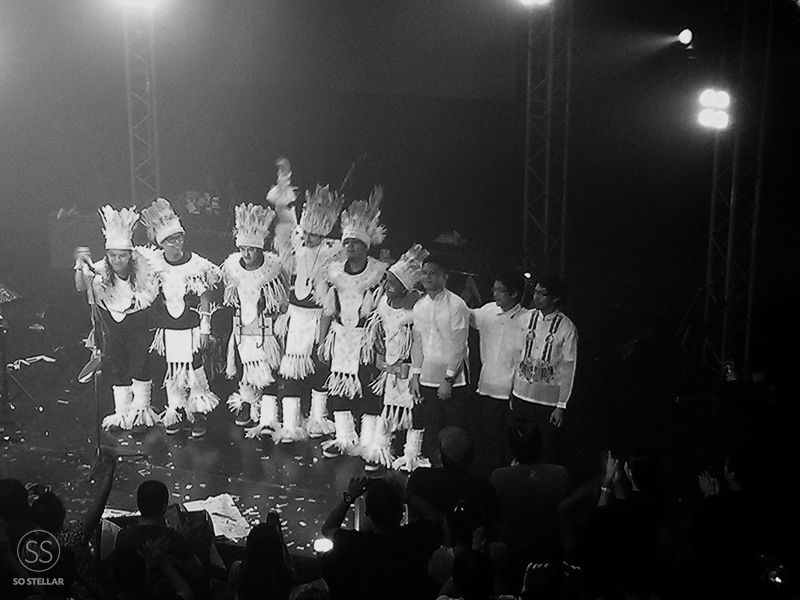 RB with the band after the show
One would expect that it's time to go home after the show but during this one, there was a meet and greet! I was hesitant to queue at first because I did not bring anything to be signed. I thought having photos from my DSLR would suffice but since they did not allow it, I did not get to take any hi-res photos from my DSLR! Then Shereen gave me a copy of the tarpaulin (but in a smaller form, heh) I had made for the birthday gig months before. Thank you Shereen! I remembered that I can have my ticket signed too as a last minute thing too (as in I only thought of it when it was my turn to meet him lol).. so here they are.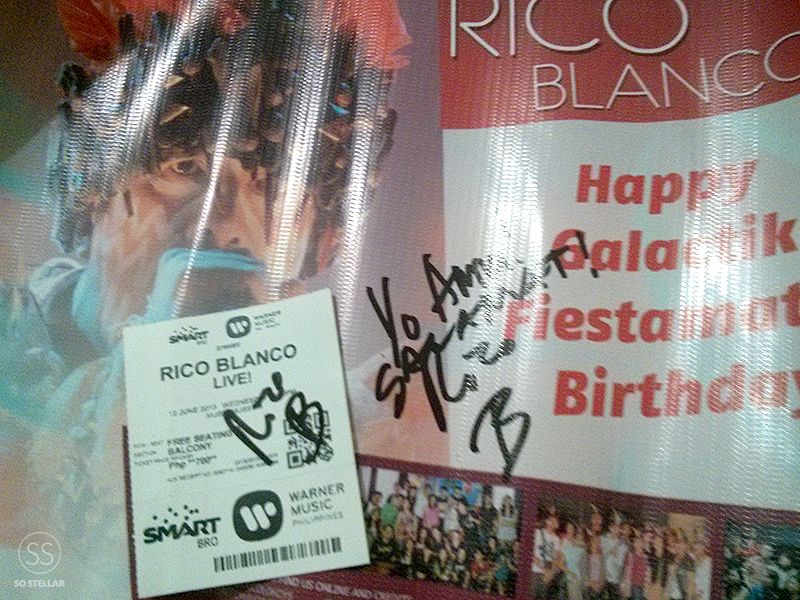 Signed ticket and tarpaulin
And the mandatory photo ops with people.. haha. Saving this one in the last part of today's post. None of these were posted on IG because.. I don't know I just didn't feel like sharing these and spoiling everyone. I wanted to put everything concerning this event in this certain post only. :))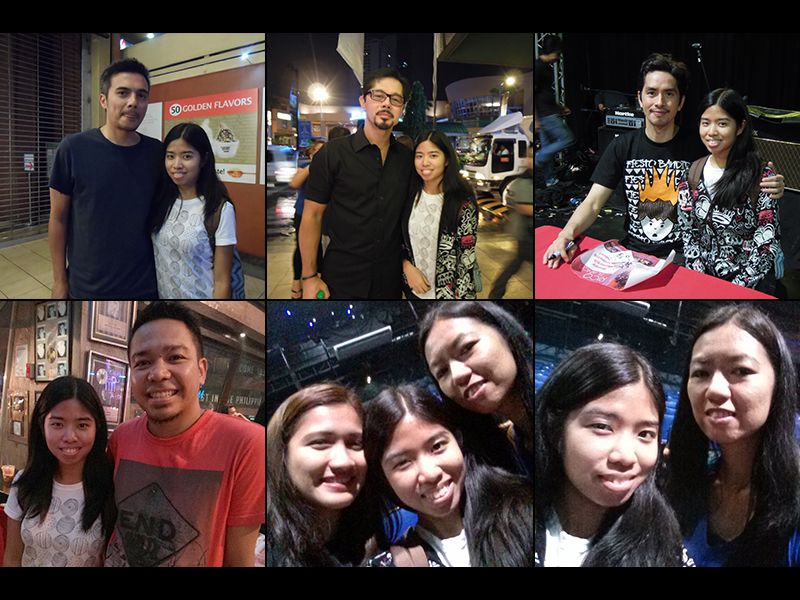 w/ Ira Cruz, Christopher de Leon, Rico Blanco, Miro Valera, Kato and Shereen
Can I just say that I was starstruck when I saw Christopher de Leon in person tho???? LOL He looked so intimidating and when I asked for a photo with him he didn't even say a word and my friend just took a photo and I didn't bother to look at it until I got home and secretly wishing he didn't look mataray in the photo and thank god he didn't and all is right with the world again. And I watched Dekada '70 like 3 days ago and he was great there. Omg. Run-on sentences lol.
Same level of starstruck-ness but more on the kilig side w/ seeing Miro Valera of Stonefree. 2006 IS CALLING AGAIN. :)) He complimented my phone, hahaha. He wasn't looking but its okay lol. Apparently, he was there for work purposes, documenting the event. I saw him shooting during the show and was seated close to where he was. OK that sounds creepy. =))
My photo with Rico looks hellz better than last time. Yay! I dunno what is it with me but with meeting artists for the first time and knowing you'll get another chance, I always ummm.. don't know what to say? I forgot to say that it was me who wrote this post that he plugged on his Facebook page. It's the same with E and I have seen him many times and had enough time to have a decent conversation but I keep messing it up. I have better experience talking to people I'll never see again, lol. K.
That ends my post about his ~*first major solo concert*~.
My recent visit here was my 2nd. The first one, way back in 2007, was for Wolfgang and Razorback's show, with my classmates from high school.
PS: If you're going to click that post, please ignore what I wrote and look at the pictures instead. The text is cringeworthy especially if you're a grammar nazi, hehehehe.