Day 4
Last day in Cebu! Weird that the hours went by real slow on our last day in the morning, then sped up at night. What. Up early for the last time, and quickly prepped up to.. swim!!

I'm pretty sure I/we did not have breakfast before heading out to the sea, hahaha. So anyway, there we were.. there weren't many people out to swim that morning, which was a good thing. Only when we were done and started to pack up did the people from the other cabins started to come out to enjoy the water.
Compared to yesterday's activities, I prefer this one much more than that one. This one was more laid back compared to the Butanding activity. Wish I could've stayed longer just floatin' around the sea in the resort but my goggles broke so yeah. :))
Picharsss~! I took pictures while waiting for my turn to wash up after swimming. Well the first one was BEFORE we went swimming. :)) I love love love how these panoramas turned out, so please view it in its max resolution! It's just too bad that I couldn't find a better way to display these for your convenience here on my blog.





That's mostly all the good photos I have to share for day 4. When we finished packing our things, we checked out and had brunch. We were in a hurry to go back to the main city because of our flight back to Manila. Plus we had to buy pasalubong for people back home. I didn't buy much, but just imagine how much my friends spend for their pasalubong, lol.
Most of our time was spent yet again on the bus (4 hours, was it?!). Then back at the main city, we quickly looked for a cab to take us to the airport, but stopped over by a dry market to buy pasalubong. I went crazy with picking out random stuff to buy, then I had to remove a lot of 'em later on cuz the total came to more than a thousand pesos. I wasn't expecting that! 😯 So, I was the only one with a small bag of "stuff" to bring back for everyone back home.
The way that we hurried up to go to the airport to 'catch our flight' was useless, it turned out, because our flight became a delayed flight eventually. Ugh. Only the three of us were going back to Manila, Princess had to go somewhere else. We had like 2 hours to kill, sew boring. Darn these local airlines and their delayed flights. My friends were able to use this delay to their advantage, though: they were able to make last last minute pasalubong shopping inside the airport.
Left Cebu around 11PM. Bye, until next time.. (maybe)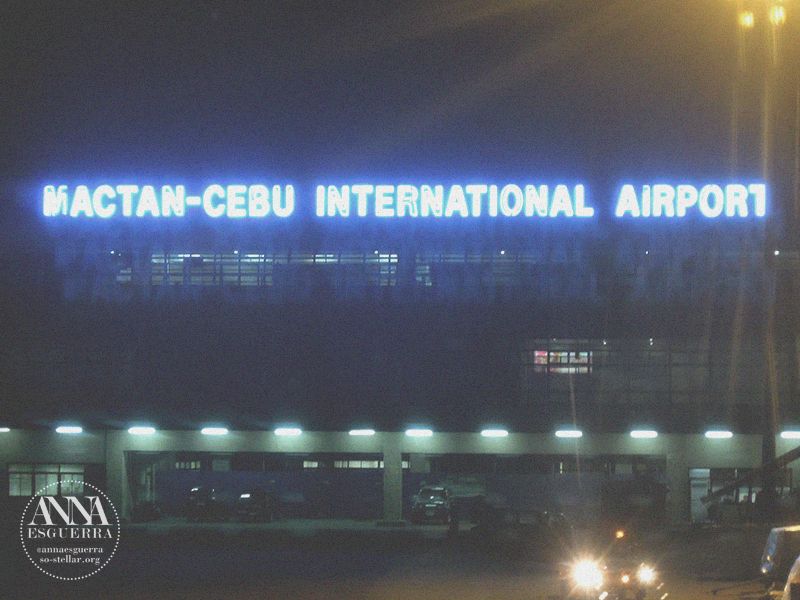 Overall it was an awesome experience and I'm glad I got to go to Cebu for the first time and explore it with my friends even for just a short time. I'm pretty sure that this will be the first and last time I will get the privilege to go to this place, so I'm happy I got to make the most of it when I had the chance.
You may have noticed that I didn't post specifics about the places we went to or how much we paid in this area and that area. Like I said, I don't take note of it (which is a bad thing, I know) most of the time.. however, I posted the names of the places we've been to, so you can just Google from there and you'll find out the rest of the information about it from other websites with, hopefully, better guidelines than my blog entry about our Cebu trip. :)) Actually, our itinerary was made from scratch: From pure Google search and my friend's knowledge of what are the best places for budget-conscious kids like us who are on an impromptu out-of-town trip.
Still, somehow I hope my entry was helpful if you've stumbled to this through a Google search. 😛