Day 3
Last day before we go back to Manila! Same as yesterday, we left the residence we stayed at (our friend's friend) still around morning but a little later than the time we left yesterday. Also waited a little longer for our bus in the terminal.
There was quite a mishap with our trips going to Bantayan Island. I think we rode the wrong bus, lol. We saw these two guys who seemed lost, too, and well.. we should've asked if they were heading the same was as us. Later I found out that they were.. but they didn't leave the bus when we did. We were going to different islands but they were close to one another, so technically we'd be in the same route of travel still. LOL OH WELL.
From the bus trip (which was 2 hours, I think), we were dropped at a city that's close to the route going to Bantayan island, then we rode a tricycle to go to the ferry port which will be the final transportation to take us to Bantayan island. We had lunch at the port carinderia while we waited for our scheduled trip. Oh and btw, by this time I was feeling ill from yesterday's trip. Meh.
Boarded the ferry around 1:30 PM and got nice seats by the window. I took some photos.. nothing special, just clouds. Heh.
You probably saw this photo on my IG already, haha.
Shoreline of Bantayan island
Upon arriving, there were people waiting for us from the resort where we are staying in. The trip from the port to the resort was 5 minutes away. We were quickly escorted to our rooms as soon as we got to the resort.

The rest of the afternoon was spent biking and exploring the small village in the island. We weren't able to go to its "main city" because our other friends rode bikes instead of scooters and it was too far for them to bike to the main city. :))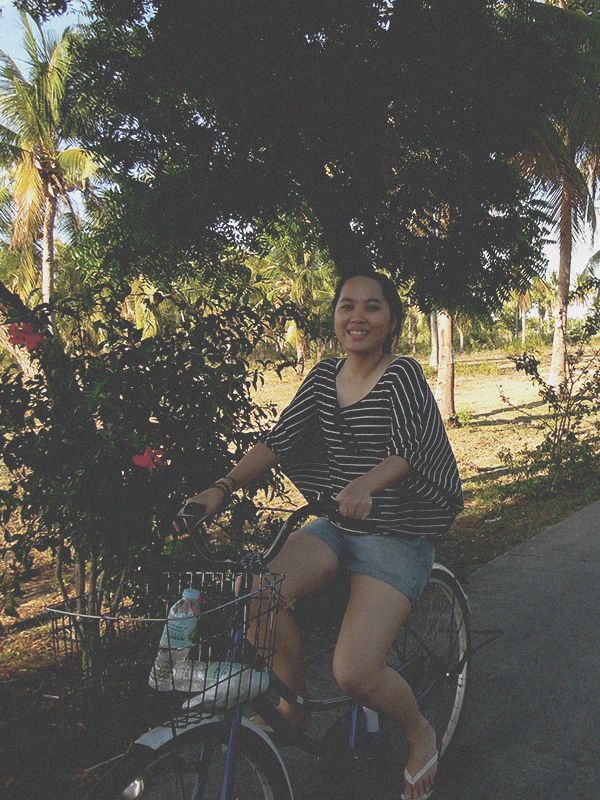 We got separated and lost from each other a couple of times because Princess drove the scooter too fast and they weren't able to keep up with us. :)) Then we stopped by this burger joint (not Burger Machine though) for a snack, then forgot to pay. I think we pissed off the people in there for some reason. Sorry for being such tourists. Pff!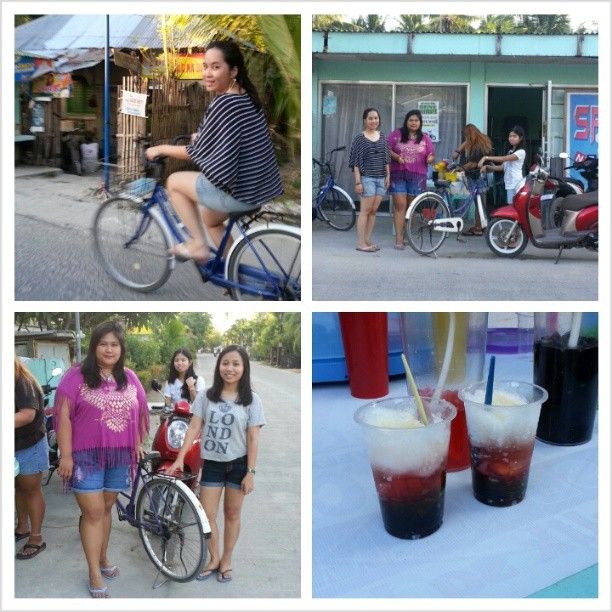 On our way back, they saw this stand selling cold refreshments. The burger wasn't enough, so they made a stop over and bought some, and none for me cause I didn't feel well to get a cold dessert.
Meanwhile, back at the resort. It was already nighttime when we got back and there was nothing to do. We just took photos around the resort (while the sun was still out), and chilled by our cabin. Later that evening, the three of us went to the restaurant to have dinner. Instead of staying up because it was a Sunday, we slept early. Guess we were all tired from the back to back long trips and having to wake up early for the past two days.
As one of my friends said, our sleep in that resort was the best sleep we got from our entire trip. Early sleep = lots of time to sleep and recover from the past few days.