Day 2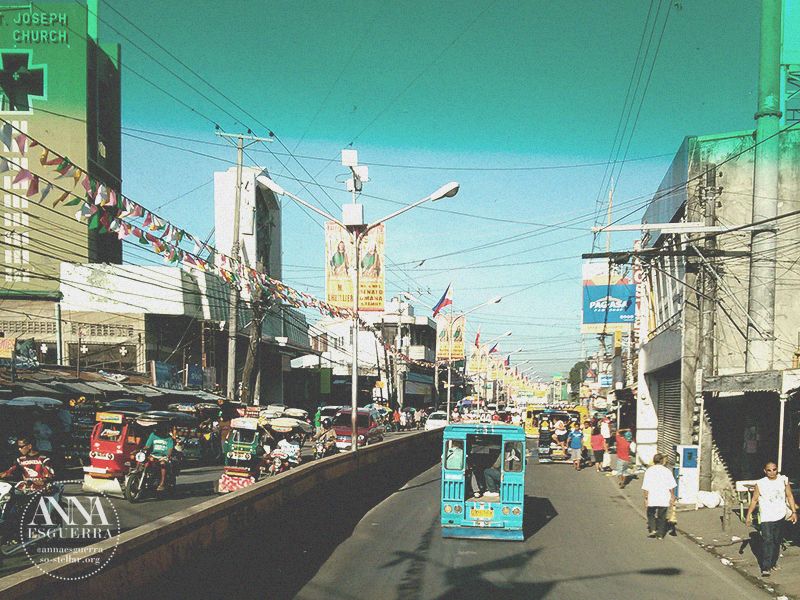 Lol IDK where this is 😛
Up early in the wee hours of the morning to catch a bus trip from the main city to the island of Oslob to go swimming~ with the Butandings (Whale Shark). I remember the trip going there was super long, around 2-3 hours? But the good thing was the bus that we got in was new and hindi siksikan sa loob. We were comfortable throughout the trip. At first I was paranoid that if I fall asleep, I might wake up with my things missing.. but I forgot that I wasn't in Manila, so I slept and let go and thankfully most of my things were still with me when I woke up.

Finally arrived at one of the beaches in Brgy. Tan-Awan, Oslob! I don't remember the name of this place though. Lol. We paid the tourist fee before we got to the hut and prep up for our whale shark watching. Again, I made the mistake of not taking note of important details but the tourist fee for locals (meaning from Manila or outside Cebu city) was around P500, and for foreigners, was P1000 pesos I think.

We didn't have any meals before we left for Oslob so our first meal of the day (lunch), were food from the beach. Sad to say it wasn't that delicious or satisfying. Good enough to fill our stomachs, but nothing worth taking note of. Also we were busy taking photos of the view. Suffice to say I ended up with just one panorama of the whole sea view to put here, lol. The rest of the photos are of myself, the typical tourist photo.. so never mind. :))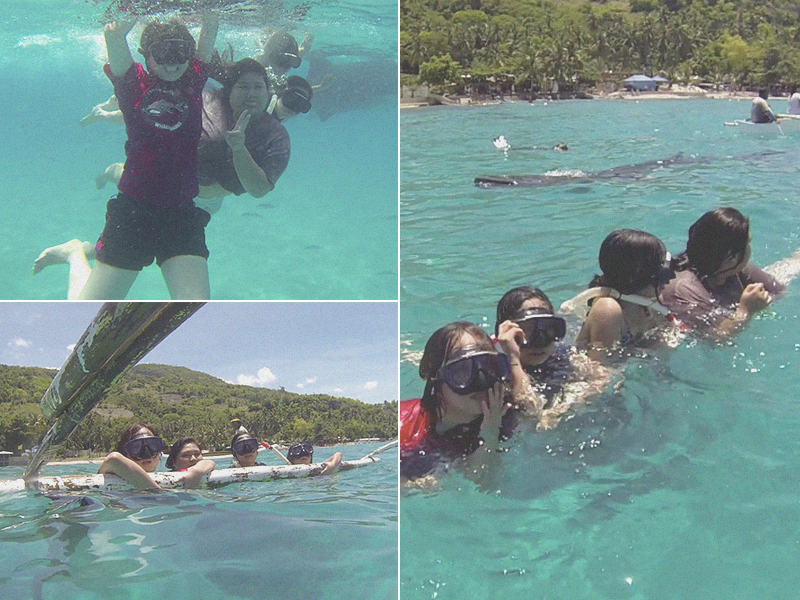 Whale Shark watching was tiring and stressful in my part, but my friends obviously enjoyed every second of it. I was too busy struggling to float, and trying to hold on to the boat.. hahaha!! Well I saw the whale shark anyway, so there's that.
Next we went to the Tumalog falls. I was expecting to see epic falls, like the type that you'd go gaga over wanting to take a photo of but I was greeted with a murky area instead when we got there. First impression? Disappointed. I'm sooo sorry. Maybe because I was already feeling sick when we got here. I was not in the mood for it anymore.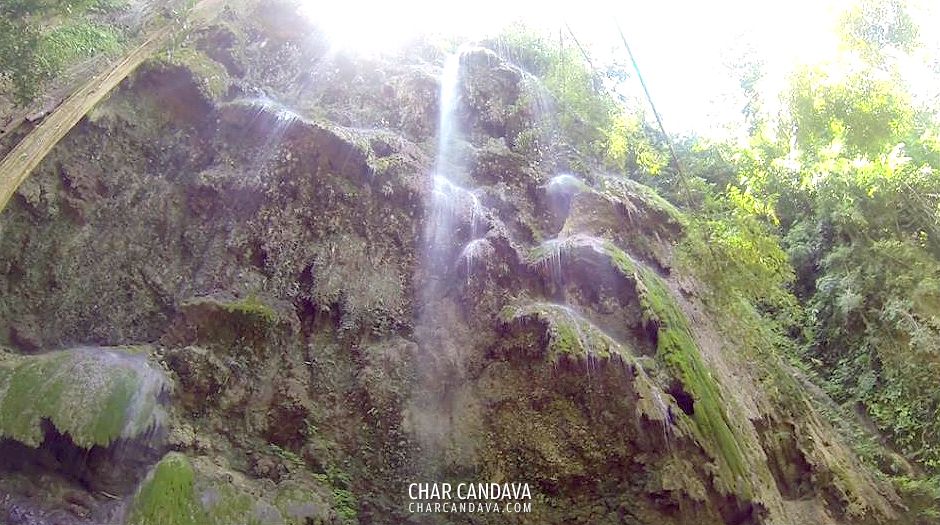 From the beach, we were taken to the falls by a motorcycle/habal-habal ride.. a 10-minute motorcycle ride. Stupid me forgot to bring a towel to dry myself, I didn't know that it was THAT far from the beach. Anyway, who cares, it's not like anyone's gonna remember seeing me there. :))
Another thing that happened which made me more disappointed in this tourist attraction was in the motorcycle trip, we were dropped at some checkpoint area and we were told to walk on a steep mountainside in the scorching heat! WTF, isn't that supposed to be included in the motorcycle ride? Apparently it wasn't and it's a different fee altogether. Take note that the area itself that leads to the falls looked very hazardous! There aren't even any signs or lights. What if people went there during nighttime?! they could easily fall off the cliff if they're not careful.
So okay, let's just suck it all up and get it over with. We walked from the checkpoint area to the falls. It really annoyed me when those motorcycles just passed by us and didn't even bother to offer a ride. I just kept thinking that maybe the place is really that great once we're there. Well I was totally wrong.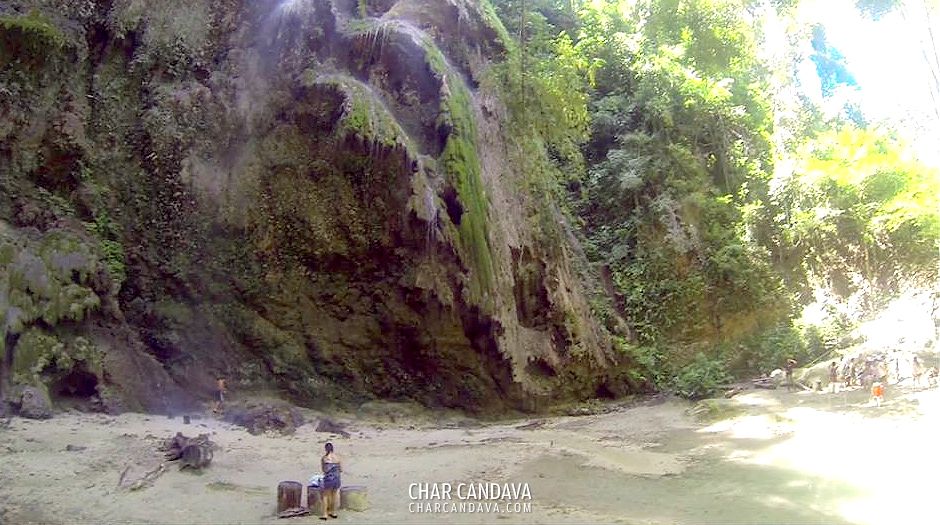 When we got there, it was beyond my expectations in a bad way. Not even the experience of hanging by the falls, or or.. getting myself wet with its water is enough to compensate. It was too cold and I got sick from it (probably from the quick temperature shift) at the end of the day. Dunno why I expected the water from the falls to be hot spring cold. 😐
Back to the beach after 30 minutes of trying to make ends meet and enjoy Tumalog falls. We washed up and took a bath and left Oslob after an hour.
Our next stop for day 2 was Simala Church. From Oslob to Simala, we took another bus and the trip lasted for an hour and a half, I think. All I know is that I kept falling asleep again, haha. Then we were dropped at a nearby area then we took a motorcycle ride which brought us to the church. Unlike last time, this motorcycle ride was pleasant. 😛

Simala Church is one of the oldest churches in Cebu. It's one of those places that's a must-visit for tourists because it is also known as a miraculous shrine of Mama Mary according to the many people who have personally experienced getting their wishes granted. There's like a whole building filled with thank you letters, and things ranging from crutches, wheelchairs, board exam IDs, diplomas, etc. all showing how grateful these people are for granting their wishes.
As for me, I was fascinated with its architecture and the fact that it's well-maintained despite its age. I have more photos but I got lazy to post process them, hehe. Also, people are very courteous and polite here. Everyone strictly follows the shrine's rules.
Among the strange (yet understandable) rules I've seen in this place is their "no couples" rule, and if you're wearing outfits that exposes too much skin.. you'd have to cover it with something (in short: no wearing of short shorts, and minis, and anything fashionable, lol). Good thing I wore jeans on this day, haha.
Took us an hour to go over the whole place. You won't get bored easily because there are a lot of areas to explore. Just staying at the area with the thank-you letters alone will consume lots of time because you'll get curious and convince to look at all those things and read those letters inside the cabinets. 😛
Simala church closes at 5PM. It was time for us to leave and go back to the city to have dinner.
Another bus ride (the last for today!) from Simala to the main city. We ended up going to SM Cebu and having dinner at this fast food resto that looked unfamiliar to us. Food was yummy, wish they had this in Manila too!! It sounds silly but we wanted to check out their branch of Forever 21 too because they have this clearance section and their prices are way better than the F21 branch in manila. Unfortunately, since we arrived late and our dinner took quite some time, by the time we were done, the mall was closing. Another time then. As an alternative, we went to a videoke place instead.
End of day 2.