Finally! After 9 years, Linkin Park is coming back to Manila!
Before we ready ourselves for their 2nd show here, I thought I would share my experience from their first show here. I googled around and there aren't much blog posts about it, so there. :))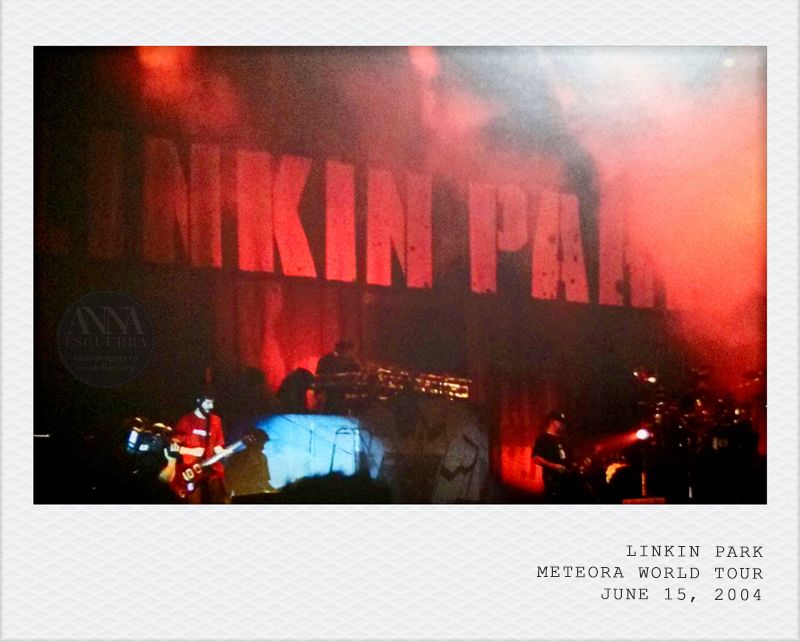 I was only 15 then, and LP's Meteora World Tour (that's the name of their concert, haha) was the second show of a foreign rock band that I went to.
Writing about it, years later, I don't remember the exact deets about it anymore but hell, let's go through what I remember:
A. As soon as I saw the ticket prices online, I immediately asked my mom to get tickets. Being 15, and with no steady or enough money for concerts, I pleaded to be allowed to spend PHP 2000+ for the frontmost ticket, a VIP (mosh pit) ticket. It was a huge amount at that time, but now.. that price won't even get you a ticket close enough to the VIP area of their upcoming concert here in August.
B. In the year 2004, was pretty active w/ posting on messageboards/forums. I joined the official LP messageboards, and eventually I met a couple of people who are from the PH and will be going to the concert, too.
Forums were like the central hub of social media then, or at least to me. Twitter didn't exist yet. IDK what happened to the forum cuz I tried to log in a few years back, it wouldn't let me anymore. I think they deleted the old, inactive members.
Eventually these people became more than just a username; from acquaintances, to social media friends, to being close friends. Though we have drifted as time went by, some of us still kept in contact!
C. Two of the girls I met from the MB watched the concert with me, too! Actually, meeting them there was like the cherry on top? Because that's the only time we've met face to face, as far as I remember. Back then, THAT was a big deal since Twitter wasn't around for people to immediately know what you looked like. People back then were secretive with their identity compared to today. :))
D. I wish I knew of the LPU privileges back then. Or maybe I did, but wasn't able to take advantage of it because whoever brought them here before was not aware of it either? I didn't meet the band, none of that happened. Basically I just went and watched their concert, haha.
CONCERT
E. When Chester Bennington came out to the stage, I thought his hair resembled Hitler's. LOL I DON'T EVEN REMEMBER WHY I THOUGHT THAT!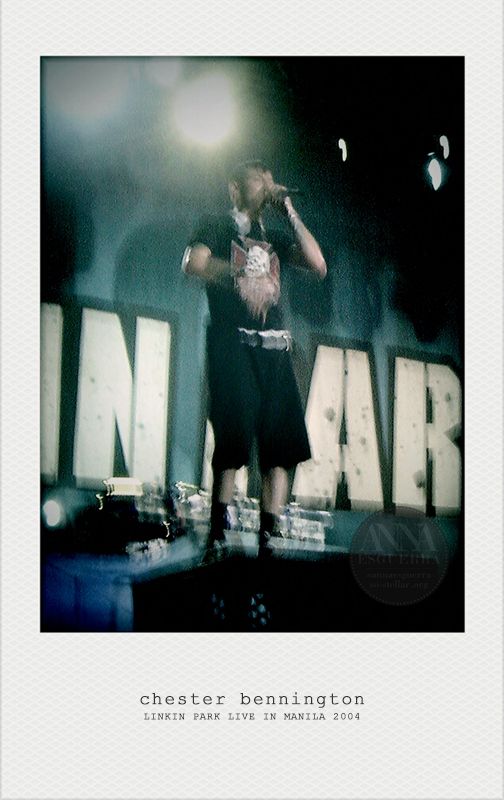 F. People were obviously after Mike Shinoda. IDK. I don't remember much about Mike Shinoda except taking this photo of him.. or rather, his crotch. Yes I am very proud of having this moment captured.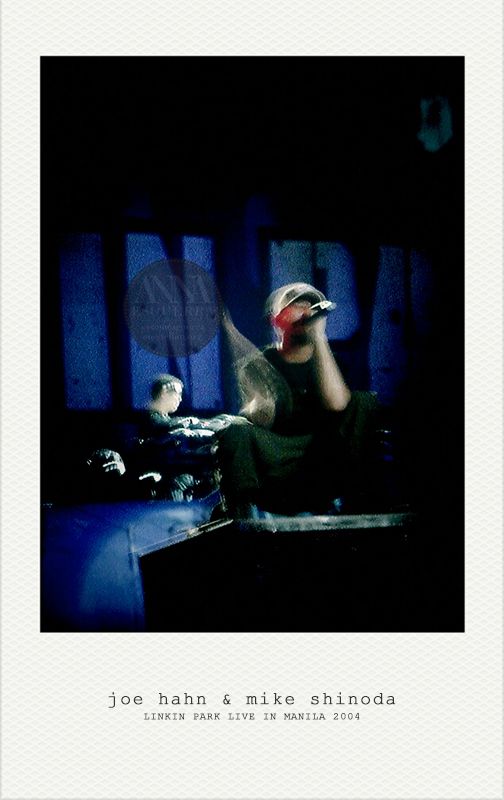 G. SADLY I DON'T REMEMBER THE SONGS THEY PERFORMED. OMG RIGHT? God. HOWEVER(!), I remember this one song that didn't sound familiar to me (at the time), that they covered: Nine Inch Nail's "Wish". I looked it up recently, NIN's song, I'd say it's a pretty okay cover (what LP did). Not that good, but not that bad either.
H. Whenever Phoenix (Phoenix Dave "Phiphi" Farrel, bassist) came to our side of the audience area, I yelled as loud as I could to get his attention. Unfortunately, all my efforts were in vain because he didn't hear me. Later I found out that musicians wear hearing aids when on stage. Duh. Same thing when Brad Delson (guitarist) went to our side of the audience.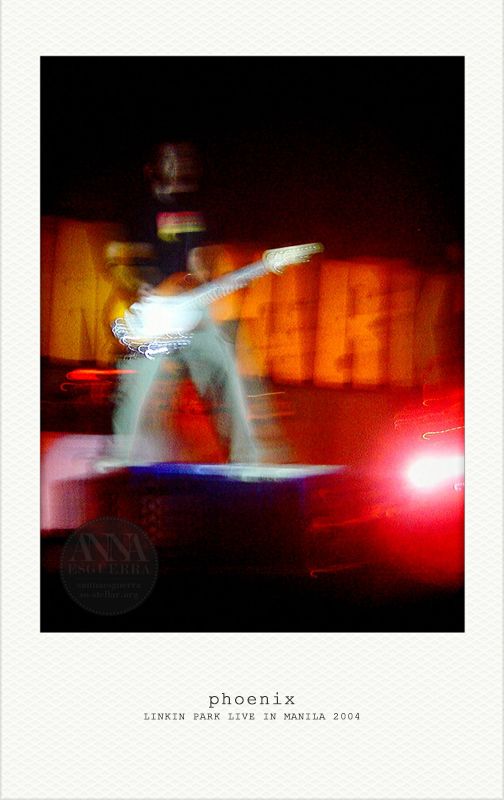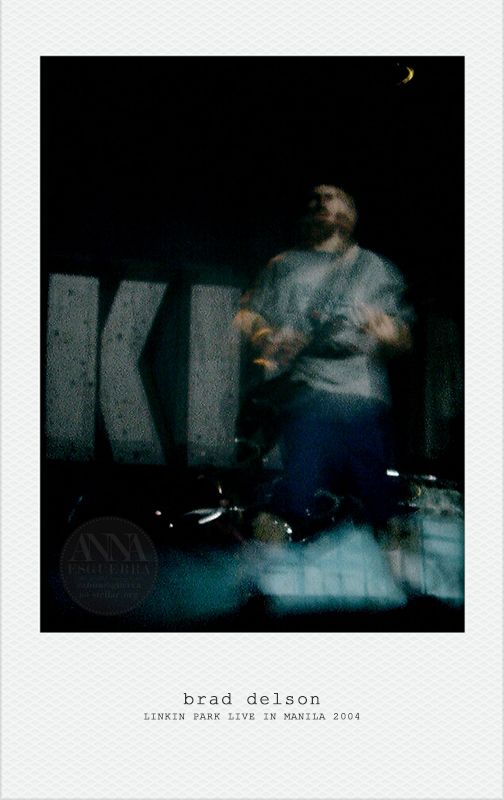 I. Lots of moshing. Lots of pushing around. Hardcore slamman. All of that happened. I got pushed around but I held my ground. It also helped that I came in super early so I was able to get a spot in the very front row (meaning, the barricade was the only thing separating me and the stage!). Well my friends saved me a spot, haha!
I was surprised I didn't go home with cuts or bruises because.. two days before the concert, I had an operation. I wasn't supposed to go to this concert because of it but I pushed through because it's LINKIN. PARK. Yeah, no obvious marks of pain, alright, but it ached like hell the next day.. and I had to go to school. :))
Most definitely the only time I got to experience being in the pit. That, for me, is legit, and more than enough (what I can handle). So that's why, since then, I've only been to shows where as much as possible, I can be away from the pit. Hahaha!
J. As you all know, I have a thing for DJs in a rock band. With that said, I was obviously after Mr. Hahn's attention (LOL).. but since he's stationed in a very high platform, since he's the DJ, he can't see me. I, on the other hand, was silently flailing and intently watching him as he did his thing on stage. Aaah, he was my idol before I realized that the man in dreads is also good and then I chose him. Other than Joe Hahn, my next favorite would be Rob Bourdon, their drummer. XD Both of them were very hard to look at on stage because they were far, and obviously they're the hardest subjects to take pictures of.
K. Speaking of pictures.. I didn't get any PROPER shots of that show. Given the time that it happened, it's quite obvious. No money to buy myself a DSLR, didn't know any better in photography, only had a digicam that took crappy (seriously) shots. So please don't expect any good photos on this post. =))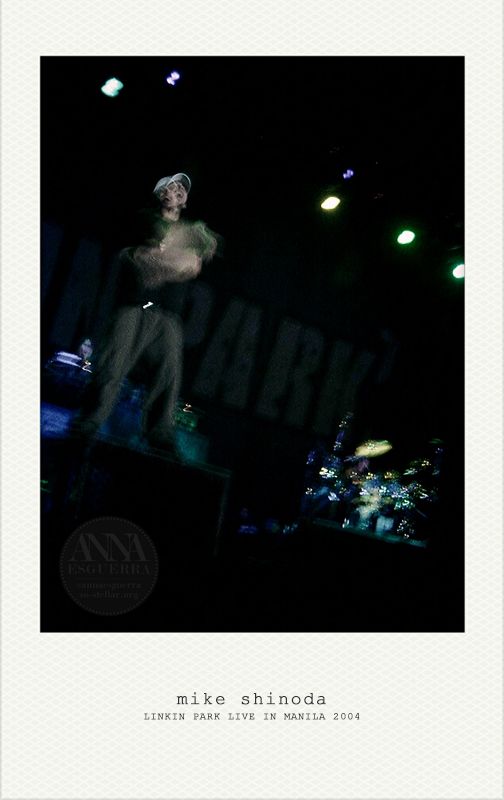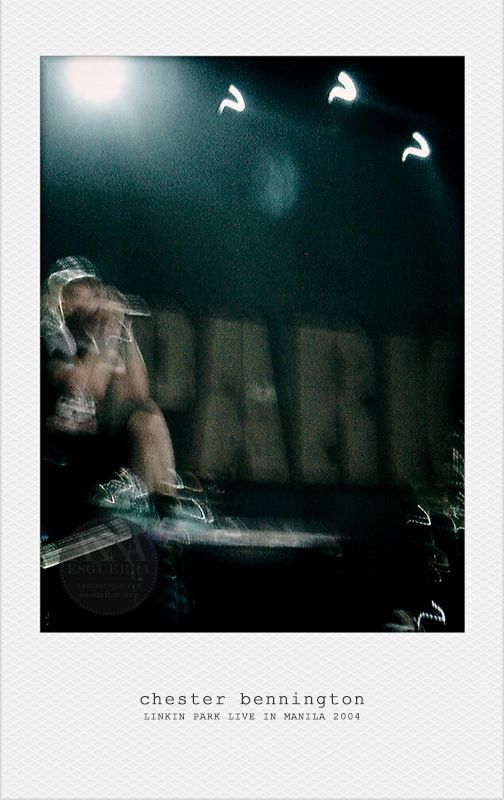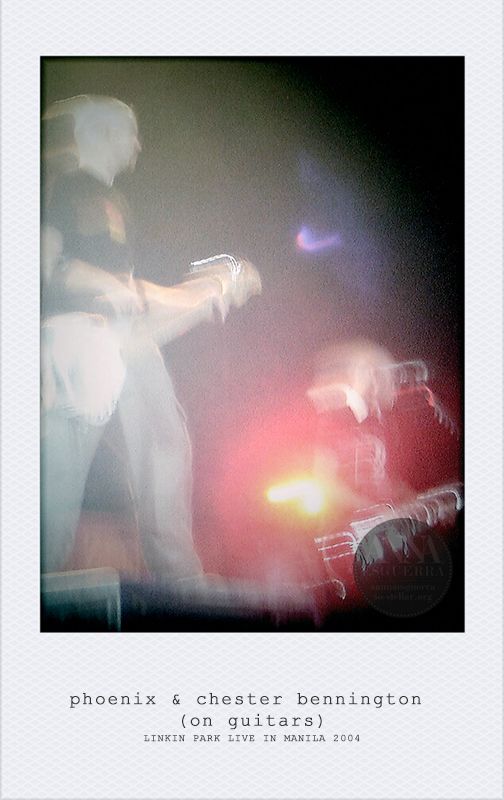 L. If you're going to ask me if it was a fun concert, YES IT WAS!!!!! I screamed, I yelled, I "rocked out", I had actual participation w/ the crowd as opposed to just being a spectator. It was a very liberating experience to watch them live. Would I watch them again? Sure, but I don't think the experience from the first show can be replicated on this one.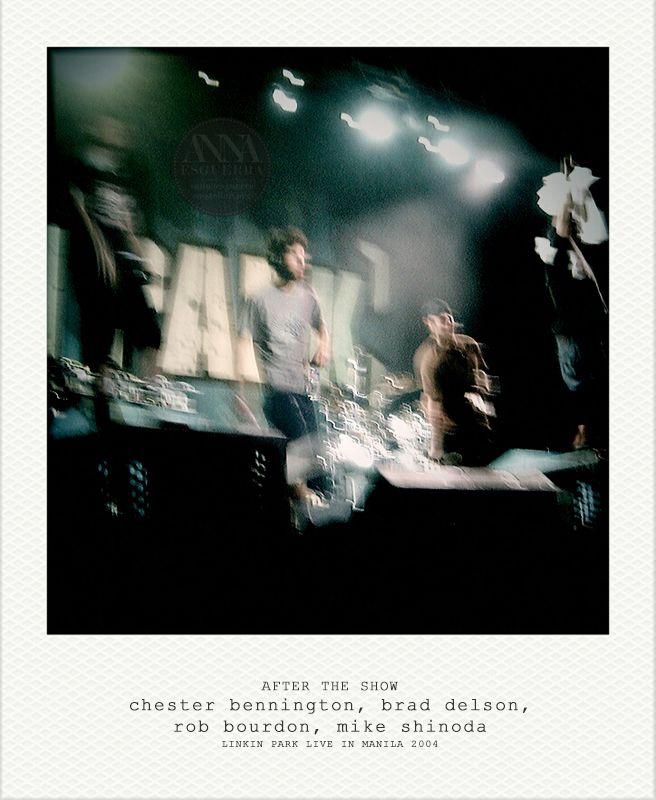 M. Obligatory photo of ourselves AFTER the show. I had to hide our faces because we look so wasted, lol. I hope my friends don't get mad when they see this. :)) I could be doing them a favor, by doing this, too?
But what's important is having that moment in time, where I have rocked the hardest (lol), captured on (digital) film.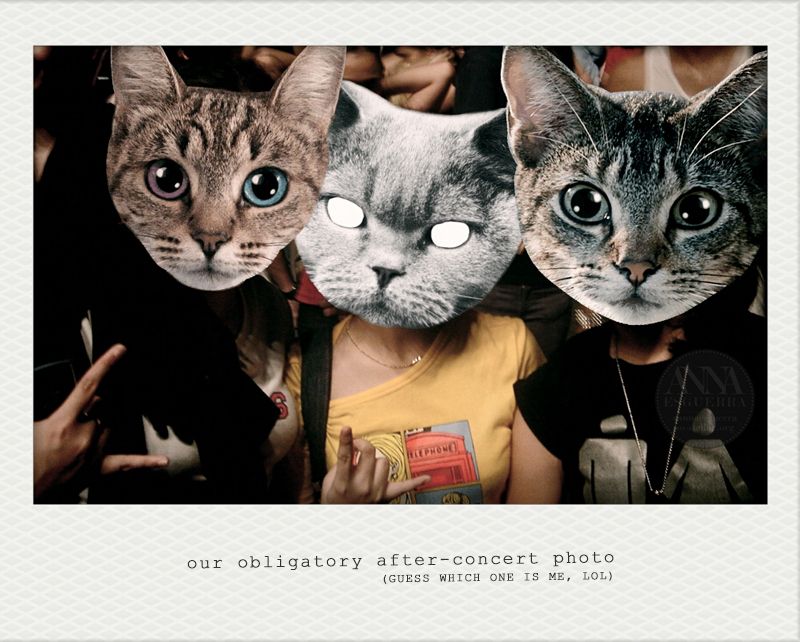 POST-CONCERT THOUGHTS – PRESENT DECISIONS RE: UPCOMING LP CONCERT
Okay, now that the word is out that they are finally coming back, what do I think of it? Am I going gaga about it? Desperately finding money to get myself a ticket to the show, so I can secure my attendance?
Hmmm.. not so much as I'd expected. Well, sure, at first I went crazy about it. Until I saw the ticket prices. Given the situation of the economy now, it's to be expected. But I think it's a little… overboard? I was expecting for it to be expensive, but not THAT expensive.
No, I haven't bought my ticket yet. Yes, I'm starting to feel depressed about it because as of this post, tickets to the good seats are selling fast. I plan to buy around June-July, and I'm already getting that feel that by then, all the seats to the good locations would be already taken.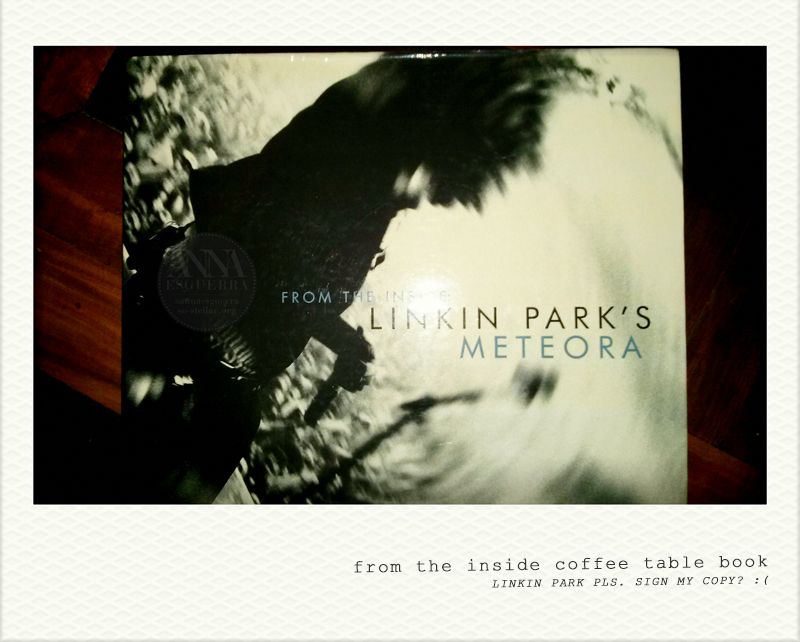 I also havs plans to get my From The Inside coffee table signed, but even for that I am starting to feel discouraged. That book was bought for a reason! JK. It's the perfect item to get signed, don't you think?! I mean, just look at it. And that space for their autographs, written in shiny silver sharpie glory!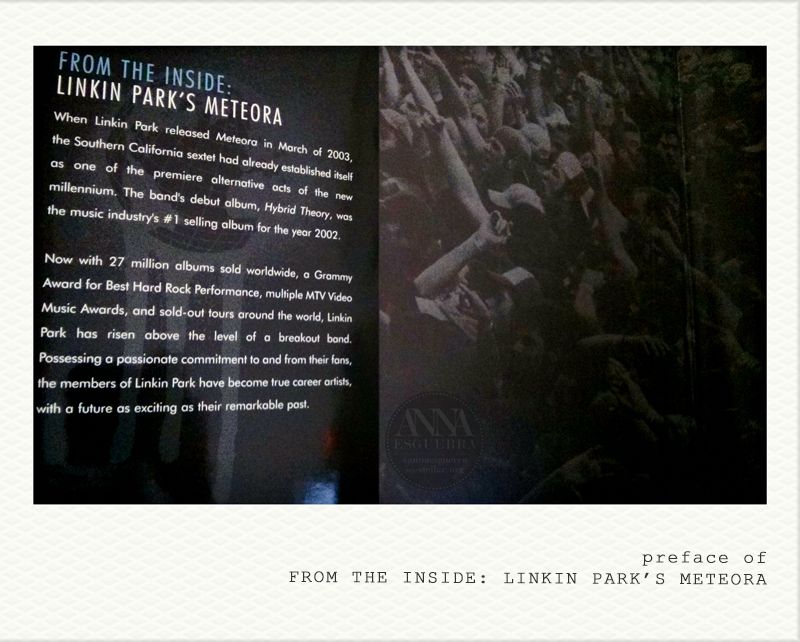 Also, their music has sort of changed since Meteora and I am not sure if I could find the time to like it. Recently, I have listened to the singles.. and found this song while I was randomly watching their videos of doing community work, I think, in Japan. The title of the song is "Robot Boy" from their A Thousand Suns album. This reminds me of the stuff they used to do in Reanimation. The instrumental version of it is worth listening to, IMO.
There's still 2 months to go.. so we'll see how this goes! I HOPE I GET TO WATCH THEM. Although, I am glad that I already did before. 😀 Go watch them if you haven't, it'll be worth your time and your hard-earned savings.